Still Rolling Along after 105 Years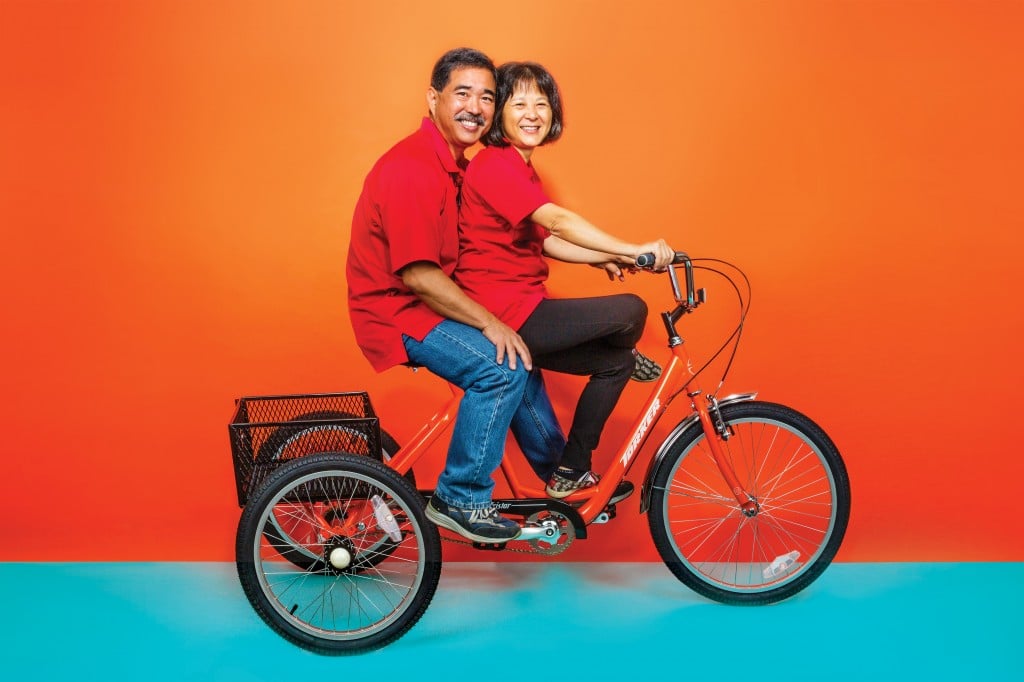 "Riding bikes is fun, and going to Eki's makes me feel like a kid again!" raves Gene Christmas (yes, that's his real last name). The 59-year-old quality assurance inspector at Pearl Harbor Naval Shipyard has bought more than 20 bicycles from Eki Cyclery over the past 15 years.
"I'm now enjoying some things from my youth that I didn't have and can now afford, and I enjoy sharing them with others." Christmas and his wife purchase bikes from the shop in Kalihi every holiday season to donate to deserving families.
"Eki's is always friendly," he says. "They go above and beyond, they're fast and they're knowledgeable about their products and service."
Founded 105 years ago by Jayne Kim's grandfather, Toichi Eki, the store devoted to nonmotorized two- and three-wheelers is still family owned and run. Jayne, 55, is the corporation's president, and her husband, Jay, 56, is VP.
"I think it's a testament to our trustworthiness, that we've been in business so long," observes Jayne, a Punahou grad who's been helping at the shop since she was little and who took over operations from her father when he had a stroke in 1995.
The entrepreneurial Eki opened the original store with a friend at King and Alapai streets when he was 22, just three years after he had immigrated to Hawaii from Japan. That was in 1911.
"My grandfather noticed that laborers and students at the time were using bicycles a lot for transportation, as well as for fun, so he thought there would be a potential market there," says Jayne.
"He started the shop as both a motorcycle and bicycle business, but my grandmother thought motorcycles were too noisy and dirty, so he ended up just concentrating on bicycles."
From the mid-'60s to the late '80s, Jayne's mother and father, June and Shuichi Arakawa, and Jayne's uncle, Jack Eki, headed the company. This period saw the opening and closing of a branch store at Ala Moana Center (1966 to 1987) and the move of the King Street store to Dillingham Boulevard by Honolulu Community College in 1970, then another move in 1987 to the present building, which the company is lucky enough to own.
Jayne, a former teacher, and Jay, a business major, met while attending the University of Washington. Jay also serves as Eki's head mechanic. "Bicycles are simple, yet you can tinker with them – they're not complicated like engines," Jayne says. "They've got nice lines, and you can easily ride them. They keep you fit, they're 'green' and fun.
"It's not a super-lucrative business – it's labor-intensive – but it's a wholesome way to make a living."
Most of Eki's customers are locals, referred by word of mouth, according to Jayne. The company has a social-media presence and does some print advertising, but the majority of clients are walk-ins or referrals.
"We've seen generation after generation of the same families coming here," smiles Jayne, "the grandparents bringing their grandchildren.
"I like the fact that we're in Kalihi, central to town and the Windward Side" and to Joint Base Pearl Harbor-Hickam, she says. The company helps repair some military bikes and also provides parts, but the military part of the business suffered a slowdown during Operation Desert Storm in 1991 and still hasn't fully rebounded.
There have been other challenges: The company suffered a 10-percent drop in sales during the 2008 recession and the approaching rail project will clip about 10 feet off the front of the property and eliminate parking from that area.
The rise in bicycle thefts is also discouraging. "I tell customers to invest in a good U-lock," advises Jayne. "Cable locks can be cut with a wire cutter."
Unfortunately, the bicycle manufacturing business – like a lot of other businesses – is "consolidating."
"When you see a Schwinn at a discount department store," says Jayne, "it's not the same as a Schwinn that you'll find at a bike shop.
"We can't compete with the prices at the discount stores, but a bike-shop bicycle is made with better components, has a better design and is made to last for years without giving you a lot of repair problems."
The city's new protected Cycle Track on South King Street, and a future Bikeshare Hawaii program where riders can rent bikes, are inspiring more bicycle riders to hit the road, according to Jay.
In fact, Jayne says, "We have such lovely weather here, more people should be riding bikes year round."
One of their longtime customers even commutes by bicycle all the way into town from Mililani!
"It's safe, if you just try it."