Succeeding in Good Times and Bad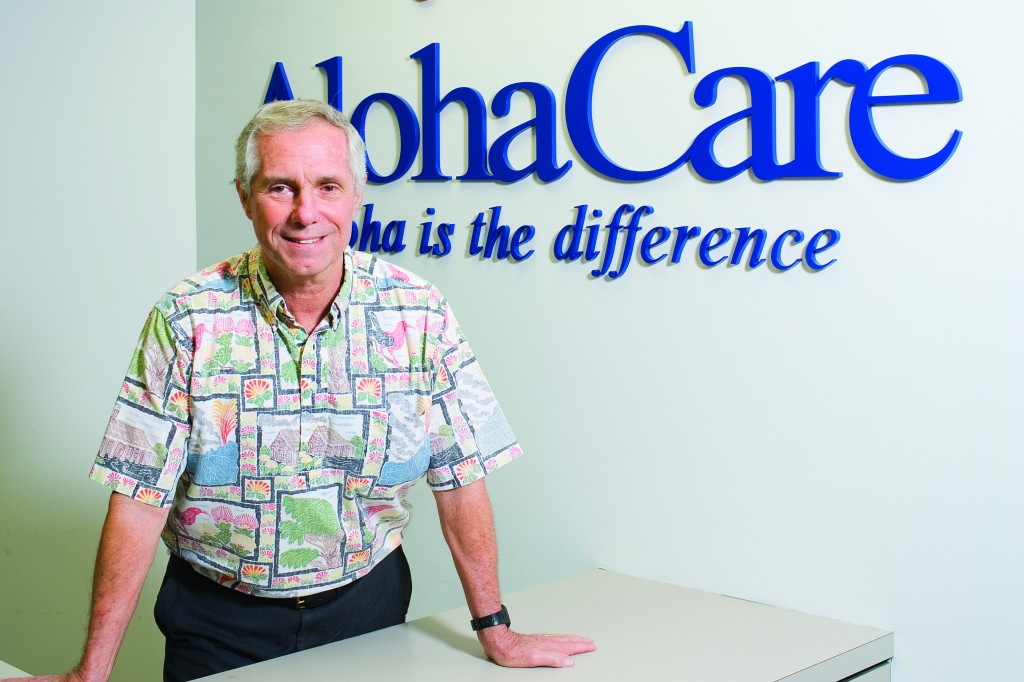 Business consultants tell you opportunities exist whether the economy is shooting skyward or tumbling down. Well-positioned firms can always exploit changes in the business cycle and gain ground on competitors.
"A lot of companies do look at a downturn as a chance to pick up market share," says Bob Sigall, a management consultant and author of "The Companies We Keep" books that tell the backstories of local businesses.
Companies that keep economic cycles in mind and don't over-expand during upswings can thrive as the economy contracts, without firing staff, Sigall says. "They've got the funds to survive and add marketing budget," he says, or make acquisitions at fire-sale prices.
Aside from hard work, there's no single route to flourishing during a recession. For three growing Top 250 companies – AlohaCare, Y. Hata & Co. Ltd. and ProService Hawaii – a focus on their core strategies while providing value, enhancing customer service and using technology paid off with more accounts and revenue.
[AlohaCare]
Keeping costs down
Revenue at AlohaCare, a health plan catering primarily to low-income families and seniors with Medicaid coverage, jumped almost 16 percent to $184 million last year.
Some of that can be attributed to the hardscrabble times – as people lost jobs they applied for Medicaid. But AlohaCare CEO John McComas sees the increases as aligning with the nonprofit's strategy of boosting the quality of its programs while being the low-cost bidder on the state's Medicaid program, known as Quest.
As the lowest-cost plan, AlohaCare is the default provider for many new Quest members who don't choose a provider. AlohaCare's Quest membership rose 12.6 percent to 71,902 last year, according to state data. That's more than one-third of all Quest beneficiaries.
"Since the late '90s, we've succeeded at doing that – whether it's an up cycle or down cycle," says McComas. "We think we're the best at doing that."
AlohaCare also has thousands of other members in a Medicare program that it is trying to grow.
To keep its advantage as an efficient, low-cost health plan, the company tightened its belt during last year's downturn. Executives told employees there would be no layoffs, but also no bonuses or raises.
A cost-cutting program called Operation Oink asked staff for ways to reduce expenses and they responded with many ideas, including seeking price cuts from vendors. The program chopped roughly $650,000, or more than 3 percent, from administrative costs. "It's been a very successful program," McComas said.
Senior director of communications George Irion saved money with a new marketing program that increased newspaper advertising and better targeted desired consumers. Preliminary research shows increased consumer awareness of AlohaCare, Irion says. "We've increased our effectiveness even though we spend less."
AlohaCare
Top 250 Rankings
2010: 38 | 2009: 55 | 2008: 78
Gross Sales
2009: $184.0 mil. | 2008: $159.1 mil. | 2007: $129.6 mil.
Up 42 percent from 2007 to 2009
[Y. Hata]
Refocusing on core mission
In May 2008, Russell Hata returned as president and CEO of Y. Hata and says he found it had diversified its business and account list too broadly. Profits at the 97-year-old food-supply company had plunged for three consecutive years.
Hata was alarmed that the company needed a turnaround just as the economy fell into a recession, bankruptcies grounded Aloha and ATA airlines, and Norwegian Cruise Line pulled two ships from Hawaiian waters.
Hata says his restructuring included a return to an older core strategy: a focus on sales to local restaurant chains, schools and the military. He met with employees to discuss the company's troubled outlook and told them revenue had increased in the previous year because of inflation, but volume had actually declined.
He froze wages and bonuses to make it through the lean times but assured the staff that, if they worked together on the strategy, they would make it out of the recession together.
Hata says he talked about concentrating on what the company did best: providing better solutions for existing customers. He also rolled out a profitability index to let employees see how their efforts contributed to company goals.
"The most important piece is the employees," says Hata, a third-generation proprietor of the business. "If I can keep our employees happy, there's a good chance they'll keep our customers happy."
Sales at the company last year jumped 5.9 percent to $117.2 million. The bonuses that were taken away in 2008 were more than made up last year, with employees receiving two and a half times what they would get in a normal year.
"2009 was our best year ever," Hata says. Employees received a $500 bonus in addition to their regular Christmas/year-end bonus. This year, the company will give them a $1,000 bonus, he says.
Y. Hata & Co. Ltd.
Top 250 Rankings
2010: 71 | 2009: 79 | 2008: 95
Gross sales
2009: $117.2 mil. | 2008: $110.7 mil. | 2007: $107.3 mil.
Up 11 percent from 2007 to 2009
[ProService]
Mixing old and new ways
ProService Hawaii responded to the recession by focusing on its human-resources-administration business while coming up with ways to help customers through trying times.
ProService has always evangelized about its business – handling the human-resources tasks for Hawaii's small and medium companies. ProService believes it can cut its clients' HR costs while providing better services than were done in-house, and allowing owners and managers to devote more attention to their main business. The company saw itself in a sweet spot as more firms outsourced their HR.
But at the beginning of 2008, as Hawaii's economy started to dive, ProService also knew it needed to find ways to become even more important to clients. It crafted a theme of improving service in a way that customers would feel and know, something that's frequently talked about among the staff, say the company's two leaders.
"We knew our clients would need our services more than ever," says Ben Godsey, president of finance and operations and a co-owner of the Hawaii Kai-based firm with Dustin Sellers, president of business development and marketing.
"We knew there was a need we could fill," Godsey says.
About two dozen people were added since mid-2008, boosting staff to more than 115. That cut into profits, but Godsey and Sellers considered it something they needed to do as seven out of every 10 clients shrank employee counts.
The new workers helped push out more information and services, and guide companies through downsizing, unemployment forms and other issues that come with layoffs.
"We didn't look at it as risky at all," says Sellers.
The revenue line doesn't tell the entire story – 2009 sales were up about 1 percent to $299.2 million. Underneath those numbers was the turmoil of a recession as some clients shut down or went bankrupt.
ProService says it was able to replace that business, even though it cut the marketing budget, because the hard work paid off when the company asked clients for referrals. "We had more referrals from customers last year than we've ever had," Sellers says. From December 2008 to April 2010, the client roster rose by about 4 percent and the company now serves about 1,000 customers.
ProService also has retained clients by expanding the services it offers, including finding ways to fight rising healthcare costs.
"They allow us to just run a restaurant instead of worrying about a lot of other things," notes Rick Nakashima, a vice president for Ruby Tuesday Hawaii, operator of four restaurants with 350 employees in the state. "It's been a real good partnership."
ProService Hawaii
Top 250 Rank
2010: 23 | 2009: 26 | 2008: 32
Gross sales
2009: $299.2 mil. | 2008: $296.6 mil. | 2007: $244.5 mil.
Up 22 percent from 2007 to 2009
[Doing more for customers]
Y. Hata is also looking at ways to give clients more. Besides keeping a corporate chef on staff to help clients with menus, its meat, paper, bakery and other specialists help customers fine-tune their operations.
The company is also spending more than $300,000 a year on training, and bringing in consultants to work with staff on customer service, management techniques and how to help customers make improvements and solve problems.
"Russell has done a terrific job of managing through this downturn," says Ray Ohta, president of Pacific Training and Development, one of Hata's consultants. Hata's commitment to customers even includes an instance of lending Ohta to help with a client's training program. "The (company's) morale is very high."
AlohaCare is trying to improve its offerings to both its health-plan members and the 3,300 doctors and medical service providers in its network. It has looked for ways to expand the provider network on Maui and Hawaii – two islands with doctor shortages.
For example, McComas says, when a Big Island doctor was called up by the National Guard for service in Afghanistan, his Hilo practice was threatened. AlohaCare arranged for someone to cover for the doctor while he was away.
"Part of our strategy is to build and strengthen our relationships with providers," McComas says. That includes spending $2 million annually on programs that improve quality of care, he says. That money supports immunizations, pap smears and mammograms that can detect problems early rather than later, when treatment is costlier and often less successful.
The strategy also extends to another pillar used by all three of these Top 250 gainers: technology to improve efficiency and communications with customers.
It may not sound like a breakthrough, but AlohaCare swears by a new telephone system tied to its computer database. It helps connect providers and customers with its 214 staffers quickly, in addition to pulling up relevant information faster.
Similarly, ProService installed a telephone and customer-relationship management system that helps improve service and provide greater support to customers. "That has really galvanized our relationship with our customers," Sellers says.
ProService also invested $2 million in a human-resources management system from Ultimate Solutions, software and technology that boosts HR reporting and other efficiencies while helping customers save on paper and printing.
The Ultimate Solutions' UltiPro platform is a leading HR solution used by medium-size national corporations such as Ruth's Chris Steak House and Major League Baseball and not normally within the reach of small business. But ProService says that, with it acting as an administrator, it can offer UltiPro to companies with fewer than 25 employees.
"The economy hasn't been as much of a factor as an opportunity in the market," Sellers says.
New software has helped Hata improve order efficiency and productivity, and helps analyze the company's performance and profitability. A tracking system in the warehouse improves stocking and reduces order errors.
Those systems also give Hata information on how the company is performing, which is then communicated to employees.
"We're not close to where I want us to be, but we're doing damn good," says Hata, who helped craft a vision calling for Y. Hata to become the state's leader in "cultivating mutually successful customer and employee relationships."
ProService has a similar vision and sees itself as giving clients more value during the downturn. That figures to pay off further in coming years.
"We viewed a time of difficulty as a time to differentiate ourselves," Godsey says. "We viewed it as a time of great opportunity."