Survivors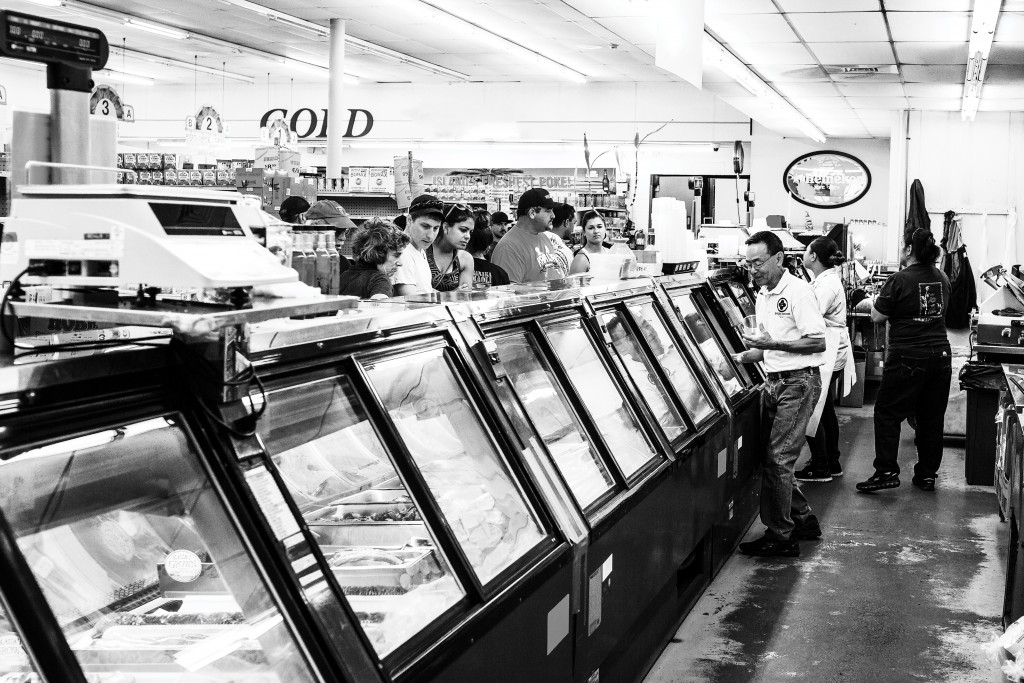 It's Sunday morning and the aisles of Kauai's Kukuiula Market are empty, save for a middle-age man scoping out the beer selection and a teen devouring a giant acai bowl. As a six-pack and a Spam musubi land on the checkout counter, a pair of three-foot kid sisters waltzes in through the manual doors. Blonde locks bouncing, the girls steer toward the half-century-old market's tireless manager.
"Are you thirsty? Do you want some water?" asks Terry Kuribayashi, wrapping an arm around each girl.
She instructs them each to fetch a chilled bottle of water from a display cooler. There's no question the drinks are on the house.
"What happened to the fairy garden?" asks the elder child. A droplet of spring water dribbles down her chin.
"I moved it to make room for a new seating area, but it will be back. I'm going to pick up a little TV for you, too," Kuribayashi says, motioning to a nook between a broken-down dairy case and the coffee aisle. "Give me two weeks, OK?"
The girls nod and scurry off to play in a corner of the store where Kuribayashi keeps crayons and paper, bean bag chairs and a toy shopping cart loaded with real canned vegetables.
"I've been kind of watching them for the last two years when their dad teaches a class at the gym next door," Kuribayashi explains. "We're like family with a lot of our customers. Plenty of kids come and go, and we love having them here and doing stuff for them."
THEY KNOW YOU
At Kukuiula Market, you won't find blowout sales on liquor. The mom-and-pop can't compete with Safeway's variety, nor Walmart's deep, national discounts. Its food displays are sometimes disorderly, with yogurt and cookie dough sharing a shelf with the soy chorizo. But the cashiers know customers by name. Longtime regulars shop on credit, settling their debt at the end of the month. And, if you happen to be on foot and can't carry all your purchases, the store manager will give you and your groceries a lift home in her car.
"This place has a lot of soul and a lot of heart, and we really care," says Kuribayashi, who married into the family business where she has worked since 1998. "You go to the mainland, and all the shopping centers are the same. It's getting that way here now, too. To me, that's tacky and it's cheap. Times are tough for the old-school, little markets like us, but I'm going to fight and fight. We're not going anywhere."
As rents rise and corporate chains grow, Hawaii's signature mom-and-pops are declining and closing. Limited commercial space creates fierce competition, and local families often find they have little choice but to sell or shut down. Kauai's many retail deaths have included stores owned and named after the Kuramoto, Kojima, Yasuda, Nakamura, Kubota, Yoneji and Yukimura families. Built by immigrants, these stores started as the great experiments of 19th- and 20th-century plantation workers who wagered they could make a better life as entrepreneurs.
By the early 1900s, almost every major town and plantation village in Hawaii had a family-owned market, each with its own personality and specialty items. Kauai's Kojima Store was popular for its short ribs and gravestones, while Maui's Komoda Store won customers with its fresh-baked cream puffs. Like the small-town bar where everyone knows your name and favorite drink, Hawaii's multigenerational mom-and-pops helped define local culture.
But, as mainland-based supermarket and discount chains expanded in the Hawaiian Islands, most mom-and-pops were squeezed out of their neighborhoods. On Kauai, which gained its second 24-hour Safeway last year, there are just two survivors: Kukuiula Market in Koloa and Ishihara Market in Waimea.
"Let's face it, it's expensive to live here and people want to get the best deals," says Glen Kojima, whose family owned Kauai's Kojima Store for 75 years until the business shuttered in 2014. "There are so many more options for shopping now, and people have become accustomed to shopping for sales all over, rather than just shopping in one place.
"People still stop me: 'Glen, I miss the store! I miss the short ribs!' But where were you when we started losing our customer base to Costco?"
LOCAL-STYLE BUSINESS
A holdout against homogenization, Kukuiula Market is in many ways an old-fashioned store. Hawaii-grown avocado and purple sweet potato are the stars of display bins lined with old editions of The Garden Island newspaper. If you're really in a jam and can't make it to the store, Kuribayashi might deliver a few necessities – free of charge.
Launched in 1962 by an ambitious plantation truck driver named Hajime Kuribayashi, Kukuiula Market began as a place for folks from the local sugar plantation camp to buy knives and get their trousers tailored. Ten years later, Hajime Kuribayashi and his wife, Jane, purchased the property where the market still operates, expanding its stock to include groceries and housewares.
On an island where commercial space is scarce and rents are high, the Kuribayashi family's ownership of the land and building is crucial to its success.
"Times are tough, but we're never going to sell," Terry Kuribayashi says. "I'm doing whatever I can do to preserve this store because my (father-in-law) worked so hard to build it."
In recent years, the family business has also prospered from a willingness to innovate and embrace food and business trends – without abandoning its humble roots. The market downsized from its original 1970s floor plan to become a commercial landlord. All told, there are 10 businesses on the property, including a scuba dive shop, a coffee stand and a Crossfit gym.
Within the market, Kuribayashi's pet project, a juice and smoothie bar in the back corner, has evolved into a critical source of revenue. Medicinal essential oils and popular superfoods such as frozen acai blends and goji berries have attracted health-conscious customers who prefer vegetable juices and vegan protein powders to the market's housemade bento boxes.
SMART CHANGES
Building on the juice bar's success, the market also leases a small, in-store sushi bar, where a young chef makes elegant poke bowls and hand-rolled sushi. In the works is an interior seating area that Kuribayashi plans to equip with health food magazines and a cell phone charging station. Twice a month, the market hosts a family-friendly music and food festival in the parking lot.
The market has also embraced energy efficiency. Troubled by a nearly $20,000 monthly electricity bill, Kuribayashi installed LED light bulbs and replaced all the refrigeration units with second-hand, eco-friendly equipment in 2014. The upgrades reduced the market's energy bill by about a quarter, she says.
"This is such an original place," Kuribayashi says. "I figured out pretty fast that the only way to keep it going is to really be different and look at the trends and try to innovate, without losing the character of what we've been about from the start."
Undoubtedly, the store's ability to bring in new customers with modern tastes without alienating its longtime shoppers is largely the work of Kuribayashi herself. In addition to placing food orders, stocking shelves, prepping to-go lunches and managing a dozen employees, she cooks, cleans and keeps up with the moods and tastes of the local community.
She is indefatigable. On Fridays, she spends the night at the market, allotting herself a two-hour window from 3 to 5 a.m. in which she pauses from paperwork and cooking to nap. Most other days, she clocks a 16-hour shift.
You wouldn't know it. Energetic and bubbly, Kuribayashi says she loves the work because it gives her an outlet for creativity. Dreaming up recipes, drafting new floor plans and launching micro-enterprises within the business are the drivers of her unwavering enthusiasm. But, she admits, it would be hard to find someone else who could match her passion and work ethic when she retires.
"There really isn't a next generation," says Kuribayashi, who is 56. "When I'm gone, I don't know what will happen. But I know we will never sell. We're actually working to put that language into the trust. We've had offers and we always say no, no, no, because it's not about any amount of money you could come up with. That's kind of an insult to come in here and offer us money, you know? This market is about who we are, who this family is. There's no price you can put on that."
OLD SIGN REMAINS
Glen Kojima saunters into Kauai's Hanai Market like he owns the place. In fact, he once did. But, in July 2014, his family sold the 75-year-old Kojima Store building to the Honolulu family that owns ABC Stores, a convenience mart chain with more than 70 locations.
The building's new tenant is Hanai Market, a year-old venture widely applauded as Hawaii's only grocery store where every food item is directly sourced in Hawaii. Nevertheless, the old Kojima Store sign still hangs in the parking lot, paying homage to a bygone era. The folks at Hanai Market wanted it that way. So when Kojima saunters in the door spouting floor plan suggestions, the employees tend to listen.
"I know, I know I don't work here anymore," Kojima says, cutting himself off mid-thought. He smirks and explains to a reporter that, despite some nostalgia, the death of his family's long-standing business is actually quite a relief.
"The store provided us a great life," he says. "We were fortunate to be able to send our kids off to college so they wouldn't have to do work like this. My father was here every day of his life. I didn't want that for my kids, and that's not something they wanted for themselves."
He lets out a long sigh.
"I think it was emotional for the generation above me," he adds, "but I saw the end coming."
Kojima laments the decline of Hawaii's mom-and-pop businesses, just not necessarily his own. Things started to get tough for the family when Hurricane Iniki ripped through and left the store with a million dollars' worth of damage.
Then the big chain stores arrived, impeding the business's efforts to rebuild from the 1992 disaster.
"Walmart never used to sell groceries, now they do," Kojima says. "Costco never used to take EBT, now they do. Little by little, everything that made the mom-and-pop store stand out is being chipped away."
There are two reasons the store survived as long as it did, Kojima says. First, there were enough family members to make up the bulk of the staff. Second, the family owned the building.
"If we had to pay rent, we would have closed 30 years ago," Kojima says. "We also had a lot of workers. My grandfather had seven kids. We would joke that it was free labor."
Years after its last day, Kojima says, he still hears from people who bemoan the demise of Kojima Store and its famous, lip-smacking short ribs.
"Kojima's short ribs, Ishihara's poke – that is our culture and it's almost all gone," he says. "Pretty soon, all the local goodies will be gone. Everyone is going to end up eating Costco rotisserie chicken."
80-YEAR-OLD STORE
Kauai's Ishihara Market was founded in 1934 by Shoko Ishihara, a Japanese immigrant who arrived on Kauai in the early 1900s to work the fields at Kekaha Sugar Co. Soon after his arrival, he married a Japanese picture bride. Then, when World War I broke out, he enlisted in the U.S. Army and sent his wife and two children back to his home in Okinawa, where he knew they would be cared for and safe. At the war's end, the Ishihara family reunited on Kauai.
Emboldened by his U.S. citizenship earned through military service, Shoko Ishihara started his business, first selling meat from the back of a Ford Model T truck and then opening a brick-and-mortar meat market in Kekaha. Over several decades, the business endured many changes, hop-scotching to new locations and eventually expanding into a full grocery store.
Eighty years later, Ishihara Market is still open. Located in the red-dusted rodeo town of Waimea, the store is owned and operated by a quartet of Shoko Ishihara's third-generation offspring and their spouses.
"We still do some things the old way," says grandson and co-owner Ray Ishihara. "You come and you charge whatever goods you need and, at the end of the month, we send you the bill."
Revered islandwide for its poke assortment, Ishihara Market is an authentic mom-and-pop: Price specials, advertised on simple computer paper printouts, include deals on fish eggs, Portuguese sweet bread and 15-pound bags of rice. Waimea Theatre's weekly movie showings are scribbled on a chalkboard in the produce aisle. Business hours, posted outside the front door, end at 7:30 p.m. most days.
Though he cites competition from major supermarkets as his business's Achilles heel, Ray Ishihara says the market also struggles to find and retain good workers. Then there's the rising cost of food.
"Every year, food costs go up, so our prices go up," Ishihara says. "It's getting more and more difficult for family markets like this to compete with the prices at places like Costco. It's very difficult. Sometimes, we can't do it."
It's unclear whether the fourth generation of the Ishihara clan will maintain the family business. For now, Ishihara says, there are plenty of business demands on which to focus.
"Maybe down the road we would sell, we're not sure. We haven't really made steps in that direction yet, but everybody thinks about that type of thing from time to time. We'll see. For now, we keep going."