T-Shirts with Your Logo Can Boost Your Small Business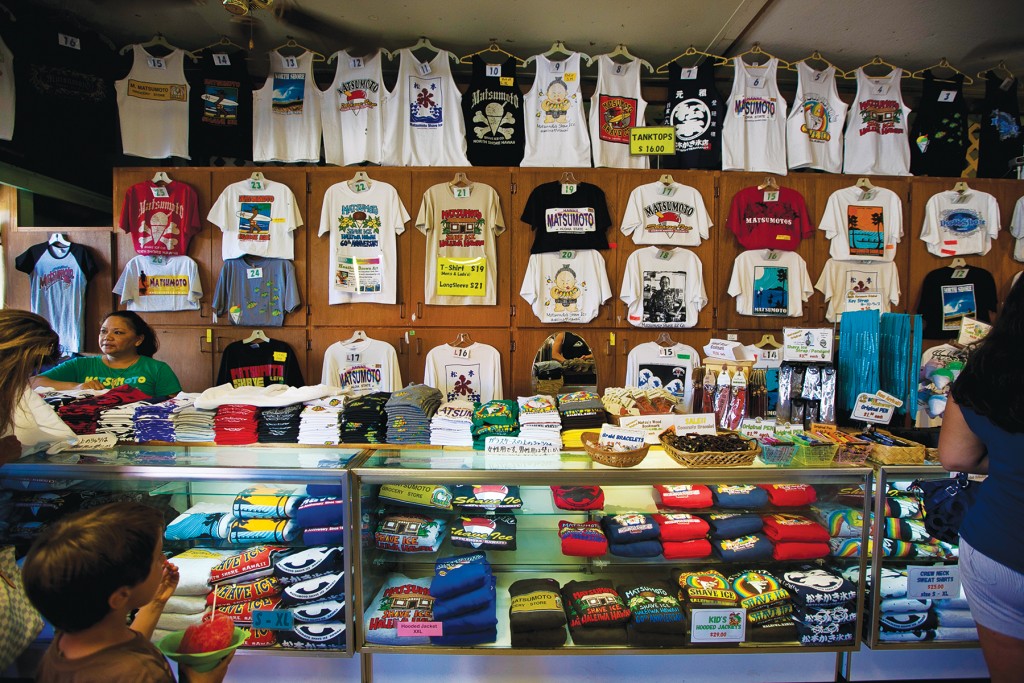 Thirty-six years ago, a designer on the North Shore walked into Matsumoto Shave Ice in Haleiwa and told the family he wanted to design a T-shirt for them. Just for them to wear, not to sell.
Stanley Matsumoto, now the owner, agreed, and the young designer went off to create what has become the shop's bestselling T-shirt.
"At first, only the family wore it, but lots of customers were asking if we sell the shirt," Matsumoto says. "So I asked my dad (founder Mamoru Matsumoto) if we should start selling the T-shirt, and that was the start."
Today, the iconic shave ice shop sells everything from coffee mugs to license-plate frames to shot glasses with its name and logo, all of it crammed into the little shop on Oahu's North Shore. However, T-shirts, which are stacked on glass display cases and line the walls up to the ceiling, are still the top logo sellers.
Together, logo goods account for roughly half of Matsumoto's total revenue. In the winter months, T-shirts often out-sell shave ice. "Would we have survived this long without it? I don't think so," Matsumoto says. "Not with the cost of doing business now. I couldn't survive on just shave ice."
In this sluggish economy, businesses are looking at inno-vative ways to diversify their revenue, and launching or increasing logo merchandise is a popular option.
It's not a new concept. Businesses big and small have long sold logo-related goods to promote their brands and earn additional revenue. Sunscreen companies sell beach towels; diners hawk coffee mugs. Media conglomerate Disney posted a fourth-quarter gain of 30 percent in profit and a 7 percent increase in sales over the previous  year's fourth quarter, thanks, in large part, to its consumer products unit. Disney toys and merchandise posted a 13 percent gain in profit to $207 million.
But businesses should realize that you can't make a lot of money off logo goods without a serious investment and effort. That can mean hiring a professional graphic designer to create your logo, investing in staff to man this part of your business, and building a physical or virtual space from which to sell your products.
"It's not enough to have just a good brand or just a good logo," says Dylan Ching, general manger of Duke's Waikiki. "You have to have both. And you have to work at it." Ching understands the logo business well: Duke's can sell up to $6,000 a day in T-shirts and other merchandise from its Waikiki restaurant.
That wasn't always the case. When Duke's Waikiki first opened 19 years ago, it sold a few T-shirts that weren't really advertised. Customers had to ask a manager to grab the right sizes from the back office. It was more of an afterthought than a real part of the business. However, over the years, customer demand prompted the restaurant to add to its meager line.
Today, Duke's boasts about 40 different logo items, ranging from beach towels to jackets to sauces. It opened a logo store and hired a logo-wear coordinator about five years ago, and that has made a huge impact on sales, Ching says.
"This is definitely a major part of our business," says Ching, who sees people wearing Duke's Waikiki T-shirts all over, including while he was on vacation at Disney World two years ago. "We have a pretty strong brand."
That's an important prerequisite, say brand experts. But you can't sell logo goods without a compelling design, and the two have to make sense together.
"If their brand and logo are strong, it automatically lends itself to branding products to promote their company," says Kyle Shimabukuro, a graphic designer with 20 years of experience creating logo wear for companies such as Local Motion, Barefoot League, HiLife Clothing Co., Faith Riding Co. and Matsumoto Shave Ice. "Taking it to the retail level would be the next step if floor space and customer demand is there."
In January 2007, three friends started C4 Waterman, which specializes in stand-up paddleboards and accessories. Two years in, the business launched a line of T-shirts and hats that did so well, it's now sold in about 15 stores in Hawaii and 30 on the mainland, plus its own retail space in Kakaako.
While its core business remains the hard goods, C4 Waterman recently started to evolve into a lifestyle company, and its logo merchandise is a big part of that shift.
"As our company grows, this will be a bigger part of who we are," says founder and CEO Todd Bradley. "C4 Waterman is more than a stand-up company, it's a lifestyle brand."
Expanding into apparel was an ideal fit for this company, as the sport requires gear. Why not provide the board shorts, rashguards and hats to go along with the stand-up boards and paddles?
"Our core is still hard goods," Bradley says. "(The logo merchandise) isn't equal to that. It's just gravy for us right now. But there's potential in this and developing it will help us grow, as a company, in the direction we want to go."
Look Before You Leap
If you're interested in starting a logo line, here's what to consider:
Make sure your company has

 

a brand that will sell.
Look at what's out there.

 

"You should see what the other shops are selling," says Stanley Matsumoto, of Matsumoto Shave Ice. "Go to craft fairs, malls – somebody might have a good idea that will work for your shop."
While it may be tempting – and cheaper – to ask your brother-in-law or kid sister to come up with a logo design,

 

consider paying a professional. "Good design builds trust," says Valentino Valdez of VALDEZign, whose clients include Aloha Ice Cream Tricycle, Hawaii Aloha Travel and Aloha Gourmet Products. "And trust is everything in business."
Talk to your customers.

 

Do your patrons ask for logo wear? What do they want? They may give you ideas on what would sell.
During your first launch into logo merchandise, be conservative.

 

Order a few items

 

– T-shirts and hats tend to be easy sells – and see how well they do first before investing in a lot of inventory. You don't want to be stuck with hundreds of key chains no one wants.
"Diversify slowly and see what catches the market and what doesn't," says Todd Bradley, co-founder and CEO of C4 Waterman. "Have a vision of what it is. Don't just go into it, saying, 'I'm going to make a T-shirt.' "
Some companies have found

 

innovative ways to promote and sell their logo goods. C4 Waterman opened a pop-up store in a local surf shop, selling its merchandise on consignment. Duke's Waikiki sells a limited-edition T-shirt – the only one with a date on it – that's a huge seller every year. Profits support a charity.
Be prepared.

 

If you dive into retail, you'll need space to store your products and someone to handle the inventory and sales. The venture will likely require an investment, too. "It's all about having the extra space, workers, time and energy," says veteran graphic designer Kyle Shimabukuro. "It's another way to promote your business, but, if done correctly, it can turn into a business in itself."