Talk Story: Christine Camp, President and CEO, Avalon Group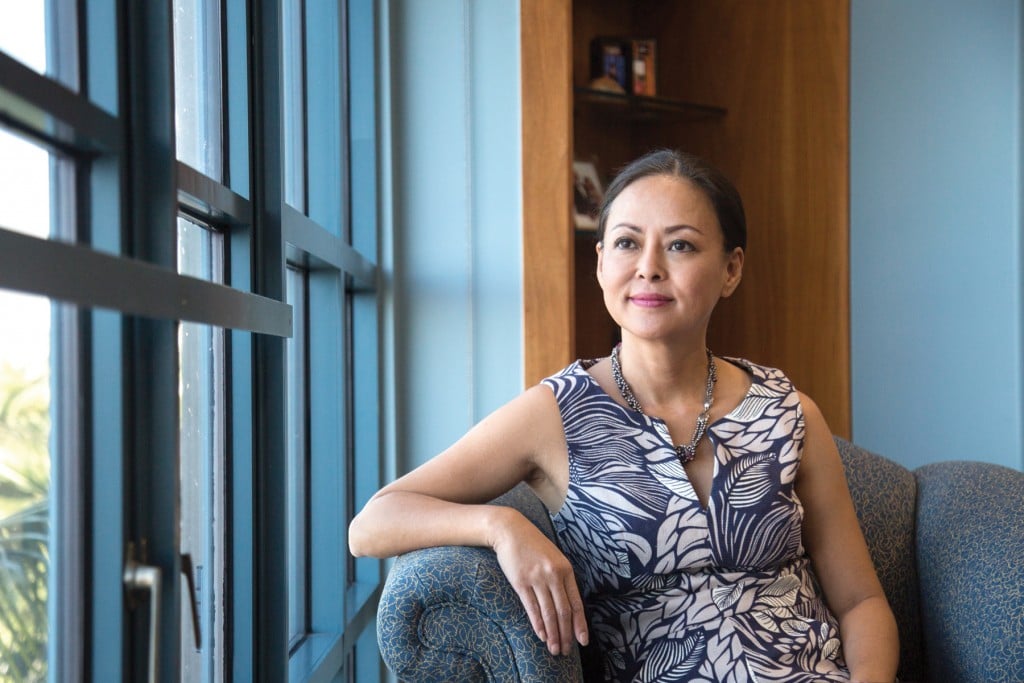 Camp says Hawai'i needs to change its mindset to alleviate the affordable housing crisis.
At the top of her list of needed changes are creating predictable permitting time frames, revamping zoning in low-density areas and creating more urban zoning.
Q: Hawai'i will need 65,000 more housing units by 2025, with at least one-third classified as affordable, according to the Department of Business, Economic Development and Tourism. What needs to happen for those units to be built?
Camp: Three things need to happen in my view.
First, permitting has to be fixed. Right now we expect permitting will take two years. But we should expect to get the permits for mass housing in three months.
The permitting system must be revamped so you can guarantee a permit turnaround within a certain time frame, which then gets embedded into the risk profile of a project.
If you have an acceptable duration for permitting, the risk is mitigated and costs come down.
Two, the community is talking on both sides. On the one hand, people are demanding affordable housing, and yet no one is doing anything about low-density areas, like Kailua. There are many protective homeowners who don't want anybody else to live nearby.
Zoning in those areas should be modified. Instead of requiring 10,000-square-foot lots, allow 5,000-square-foot lots and allow cluster housing.
The community has to rally to allow for that change. In our 7000 Hawaii Kai Drive project we could have built another 100 units, but we didn't because there was a density cap and a height cap to protect the views of people on the ridge.
Finally, we need more land zoned for urban. O'ahu is maybe 25% urban, but overall the state is 5%. We have quasi-urban recognized areas, like the gentleman farms, where there is no farming. Let's not call them farms.
If you let those things happen we will have a building boom.
We need a different mindset to tackle these big problems. If a project is in an area where there are green fields that's one thing, but why do you need an environmental impact statement in an area that is already urban? It is an in-fill project. We need that kind of thinking to get us out of this, otherwise we are just talking.
Q: Yes, but will developers build for a cross section of buyers?
Camp: People will say: They're only going to build multimillion-dollar houses, but you can only finance so many multimillion-dollar homes, as the lenders are not going to let you build more homes than the market can absorb. We would build for those other markets.
Why would I develop $3 million homes for a small number of buyers? I would rather build for 65,000 people who are waiting for more affordable homes. But we have to build to that affordable price.
Q: External financing makes construction costly. Can the state help?
Camp: It is very complicated, and nobody wants to think about the math involved in a massive housing project. 
Financing is required because no one puts in the entire amount. Investors usually come in with the down payment or equity. The down payment carries a return requirement, which is very expensive.
People say: But interest rates are low, 3% to 5%. Yes, but the risk that investors take usually requires a return of 15% to 20% over the duration of the project. So assume it takes three years to complete a project at a rate of 10%, then you have to provide a 30% return. That's where the government can help – not to give money but to provide financing, like bonds, that can be used as equity. Essentially the risk money.
Q: Why do you think the state government hasn't taken this measure already?
Camp: Who's going to pay off the bond? It requires an active Legislature. You actually have to go through the political process to have the bonds available. They're doing a variation of that financing now, but only for rental housing.
I always say when you do only rental housing, you are warehousing people because they don't have a way to move up. What you want is a cross section of housing so that you can do rentals for those who truly need it.
But you want people to be able to buy homes because wealth is created by owning your home. To me, that is the American dream, and I think it is still achievable in Hawai'i.
Q: You need a return on investment but also want to do good for the community. How do you balance those when selecting your projects?
Camp: First, we look at doing a project that can transform the community. We look for unfilled gaps.
In Hawai'i Kai, it was rental housing providing multigenerational housing within a condo setting. That product was not available in that community. We created homes on a property that sat fallow for some 30 years.
With the Sky project, we are also looking to fill the gaps. Many consider Kaka'ako to be either for the $1 million to $2 million purchasers or for the affordable housing buyers. But what about everybody else? We are going to provide a great product that those in between can afford.
We were only required to do 44 units and are now doing a total of 84. Everybody was talking about a 30-year buy back,* but nobody else was willing to take the risk. So in a sense, we will be the test case.
The second thing is we make sure our investors' return is going to be adequate for the project's risk. But it's also about taking care of our employees who brought a project to fruition.
This interview has been edited for clarity and conciseness.