Talk Story: Elisia Flores, CEO and Vice Chair, L&L Hawaii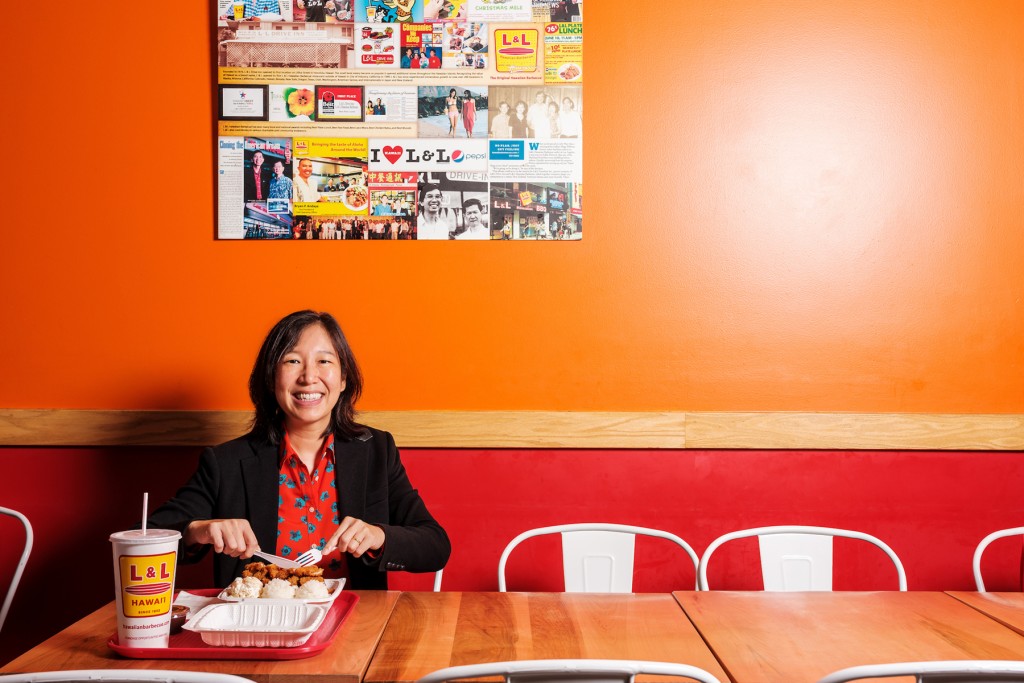 Elisia Flores took over as CEO in August 2019

from her father, Eddie Flores Jr. The new CEO starts 2020 with a record 200 L&L franchises and the launch of a new concept – L&L Hawaiian Mixplate – at three Mainland Walmarts. Next on her plate is to boost standardization across the company and to make L&L a household name. 

Q: How is L&L Hawaiian Mixplate different from traditional L&L restaurants?

Flores: L&L is more mom and pop operators, while L&L Hawaiian Mixplate will have operators who can open five to 10 stores.

Mixplate will have bolder flavors. The restaurant industry in general is moving to bigger and bolder ethnic flavors as people expand their awareness of different flavors. Japanese cuisine used to be the new thing, but now Filipino, Israeli or Korean food are gaining momentum.

So instead of just having chicken katsu and pork, the new concept has pork adobo. The food at the new concept restaurants is on the hot line, so you can see it. Having the food displayed in front of you breaks down the fears of ordering something different. You can see it's just fried chicken with sauce on top.

We are opening at Walmarts in Washington state, California and Colorado. When customers walk into a Walmart, it's like: Bam! They see us, they see our sign, they taste the food. Our restaurants are designed to make you feel like you are in Hawai'i.

Q: You begin 2020 with 200 franchise restaurants. What markets are most successful?

Flores: We have found the most success along the West Coast. The people who support us most are transplants from Hawai'i. So when we open, we hear stories about people driving across state lines to get our food. They will buy 10 plate lunches and drive home. Second are locations near military bases. We assume those consumers have gone through Hawai'i and are familiar with our food.

Q: What is the status of your international expansion?

Flores: To be frank, we haven't had as much success. There was a point, I think in 2017, when we were in seven countries. But most have shut down and we are now only in Japan.

Clearly, we haven't figured out international. For us, it is difficult to support international. We still have so much growth potential on the Mainland, so we shifted our focus back there.

Q: What measures are you taking not to dilute the quality and the brand with this expansion?

Flores: Each new franchise owner is required to come here for training. They learn the recipes directly from our team. We also train them around Hawaiian culture, we take them around and spend time with them so they can be ambassadors of our brand from the aloha perspective as well.

We also have annual conventions in Hawai'i and on the Mainland for franchisees. We get together, share our plans for the coming year and discuss best practices.

We also will travel, either the team members or the corporate chef, to Mainland franchises. We check on food quality and on the owner – how they are doing and how sales are doing. We get their feedback and make tweaks, if needed.

My background was corporate – I worked at GE in its leadership program. I'm used to having a playbook. We are trying to increase that type of standardization, particularly for the new restaurant concept.

Q: Franchises have received a lot of negative coverage lately. What is your take?

Flores: Yes, for example, Subway was in the news because their franchisees sued them. McDonald's was getting sued because corporate forced them to do upgrades and remodeling, and they are not seeing a return on their investment.

L&L is really different. Every franchisee comes here, and we have many meals together. They have all of our phone numbers. They are truly part of our 'ohana. Our typical franchisee is a mom and pop that's using their life savings to open one of our restaurants. Because of that, we hold them close to our heart. We know they are investing in us, so we also want to invest in them.

We have a good track record. We have never been sued. We mostly close stores because a franchisee is retiring or their lease is terminated. Our franchise fees are very low, comparatively. And we also give a lot of flexibility in what vendors can use or add to their menu.

Q: You and your dad have very different management styles. How did you mesh?

Flores: I feel very lucky to work with him. The first year, I was banging my head against the wall. There are fewer rules or things written down than I was used to in my previous jobs, but things still get done, and actually faster and with more flexibility than in a corporate setting.

I give my dad tremendous credit. He represents the brand and anything he does somehow winds up in the news. Any time we can act quickly, it is tremendously beneficial to our company. There is a time when templates and SOPs are great. And there is a time when executing on something quickly is also great.

Q: What advice do you have for local companies that want to expand to the Mainland?

Flores: Research and prepare. Operating outside of Hawai'i is different on many levels: vendors, cost, customers. Hawai'i has a strong brand, but it doesn't mean it will do well anywhere. Research, research, research. You are making a big change, and if you carbon copy the business model you have locally to the Mainland you will probably run into trouble.

This interview has been edited for clarity and conciseness.