Talk Story: Gladys Quinto Marrone, CEO of the Hawaii Building Industry Association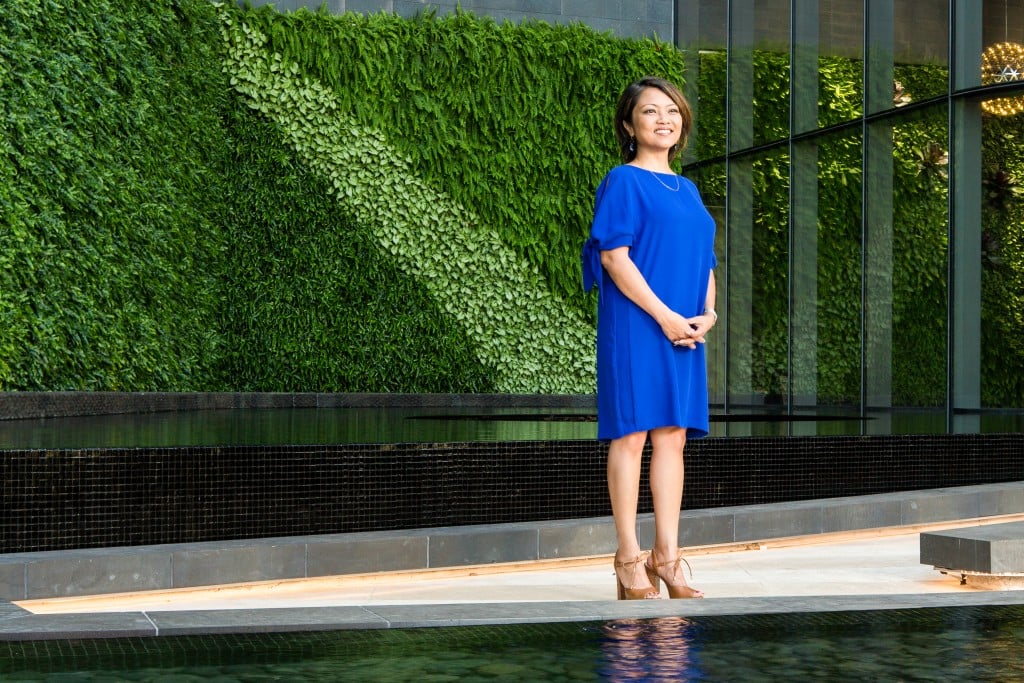 Gladys Quinto Marrone's successes did not happen haphazardly. The proud daughter of Filipino immigrants says strategic planning and perseverance are responsible for her successes, whether on BIA's legislative efforts to keep construction costs down or in her own career. 
Q: What are the Building Industry Association's biggest accomplishments? 
Marrone: We are probably best known for our legislative efforts, but we are more than that. We also represent future homebuyers; they don't otherwise have a voice because they're not organized. But our biggest thing is educating the industry – whether it's continuing education on how to be green, how to become certified, etc. – so we can have better workers and the public can benefit from having well-qualified contractors.
Our signature education program is our pre-apprenticeship training program for many at-risk youths. Kids start out kind of rambunctious, but by the end of the 12-week program, they're building stuff with their hands, and it's amazing to see the positive impact. They have the confidence to say, "I can do a lot of things."
Q: What's the local housing outlook?
Marrone: We're fortunate that two large developments are on their way: Koa Ridge and Ho'opili. So over the next 30 years, we'll get maybe about 16,000 new home units. It's still not enough, but it's definitely in the right direction.
Q: What are your ideas on tackling Hawaii's affordable housing shortage? 
Marrone: The different counties have requirements where you have to provide 20 percent or 30 percent affordable housing for certain income segments of the community. But what truly happens in that case – and there's research from the University of Hawaii that shows it – is it technically becomes subsidized housing. It's the higher end or the market price that has to pay for that subsidy. So those prices go up, while these prices stay lower and then there is nothing in the middle for middle-class families. The gap between the cost of housing just keeps going up because of that requirement.
I think it would be better to just prioritize home building and make it easier. The state reports that we need 66,000 new units statewide by 2025. But there were only 800 to 900 permits for single family homes in 2016. And we don't know how many of those are actually new addresses. They could be teardowns and rebuilds. So, we just need more housing.
We're hopeful the rail will provide other areas for housing. You don't want to go into the country or agricultural lands. We need high-density housing in urban areas.
Q: What has been a big failure for you and what did you learn?
Marrone: I can say what's prevented me from making bigger mistakes is learning to trust my sixth sense, my gut. It has never failed me, whether it's hiring one employee over the other or taking the advice of somebody versus just going with what you think is right.
Q: Women often have to carve out their own opportunities. Give me an example of when you had to do this. 
Marrone: Some years back, I was working at a consulting firm, and I really wanted to get back into government relations. So I said, "I give myself a year to get back into that arena." I decided there were steps I needed to take to do that, including networking. Then, within three months, I got a call that an opportunity had opened. To me there's no luck. I don't believe things will happen if you are good. You have to create your own opportunities and have the courage to seize them when they present themselves.
Q: But women are often scared to pursue opportunities, either because they don't feel qualified or are risk averse. 
Marrone: Yes. Or sometimes it's, "I feel bad leaving my old place." But it's not selfish to think about yourself, because who else is going to? It's just being smart to take care of yourself. Like on the airplane, you have to put your oxygen mask on first before you can take care of others.
Q: You're a proud graduate of Farrington High School. How did that experience help you get where you are?
Marrone: I asked my mom once how to spell "no one." I wasn't sure if it was a compound word or two separate words. She said: "Why don't you just look it up?" I thought, "Oh, OK." I had to open the dictionary, but from then on I could figure things out myself. And I've been doing that for so long. Farrington and my mom helped me to be very independent.
I think the community we had at Farrington was very cohesive. We had a lot of great people come out of Farrington and they're all big leaders in our community. I had this really great group of friends and I was the only one who went off to college, but nobody ever made me feel bad about it. They just really just supported me.
Q: You have two nieces who are 12 and 16. What advice do you give them?
Marrone: Keep your focus on where you want to go. You'll get a lot of distractions, but just remember to follow your dreams, whether it's traveling the world or pursuing a certain career. You've got to work at it; don't just throw it out into the universe and expect it to happen. Have a strategic goal and don't get distracted. And don't let other people tell you what you can and cannot do.
This interview was edited for clarity and conciseness.