Talk Story: John Y. Gotanda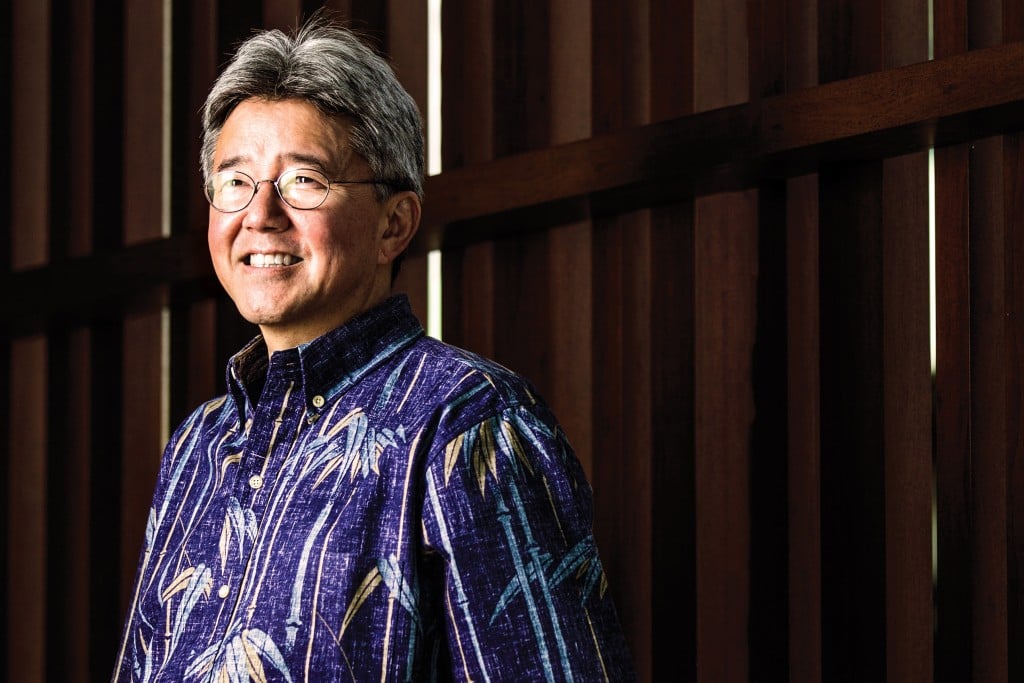 After nearly three decades as a lawyer and law professor on the Mainland, the former dean of the Villanova University law school comes home to lead HPU. We talk to John Gotanda about what it takes to be a university president, and about the future of small, liberal arts schools.
---
Q:  You grew up in Manoa, but you left Hawaii for three decades. Did you always plan to come back? 
I went to law school at UH. I always thought I would practice law in Hawaii, so what better place to go to law school? But, in my third year, I went to Washington, D.C., to work at the U.S. Court of Appeals for a couple of years. I thought I would come back after that, but then an opportunity came up for me to work in Washington at one of the premier law firms in the country, Covington and Burling. So, I jumped at that and practiced international law for a number of years.
In Washington and, briefly, in Boston, I got to work with some fabulous people, but I was always drawn to academia. Then, the opportunity came up to be a law professor at Villanova University, where I spent 20 years. So, originally, I thought I would come back to Hawaii in two years, but I wound up staying away for about 30, the last five of which were as dean of the law school at Villanova.
---
Q: Is it unusual for the dean of a law school to become president of a university? 
You find a number of deans of law schools going on to be the presidents of universities. For instance, Mike Fitz, who is president of Tulane, used to be the dean at the University of Pennsylvania law school. David Wippman, who I know at the University of Minnesota, is going to be president of Hamilton University. Hiram Chodosh was the dean at the University of Utah, then went on to be Claremont McKenna College president. I think it's because, in many ways, a law school is a self-contained unit. We're responsible for our own admissions, our own financial aid, running our own facilities – in many respects, it's a mini-university.
Many of the challenges that affect universities, including things like declining enrollment, are faced by law schools as well. The mar- ket economics and the demographics have changed for law schools, and we've seen similar challenges at universities. So, in many ways, it's good training. That's why many law school deans go on to become university presidents.
---
Q: Those demographic and economic challenges are particularly acute at small universities. Are these challenges sim- ply part of the business cycle, or are small, private, liberal arts schools, like HPU, doomed? 
I don't think it's cyclical, but, at the same time, I don't think it's fatal. We are witnessing an industry undergoing change. And it's not just small, private colleges facing change. Big, major universities are also seeing the decline in enrollments and shifting demographics in their students. As an industry, we're seeing an across-the-board shift. The real issue is: How does each institution respond? One thing that attracted me to HPU, that I think will give it a real advantage, is the mission of the university.
---
Q: How does HPU's mission diffffer from other universities'? 
It's unique in the sense that it's a complete package. Our mission is to bring together students from all over the world to educate them to be leaders in the global society. A lot of schools talk about that, but I think the student body at HPU is unique. When I was growing up, HPU was viewed as a place that had a lot of students from outside Hawaii, particularly international students. Looking back, that was just the perception; it wasn't the reality.
But, if you look at the reality today, there's a good mix of inter- national students, students from the continental U.S. and students from Hawaii. It's that mix of students from all over the globe that's unique. It builds a community that I don't think you'll find anywhere else. And it brings this rich, diverse group together in an academic program that spends a lot of time on student attention.
---
Q: What do you mean by "a lot of time on student attention?" 
We emphasize faculty members working with each individual student. I was having lunch the other day with our communications faculty, and one faculty member described how she teaches her class. Each year, she says, she changes the class to fit the current group of students. In other words, there isn't a cookie-cutter curriculum here, where every year she dusts o her notes and just lectures to a big group of students. She gets to know the students. She gets to understand them and adapts her teaching style and curriculum to fit the class.
You don't find that sort of personalized approach to learning in many places. That's something incredibly attractive and unique to HPU.
---
Q: Not long ago, HPU was in financial trouble. Do you have short-term priorities as you take over? 
There are a number. I think there's a really solid foundation here at HPU. The economy has presented some real challenges, but, where there are challenges, there's opportunity. Someone once said, "Never let a good crisis go
to waste." It's true. I think there are real opportunities to move the institution significantly forward and develop a unique academic program. We want to give students the opportunity to personalize their curriculum. Not just to get personal attention, which they do get, but to really individualize their learning experiences.
---
Q: Are you talking about personalized degrees and that sort of thing? 
That's right. And to build their education around the competencies they and the employers want. Whether they go to grad school or they have a particular area of job interest, we want to understand the skills, knowledge and values they need, then allow students to build their curriculum to meet those. We need to provide students not only with personal attention, but the ability to personalize their education, particularly with respect to the curriculum.
I also believe there's a real opportunity for HPU to grow and to rein- vent itself. If you look at our master plan, which was put together a number of years ago, it was based on an idea of changing and transforming the student experience by bringing our university together in downtown Honolulu.