Talk Story: Mike Latham, President, Punahou School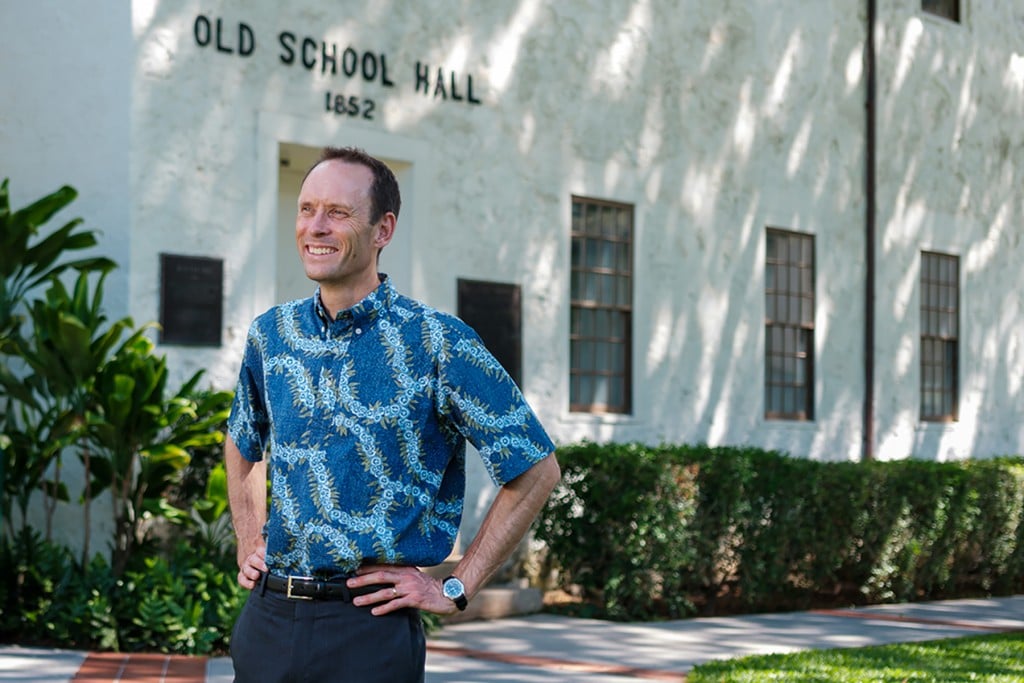 Latham became Punahou School's 17th president in July.
He returns to his alma mater – he graduated in 1986 – after spending most of his adult life on the Mainland in teaching and administrative roles. He talks about how the school has evolved, how it gives back to the community and how the campus addresses climate change.
Q: How has Punahou changed since you were a student?
A: I admire what Jim Scott and his team did to move the school. I think Punahou has made a more intentional and deeper commitment to access, inclusion and diversity. This includes the commitment Punahou made to pursue a need-blind admissions policy and to invest and raise the financial aid funds to make that possible, and we're in debt to the donors who recognized its importance. We never want an admission decision to be shaped by a student's financial condition.
I would say the school's much deeper commitment to the community was a big step. Every senior at Punahou is engaged in a community-based learning project, recognizing that we want to graduate students who not only have outstanding academic credentials but also a sense of social responsibility.
The school expanded its educational reach through things like the Partnerships in Unlimited Educational Opportunities (PUEO) program, where we have a cohort of roughly 350 students from public schools across the state, who from sixth to 12th grade, spend five weeks on campus every summer receiving academic support, counseling and mentoring. That cohort has had great outcomes: 99% graduate from high school, 95% enroll in college. We learn from the different teachers and counselors – most of those who teach in the program come from a wide range of schools – so it's a good example of how Punahou itself becomes better through its commitment to service.
I think it's just the beginning of what we're capable of and I'm excited to build partnerships with Department of Education schools and other local independent schools, to figure out exciting initiatives we can pursue together. What can we do, for example, to promote literacy among elementary school students? Could we create a compelling summer program with these partners that will have a major impact on a broad cross section of children?
I would say we're much more engaged with the need to educate the whole child. We've come to realize it's not enough to graduate students who are academically prepared to go to college. We've also got to graduate students who are resilient, know how to establish social relationships, handle uncertainty or ambiguity, who have the tools to manage stress and anxiety, to adapt to new and changing environments.
Q: What impacts do you hope to see in students by strengthening the school's commitment to social responsibility?
A: Part of it is creating, I hope, a lifelong habit where students ask in a thoughtful way: What responsibilities do I have? What obligations do I have to contribute to this society I am a part of?
The other thing is we want to give students a sense of empowerment that they really can make a difference. If you pick up the newspaper, and you read seriously, you can almost be overwhelmed. Yet I think when you get students involved in projects and opportunities for service, it can be empowering. They see it is making a difference, contributing to something valuable.
Q: How is Punahou addressing climate change?
A: The school is advancing rapidly toward being completely net zero in energy consumption. The new Sidney and Minnie Kosasa Community, which is for grades two to five, is net zero. The entire campus will go net zero within the next three to five years. That's meant installation of a lot of photovoltaic power and ultimately turning to solar energy as our primary source. So we've been thinking about additional sites on campus where we can put in more photovoltaic cells in addition to on top of building roofs. It also means thinking about the storage of energy and battery capacity.
The other side we're looking at is consumption. I was really excited last year when I found out Punahou students decided they wanted a campus that wouldn't sell single use plastic bottles. They've come out of the cafeteria and other places where we sell food.
We had the alumni reunion this year, and when you're having a lū'au, you've got to feed 2,000 people. So rather than having single-use plastic bottles of water, they passed out reusable aluminum water canisters, which was brilliant because everybody got the refreshment they needed but walked away with this receptacle they could reuse again and again. I thought that was a really good step. You've got a couple thousand alumni coming back and you're able to make this statement to them.
For this generation of students, questions of sustainability are real and immediate in ways they really aren't for older Americans. These things are going to have significant impacts in their own lifetimes. Their energy and enthusiasm sometimes can lead the rest of us in the right direction.
Q: Is there anything else you'd like to share?
A: The challenge for Punahou is to continue to innovate in the absence of a crisis, to innovate from a position of doing what we do well. And I think that building a culture that constantly thinks about the best direction we can pursue is valuable. And I just can't stress enough how important it is for Punahou to move beyond its walls and to continue to bring in people, some who could never have imagined that this school would be attainable.
This interview was edited for clarity and conciseness.