Talk Story: Omar and Tarik Sultan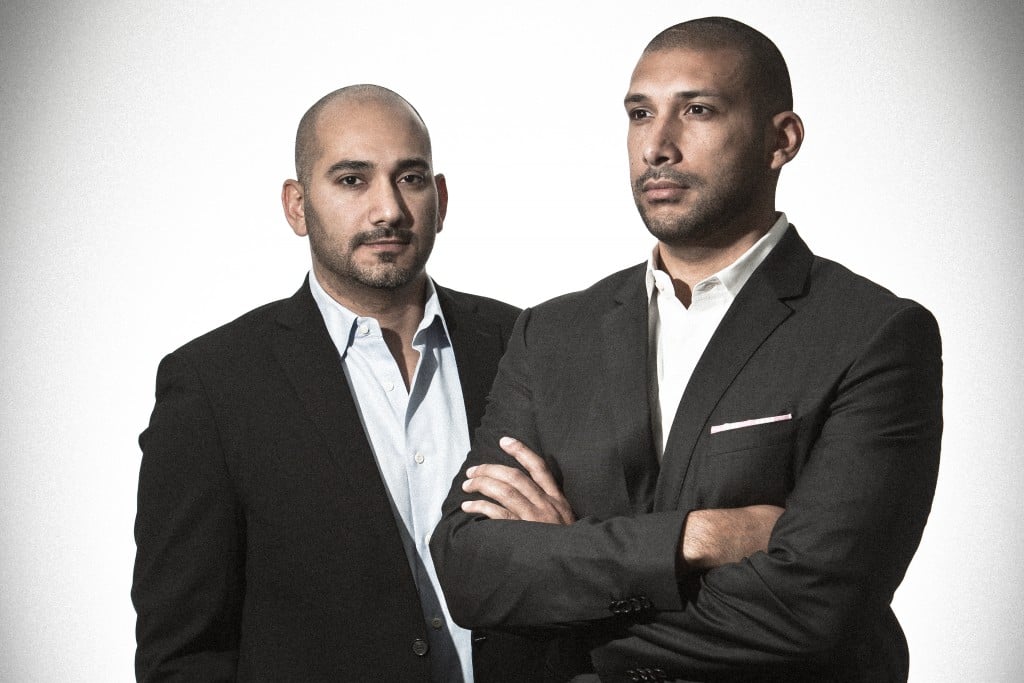 The Sultan brothers are a major new force in Hawaii's venture capital and startup communities. Their two platforms are Sultan Ventures, a Hawaii-based venture capital firm, and XLR8UH.
Last year, the two of you and UH launched XLR8UH, a public-private startup accelerator to commercialize research at UH. Why Hawaii?
Omar: Our sister, Aya, came here to do her medical residency at Kapiolani Medical Center for Women and Children. It was a new place for her, with no family connections, so I quit my job in Boston and moved here to keep her company. That was 2004. And Tarik moved here after he graduated from Tulane University in New Orleans in 2006.
Aya did her residency and then was recruited to do ovarian cancer research at Stanford. She is moving back here this year and opening her own practice. So the three of us are the founders and partners of Sultan Ventures, which we started about six years ago. Aya is 43, I'm 39 and Tarik is 31. We want to stay here because we love Hawaii and the culture and lifestyle.
What are the pros and cons of startups here?
Tarik: One of Hawaii's weaknesses is a lack of critical mass, the limited population and limited resources such as funding or available real estate. We have a joke: "If you can make it in Honolulu, you can make it anywhere." They say entrepreneurship often thrives in areas of limited resources.
Omar: It's kind of like sink or swim. You're forced to come up with solutions. We have to innovate. But there are strong pros: an over-abundance of resources unique to Hawaii, including research in marine science, astronomy and renewable energy.
Were there other influences that helped you?
Omar: A few years ago, we were working with Barry M. Weinman, a Silicon Valley venture capitalist who was UH Foundation chair from 2009 to 2011. We were charged to see which UH technologies were the best fit to spin out into the marketplace. For the last three or four years we've been working to form this accelerator, XLR8UH. It doesn't matter if the project is led by a student, faculty, staff or alumni. We support innovation and entrepreneurship in the university and get all those awesome ideas there percolating into the marketplace. There are especially technologies coming out of the medical school, cancer center and engineering department. But it wouldn't have happened without the leadership of Vassilis Syrmos, vice president of research and innovation at UH.
What do you look for in a project?
Tarik: Team, team and team, then the product and, after that, the market. You don't have to be a perfect team coming in. But you have to be realistic about what your needs are. If you're the brainy nerdy guys, but don't have business expertise, you have to be willing to identify the gaps and be willing to expand the team to fill them. You don't want single founders or a team that's not diverse. But it's also about the "hustle" component; you have to be hungry and willing to push the ball forward.
What's next if the idea has traction?
Tarik: We focus on early-stage ventures – anything from concept all the way to capital investment and beyond. In a lot of scenarios, we'll just advise and consult. That old adage, "Build it and they will come," doesn't work. For us, you make sure people want it, and will use it, before you build it.
How do people with good ideas connect with you?
Tarik: A lot of times people will come to us at an event. But nine out of 10 times, it comes down to word-of-mouth referral, with the exception being the accelerator initiative. With that, we solicit applications from the university for startup ideas.
Walk us through how you operate.
Tarik: One project we worked on outside of UH had to do with energy efficiency that was spun out of Oceanit. It needed a business team to help create a foundational plan and the CEO needed help to do the business development. So I was the interim CFO responsible for building the basic model to initially grow the startup. The CEO would talk to investors and, if there were follow-up questions, we would walk them through. We acted as the interim strike team to get them to the next level. We raised over $2 million in equity financing and maybe another million in grants so they were well on their way with a full team.
Omar: We roll up our sleeves and help support the team in every aspect. But we couldn't do it without our own team, including: Meli James, program director and entrepreneur in residence; Peter Rowan, angel in residence; Luke Tucker, program manager; and Katarina Poljakova, program associate.
What's your background as a venture capitalist?
Omar: In Boston, I was a project manager for a healthcare startup. We developed applications and systems for the healthcare industry, essentially hospital information systems that hold electronic medical records. My undergraduate degree, also from Tulane University, is in finance, and both Tarik and I have MBAs from the Shidler College of Business at UH. We were both working at the John A. Burns School of Medicine while we were getting our MBAs, and I was director of the genetics lab, as well as involved with IT and life sciences. Tarik was a pre-med undergraduate and doing genetic research.
What's of primary importance in the venture capital industry?
Omar: This is an industry where word-of-mouth and personal relationships go a long way. We have close friends and colleagues who are investors and focus on different kinds of projects. Any good investor should have a strong network of other investors. That way they can say, "This is something Bob might be more interested in," or "This resonates with another investor, let me introduce you." Much depends on the alignment of interests of the investor; the team and how far along the project is; the potential traction of the project; and is there a fit for the investor in value, vision and interest?
This interview has been edited for conciseness and clarity.