Talk Story: Randy Iwase, Public Utility Commission Chair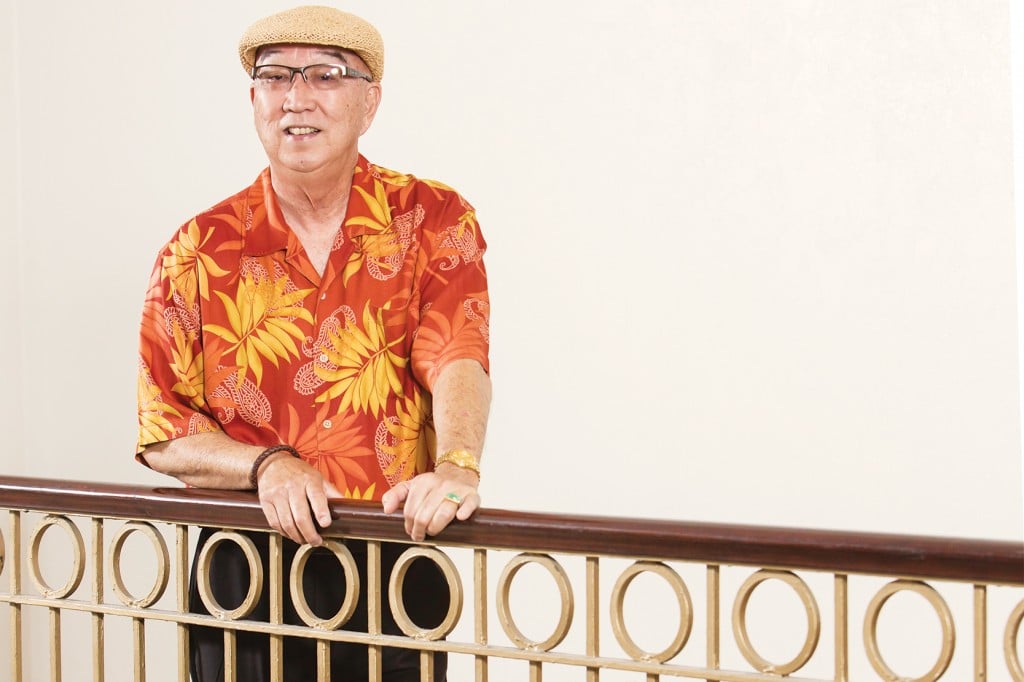 G
ov. David Ige surprised many when he appointed Iwase to replace Hermina Morita at the PUC. Clearly, the former city councilman, state senator, deputy attorney general and chair of the state Tax Revenue Commission has administrative and political chops, but we ask if he's up to the technical challenges and what his energy plans are.
Q: The PUC faces complex issues, especially in energy. Are you concerned because you don't have a technical background?
A: I come with a background in law. I served as an administrative law judge, so to speak, for six years, chairing the labor appeals board for workers comp cases. And I served in the Legislature. So, I know government and legislative processes well, which is important. I have an outstanding staff, so they translate technical aspects for me. What I bring is an understanding of how to drive toward and move through public policy. That's why I came out of retirement: the belief that we need to lay the foundation for a better future for our state and our kids. That sounds like a political speech, but it's not. I really believe that. And I believe energy is a critical component in laying that foundation. At the PUC, we will be effecting major decisions and the merger case is one.
Since I came here, I've continued to tell my staff, "Move the four dockets" – demand response, the Power Supply Improvement Plan, the Distributed Energy Plan and decoupling. They've been sitting here for a while and I said, "Move them out."
"So, it's not so much about making definitive decisions as much as it is: How do we leave options open so we're not tied to a decision made in 2015 that becomes obsolete in 2020."
Q: What about the NextEra takeover of Hawaiian Electric? Blue Planet and others wanted you to hold that up until the PUC created a blueprint for the utility's future. You ruled against that. Why?
A: I didn't think that was necessary, but I don't disagree with Blue Planet's intent to create this blueprint. I think they're right. In fact, I know they're right. That's why, when I came in, I said we're going to move those four dockets out. That's going to put everyone on notice. All the players already know the thought process of the PUC from the theme paper called "Inclinations." These four dockets are starting to implement that. The utilities know we're serious about what was in there. We're asking that you move in that direction. And we will help you, but we'll constantly push you. Two of the dockets are out. Hopefully, the demand response docket can come out soon. The Power Supply Improvement Plan is much more complex and it's going to take a little longer.
Going back to what Blue Planet did: These dockets are moving and the merger case is also moving; but, whether there is a merger or not, the requirements of law that we have to address have nothing to do with the four dockets. So, it would not have been appropriate, I thought, to stop the merger docket. It was, however, appropriate, to move the four dockets, to let all the parties know that, no matter who owns the utility, "You will take this company in accordance with the decisions and directions forthcoming in those four major dockets."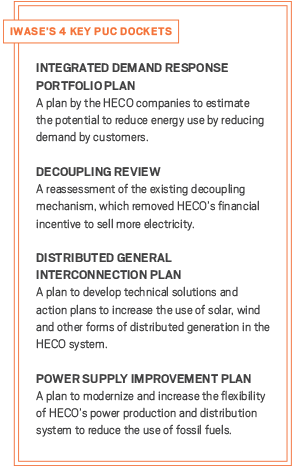 Q: Were you surprised NextEra would seek to buy Hawaiian Electric not knowing the outcome of these dockets?
A: I can't speak for NextEra, but I will say they're going into this case knowing full well where the PUC is heading in the
"Inclinations" document and those four dockets. So, it's not going to be an excuse later for anyone to say, "We didn't know." You had notice and you take action with that notice. If you want to proceed or pull out, it's your call.
Q: The decisions the PUC makes in the next few years will affect Hawaii for decades. How do you approach
these issues?
A: Do you remember the first cell phone? It was a brick. Look what you have now. And do you know what the No. 1 use for it is today? Texting. Telephoning is No. 6. Technology changes so quickly. For me, sitting here as a decision-maker, looking forward into the future, for example, at renewable
energy, battery storage, solar energy – maybe, 50 or 60 years ago, you could sit here and definitively say, "That's the road we're going to travel." That's not true today.
Someone once gave me this perspective: What you've got to do is put out a platform and have all these applications there. The point is not to foreclose opportunities. If you look at the storage issue, for example, do we confine it to battery storage, or can it be something else? Are we limited to just solar panels or, in the next 10 years, will there be something else? Do we need huge wind machines or, in the future, will there be something else? So, it's not so much about making definitive decisions as much as it is: How do we leave options open so we're not tied to a decision made in 2015 that becomes obsolete in 2020. That's where I feel most inadequate, because I can't foretell the future. That's what's most challenging, but it's also very exciting to hear all the exciting possibilities in energy.