Talk Story: Richard Vuylsteke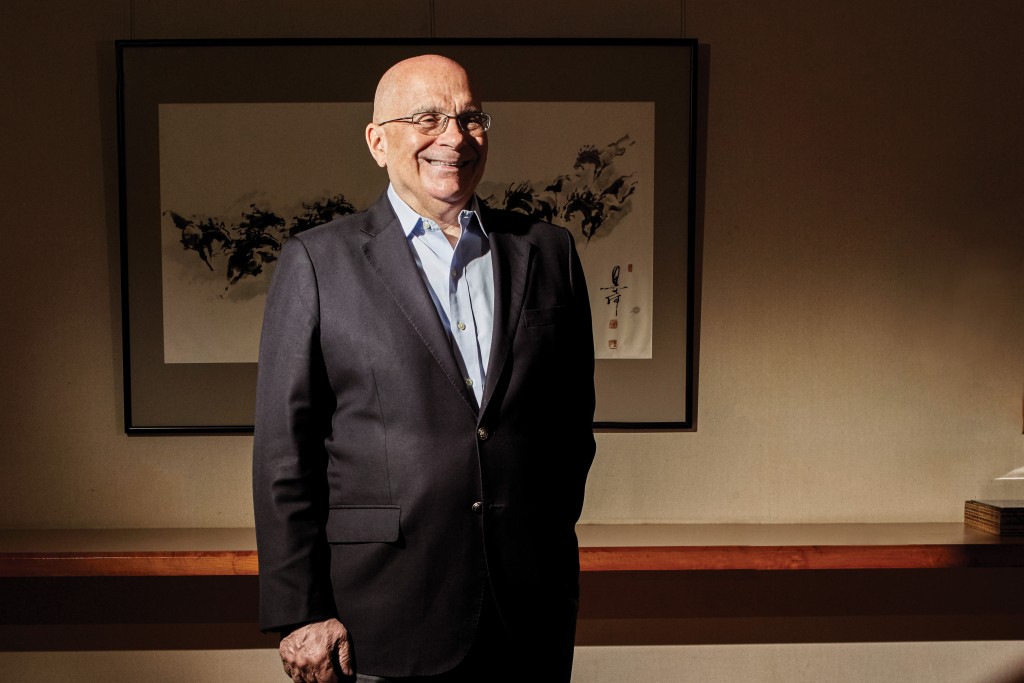 Vuylsteke (pronounced VUL-stek) has had a global career that has carried him through universities, journalism, the military and the business world. He recently left his post as president of the American Chamber of Commerce in Hong Kong to assume leadership of the East-West Center, whose mission is to promote cross-cultural understanding and dialogue among Asia, the Pacific and the United States. Vuylsteke is the center's first president who is also an East-West Center alumnus.
Q: You grew up in Illinois when Asia's power was less apparent. How did you become interested in Asia?
A: I was a stamp collector in grade school. So I had a real interest in world geography, and a lot of the commemorative stamps have historical figures, places or scenes. That piqued my interest early on. And I've always been interested in history. My father and I did a lot of reading on history and international travel. We would take out a couple of books from the library, read them, exchange them and then talk about them.
Q: The East-West Center is better known now in parts of Asia than Hawaii, drawing people from many nations. What's it like to participate in an EWC program?
A: What differentiates the East-West Center is it's a cross-cultural, cross-national package deal. You're not just in the classroom or going to the cafeteria together. You're cooking together, meeting in elevators, all kinds of activities that really bring about an in-depth relationship between people from very different cultures and orientations. That develops an EQ (emotional quotient) skill set which I think is extraordinary.
No less important is enhanced curiosity. At the East-West Center, you're exposed all the time to opportunities to learn things you can't look up on Google. In the '60s (when the center was founded), Asia didn't know much about America, and vice versa. Now we know a lot about each other, but having people with a truly international skill set is still crucial. The center's mission is even more important now because the increased connectivity has also made it possible for increased, immediate misunderstandings.
Q: What's one new issue the East-West Center will be tackling?
A: The center's original orientation was technical programs, because there was a need in emerging Asia-Pacific economies for technical skills. Technology was superseded over the decades, but it is now back on the agenda. High-tech, social media and all the spinoffs of that – everybody's relearning. Not just individually, but all institutions, whether they be government, NGO, education, business, are trying to deal with the impact (of technology) on job descriptions, jobs themselves, efficiencies of B2B, B2C, C2C, all the interconnectivities that are so essential locally, regionally and globally. We're all in training mode. So, at the center, we're looking for another wave, both in-house as well as in our programs, to ensure there's a technological expertise overlay.
Q: The East-West Center has been known in recent decades as a very cerebral, academic organization. Was your business experience something the East-West Center wanted to incorporate?
A: Yes, I think this was one of the attractions of my coming here, from the hiring (committee) and from me. When I was an alumnus, and even when I was here as a graduate student, one of my mantras was that, even if you're doing research, government policy or NGO involvement, you're not closing the circle unless you include business. When I was here in the '70s and '80s, my question was, "Why aren't we more closely linked with the business school here?" It was unnatural to me not to close the circle of social/political/educational/economic – to understand how the world works and, frankly, who funds how the world works. Who provides the jobs? Who pays the biggest taxes? It's the business community. It just didn't make sense to me that part was not there.
Q: What's a takeaway from having spent almost two decades in Asia's business environment?
A: An easy one, especially in the last nine years in Hong Kong, was the detail of supply-chain intricacies. That's just one example, but it's one that was really eye-opening given the recent election and the anti-globalization and populism we're seeing. We haven't communicated, as businesspeople, how business works – how global it is, and the international connections even on a local level. If you're a plumber, you can open your iPad and let your client choose what they want online, and order it right there. We're all global.
Q: How would you involve businesses in your programs?
A: Invite them. There are business solutions to a lot of the problems we're looking to solve. Like aging societies. If you have a smart city, where the place is completely wired, like Hong Kong is, you can give every one of those (elderly) people a Fitbit. If there's a heart flutter or a problem, it's broadcast immediately to the network, and the nearest ambulance gets there. That's possible. Cisco can already do that.
Q: How do you hope the current administration will relate to the East-West Center, which is a nonpartisan organization?
A: About half our funding is from federal appropriations, which we then leverage up by contracts, grants and donations. Anytime there is a new administration in Washington or new leadership at the center, one thing you've got to review is, "Are the appropriations you get, getting the bang for their buck?" I think the answer is "Yes." Could it be better? "Yes" on steroids.
It's the 21st century, with different requirements. My role is to ask: Are we doing what we need to be doing? And addressing the things we need to do? Are we really fulfilling the mission as defined in a 21st-century way, here, and not just in Hawaii, but in our outreach throughout America?
Q: You mentioned that, in the 1960s, Hawaii was a mandatory refueling point between Asia and the Pacific. That's no longer a physical requirement. How can Hawaii stay relevant as an international crossroads?
A: I think everybody's trying to think that through. You're relevant if you do things that are worth emulating, and people want to know how you did it. There are a whole host of city issues we face that are also national issues: smart cities, water issues, differentials between rich and poor, traffic, alternative energy.
There's Hawaii's beauty and the people themselves. There is a sense that we have our tensions, but we're getting along pretty well compared to a lot of places. To be immersed in that – besides the specific kind of education happening at the center – you've got a bigger package.
Q: On Nov. 9, 2016, the outgoing president of the center gave a speech in which he said, essentially, that in the 21st century it would be more important for the East-West Center to be nimble rather than big. Do you agree?
A: It needs to be both. I didn't come here to hunker down and keep the same size. This place needs to grow in size and relevance. I gained so much from Hawaii, and from the center in particular. I was on the receiving end a lot and, now, I'm in a position where I hope I can really deliver.
This interview was edited for conciseness.