Talk Story: Rick Ching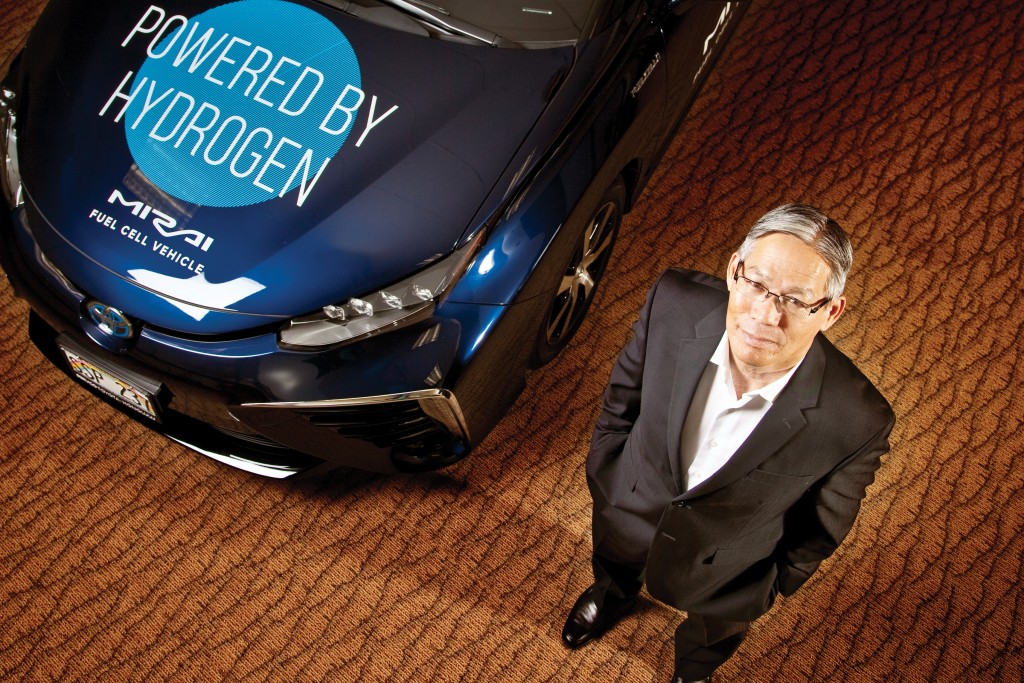 With his recent promotion to president of one of Hawaii's biggest locally owned businesses (No. 8 on the 2016 Hawaii Business Top 250), Ching is helping oversee Servco's dramatic overseas expansion. We ask him about the challenges of operating in three time zones in a rapidly changing industry.
---
Q: With the advent of autonomous driving, car sharing and the changing demographics of car buyers, the auto industry faces fundamental changes. What does that mean for a dealership like Servco?
A: That's the open question. People way smarter than I am are trying to figure how it plays out. Different people have different ideas for different parts of the industry. You have the manufacturers themselves, and those non-traditional players in the automotive space – the Teslas and the software companies, like Google – that are impacting the manufacturing sector. Then, you have the distribution of vehicles, which Servco is also involved in. And then you have the actual retail dealerships. Frankly, all are going to be impacted at some point by the shifts in the market – the digital explosion – but exactly how it plays out is, I think, the real question.
Q: Do you have any theories?
A: I knew you were going to do this. I bring it up, and you'll have all these questions as to what happens. (Laughs.) I think, from Servco's standpoint, we have a history of almost 100 years of adapting to all kinds of different situations and finding a way to be successful. We're looking at how we're structured, at our people and the talent and development of folks within the company. We work really hard in that area, so I'm confident that, whatever happens in the industry, Servco will adapt and be successful in the future. But there will be significant changes going forward and, I think, adaptability and flexibility are really important for organizations facing the shift we're seeing in the digital space.
Q: One of the most striking changes at Servco over the past decade has been its expansion into Australia. Was that simply because an auto dealership became available there, or did Servco make a strategic decision to look for opportunity in Australia?
A: This was back in 2006, and Servco was specifically looking for a place to expand, both inside and outside of Hawaii. In conversations with some Toyota Motor Corp. executives in Japan, we were looking for ways we could continue the relationship, since they were a major partner of Servco. It was one of those executives who recommended that we consider Australia. So, we started regular trips there to understand the market, meet some dealers and did our due diligence at understanding what it would mean operating in a completely different country. About a year and a half after that, an opportunity presented itself in Brisbane. That's when we invested in the first Australian dealership. Since then, we've done not quite one deal a year.
Q: As a company, Servco has a very Hawaii-based ethos. Do you plan to export that sensibility to your Australian operations, or will Servco adapt to the local culture?
A: That's something we talk about all the time.
Now that we have grown so much outside of Hawaii, what does that mean for our culture?
I believe Servco has a very strong culture, and that's been very successful here in Hawaii. How does that equate when we have significant operations outside of Hawaii? We've tried to balance that.
Back in 2000, we took a very explicit and careful look at Servco culture. We had a grassroots effort where all our employees in Hawaii had input into deciding what Servco stood for. That resulted in our 10 "Servco Shared Values." Those served us well over the last decade and a half. Then, we started adding all these operations outside of the U.S., and we started thinking, "What does that mean for those shared values?" We now had all these associates down in Australia who didn't take part in the discussions that created them. What did it mean for them to be part of Servco?
Recently, we had another effort in which we transitioned from those "Servco Shared Values" to a new set of four Core Values: Respect, Service, Teamwork and Innovation. That effort involved our new members in Australia and, I should mention, our insurance operations in the Pacific Northwest.
Q: The Pacific Northwest operation is another example of expanding outside Hawaii. How did that happen?
A: Servco has been in the insurance business for a long time in Hawaii. Again, we were looking for ways to expand that business because we felt it was a growth opportunity for us. We had particularly grown in the marine insurance business, in what's called "brown water insurance." This is primarily insurance for near-shore vessels and cargo – not big freighters crossing the ocean, but smaller vessels like commercial fishermen up in Alaska. We were doing marine here in Hawaii and we understood that business and thought we added value there, so we took that model and said, "Let's see if we can find an opportunity to continue to grow marine insurance."
Q: You bought each of your seven Australian dealerships separately. Does bringing them under one roof give you advantages of scale?
A: Yes. We actually have a Servco Australia head office, which is physically located in Brisbane. We're adding capacity at the headquarters office for exactly those reasons. Realizing that we're a sizable group in Australia, the question is: How do we create infrastructure for a group of that size and leverage some of the efficiencies we might gain at a larger scale?
Q: I imagine it's the same for the insurance business in the Pacific Northwest.
A: One of the things we have to make sure of is that our systems behind these businesses support this growth. The advantage, of course, is that you can leverage that investment over a bigger revenue base. For instance, the computer system that we're now using in both the Pacific Northwest and our Hawaii operations – what they call the "agency management system" – is being redone and the new system will be used in both places. So, whether it's in the IT space or the human resources space, we continue to look at ways we can leverage our strengths over a bigger business.