Talk Story: Scott Higashi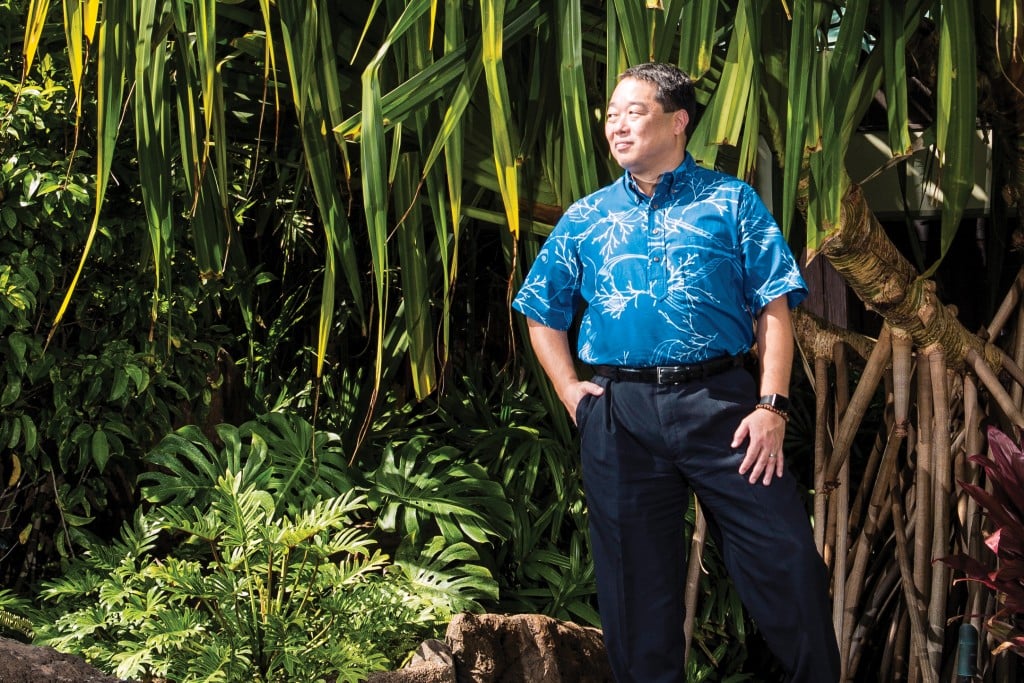 Higashi explains how the 48-year-old company stays relevant amid unprecedented disruption in the real estate industry. He also weighs in on Hawaii's paltry housing supply, offshore home buyers and whether the new presidency will impact Hawaii's market.
---
Q: How does Locations compete against national brands like Zillow?
A: The important contrast is that we are hyper-focused on neighborhoods. Sure, consumers care about the general real estate market, but what they really care about is what's happening on their block, with their neighbors and schools.
Zillow provides information based on zip codes, which we know have a diversity of neighborhoods and products. For example, the zip we're sitting in is 96815. Right across the street, there are single-family homes and then there are also the condos in Waikiki. When Zillow provides a value, it's taking the broad 96815 into consideration.
When Locations calculates a value we base it on the address of your home. We're going to say: "You're on Charles Street and the values around that street are such." We are much more specific.
We've just rolled out a new website, which provides valuations based on neighborhoods. Zillow and Trulia, by contrast, base their valuations on zip codes, which are too general.
Q: How do you remain relevant in a market that is lunging toward self-service?
A: This is the largest purchase that most people make in their entire lives. And there are complex contractual items that need to be worked out by an expert.
A first-time homebuyer may be scared to death. What happens when the seller says, "I'm not going to do this or that?" Someone needs to step in and help guide that process.
Realtors can also make sure your dreams get realized. You need to have someone who can write a great cover letter that expresses why your offer is the one to accept versus another. We have many instances in which the most persuasive offer – not necessarily the highest – gets accepted.
Q: The price of Hawaii real estate has climbed steadily for years. Do you think there is a bubble in the making?
A: I don't detect that, and the reason I don't is because the growth of the market has been very steady and moderate. So, we're not seeing these super-heated values. I think we're projecting an increase in values between 5 and 7 percent overall for 2017. And the number of sales probably increasing about the same.
Q: But what goes up, must go down. When do you forecast the end of rising prices?
A: You can almost divide Hawaii into 10-year cycles. Five years of growth followed by five years of plateauing, the two exceptions being the Japanese bubble in the mid-90s and then the 2008-9 financial crisis. But this current cycle is fascinating because we're not seeing a general slowdown.
Q: How do you prep a company for down times?
A: We diversify the means by which we make our sales, such as converting online leads to sales. Twelve percent of our sales now come from our website. We've become sophisticated at calling customers faster, establishing a rapport early and developing that relationship over time. We have a call-center team that responds to leads seven days a week. We even have some evening shifts to accommodate folks who may be searching from their homes during their leisure time.
We are not relying solely on traditional means and that's key. So, we will be in neighborhoods more directly in touch with consumers. Last year, we started having seminars that were neighborhood-specific, like in Hawaii Loa Ridge. We invited people from the community to learn a bit about what's going on in their backyard.
Q: Interest rates just went up and will probably continue rising. What impact will that have on demand for real estate?
A: When I bought my first home some years back, mortgage rates were at 6.75 percent and we were thrilled. Suppose rates are still just under 5 percent at the end of this year, which I think is a realistic and reasonable projection. Anything that starts with a 4 is really great. I just don't think the current rates would scare consumers away.
Q: Will the new political landscape impact the local market?
A: Having a Republican or a Democrat in the White House doesn't seem to have any direct bearing on the movement of the real estate market. It actually has to do with macro-economic issues.
We'll have to see about any changes in economic policy or taxes. Even so, it often takes a long time to change federal regulations, and for the changes to take effect. In Hawaii, unemployment is still very low. Housing inventory is very low. So, the economic factors don't point to a slow down or a cooling of the economy.
Q: There is a lot of buzz about nonlocal buyers driving up real estate prices. What's your take?
A: That's a real misnomer. I don't believe clichés like: "All the people are coming in and buying the real estate and local people can't afford it." Or "They're paying ridiculous prices and that's why real estate is not accessible." More than 80 percent of residential buyers are locals. In fact, I think, outside buying is needed because it injects diversity into the market.
Q: Housing inventory is a big problem. What measures do you think could boost supply?
A: Our regulatory environment is too cumbersome for developers and even for homeowners. I'm not suggesting that we compromise safety, but we need to streamline things.
Hawaii also needs to diversify its products. There is a lot of talk about micro-units, which are new to the Islands, but entrenched in other markets. These may be perfect for renters who want to own their own places at prices that are more affordable. Hawaii consumers have to get used to the idea of smaller units.
Amenities like a pool or a gym are nice, but they add to your fees. And the reality is, "Are you there every day?" In fact, you're probably not there every month. Not because you don't want to be, but because you just don't have the time. So, maybe we start seeing buildings that are more dense, with fewer amenities, and this would provide accessibility, both in prices and cost of construction.
The other issue is: How do you develop spaces around the anticipated rail line? Communities around the world have found a way to use mass transit to develop new housing types and housing alternatives around commuter stations.
There is only so much land in Hawaii; diversity of product is going to be important going forward.