Vance Roley: Dean, Shidler College of Business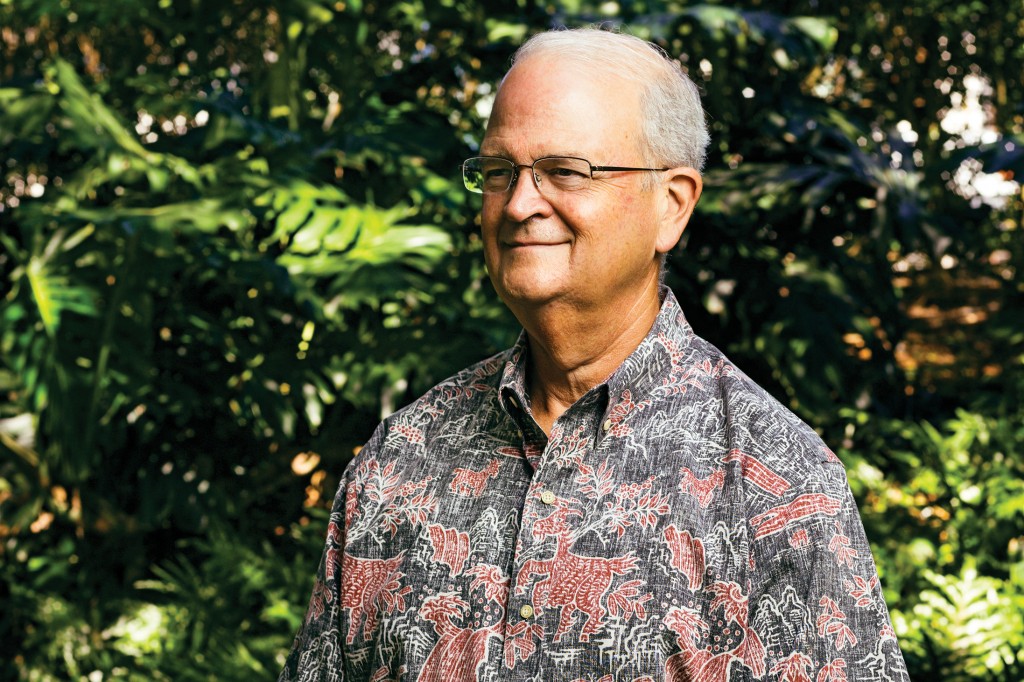 Roley has been dean at Manoa's business college since 2005 and, this year, he was named Salesperson of the Year by the Honolulu chapter of Sales and Marketing Executives. Hawaii Business publisher Bobby Senaha asks about the importance of sales, his proudest accomplishments, lessons learned and about how Millennials are transforming the college's teaching style.
---
Q: In what ways are you a salesperson?
A:
I think sales are a part of any leader's job today. One way sales is important in my job is with our new freshman admissions program. We used to passively admit undergraduates in their junior year; now we go out and sell freshmen to come here and have a recruiter on the road. I go to information sessions for accepted freshmen and persuade them Shidler is where they should study. These are highly capable freshmen, so they have other options.
We have always had to sell our MBA program because we're in a highly competitive global market for full-time MBA students. We recruit about a third from Hawaii, a third from the U.S. Mainland, a third from Asia and that's all about sales.
When we recruit new faculty, the candidates are usually interviewing with six to eight different universities and it's sales again to persuade them Shidler is the right place for them. And we're really big on alumni engagement and love to have private support from alumni and friends, and that's about selling them on the strength of college and how their investment can pay off for the future of Shidler and Hawaii.
What are your proudest achievements at Shidler?
We have many successful programs. Again, our freshmen admissions program is really popular. About five years ago, we started with a class of 20 highly capable freshmen; we had a target of 80 and last year we actually got 89. This year, the number looks somewhat higher. We're providing a high-quality alternative for students thinking about studying on the Mainland.
We have also bolstered our scholarships for study abroad, which is a life-changing experience. We try to provide scholarships so there is no extra cost for spending a semester abroad versus staying here.
Another successful program is our Distance Learning Executive MBA program, which was designed mostly for the Neighbor Islands. We've benefited from great scholarship support from Young Brothers, Hawaiian Tug & Barge, Maui Petroleum, Aloha Air Cargo and the other Saltchuk companies in Hawaii. This program is self-sustaining, so we need a certain enrollment to cover costs and we've exceeded that. We have around 30 students in this program and it's taking off. We are now recruiting for the third cohort. In the last cohort, we added a health-care management track, which looks like it's going to be popular.
So this distance learning program could be our MBA program of the future. It's a hybrid: A lot is asynchronous online, but, one Saturday a month, they all come to Manoa to study and interact. I think business education needs that face to face; I don't believe in pure online programs.
What else are you proud of?
The executive MBA program in Vietnam: Professor Tung Bui is the current faculty director and is driving that program and before him was Professor Dana Alden. They have both done a tremendous job. When I came here, we had one cohort in Hanoi and now we have two cohorts in Hanoi and two in Ho Chi Minh City, and the students are amazing.
I'm really happy about our faculty recruiting in the last 10 years. I asked our departments to aim high and they did, and as a result we're finding it easier and easier to attract world-class faculty.
Finally, I'm really proud of how we've engaged our alumni and our business community in Hawaii. It all starts with engagement, the private support comes second. We've engaged them mostly through our students, who are awesome ambassadors for the college.
How does Shidler teach entrepreneurial thinking?
We offer an entrepreneurship major for undergraduates, so there is a curriculum and a lot of experiences for students. Susan Yamada has launched something like 10 or 11 new programs since she took over as director of PACE, the Pacific Asian Center for Entrepreneurship, and most of those are action-oriented programs. Students are engaged in entrepreneurship, entrepreneurial thinking, projects, startups – all of them learning through experience. They form business plans, pitch them, sometimes they go forward with that, they often fail, but what we teach is that it's OK not to succeed the first time. It's all learning.
What have you and your faculty learned about engaging Millennials?
You have to engage them differently and I think this is not a one-time change. From now on, we have to continually evolve in how we teach business. Students are not interested in listening to lengthy lectures; they want to be actively engaged, whether on their iPhone or iPad during the lecture, or flipping the classroom, such as when you  give them material in advance and the class time is a discussion about the material.
Given the pace of change, what is Shidler doing to prepare its graduates to work in fields or positions that may not exist today?
That's another major theme in the education industry today and one we embrace. It's about lifelong learning, so, once you get a degree, you're not done, especially in a field like information systems. If you haven't kept up, in one year, you're way behind. That's why we have robust executive education, lots of seminars and events. We provide opportunities for our alumni and the business community to come back to Shidler to learn.
How does Shidler's curriculum differ from Mainland schools?
Mainly because of our Asia Pacific focus. The whole global economy has shifted to Asia and this is embedded in almost everything we teach. We probably look more to Asia than to the U.S. Mainland and that's a real advantage. We offer more Asian languages than other university in the U.S., so the whole campus is Asia focused.
One last question: What leadership lesson did you learn the hard way?
You can't always do it, but it's much better if you can empower people to do their jobs. There is a tendency to micromanage, which I've done, but it's much better if you frame the problem and goals with other people's help and let them do their jobs. If you're successful as a leader, your job becomes easier and easier over time.
This interview was edited for conciseness.