Talk Story with Bill Wilson of Hawaiian Dredging Construction Company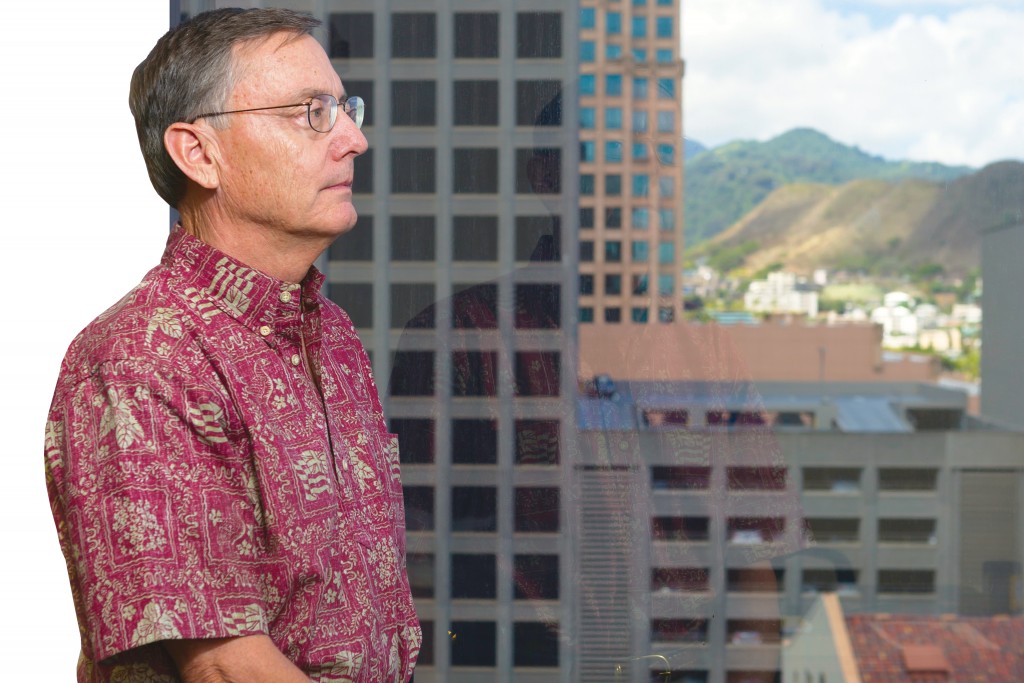 At Hawaiian Dredging, one of the Islands' largest contractors, Wilson has a bird's-eye view of the building industry and its role in the state's economy. Hawaii Business talked to him about what can be done to improve the state of the construction sector and diversify the economy.
How do the near-term prospects look for the construction industry in Hawaii? For example, does Hawaiian Dredging have a lot of work scheduled right now?
In our case, it's primarily on the drawing board. In terms of specific projects, our owners – the ones we're doing the work for – are always the ones to lead that conversation. But, just based on the work that we do have, and some of the things we've been working on, even if we may not have been selected to do it, there's going to be a higher level of activity overall.
Slow improvement seems to be the consensus within the industry, but is there anything the sector can do to kick-start that process?
Construction is a very reactive industry. There are others who decide what's going to be built, what they feel makes economic sense to build, what needs to be done to improve the state. Then, the contracting community responds to that, whether it's for governmental agencies, hotels or condominiums, or roads. Of course, everybody in the construction industry kind of grows up wanting to build things. You just give us a little time and we'll figure out how to do it.
Major projects in Hawaii, like rail, Hoopili or Koa Ridge, always take a long time to get started. Is the process too complicated to get things done anymore?
There's always talk about trying to shorten that process. People always have examples of things that have taken too long to develop. And yet, there are also questions raised about what's being done in the state. These people also have their list of things that were done prematurely, that weren't adequately evaluated before they proceeded.
So, some in the government and the private sector are talking about streamlining the process, and people are concerned, and rightly so. You have environmental considerations and you have historical considerations, and some of those issues are significant and there's no question they need to be addressed. So, there's always a bit of a balance that needs to be struck there. That's just the way of the world. And I like to think it's a healthy tension. … It's always been a bit of a challenge for those that want to develop things, and the pace has always been a question. But you want to ensure you've done as much as you can to ensure that things are done right.
It's also very hard here, because you have close ties with people. You understand the issues; you understand the concerns.
Although you're part of the construction industry, you're also interested in diversifying the economy.
In addition to my day job, I'm the current chair of the Economic Climate Task Force at the Hawaii Business Roundtable. This group was formed about a year and a half ago to try to figure out what we can do to move the economic climate forward in the state. For example, there are a lot of initiatives at the university that are going to be very helpful, I think. You've got a lot related to energy – renewable fuels and things like that. Trying to move Hawaii away from its long-term dependence on fossil fuels imports. There are a lot of initiatives throughout the community to try to deal with that: photovoltaics, solar, renewables, wind. My perspective is there are a lot of good ideas coming forward that are going to be helpful, in the long run, to make us more energy independent.
Diversifying the economy is a good idea, but tourism is still the largest industry in the state. Sometimes, though, there seems to be a gulf between Waikiki and Bishop Street.
Because of the economic activity in the tourist industry in Hawaii, all businesses here are significantly affected by what goes on in that sector, whether they're directly involved in it or not. That's also true for the populace as a whole: If you're not working directly for the tourist business, the business that you're in is impacted by the success of the tourism industry. I think most people understand that. At the same time, they can be focused on their own issues, as opposed to others' issues, and that's where the gulf can come in.
That seems like a problem that should be addressed by groups like the Chamber of Commerce or your own group, the Business Roundtable. Are these organizations as effective as they can be?
I think that's one of the things the Business Roundtable is working on: Are we doing all we can to help improve the economic climate in the state? You certainly have individual companies working on things that are in their own interest, but this organization is meant to be broader than that. That's certainly the way we approach it. What are the elements of our current economic activity that can be grown, that would be beneficial for the state to grow, and what can we do as a group to help foster that environment?