Talk Story with Bob Iger of the Walt Disney Co.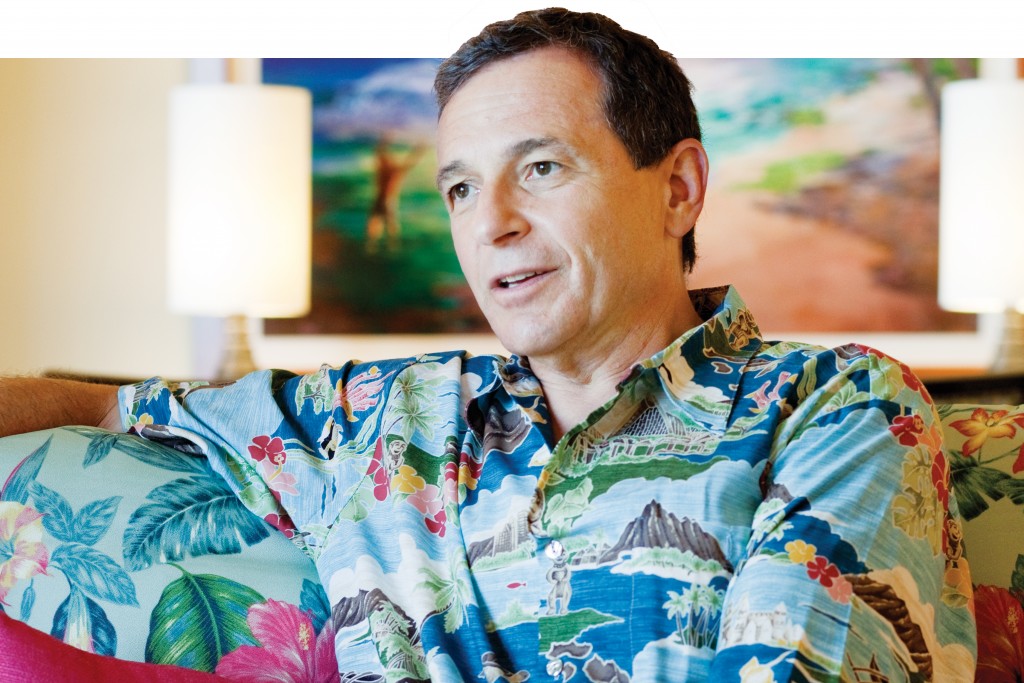 After nearly three years of construction, Aulani, a Disney Resort & Spa, opened in September at Ko Olina. In an exclusive interview with Hawaii Business at the resort, Disney's chief executive talks about Aulani's role in the global conglomerate, about planning and executing a new product, and about future plans for Hawaii.
HB: In the bigger picture, how does Aulani fit into Disney's strategic vision?
Iger: We'll obviously continue to look for new ways to entertain guests around the world, in some cases, guests who have already experienced Disney and, in other cases, attract new ones. It's clear to us that we don't necessarily capt ure people's vacation time and spending every year, because they like to do different things. Over time, we've added new and different things to give people an opportunity to experience Disney again and again, but not necessarily in the same way or in the same place. Obviously, with multiple theme-park locations, a number of people have been to more than one of our theme parks. I'm always amazed when I meet people who have been to our five locations and they can't wait for Shanghai to open so they can get to six. We meet a lot of people who have been to a lot of our parks, sailed on our cruise ships, gone on Adventures by Disney (guided group vacations), obviously seen Disney movies and Disney shows, and the like.
This is an extension of what I'll call the Disney family, from a location perspective. It also is an extension of a business that has been very good for us and good for our guests, and that's our Vacation Club business, or our timeshare business. Most of our timeshare locations are at our theme parks, mostly in Orlando – we have a couple that are off property – but this is a big step in the direction of moving them off property. This is also the first time we're in Hawaii as a parks and resorts business. Disney spent a lot of time, actually a lot of money, in Hawaii in a variety of ways, mostly film and entertainment, on the television side and on the movie front. And we've always had a love of Hawaii and we thought it'd be a great place for us to plant a Disney flag, albeit a small one.
HB: You mentioned the films, the Vacation Club and I know the cruise line will be coming. What other divisions are coming to Hawaii?
Iger: Well, we've had retail presence here and we've had television presence with channels. I think that would pretty much do it, but that's a fair amount. There aren't too many companies that can say, "Well, we're there in the hotel and timeshare business in Hawaii, we've got a cruise ship that has an itinerary that is Hawaiian, we've shot multiple TV shows here – "Lost" being the biggest one – and a great movie, "Pirates (of the Caribbean) 4," and this (resort). Our relationship with Hawaii and our presence in Hawaii is significant. We enjoy that.
HB: You built a new stand-alone resort in Hawaii. As a company, how do you strategize to get to this point? What kind of steps do you take?
Iger: We've been talking for a while – it goes back well before I was CEO – of the possibility of creating a resort in a destination that people like to vacation at. Not a theme park, but a Disney-themed hotel was the concept. Then, we went into the cruise-ship business and someone suggested, Why don't we put a cruise ship on land? It's not a theme park, (but) it has many entertainment offerings and offers a great Disney experience.
While that discussion was ongoing, we had a discussion with our Vacation Club folks and they felt that a number of the Vacation Club members were interested in Hawaii and trading points and going to Hawaii, but they also thought there was a market to sell Vacation Clubs on the U.S. West Coast, as well as in Asia. We thought about the concept of a destination hotel. So, why not Hawaii? Why not try it once? We had some concepts in mind for what we might build and so we put them together. We talked a lot about the capital it would take, and the return on investment capital we could expect, because we have high standards there. We scouted multiple sites in Hawaii. I scouted a few of them with the team and ended up here, which we feel great about.
HB: When do you expect the property to become profitable?
Iger: We don't talk about timeline in that regard, but we're confident. This will deliver strong returns for the company for a long time.
HB: Anything else in Hawaii that Disney has in the pipeline?
Iger: We have a new television series that just started shooting on the north end of the Big Island called "The River," which is Steven Spielberg produced, and that's very exciting to us. The show won't go on the air until, I think, the first of the year, but that's a big step. That's almost 300 jobs. And we've got the cruise ship itinerary in April and we're expecting that'll be successful, so possibilities always exist that there could be more of that. [Editor's note: The day after this interview, Disney announced a second two-week cruise from Los Angeles to the Hawaiian Islands in 2012.] I imagine we'll shoot a few more movies here at some point. This is not only a great place to do business, but I don't think there's a more beautiful spot. Fortunately – maybe unfortunately from a Hawaiian point of view – it doubles as a lot of other places. A rich jungle is a rich, lush jungle. That's great for us. We've been really, really pleased with the reception we've gotten and the relationships we've created here, both before this project and during the project.