Talk Story with Catherine Ngo: President and CEO, Central Pacific Financial Corporation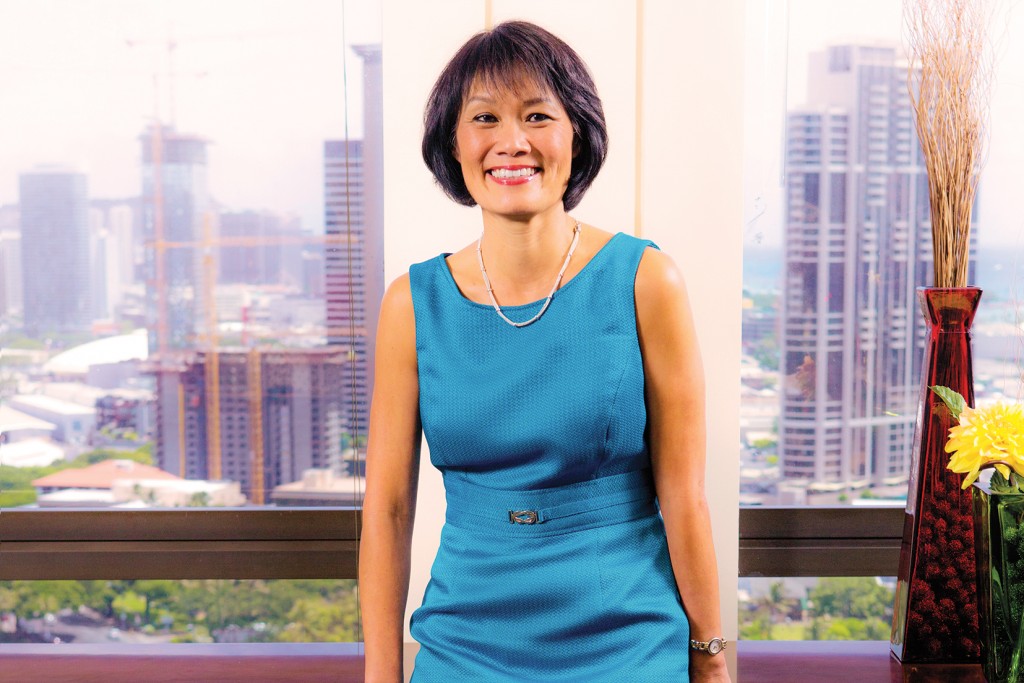 Ngo is one of only two women in the state heading a publically traded company. She shares career insights and discusses her vision for Central Pacific Bank.
---
You were COO and became CEO on July 1. What was your first official decision?
I wouldn't say there was a single official decision, but I did decide the executive team we had in place was the right team and there weren't going to be changes. Soon afterward, at our managing committee retreat, we spent the first half-day talking about how we build trust and communication. It's important we trust each other so we can eventually have tough conversations, whether about priorities for the coming year or new initiatives.
What are some changes you are looking forward to in your new role?
I'm looking forward to being out more. I love hearing the stories of our customers. What is most fun for me is dealing with our customers and our employees. In the CEO role, I will also need to deal with other constituencies, like regulators and shareholders. These are important relationships, but that role doesn't excite me as much as working with customers.
Your predecessor as CEO, John Dean, has been a strong mentor. In the past you have said: "I would follow him to any organization – even if that meant walking over hot coals to get there." What is the best advice he ever
gave you?
I learned many things from him, but one that stands out is his focus on corporate culture and values. It's not the first thing a lot of business people think about; the natural first thing might be to think about the numbers, the business goals or the products that need to be rolled out.
When we don't nurture the values of an organization or build trust, then it's very difficult to maintain quarter-over-quarter sustainability or roll out new products. In the end, especially for services organizations like ours, it is about the employees. They must deliver on the promise. It is not like a technology company in Silicon Valley, where the intellectual property is the key asset. For us it is our employees.
How is your leadership vision and style different from Dean's?
I think John is in a league of his own – a very special leader. Regarding my leadership style, I view the leadership spectrum as having two ends: one being command and control, and the other empowerment. My style tends toward empowerment. What I like to do is, with the help of the management team, develop a strategy, then empower our managers to develop the plans and execute them. Of course, it is important that with empowerment comes accountability, so there are going to be metrics to monitor, which allow us to recognize and reward against those metrics.
There are only two women CEOs leading public companies in the state. What's your advice to recent women graduates on getting to the corner office?
I would give two pieces of advice. The first is find mentors – people not necessarily in your organization or your profession, but who will be candid with you, and hold a mirror to your face and tell you your strengths and areas for improvement.
Second, it is important to be comfortable with discomfort. To stretch a bit. When people get too comfortable, they stop growing. For any young professional to progress, it is important to stretch and grow.
 What significant pitfall did you encounter on the way to the C-suite and how did you move beyond it?
I was part of a leadership team at another financial institution that decided to buy an investment bank. On paper, the acquisition made so much sense. We were in a similar space and there were many synergies we could leverage. As it turns out, we failed to understand how different the cultures were. We eventually learned that it was impossible to merge those cultures. The investment didn't work.
What I learned from that experience is how important culture is. Unless you have employees with similar values marching in the same direction, you will not get very far, regardless of how good things look on paper.
You started your career as an attorney. How did you make the transition to the business side?
In California, I was with a law firm whose largest client was Silicon Valley Bank. The bank fell on challenging times and I was asked to come in-house as its first attorney. I was young and it was a good time for me to take a chance.
I enjoyed the years I practiced law, but I'm far more energized having a role within a company, because, in the company, I'm a part of the team trying to implement a strategy.
You were part of the startup community in Silicon Valley. What do you miss about that environment?
I most enjoyed rolling up my sleeves and working side by side with entrepreneurs. Many young companies are not just looking for money from investors, but also for hands-on help. That experience helps me in my new role because I understand what it's like to be a businessperson. I understand the challenges of being in the trenches.
You have been in Hawaii since 2010. What has surprised you the most about living here?
It feels so comfortable living here. My husband and I love it. My parents are on the East Coast, so it's tough being far away from them. One thing I am doing is persuading my parents to spend the winters here. Historically, they have gone to Manila for the winters, but this January to March, we have rented an apartment for them in town. I'm confident they will fall in love with the place and the people – how can you not?