Talk Story with Geoffrey Bannister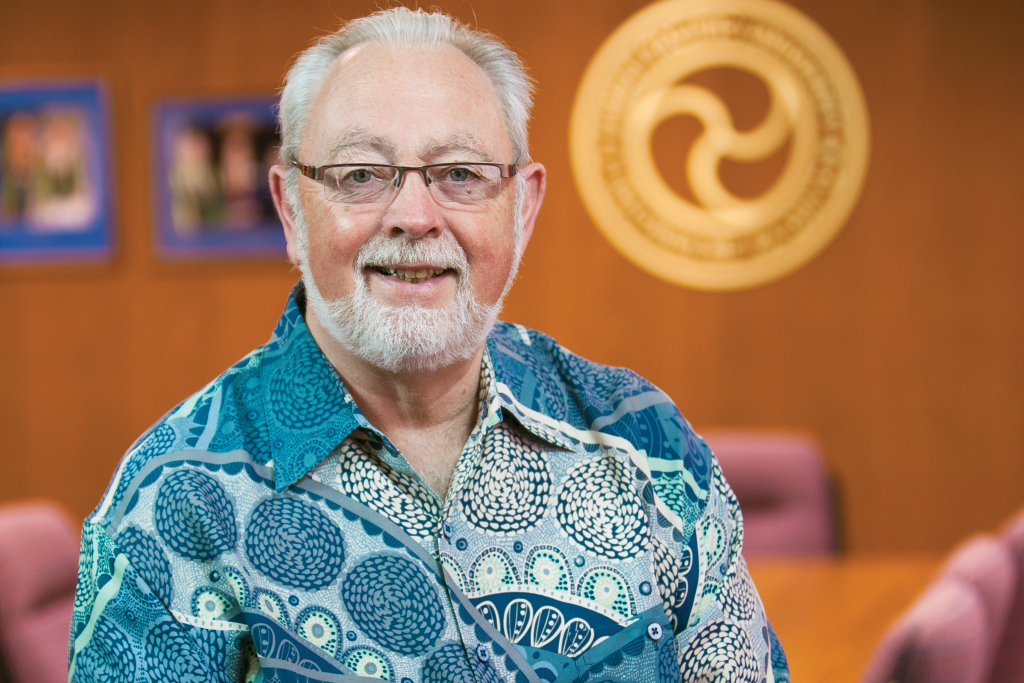 Bannister was, most recently, president of the Study Abroad Foundation in Indiana and president at Butler University from 1989 to 2000. He takes over at HPU on July 1, but already his plans are taking shape.
HB: If you could make a call to action to Hawaii's business community, what would it be?
A: It would be to work closely with the universities. To identify areas of strategic development in fields such as technology and video arts, or other areas where Hawaii will have a future advantage. In so many areas today, you cannot have a qualified workforce and a long-term development of an industrial sector without a strong university backing to produce the students and the research to drive that sector. If we can show some strategic leverage in the way we can help the business community around the Pacific, then, yes, I think we can tend to ask them for more support. I just think we need to show some strategic advantage to that community in what we can do.
HB: What advantages do you see to having more/better relationships with the business community?
A: I would love to know what the business community sees as "needs." I am going to need the business community to help me persuade students why they should put in longer hours. The students can hear from the business communities that they care about writing, they care about critical thinking and they care about the skills that come from a basic liberal education. I think the business community has a higher standard than we have been meeting nationally. Their needs for people to communicate, to stand up and speak, who can persuade, who can write a good business plan, are critical. I think we need to step up a notch in order to meet those needs.
I'm really looking forward to getting into the community, getting to know people, and finding out what their educational needs are that we can meet because, as a private university, we should be very flexible and able to turn on a dime and meet the needs of the people. So I've got a lot of listening to do rather than talking.
HB: You like to use the term "modest growth." What's your vision?
A: I'd like to really hold true to the one-third/one-third/one-third approach, combining students from other countries, the Mainland U.S. and Hawaii. This means we need to increase the number of international students in the freshman class. Holding that balance is good for the students from each of these categories.
Challenges? I see a lot of them, especially with student learning. We have to make them understand the workload needs to go up; understand that getting credentials isn't enough: They need to have a university-trained mind.
HPU's not highly ranked. One reason is that it's a young school, a little more than 40 years old, and it takes awhile to be understood. We have evolved as the only significant private university in the state of Hawaii. I think we are going through varying stages of development, and the next one will be quality — on all levels. We really have a lot of work to do to establish ourselves. The reputation will soon follow. I think we could also be a little more aggressive with telling our story.
HB: What are your thoughts about the downtown Honolulu campus?
A: I'm still having difficulty finding where everything is. Downtown, we are in several buildings, on different floors; it's a little confusing. Some have expressed that it's not sensible to have it so spread out, but I think it makes sense. We need to be where students need to study, taking the teaching to where the learning takes place, such as downtown.
I do see changes for the downtown campus. Until July 1, it's not my responsibility to start spending money, but I do plan to invest in this campus. Vice President John Kearns has mentioned that we are getting closer on more lease arrangements in the buildings; we are making sure that we get good student space.
HB: Any updates on the expansion plans for the Hawaii Loa Campus?
A: The initial outlook was increasing the student housing, going from a 210-occupancy to 600 and adding new facilities for our student services. The full plan will be released at the end of the year. There have not been any unforeseen costs, but there always will be. We're looking at the air-conditioning system, getting the cooling system in place. We should probably not under-build that. My thought was at least 20 percent more spending than initially budgeted. [According to documents filed with the state Board of Land and Natural Resources, the expansion will cost up to $125 million and be funded by private endowments, donations and other fundraising.]
HB: HPU is known for its international ties. Will it continue on that path?
A: I've been working with universities in Thailand, China, Taiwan and India. I think there is a very large market. We have to be careful we make sure we serve those areas, because sometimes it's tempting to think you can do more than you really can. The market is very large, but there are only certain segments that we can serve well.
HB: Do you see a need for more adjunct (part-time) teachers to accommodate these students?
A: Our needs are for more full-time teachers and to give the adjunct teachers more time to spend with students. We are committed to getting a new strategic plan done by the end of the calendar year. We're not dealing with things on a year-by-year basis, but really looking down the line. We will probably need, over the next five years, to be recruiting at least 150 new, internationally based, faculty members.
For a link to documents about the Hawaii Loa Campus expansion that HPU filed with the state Department of Land and Natural Resources, please click here.