Talk Story with Hawaii Governor Neil Abercrombie and State Finance Director Kalbert Young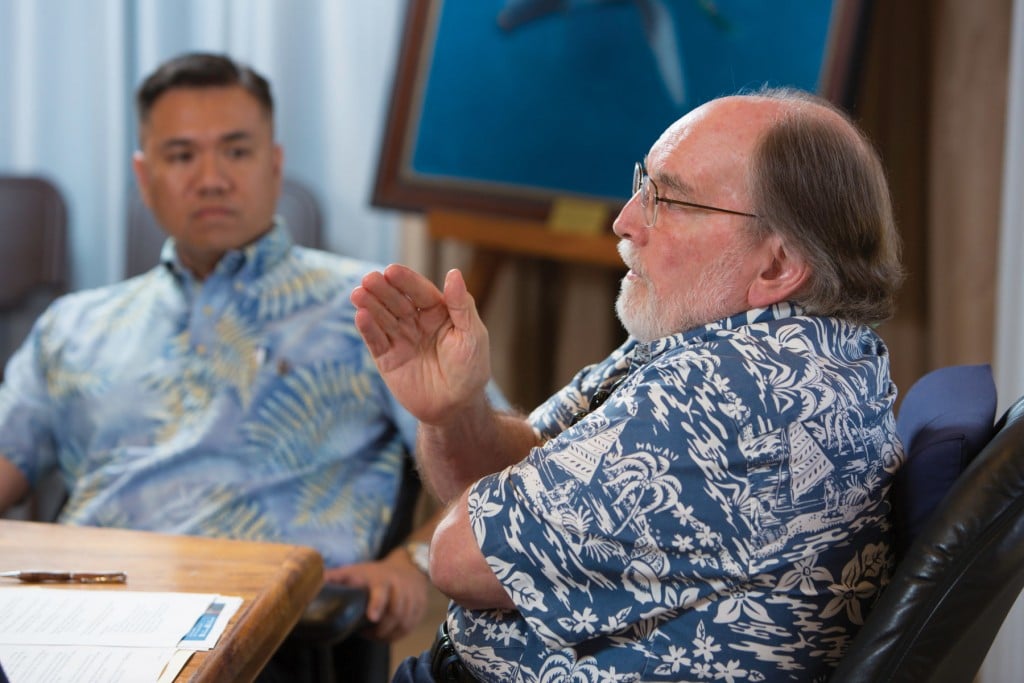 As Abercrombie heads into an election year, Hawaii Business met with him and Young to ask how their policies affected local businesses and about their plans for the future.
In our
December 2013 BOSS Survey, we asked business leaders if your policies helped their businesses, hurt them or didn't matter. What's your view?

Abercrombie: Sometimes in business discussions, people complain that government is interfering with business. Until, of course, it comes to: "What can you do for us?" I'm not saying that in a mean way. Quite the opposite. It confirms the positive role government should play, not only in the economy, but in the community as a whole.

People say, "Why can't government run more like a business?" But government is a business. We're repaving the highways, investing in the airports and harbors, improving transportation. You have to take care of those issues that individual businesses, large as they might be, can't handle on their own. Nor should they, because the common interest has to be taken into account.
What are this administration's biggest successes?
Abercrombie: Fiscal responsibility. That's what this administration has been most successful at. We came into office, in 2010, when there were Furlough Fridays, rising unemployment and steadily deteriorating confidence in the economy. Almost immediately, we were able to turn that around.
Didn't you benefit from lucky timing as the economy improved?
Abercrombie: Where timing is concerned, time management is everything. For example, we said it was time to stop kicking the state's unfunded liabilities down the hill and to fund the unfunded liabilities that threaten to cripple the state's economy. We decided it was time to stop deficit spending in the state's budgets. It was time to stabilize the economic situation so we could go to the credit-rating agencies and show that we had stopped the deteriorating fiscal situation and that the state had the capacity to carry out its responsibilities and meet its obligations.
We had some very hard choices to make. We had to get savings from labor. We did that. We had to get healthcare-premium savings from the public sector. We did that. We wanted to restore the state's rainy day fund and the hurricane fund. We're doing that. We felt we could not get a good credit rating and get the lowest possible interest rates if we didn't stabilize the state's budget and address the question of our unfunded liabilities. We did all those things. As a result, the credit-rating agencies went from negative, to stable, to positive. Almost immediately, then, we were able to have a positive bond selling. For almost 18 months, I had deliberately held off going to a bond issue so that we would be able to have a very favorable climate. Because of that, we were able to get huge savings, not just for today, but to invest in the future.
The lack of public confidence is a residue of the way government used to work – but now confidence is improving. I think your BOSS Survey reflects that this lack of confidence is not only easing, it's beginning to turn around. If that weren't true, you wouldn't have an unemployment rate that's gone from over 6 percent to 4.4 percent (in October and November 2013), which is less than virtually anyplace else on the mainland. That means people's confidence in our ability to deal with the economy is up. Businesses are hiring and retaining employees. Interest rates have kept improving. Of course, they're low as a result of the recession and the policies of the Federal Reserve, but as interest rates tick up, ours in Hawaii are ticking up less.
Now, I'm being criticized for being too liberal or too conservative. They say, "How come you're giving in to labor?" because I've restored pay levels for state employees. Or, "How come you're being pro-business?" My answer is, it never was a question of being pro-labor, or pro-business, or anti-labor, or anti-business. It was always about what's the right thing to do in terms of meeting government's obligations, in terms of having the necessary revenues to do the business of government. Now, we have a situation in which a $200-million-plus deficit in 2010 has become, in 2013, an $844-million positive balance. Of course, that's not cash in a drawer somewhere I can show you. What it says is that we're paying our bills, staying ahead of the game, to the point where we can start restoring necessary services and making the investments that are deemed to be in the public interest.
For example, there are now 2,000 more students who will be entering public school than there were before. So, I've increased the money available for the weighted formula for students by $13 million. Someone will say, "You're increasing spending," but we're really just paying all our bills and rebuilding our reserves. We've actually reduced spending, but we have to meet our increasing costs, too.
And it's not just spending, it's investing. We're not just repaving H-1, we're rebuilding it. We're not just repairing and maintaining the airport, we're building for the future. As a result, we're able to not only meet our obligations and reduce our unfunded liabilities, but we're also able to take care of the necessary costs of government without increasing taxes. Another example is having inspectors for things like invasive species, so that when something is imported or exported, we know it's safe.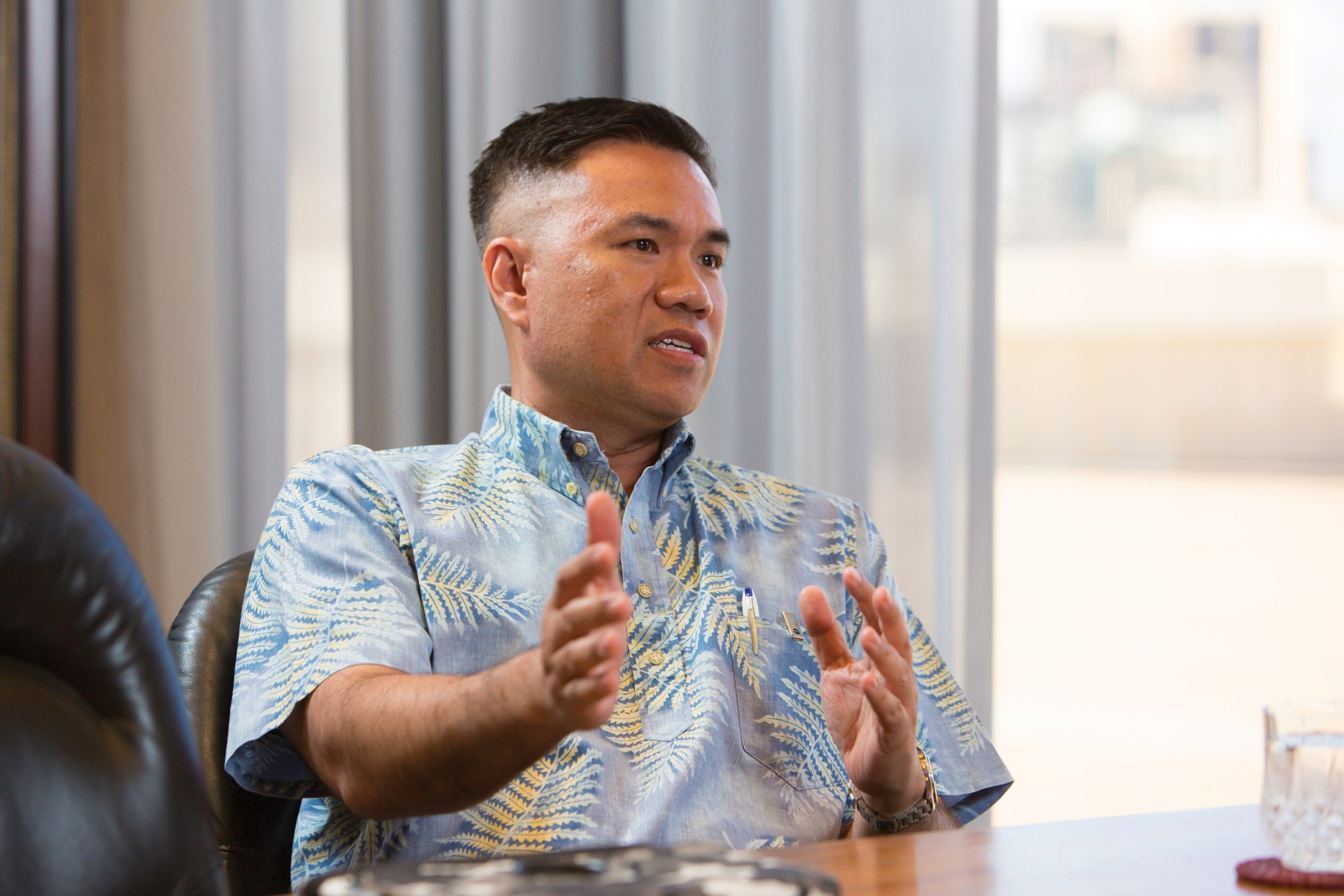 What about others, like those elevator inspectors?
Young: One of the first things we did was restore those elevator inspectors. We also restored health and food inspectors. A lot of people forget, but, a few years ago, we had that problem with rats in Chinatown. Because of the budget shortfall, those inspectors had been whittled away. We've restored them and the weight-and-measure guys – the people who certify gas pumps and scales. Those are all business-to-business issues.
Abercrombie: It is also important to keep people in the field. I was just at one of the bee farms in Hana over the holidays, and the people there couldn't sing enough praises for our apiary person. Because of her, at least sections of the Hawaii bee industry are disease-free, though bee populations are collapsing in other parts of the country. A single person sometimes makes all the difference.
It's not that we spend money foolishly; we try to be judicious. We spend where we think it advances the public interest.
You put a lot of emphasis on dealing with the state's unfunded liability for the government workers' pensions and retirement healthcare.
Young: Because it was unaddressed for decades, every year that burden grew exponentially. More and more money had to be spent just to pay the ongoing costs of the unfunded portion. This is the first administration in the history of the state to start to reduce that liability. It will take us 30 years or more to totally eliminate the problem because it's so large, but we're now on the first year of a 30-year journey.
Abercrombie: That's not just rhetorical. To start paying down that liability, we're putting $100 million aside that we don't have to put aside. Our fiscal plan is to deal with this without raising taxes.
If you're re-elected, can people be confident there will be no increase in taxes, barring a crisis?
Abercrombie: The crisis is what we're planning for! That's why we're rebuilding our reserves. Ideally, we would like to get to 10 percent reserves. We're consciously putting out a plan that, by the end of our term, would mean we'll have a positive balance and have met all our obligations and be actively moving toward funding our unfunded liabilities.
Young: If you're asking for a guarantee of no new taxes, I would say that the financial plan we've laid out doesn't contemplate any new taxes. If the parties involved – and the Legislature is one of those parties –follow the game plan we're prescribing, which provides checks on deficit spending and addresses long-term liabilities so government isn't putting more liabilities on business, then no new taxes will be necessary for future down cycles. If the parties can agree to that script, I would say that there would be a very strong case against any new taxes. Of course, if there's a catastrophe of some kind, that could change. But what we're doing is preparing for the unexpected, which is different from what the state did in the last business cycle.
The economic recovery on the Neighbor Islands, in general, is not as strong as on Oahu. How are you dealing with that?
Abercrombie: I ran for office promising this wouldn't be an Oahu-centric administration. Take the Lahaina bypass road. We put that out there and built it. They've been talking about that for more than 30 years. We did it. We're doing that with other Neighbor Island highways. We're working on infrastructure improvements on the harbors and airports. We're working to get UH's West Hawaii campus underway. And I'm working with the Judiciary to get a Judiciary complex built on the Kona Coast. I want to put a prison facility there so you're not always driving back and forth between Hilo and Kona.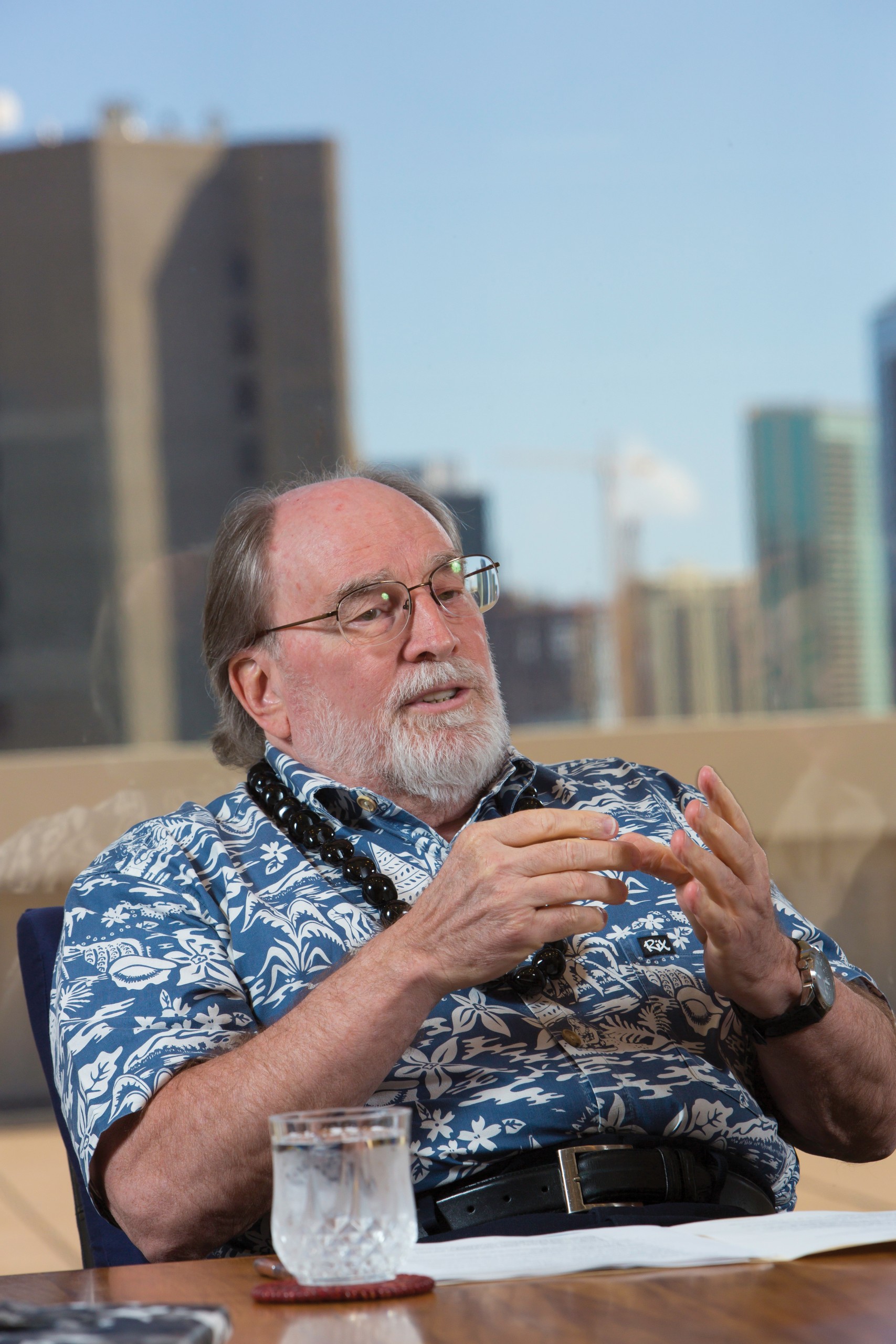 What's your most important goal going forward?
Abercrombie: Confidence is key to everything. You're not going to make investments, you're not going to look down the road, if you don't have confidence. Today, I think everyone understands that having a positive fund balance is not a one-time thing; it's the long-term game plan we're following. Unemployment taxes paid by businesses are actually being reduced by a third. We have the fifth-lowest unemployment rate in the country right now. People also know that our capital reserves are on the way up. We're paying down pension and healthcare liabilities and our plan doesn't involve new taxes. In terms of the business of governance, this administration is on the right track.
The final thing I want to say is that, for 40 years, there's been a rivalry between the mayor of Honolulu and the governor of the state.
Not anymore. Now there's tremendous collaboration between my administration and the City and County, Kirk Caldwell, and the City Council, (chair) Ernie Martin and (budget chair) Ann Kobayashi. That doesn't mean we agree on everything, but we meet regularly and work together. For example, we're working on the question of homelessness together, which is important from a business perspective.
The fact is that the city of Honolulu and the state of Hawaii, in terms of generating dollars in the economy, are working together in an unprecedented way.
(This interview was edited for clarity and conciseness.)