Talk Story with James Koshiba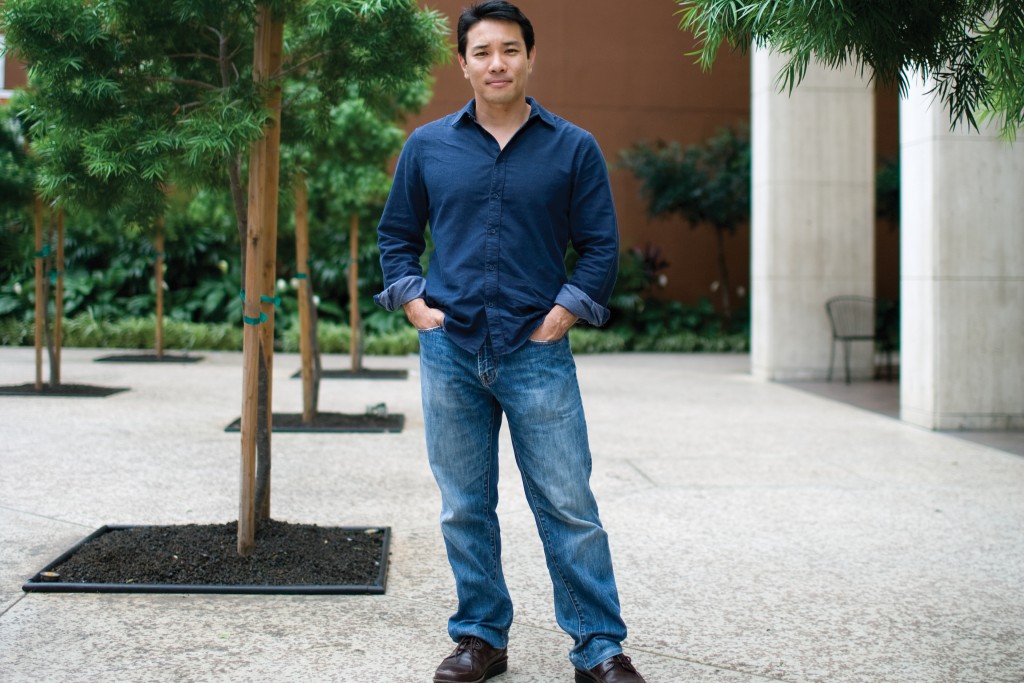 In 2008, James Koshiba helped launch Kanu Hawaii, a nonprofit that promotes and supports Island-style sustainability. He brings us up to date on the commitments and campaigns taken up by its 9,000 members, including one of his own pledges — downsizing from an SUV to a Prius.
Q: Bring us up to date on Kanu.
A: Kanu is officially two years old and had 5,000 members by the end of 2008, and about 9,000 by the end of 2009, spread across Hawaii, 300 Mainland communities and 12 different countries. A member is anyone who has made a commitment to live sustainably in some way and declared it publicly online. The first year was about introducing the idea of building a community of people committed to being the change. The second year was to encourage them to start using their collective power together with the idea of kuleana-based activism leadership.
Q: What does Kanu mean?
A: In the Hawaiian language it means "to plant." It also has an underlying meaning: "Passed down by inheritance from ancestors."
Q: How have Kanu members used their collective power?
A: We have had campaigns or group events every couple of months. The first was focused at the Legislature around energy issues. We held workshops for about 300 people about how to be effective at the Legislature and these are people who have never been involved before. We followed and testified on about 10 bills — three passed — and ended with an event we called "Service with a Statement." It offered two free services: For every incandescent light bulb that legislators and staff members brought in, we would swap it for an energy-efficient CFL bulb. We ended up swapping about 500 bulbs. We also checked the tire pressure of every car in the parking lot — 300 cars. That's 1,200 tires. If you're running your car on under-inflated tires, you're wasting about a full tank of gas every year. Our message to lawmakers: "We care about these issues and we're committed to doing our part to address them."
Q: Any other group campaigns?
A: We did a "Live Aloha" day with hundreds of members across four different islands. It rallied our members to work with residents of public housing and homeless shelters and actually make improvements to their facilities. It included rehabbing dilapidated units so new families could move in. I think several dozen units were rehabbed.
We also did the "Eat Local Challenge," challenging all of our members to eat strictly local for one week. And that meant everything, from spices and oils to fish, meat and vegetables, to raise awareness about the local food system and how important it is to build a sustainable food system.
Restaurants and markets and farms jumped in, and Town Restaurant (in Kaimuki) was the first to say it would feature a dish that was totally local every single day.
I found the whole thing very challenging — I almost starved to death — and was living on avocado and papaya! But it all raised a lot of questions, including how demand for local food can support increased production and greater farming. We surveyed participating vendors of local produce and they all said their sales were up by 10 percent or 20 percent.
We closed out 2009 with a "Simplify the Holidays" campaign and 1,500 people committed to take specific actions to cut down on waste. It's been documented that there's a 25 percent increase in garbage between Thanksgiving and New Year's and most of that is food and paper waste. We asked people to make specific commitments such as wrapping gifts with reusable or recycled cloth or paper, or recycling leftovers from holiday parties. We also set up a wrapping site at Ala Moana Center and wrapped about 300 gifts for people with recycled paper donated by volunteers and Hagadone Printing. (Disclosure: Hagadone prints Hawaii Business.) >Q: Why do these campaigns?
A: We're not here to complain. We're committed to being the solution and the change, and encouraging other people to join us. It's also to give people a greater stake in these issues and to feel more connected with each other. Our mission is to build a social movement for sustainable, compassionate, self-reliant communities using demonstrations of kuleana. What started to happen at the end of 2009 is that a core group of about 100 to 200 people started to step up as super-active volunteers and plan events on their own. We're seeing that grassroots leadership start to bubble up.
Q: What are your commitments?
A: One of the commitments I made in that first group of about 40 friends who got together to start Kanu was to downsize my car. I was driving an SUV. It took me awhile to save up the money to make that change, but now I'm driving a Prius hybrid. Five or six of the original group have done that. I'm also going to grow some of my own food. I've tried several times to grow things but I've killed everything from bean sprouts to lettuce.
Q: How large is Kanu's staff and how is the staff supported?
A: Kanu is a nonprofit funded by grants and donations, with three full-time staff, including Olin Lagon as director of Kanu's technology and social ventures; Lehua Slater as part-time administrative director; and Maile Neff as events coordinator. We also have other people involved called Kanu Fellows, on stipends, including Kaimana Pine, the social media fellow whose job is social media blasts on Facebook, Myspace, Twitter.
Want to help?
To become a member, go to kanuhawaii.org and make your own personal commitment to sustainability or join an existing commitment.