Talk Story with Kyle Chock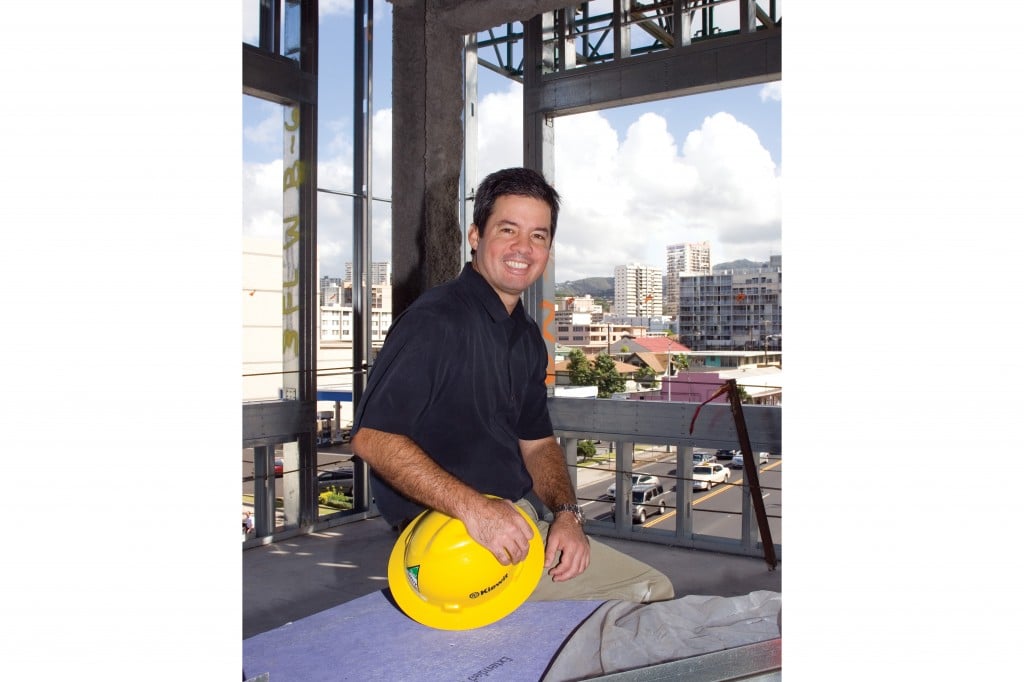 Chock has a heavy heart thinking about the 3,000 members of the union who are unemployed. "Flat is the new growth," he laments. While several big projects will create more jobs, it won't be enough to sustain the third largest sector of the state economy, he says.
Q: What major projects are coming down the pipe for the construction industry?
A: Despite the bad economy, there has still been some significant investment by major corporations and the government. The one I point to most is the Disney project at Ko Olina. It's got to be in the neighborhood of $850 million and probably higher. It's a catalyst project for Ko Olina, in a sense that it's Walt Disney; it's a huge brand that other companies are going to want to be around. It's great for both the short term and the long term in that it's creating a lot of great jobs — not only construction — and it's also adding to the capacity of the Waianae Coast. It's a huge job site. It has 400 construction workers out there and, for the most part, they're local workers. Throughout the life of the project, there will be about 1,000 construction jobs that it will create.
I think another good news story is the Department of Hawaiian Homelands and the role that it's playing as a home builder right now at a time when most of the market home builders like Castle & Cooke, Gentry, DR Horton aren't really building. The DHHL, when it's at full swing later this year and into 2010, will be constructing almost 500 new homes a year.
Q: How many local construction workers are out of work today?
A: I only have the stats for the Carpenters Union and right now, we're at about 45 percent statewide unemployed. Oahu is at about 40 percent of that statewide average; Hilo at 52 percent; Kona 78 percent; Maui, 51; Kauai, 57. Right now, we've got about 3,000 members out of work. These are scary times for everyone because that creates a huge ripple effect for the whole state.
Q: Have we hit rock bottom?
A: I think 2010 is going to be a flat, if not down, year. To me, flat is the new growth. Honestly, that would be great if we were just flat, but I don't know if we're going to be there. Right now, the private side is not happening yet. If you talk to large contractors like dck pacific and Hawaiian Dredging, their backlogs (of projects) aren't that big and that's what they use to measure future work. Some smaller companies have run out of work. So you can already see into 2010 and there's not a whole lot that's coming out of the ground, with the exception of some big government projects and others like Disney, rail and the Thirty Meter Telescope. But even when you add up all those jobs, we still have 3,000 guys unemployed. The private side of construction makes up 75 percent of the industry and that's where we're really hurting.
"I think 2010 is going to be a flat, if not down, year. To me, flat is the new growth."
Q: You work closely with both the union and the contractors. What is the real buzz in the construction industry about what lies ahead?
A: It's a little bit of everything: optimistic, scared, thankful to have jobs, all of it. We've had members who have been unemployed for over a year now. So they've exhausted all of their unemployment benefits. They've had to take financial hardship withdrawals against their 401Ks to pay their mortgages. If you look at the timing, with the stock market being down, we have people who are forced to liquidate their 401Ks when the value is half of what it was three years ago. The union has told me stories about when they've tried to call members to get them to come out to a job call or a union meeting and their cell phones aren't working because they cannot pay the bills.
Q: With all of that in mind, what do you think of what the other unions went through to stop mandatory state employee furloughs?
A: It's really a different situation because it's a private-sector union vs. public-sector unions. We're really relying on public workers to help deliver all of these federal stimulus projects that are going to be coming through state departments. Without all these workers, how can we get all those federal funds moving within the time period that's required by law and get the construction industry going again? So I don't look at it as being like we're sacrificing — our members have all this hardship so they, too, should have some hardship. No, that's not how I feel at all. We're all in this together and I don't wish that on anyone.
Q: How do illegal alien workers impact the construction industry?
A: If you can hire an illegal alien for $5 or $6 an hour and pay them cash, and then put them up in a warehouse in Halawa Valley, let them sleep on the floor in order to get your project built cheaper with more profit for the owner, that creates many layers of problems. First off, it just cheats the guys who follow and play by the rules. Secondly, it's incredibly exploitive to the workers who have to go through that. We don't begrudge the illegal aliens because they're just trying to chase the American dream. But the companies that are exploiting them to make a buck are not cool. A recent study estimated Hawaii had 35,000 undocumented workers (from all different industries). Thirty five thousand!
Q: What needs to be done to get through this difficult economic period?
A: I would say to most of the membership, and this includes the workers and the contractors, without sounding too much like a cliché, our best times are still ahead of us, in terms of opportunities that are just around the corner. We've got to batten down the hatches and do our best to survive and make it through the next couple of years and get through this together as an island community, as we always do. I know that sounds kind of generic – kind of Pollyanna – but really right now, we're in a job-constrained environment and there aren't jobs falling out of the sky that can help us get out of this. So, it's being lean, being mean, being tough, being competitive.