Talk Story with Micah Kane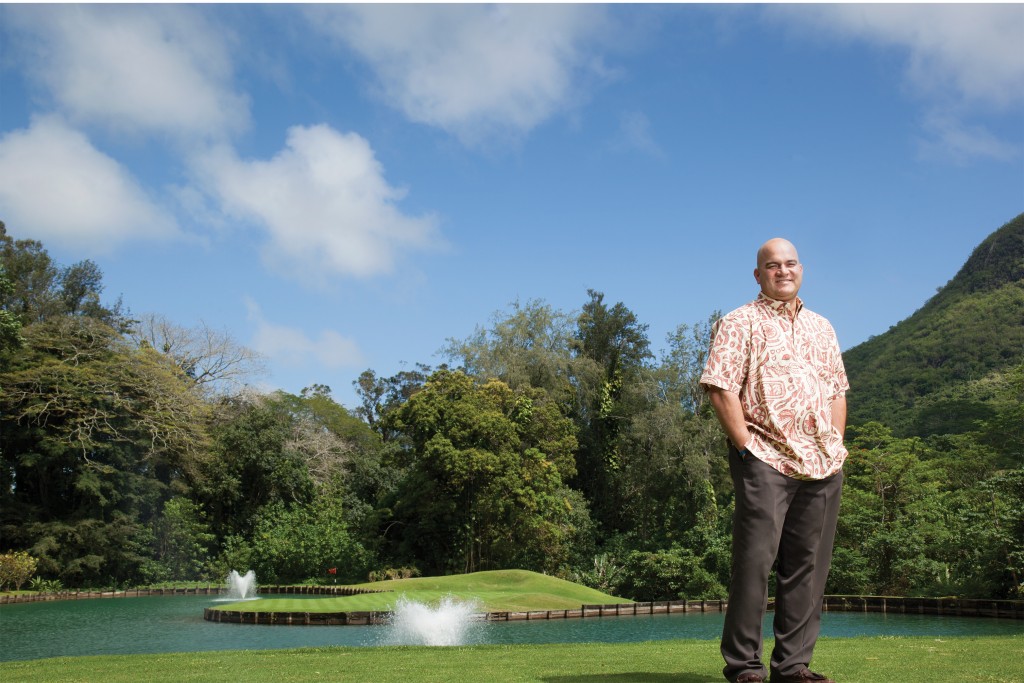 Pacific Links Hawaii owns five golf courses on Oahu – Kapolei, Royal Hawaiian, Makaha (West), Makaha Valley (East) and Olomana.
How do you manage roles at both Pacific Links and KS?
I think there's a perception that trustees operate like they did in the old days, but now we're not active managers. We're not there on a day-to-day basis. The focus is much higher, at the governance and oversight-of-the-assets level. We're trying to continue to change the perception of how a trustee operates. There's a CEO-based management system and the trustees are regular people who have full-time jobs and families. We meet once a week for about three hours.
What lured you to Pacific Links after spending so much time in public service positions, such as director of the state Department of Hawaiian Home Lands?
This is not something I pursued or thought I would end up doing. But the more I heard about the plans the more excited I became. Hawaii will serve as a portal to America (for Chinese investment) and we have an opportunity to do unique and important things for businesses in Hawaii. … We missed the boat on being part of that capital flow from North America to China. It all comes down to those intimate relationships that you need to start to build. As China looks for stable economies to invest their capital in, our company can be a part of that portal to bring capital home. We don't want China to buy Hawaii, but our company has taken a very local approach about how we operate here and I'm grateful for that.
How is Pacific Links doing that?
In Kapolei there are opportunities to collaborate with the University of Hawaii and to collaborate with DHHL. A lot of people see that area as former sugar cane fields, but, in ancient times, it was a gathering place and one of the most sacred places in the archipelago. There's also tremendous opportunity in Makaha to have a role on the Leeward Coast and what happens there as a kind of economic and sustainable cultural beacon for the coast. The current model doesn't work, so we're in the process of discussions at high levels with people who have been there for a long time. I wouldn't be here (with Pacific Links) if there wasn't a commitment to the community.
Pacific Links is playing a big role in putting Hawaii on the international golf map. Tell us about that.
The exposure for Hawaii has been tremendous. Last year, the Pacific Links Hawaii Championship held its first official PGA Champions Tour tournament. It was a $1.8 million, full-field event that featured top players, with a winner's purse of $270,000. It was broadcast in 200 countries to 100 million households on The Golf Channel. The tournament will be held again this year in September. We fronted millions of dollars over the first couple of years and I'm challenged in creating a more sustainable model over the next few years. We're preparing for a fundraising launch. How can we play a role in a sustainable environment using the Leeward Coast as a starting point? I feel fortunate that there are examples of where the PGA used its star power to adopt communities and educate leaders both within and outside of those communities in ways to move forward. That's a model of the role we can play in bringing people together and the transformation that can happen.
Tell us about how the former Luana Hills course in Kailua is undergoing renovations to become the Royal Hawaiian?
We're putting in millions of dollars in renovations to the course and they will be complete in May, but it's still playable now. The clubhouse will be done in August. We've done some renovations to the Kapolei course and clubhouse and once we get through all of those we'll step back and revisit some of our other assets. On Oahu, we're trying to identify one more asset that can fit in our mix, as well as having that presence on Maui, and we're in discussions with two courses at Kaanapali. I think we would welcome additional opportunities if they present themselves.
Is golf gaining in popularity?
There's been a declining number of golfers here and it has been declining over the last five to 10 years. People are very busy and families have changed over time so that it's more difficult to take three to five hours out of a day for a round of golf than it was maybe 10 years ago. But there's a correction in the market happening now. Our business model is not solely dependent on the international members. It embraces the kamaaina golfer, and any golfer who plays once a week will realize it's better to be part of our family, because they can play on any of our courses. What you'll start to see is a repositioning of golf in Hawaii and everyone will benefit. The collaboration of cultures is what will bring us success – that interface and excitement to meet new people who are local, national and international. The industry also sees women as a growing segment and there's no question that there's a place where this industry will grow with women as they become more established in business as well.
Do you golf?
I played my first game in my late 20s or early 30s, when I was chairman of the Republican Party. I can get around the course. I play good client golf!