Talk Story with Neil "Dutch" Kuyper of Parker Ranch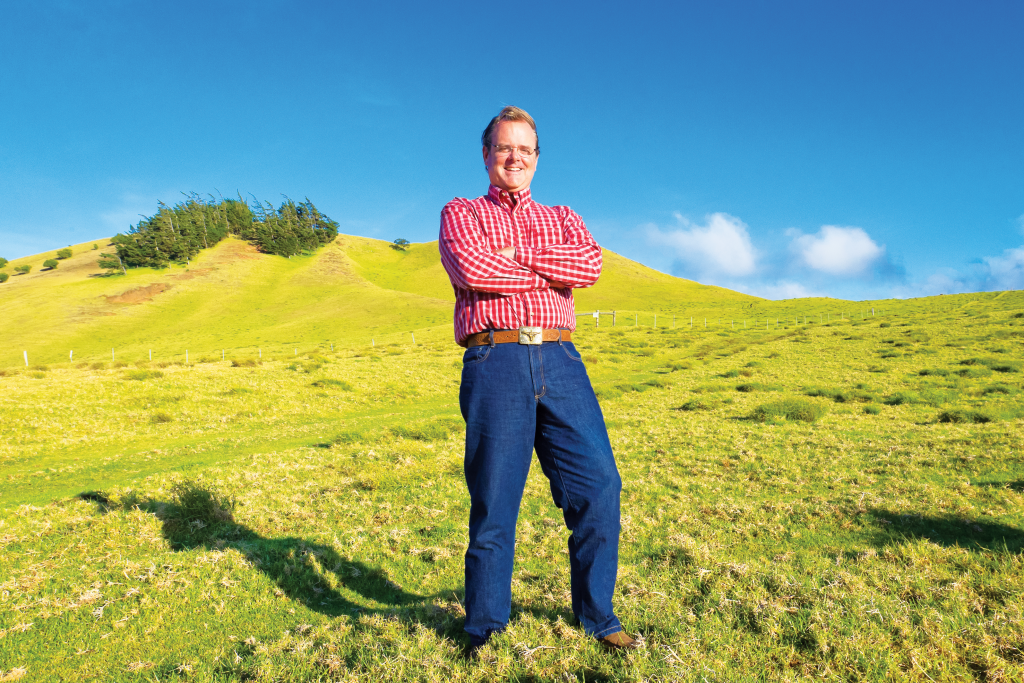 Kuyper was born and raised on Oahu, but, like many ambitious Hawaii youth, he was drawn by college and career to the mainland. Thirty years later, after working for blue-chip companies like the Boston Consulting Group, Wellington Management and Morgan Creek, he is the new CEO at Parker Ranch. He talks about his career and the future of the ranch.
HB: Talk about coming back to Hawaii.
Kuyper: When I was in college, I was a summer intern with First Hawaiian Bank. I interned at the Kaimuki branch as a teller and at the proof machine. …At the end of the summer, they invited all the interns to have lunch with Walter Dods. We all got a few moments to speak with Mr. Dods, and I took the opportunity to ask him, "What do you look for in terms of leadership when you hire a new executive?" Dods told me, "A really, really strong connection to Hawaii, but also experience elsewhere for say 10 to 15 years." As I joke, that's what I did; it just took me 30 years.
HB: You're basically a finance guy. Does your selection as CEO signify a new direction for Parker Ranch?
Kuyper: Broadly speaking, that's the direction investing has moved in the last five years. Institutional investors are moving into "real assets," things like agriculture, timber, commodities, infrastructure and energy. So it's a fascinating time for the ranch. The Big Island is ground zero for agriculture, sustainability, renewable energy. I like to advocate now that we're more of a natural-resources manager. We have land, we have sun, we have wind and we have the productive capacity of the land. That's all new and interesting.
Along those lines, my background lends itself to looking at an initiative in terms of capital requirements – how do you finance it – but also venturing. Somebody might contribute technological expertise; somebody else might contribute land or capital. For Parker Ranch, a logical venture is renewable energy, like solar and wind. We do have one of the strongest wind corridors in the state.
HB: Will there also be changes in basic ranching operations?
Kuyper: Like most ranches in Hawaii – and this goes back in time – we used to produce our own cattle and process it here in Hawaii. But with cheap oil, it became more profitable to maximize production for scale economies by focusing on cow/calf operations. In Hawaii, what some ranchers did was send a portion of their calf crop to different ranches or feedlots on the mainland to finish. That strategy was broadly paralleled in other industries, which centralized production for scale and relied on inexpensive transportation. But as energy and transportation costs go up, businesses are going to have to decentralize and "localize" their operations. And agriculture, whether it's row crops or ranching, is a very energy-intensive business.
HB: What are the financial implications of this change in strategy?
Kuyper: There's a practice in this industry that's referred to as "retained ownership." Although we sent our calves to the mainland to finish, we didn't sell the calves. We actually retained ownership. What's interesting is that oil and corn prices today are much higher than they were a few years ago. In the past, cattle prices – as well as oil and corn – had a volatility of about 15 percent, which is not too different from the S&P 500. More recently, though, the volatility of key inputs such as oil and corn have doubled; which means, at a volatility of 30 percent, if the base price was $100, it could go down to $70 or up to $130. That makes it difficult and costly to manage the relationship between your input and output prices. We're rethinking that strategy. … Right now, as you look at our ranch operations, about 65 to 75 percent of our revenues and expenses come from the mainland. More and more of that value, in terms of weight gain, moved there over a few decades. What's likely to happen, as we revisit that strategy, is that capital is going to come back to Hawaii.  If we produce more, then we import less, too.
HB: Does that mean the ranch will put more land back into production?
Kuyper: Not more land, because pretty much all our land is in production. We would probably partner with other landowners, other ranchers. Many ranches are looking at it. It would probably be a good thing for the industry if we could persuade others to venture into leasing pastures. I think it's good for the Big Island and good for the state.
HB: What are the limitations to this change in strategy?
Kuyper: There's a thrust to do more grass-fed beef here in Hawaii, but processing is the major constraint. As an industry, that's something we're struggling with. But it's such a significant capital outlay it would have to be done at the industry level. It will need to be examined seriously to address the strategic risk posed by high energy costs.
HB: By focusing on things like renewable energy, natural-resource management and grass-fed beef, clearly the ranch is thinking about sustainability. 
Kuyper: The ranch is such a large landowner that obviously it should play a role in examining the concept of sustainability. … As you may know, the Land Use Commission recently approved our Important Agricultural Lands petition to preserve 57,000 acres of Parker Ranch for ranching. It was the first IAL designation on the Big Island and the first in ranching in Hawaii. That goes with our mission. After all, our first guiding principle is to serve as a steward of our natural and cultural resources. These are our core grazing lands. To preserve them in one contiguous piece was the right thing to do. We like to think of Parker Ranch as the "Home of the Paniolo." And by preserving this land, you're also preserving knowledge, because you're preserving that lifestyle.