Talk Story with Peter Fithian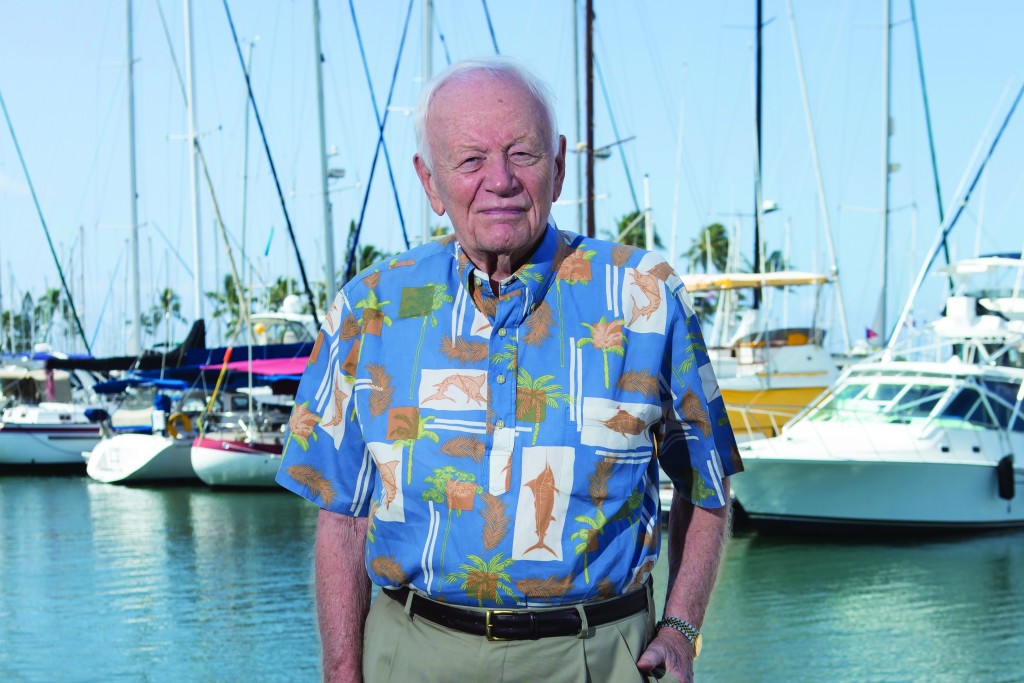 You seem to have lived many different lives.
I've done a number of things. Probably some of the work I did with the visitors bureau and the various committees I've been on did more for Hawaii, but I'm best known for the billfish tournament and I'm OK with that. I still run Greeters of Hawaii; the tournament is my hobby business.
How did you get the idea for Greeters of Hawaii?
What happened was, Henry Kaiser, whom I worked for at the Hilton Hawaiian Village, said nobody seems to greet people with lei except individually, that it would be a good idea to meet everybody coming to the hotel. He told me to look into that and, if Mr. Kaiser said to do something, you jumped to it pretty quickly. So we started doing that and, three months later, all the hotels in Waikiki wanted to do it. That was pretty exciting.
How has your lei-greeting company adapted to changes in tourism over the past 50 years?
We do a lot of FIT (free and independent travelers) from all over the world. We now own flower shops in the airports, which means we have access to the lei. And we have about 15 acres of nursery farmland. If tour operators don't want to greet their guests, they call us and we do it for them. Now we stand at the gate, we hold up a sign created by a computer and hand the client a lei. It's 50 years later and people still want that lei.
You spend a lot of time in Hawaii's airports. What changes would you like to see?
The first thing is airports don't have enough bathrooms. I'm the one who explains to architects that, when people get off the airplanes and there are five restrooms for the women and two for the guys, it doesn't work. All the new buildings have all kinds of toilets in them. I think you will fairly soon see government taking a good, strong position on the airports in terms of improvements. I don't want us to get so shiny we forget to be nice, but sometimes those two things go together.
The big cities I go through, the airports are all about the same. They bust their tails to make them happy places, but I don't see it. Airports can be made more comfortable, and we are working with a very old airport. I think it will be upgraded not too long from now and the result will be a more modern airport. But the more modern it gets, the less hospitable it can become.
You've worked in Waikiki since 1956. What makes that area special?
The beach is right there, 50 yards from the main streets, which is not common in destinations. I've been all over the world and every place I've been, it wasn't like Waikiki. Even though it's a small beach, we know how to use it. That's something we've pioneered here.
Waikiki looks different from 1956, but the way you test it is when people come here, local people take them to Waikiki quickly and proudly and they love it. I drive through Waikiki on the way home, and I see all kinds of people having a great time. I'm proud of it myself. But we have to very careful; it's a very perishable product.
How did you wind up in Hawaii?
I came here for the first time in college on a summer cruise in 1948. Waikiki, which is now grown up on steroids, was comfortable and quiet back then. We would come in from Pearl Harbor by bus and play around all evening. The Moana was the center of things. We were staying on the ship and every night we'd take the bus to Waikiki, come back in the morning to sleep, then do it all over again.
That summer I met quite a few people in Waikiki. One of my classmates from Cornell wanted my help to get him a job in Hawaii. I picked up the phone, which was a big deal in those days, and told my friend I knew a great guy from college who could work for him and he got the job. When I was working as the manager at the Augusta National Golf Club, my friend told me to come to Hawaii. I told him, "I've got a wife and two kids!" But he said, "Just come," so we did. I went to Kona and took over at the Kona Inn and I've been in Hawaii ever since.
Is that when you got the idea for the billfish tournament?
In Kona, we didn't have any beaches, but we had something special, big fish. Having been at the Masters Tournament in Augusta, I knew people would come a long way to see a competition like that. So we created one.
What was the first year of the billfish tournament like?
It was probably like a Chinese fire drill (laughs). All the captains who worked out of the Kona Inn, about six of them, we sat down at breakfast and talked about how to do it. We'd sit around for hours. There was no prize money when we started.
What do you credit with the tournament's success?
It's long enough for people to come – a week from opening to closing and that makes a good trip for people. And there's nothing like the fishing in Kona. This is probably the best place in the world to catch big fish.
This interview has been edited for conciseness and clarity.
The first Hawaiian International Billfish Tournament started two days after statehood in 1959, with fishing teams from Hawaii, Australia and New Zealand. Today, it's a five-day competition with captains and anglers from about 10 countries. Go to www.hibtfishing.com for more information.