Talk Story with Roger Peters, dck pacific construction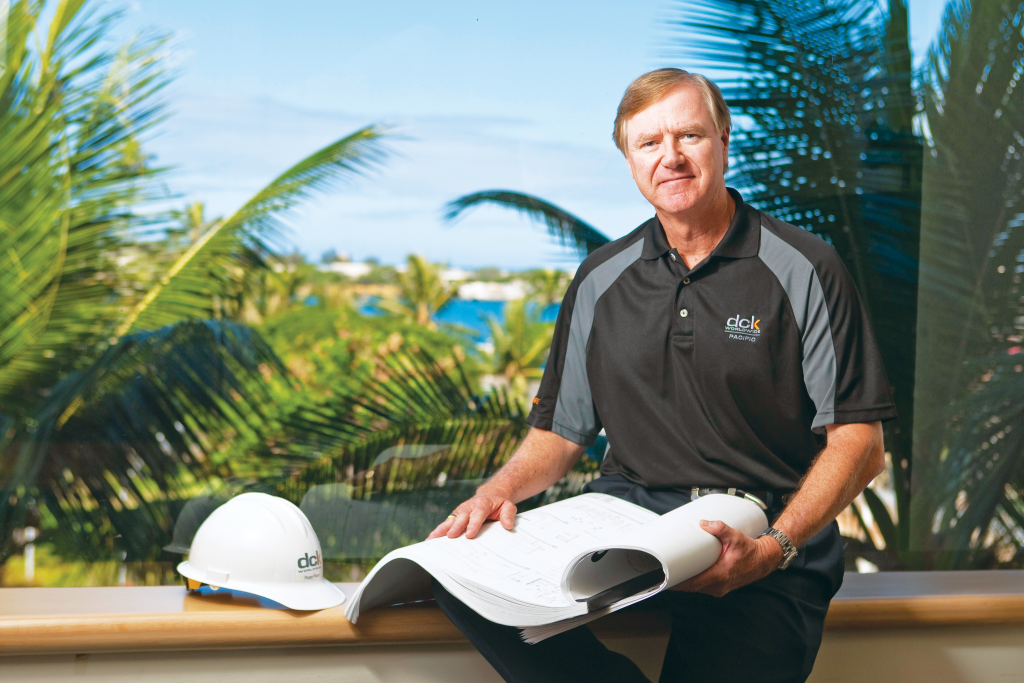 As executive VP and GM of dck pacific construction since 2008, Roger Peters has guided the company through one of the worst building climates in memory. With few major projects (except for rail) on the horizon, we ask Peters for his prognosis of Hawaii's construction sector today.
Q: Has there been any rebound in the construction sector?
We're seeing a slight uptick in renovations activity in resort, hospitality and retail, but particularly in the resort area. We've seen a lot of what we call refresh – not a full gut, but a refresh of the rooms. We think this has a lot to do with APEC. People want to get their rooms in nice shape, so, when APEC happens in November, the customers that come in will see nice rooms and want to come back. We've renovated the Royal Hawaiian, for example. That was about 250 rooms. On the outer islands, we've renovated the Marriott and also the Grand Hyatt on Kauai. We did those back to back. That was quite a few rooms; I think about 565 rooms at the Grand Hyatt alone. Those renovations were major projects in terms of dollar value, exceeding $25 million at the Marriott and over $20 million at the Grand Hyatt.
Q: Are there other advantages to doing this kind of work now?
I think they were trying to take advantage of the downturn, at the time, in tourism. They thought it would be a good time to go in there and refresh rooms that hadn't been refreshed in probably five or 10 years and were looking a little dated. So, they took the time and effort and invested the money in a down time; and now tourism has come back significantly at both of those resorts, and also here in Waikiki. (Construction) prices are down significantly. Now is the best time in the last five years or so to build anything, because the competition is strong and people are really sharpening their pencils. In fact, the subcontractor activity has been very competitive, and that has driven the pricing down significantly.
Q: Any worry that the refresh activity will affect future, bigger jobs?
No. What we're hearing is that there are a couple of large projects in planning. Hilton has almost $1 billion of new projects – timeshares – that they're looking to build at the Hilton Hawaiian Village in the next five years, with one of them starting maybe in the next two years. Same with Kyo-ya; they have another $750 million worth of projects that they want to do. Those are new projects – from the ground up – not renovation projects. Those projects are in the process of getting planned and, in Kyo-ya's case, I think they're trying to get their projects passed by the appropriate councils and neighborhood boards, and then get the permitting process established.
There's another group called the Chartres Group. They own a lot of hotels on the Mainland and also worldwide. They came in and bought the old Pacific Reef Hotel and now it's going to be called the Hyatt Place. They're renovating almost 400 rooms there. So, they're taking a very old, dated property and investing in it because they see APEC as a real opportunity. Half of the rooms that they're renovating have to be done by the time APEC happens.
Some of these developers are looking for good opportunities, good buys. Some of these properties have been depressed; even in good times, they weren't utilized to their full capacity. The previous owners may not have invested much in them to keep them up-to-date. So, these developers are thinking that, if they can spruce them up, if they can invest, make them look a little nicer, make the rooms more beautiful, clean up the pool deck area, that they'll attract a lot more people, because they're only a block, a block-and-a-half away from the ocean. If they can refresh those rooms and the entrances and the common areas, they think they're going to have a real good investment and get a good return. Which is great for Waikiki, because if you go back one or two blocks in Waikiki, there are a lot of properties that could use some work.
Q: What are the main concerns for development right now?
The big question mark out there right now is this Act 105 that was just passed, which eliminates the exemption for the general excise tax (for general contractors). So, we can no longer claim an exemption for our subcontractors. (Under the previous law), if a subcontractor pays the GET on its scope of work, then I don't have to pay that tax. That's the way the law used to be; I would only pay GET on the scope of work that I physically performed myself. So, if I had a $1 million contract, but I subbed out 85 percent of it, the subcontractors would pay GET on $850,000 of it. I would only pay GET on the $150,000 of my work. Now, I have to pay it on the full $1 million, and the subcontractor pays on his $850,000. It's a pyramid tax.
It's going to increase the cost of construction here in Hawaii by at least 4 percent for the next couple of years. … We're hoping it's not a game-changer. I think contractors and owners are going to be innovative to try to reduce the impact of the tax. But, if a project is marginal in a developer's eyes and 3 or 4 percent makes a difference to their bottom line, they may just say, "Let's wait two years and see what happens."