Talk Story with Shari Chang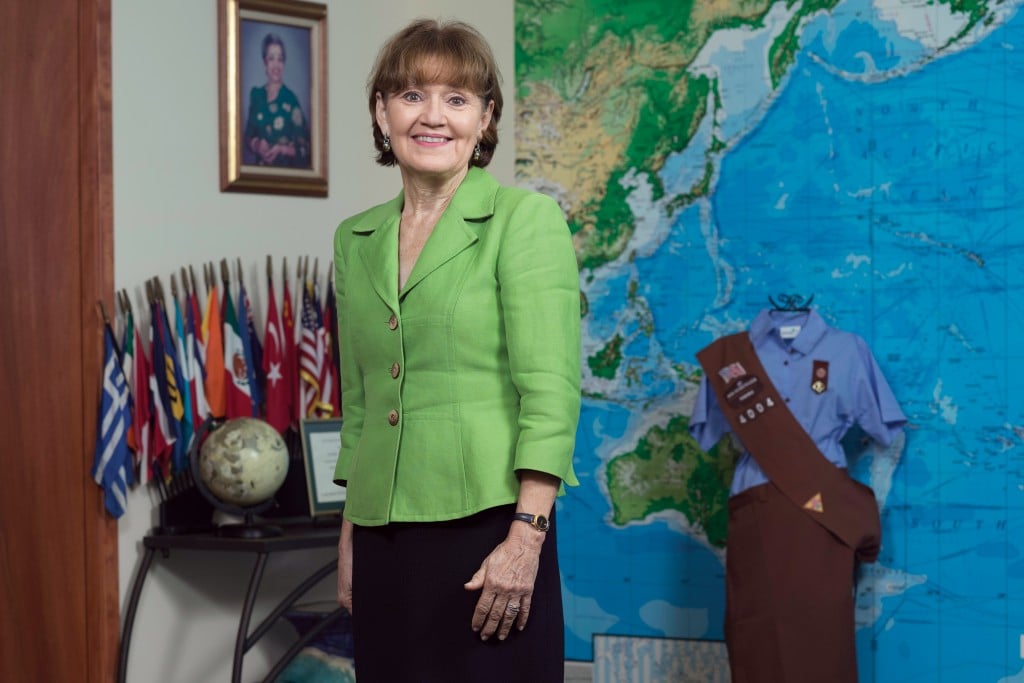 CEO, Girl Scouts of Hawaii
---
Girl Scouting runs through Shari Chang's veins. Her grandmother and mother were both scouts. While growing up, she was a scout in four different states and a foreign country. Her two daughters, who grew up in Hawaii, were also scouts. In October, Chang assumed the CEO spot at Girl Scouts of Hawaii, after leading sales, marketing and revenue management strategies at Aston Hotels & Resorts for eight years. She plans important changes at GSH, but says the core mission of empowering girls will remain.
---
After 30 years in hospitality, why the change in careers?
As a marketer, one of the frustrating things is that a lot of nonprofits don't know how to communicate their message and reach broader audiences. Oftentimes, they will have a core group of strong supporters, but they need to broaden their base.
As a parent, I find our state's low math and reading scores depressing. It is not healthy for Hawaii. If we want our kids to have good careers, we are going to have to engage them while they are young, because that's when they are like sponges. Unfortunately, we have wait lists in many areas where girls want to have a troop, but there aren't volunteers to lead.
GSH is providing different programs that support those children. In some schools, like Heeia and Maile Elementary, where a lot of students are from low-income families, we offer afterschool programs with paid leaders to guide scouting activities.
Unfortunately, most people don't know we have these afterschool programs. We need to get our message out there and this is where I hope to make a difference.
You led the sales, marketing and revenue management strategies at Aston. How is that experience helpful at GSH?
Most nonprofits are not marketing-driven organizations – this is where I can help. We haven't found a way to use social media to connect with donors, foundations and alumni. We will be using more digital marketing to show people what we are doing in our community.
We also want to use material that resonates better. Girl Scouts USA does an amazing job at giving support material to its members, but it doesn't necessarily reflect our state's population. So I'm going to be doing customized material. I've got great photos from STEM Fest (an annual event where girls have fun and learn about science, technology, engineering and mathematics programs and careers) and other local events, which might connect with the local population better. We have a unique situation out here with different cultures, and I think we need to reflect that.
What changes do you envision for GSH?
My current team has already gone through a branding training session. We have had social media training. I have experts giving our staff skill sets that they didn't have before because they had not been trained.
We also have a digital marketing agency that is going to be supporting our efforts and creating our new website.
What are your top three goals?
The biggest one is to reach out to more girls and find ways to sustain programs. I also want to expand our volunteer reach and to be able to communicate better with the community. We want to be able to reach more than the 2 percent of girls in public schools we have now.
It is important that everybody in this community knows there are pockets of needs. We'll be a healthy community by engaging everyone – not just a few.
You come from a family of scouts. What did this organization teach you?
It taught me to have confidence in my abilities. It also taught me about the importance of serving my community. For many girls, it is the first time they get involved in community service. It offers a different look at humanity – different than the protected environment in which a lot of people grow up. For many of us, the first time we visited a homeless shelter or a senior center was through scouting.
Girl Scouts USA has lots of research that shows scouts have higher academic success and achieve higher incomes. Approximately 70 percent of the female CEOs of Fortune 500 companies were scouts; 100 percent of the female governors in the U.S. were in scouting; and all three female secretaries of state were scouts.
But not every girl needs to be the CEO of a Fortune 500 company. They can be leaders in their communities or volunteers. These are all important roles.
Women can have it all. You just have to know how to organize your priorities.
GSH hosted STEM Fest for more than 120 girls in November. Tell us about it.
This was a volunteer-driven event in which more than 20 organizations came in to do activities for our girls, from Brownies on up. We had engineers, helicopter pilots, bankers, nurses, doctors and archeologists. An amazing array of people that many girls would not regularly get exposed to.
Unfortunately, there was a waiting list of girls that we could not accommodate, which is too bad because this is powerful stuff. I have one daughter who is an engineer and I'm sure that some of the things that we did in scouting inspired her. It introduces things that sometimes are not introduced at school. Next year, we hope to be able to make it bigger so that everybody who wants to can attend.
You probably made more money in the private sector than at GSH. What makes up for that?
Somebody said to me the other day, "Wow, you took a heavy hit financially." My response was, "The mission makes up the money." The mission is incredibly rewarding, particularly as a mom of two daughters who are grown and doing well. This is such a gift and I want to see more of it in our community. A healthy girl is a healthy society.
This interview has been edited for conciseness and clarity.