Building a Team Among Remote Workers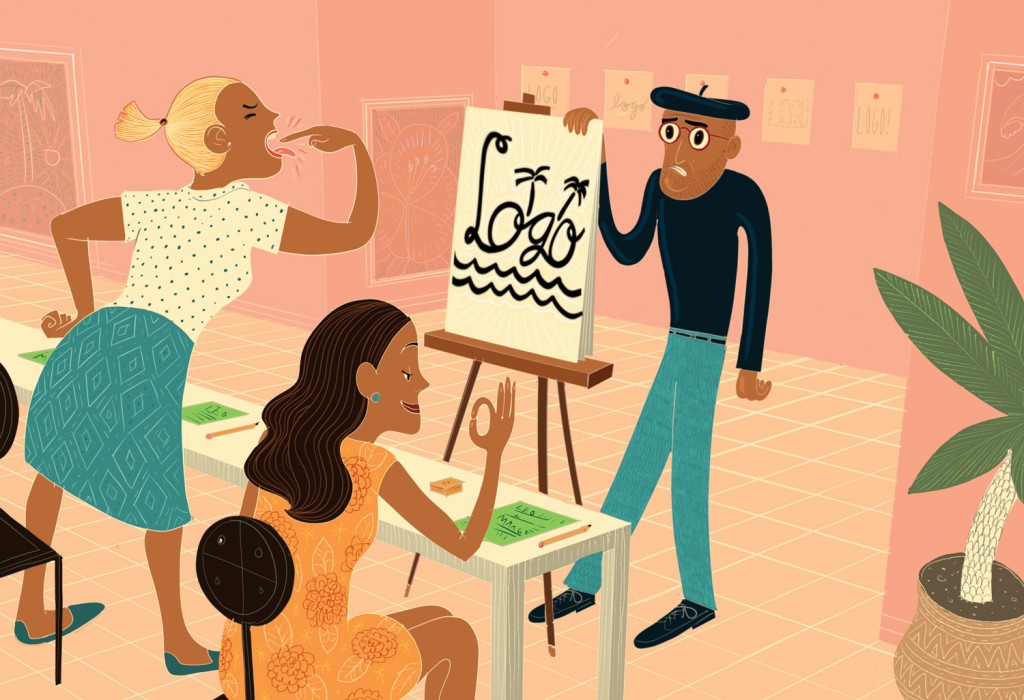 Can two chummy co-workers brand their new business without winding up in a duel?
Q: My co-worker and I are about to take the leap and launch our own company together. We have a business plan and are super excited. One of our first projects is getting a logo designed, but what if we have different visions for what it should look like? How do we make sure the two of us will still be speaking to each other as we go forward?
A: Back in 1976, Steve Jobs wanted the Apple logo and company co-founder Steve Wozniak wanted the Big Banana, and they came to blows, rolling around in corduroy pants in their new strip mall office. Nah, that's not what happened. The real story is that the third Apple co-founder, Ronald Wayne, came up with a rather complicated logo: It featured Sir Isaac Newton reclining under an apple tree, plus a quotation – "Newton, a mind forever voyaging through strange seas of thought." The words Apple Computer Co. appear on a ribbon billowing around the edges, and the whole thing is very Ye Olde Renaissance Hardware. Luckily designer Rob Janoff was called in and came up with a juicier fruit concept. His lone apple, with a bite taken, became an icon for a generation. My point? Corporate identity is a big deal.
I spoke with Tahiti Huetter, a Honolulu-based creative consultant and the chief creative officer at Aloha Friday Agency. She's worked with brands such as L'Oreal and college football's Heisman Trophy, so I asked how to approach your logo creation process. "The bottom line is this: The logo isn't for either of you … it's for your customer," Huetter says. "That's the main thing to remember when building a brand. You have to answer the question of 'who am I speaking to?' Once you and your partner can determine that, then you both will start making decisions based less on personal taste or ego and more on what your customer wants."
She says concerns such as "contemporary vs. modern" are unimportant until the brand's core is well-established. "This is possibly a conversation you have already had, but if not, I suggest starting there," she says. "Before you collect and send each other logos you admire, try to map out the key values and characteristics of your product with words and a mission statement. I bet from there you will agree on what those are and thus a logo design will align more with both of your visions."
Once the core of the brand is solidified, Huetter suggests a design professional can help launch the look and referee any partner disagreements on details such as fonts and colors.
Q: My new boss responds to my emails only about 20 percent of the time. What do I do?
A: Are you sure she's an email person? You can read a million bits of advice about streamlining messages, using appropriate subject lines and timely follow-up. But your boss's inbox may simply not be the best way to reach her. She may be overwhelmed, for one. According to research firm Radicati Group, 124.5 billion business emails are being sent every day in 2018, and that number is going up. Your email probably gets buried faster than you can imagine.
See if she is up for a weekly one-to-one where you can bang through a list of your questions and "needs responses" all at once. Or maybe she's a morning person who is receptive to you popping by for a standing meeting. Some people love instant messaging platforms and respond quickly that way.
The key is to find the way of communicating that she is most comfortable with, and to use that channel. You do this by asking her. She'll probably welcome the idea of working with you in a way that feels time efficient to her. By the way, there's a myth that Millennials don't like email. Adobe's Email Consumer Survey reports that generation is email obsessed, and is more likely to check it before arriving in the office and while on vacation than workers of other ages.
Q: I manage a team of remotely based employees — some as far-flung as Holland. We use a lot of Slack and email to get the job done, but I'm wondering if there are any creative ways to do team-building with a crew like this? A Friday pau hana is simply out of the question.
A: Yes, a ropes course will be boring if everyone is dangling solo in a pine tree. Yet your work group doesn't have to be all business, all the time, either, and you're wise to be thinking about ways of fostering a sense of community. Start by stealing a page from Hawaii's business culture. Block in time to talk story on a conference call or Skype instead of diving straight into a meeting agenda, and chat for a few minutes about how everyone's weekend went and how their families are.
For more formal solutions, an online bulletin board like Trello lets you share project status as a work tool, but can also be used for goal setting and appreciation. This allows the group to validate everyone's successes and achievements.
or a virtual version of a ropes course, there are companies that specialize in exercises for remote groups; TeamBonding.com is one I found. Now, it isn't easy – or cheap – but a retreat that brings the entire group together physically can really build team culture and foster new ideas. The company Buffer, for example, conducted a weeklong retreat in Honolulu for 90-plus employees. Keys to success included planning six months out and balancing work sessions with getting-to-know-you activities like whiskey tastings, surfing lessons and
book discussions. You can read the whole post on how Buffer pulls off its twice-yearly remote retreats.
Lastly, give your team space. A 2018 study from Harvard Business School showed that groups that were constantly connected by technology such as email, instant messaging, Slack, social media, etc., had a diminished capacity for high-level problem solving. The researchers suggest that for excellence, it's best to have groups interact in "sprints" for short periods of time, then let them work in isolation. Maybe that lone pine tree isn't such a bad spot after all.
---
Ask The Careerist:
Have a question about work, life and that place in the middle where it all gets tangled up? Ask me at: feedback@hawaiibusiness.com