Tech Scores Big Win Over Car Thieves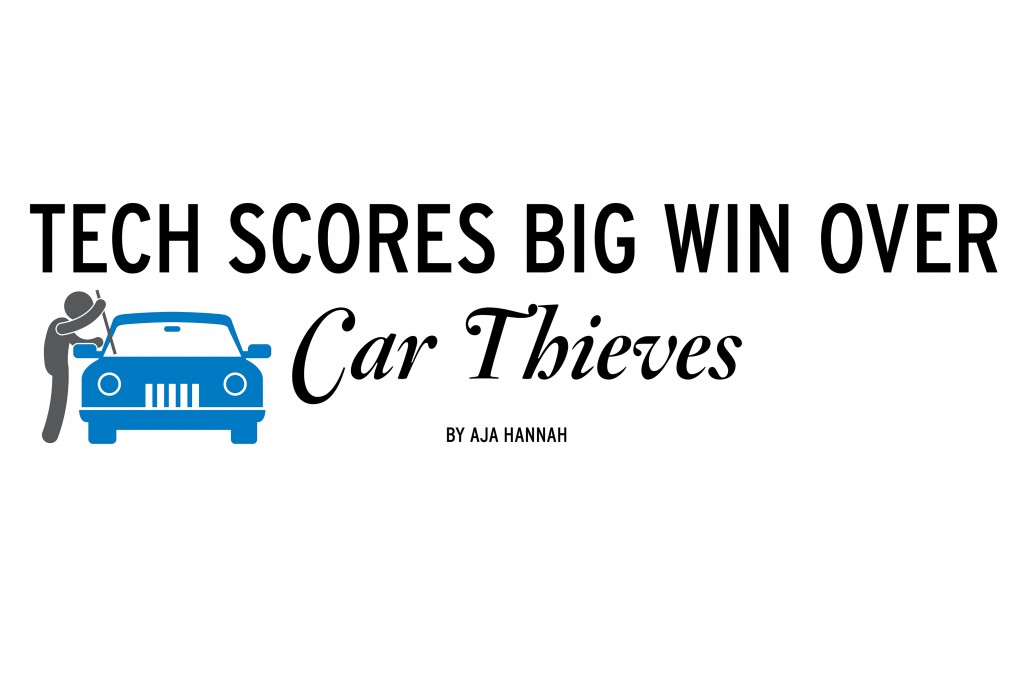 If you are keeping score on whether technology makes our lives better or worse, put this in the plus column: Technology has dramatically cut the number of stolen cars in Hawaii over the past decade.
In 2003, 9,651 motor vehicles were reported stolen in Hawaii; in 2012, that number was down to 3,865 – a 60 percent decline, even though there were a lot more people and cars in Hawaii. In 2013, only 2,694 motor vehicle thefts were recorded in Honolulu County – the lowest total since statewide data collection began in 1975.
"Thefts have had their peaks and valleys over the years, but appear to be on a nice downward trend since reaching an all-time high in 2002. Overall, vehicles have been getting more difficult to steal with each new development from the technology sector," says Frank Scafidi, director of public affairs at National Insurance Crime Bureau.
Wendell Takata, the theft division officer for the Honolulu Police Department, agrees that improved anti-theft technology is the main reason for the big decline in car thefts.
The insurance crime bureau says the technology includes car alarms, immobilizing devices such as "kill" switches, fuel cut-offs and smart keys, plus tracking tools that make it easier to find vehicles that are stolen. Smart keys were first used in 1998 and now are common among new vehicles; the key is equipped with a microchip that matches to the car and, without it, certain functions needed to start the car are deactivated.
The technology keeps improving. Some newer and more expensive vehicles, such as the 2012 and later Escalade, come with a sturdier steering column-lock system, so thieves cannot turn the wheels to maneuver the vehicle onto a flatbed. These cars also have a sensor that sets off an alarm when the vehicle is inclined without warning in case the thief uses a tow truck.
Fuse cut-off switches can be installed by mechanics and simple steering wheel locks like The Club can be bought and used by any driver.
Most vehicles can also be equipped with OnStar, LoJack and other GPS trackers to locate the vehicle if it is stolen. OnStar can also slow the vehicle remotely to aid officers.
Today, the most stolen cars are not the most valuable ones, but older vehicles without modern anti-theft technology. Often, stolen vehicles are scrapped for parts because the model is common in the area. But, as time goes by, there are fewer of these vehicles on the road, so the demand for parts decreases, as does the car's value to a thief.
The Hawaiian Islands also have the advantage of being intimate and isolated – cars cannot be easily shipped somewhere else to be chopped up or resold.
"The fact that Kauai is a small, close-knit community also makes it more difficult to steal a vehicle without getting caught," says assistant Chief Ale Quibilan. On Kauai, he says, a car is more likely to be stolen by a family member or friend who does not have permission to take it.
The good news is, Quibilan says, "Property owners or renters have more control of becoming victims than they might think. Secure your property at all times, even when you're home. Leaving your keys in your car or leaving doors unlocked is an open invitation to thieves."
Takata, of the Honolulu Police Department, says thefts are often crimes of opportunity. "We've had many cases where the owners have an alarm, but do not arm it, thinking nothing will happen," he says. The easiest ways to discourage a thief, he says, are to use your vehicle alarm, park in well-lit and populated areas, and minimize the visibility of valuables inside your car.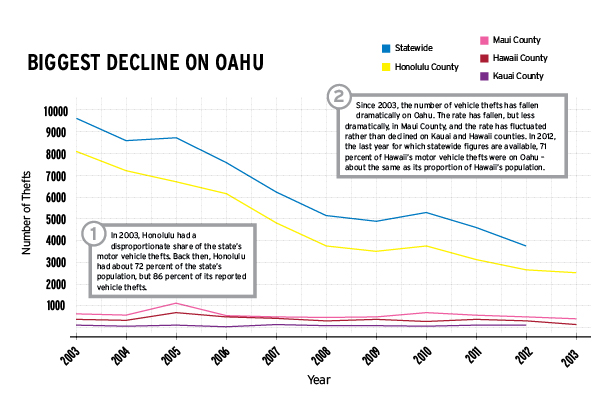 ---
Most Stolen Vehicles in Hawaii in 2013
2000 Honda Civic
1996 Honda Accord
2006 Ford Pickup (Full Size)
2005 Toyota Tacoma
2002 Dodge Caravan
1998 Toyota Camry
2005 Dodge Pickup (Full Size)
1994 Acura Integra
2004 Nissan Frontier
2000 Ford Pickup (Small Size)
Source: National Insurance Crime Bureau
---
What Was Stolen
Of the 3,865 motor vehicles reported stolen in 2012:
Cars: 49.3 percent;
Trucks, pickups, vans and buses: 17.6 percent;
Motorcycles, mopeds, golf carts and other vehicles accounted for 33.0 percent.