The Business of Local Fashion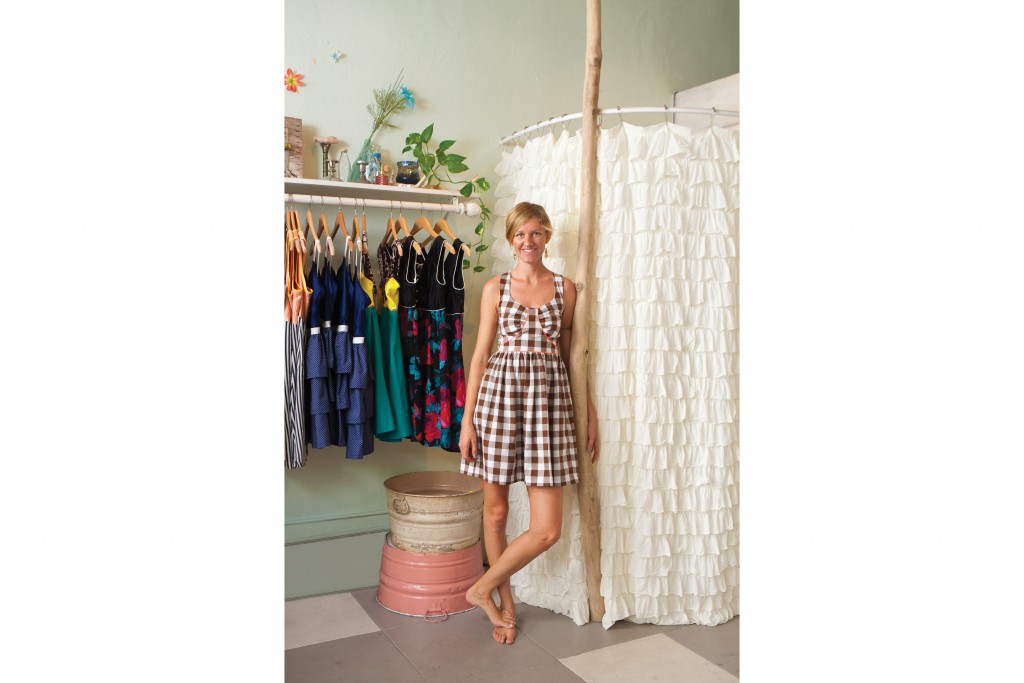 Hawaii is not an easy place to be a fashion designer. While inspiration abounds, the business of fashion in the Islands presents a unique set of problems. It costs more to source materials and have them shipped here. Finding people to grade (size), cut and sew garments has become increasingly difficult since most sewing contractors have gone out of business. Introducing contemporary, unusual styles to local retailers is often met with skepticism.
That's why two of the three Hawaii-raised contestants on TV's Project Runway live on the Mainland – season seven's Jay Nicholas Sario in San Francisco and the current season's Ivy Higa in New York. They find it easier to make their mark where access to materials and labor are more cost effective. But Andy South, also competing in the current season, is still trying to make it as a designer with a Chinatown studio.
Local fashion success is possible: Alfred Shaheen, Tori Richard, Malia, Princess Kaiulani Fashions, Reyn Spooner and JamsWorld have all made names for themselves nationally and internationally. But a look at three women-owned, Honolulu-based fashion companies show the challenges faced by the emerging generation of designers.
Fighting Eel
This line could easily have been called Phoenix, as it rose from the ashes of unemployment.
Lan Chung and Rona Bennett, designers of Fighting Eel, worked together in Agnes b., a popular Ala Moana boutique. When Agnes b. closed, the gutsy roommates pursued a dream of creating their own fashion line. In 2003, they began cutting garments on their living room floor and sewing everything themselves.
Fighting Eel never intended to manufacture in Hawaii. Instead, the two owners targeted Los Angeles's thriving garment industry with its hundreds of fabric mills and contractors who have the latest equipment. Sourcing, manufacturing and shipping from L.A. saves them a lot of money. For example, shipping can easily add $1 per yard of fabric. And it helps that Chung's brother lives in L.A. and now handles all their shipping.
Chung says Fighting Eel hired an "L.A. sales representative in 2005 and a few months later we got a rep in New York. We have had a harder time with a stable rep in L.A. We changed showrooms six times now, whereas in New York we've had the same showroom the whole time."
Fighting Eel has never spent money on marketing or advertising. "We don't have a PR firm because they have huge retainer fees, like $3,000 to $5,000 a month," Chung explains. Instead, they research celebrities and send them a box of clothing in the hope they will have their photos taken in the clothes. The strategy has worked. Photos have appeared in Style.com, People and US magazines on celebrities such as Eva Longoria, Mariah Carey, Paris Hilton and Hayden Panettiere.
Fighting Eel now produces eight collections a year, each consisting of 12 to 15 pieces. Their latest venture is a move last month to new offices at 1133 Bethel St. and a retail boutique next door, Tee Tee Bar.
Where to buy
In 12 Hawaii stores (including Nordstrom, The Butik and Mary Z's), 200 Mainland stores, and in Guam and five foreign countries. Online at www.fightingeel.com. Prices: $87 to $170.
Roberta Oaks
Roberta Oaks started her business six years ago with no overhead and a guerilla-marketing strategy. She deconstructed and reconstructed vintage slips, turning them into flirty little skirts, tops and dresses. She did all the work herself in her living room, taking them to public beaches on the North Shore, where she set up a rack or two in the sand at Sunset or Laniakea. That is, unless she got kicked off the beach by angry surf-meet organizers.
"I didn't have any background in the industry, so I just did the trial-and-error thing. If you're trained and all it might be harder," Oaks explains.
As she grew, Oaks did her market research at craft fairs and fashion-related events in nightclubs and pop-up boutiques. After a couple of years, "I was really sick of sewing everything myself and I thought I'd go to a trade show and roll the dice and if it didn't work then I would go do something else. It was sucking all the life out of me, as I think the industry does."
In 2007, Oaks went to one of the industry's largest trade shows, Pool in Las Vegas, a section of the gigantic Magic show that serves as a showcase for smaller lines. "I had no idea how my designs would be taken on the Mainland and I thought, 'OK, you sink or swim.' It's an expensive gamble." She immediately, and gratifyingly, received orders from stores in Chicago, L.A. and Mississippi. One big surprise was more orders from Southern states than the West Coast.
Last month, Oaks took her collection to a trade show in Japan for the first time, along with Sierra Dew, a newly emerging Honolulu-based designer.
"The design process is such a small part of my job. I feel more like a secretary or production manager much of the time. The designing process is about 10 percent of my job. It's a lot of sitting at the computer and typing invoices."
Oaks' dresses are produced by local manufacturers. "I can't imagine manufacturing outside of Hawaii. I like knowing who is making my clothes and it's important to keep the money circulating in Hawaii."
She briefly ventured into swimwear but found it didn't make sense for her. Her four collections a year now consist entirely of dresses made primarily with eco-friendly fabrics such as organic cotton and bamboo jersey.
Where to buy
At her signature store in Chinatown, 19 N. Pauahi St., or at www.robertaoaks.com, in five boutiques on Oahu and 150 stores on the Mainland, as well as in Japan, Canada and the Caribbean. Prices: $130 to $175.
Umee
Deena White Tearney is the first to admit she has no background in fashion design. "I came with zero experience in fashion, no education or background or experience, so I came in pretty cold." Her day job is director of information technology business support for Hawaiian Airlines.
Tearney barely knows how to sew. Her mother, however, attended fashion design school in Japan and her grandmother, for whom her business is named, sewed and knitted all her life. "I'm fulfilling my mother's dreams," Tearney says.
What spurred her interest in fashion design? She loves casual, colorful Island clothing, but it doesn't translate to her lifestyle, which involves corporate boardrooms and business travel to Boston, Dallas and Mumbai.
She identified her niche when planning her Kahala Beach wedding in 2007: The wedding party couldn't find appropriate attire in Hawaii. She saw a need and decided to fill it.
Her experience in business planning and marketing is an interesting role reversal, because most designers are all about creativity and struggle with the business and marketing side.
Umee is manufactured entirely in Hawaii, mainly of natural fibers. "My core mission is to create designs that are made in Hawaii, so production cannot go off island," Tearney emphasizes. "It's such an important issue and an important part of my brand." Her sizing, however, is done on the Mainland due to the ease, accessibility and low cost of computerized grading there.
Tearney's target customer is the local woman who wants to wear something that can take her from work to dinner or the visitor "who comes to Hawaii on vacation and wants to buy something she can wear at work when she goes home. I just don't feel right in tropical prints at work on the Mainland," Tearney said.
Marketing has been a challenge because Umee is unlike other local lines, which tend to be more figure-forgiving. Retailers are a little nervous about carrying such a body-conscious line.
Tearney has had some success at trade shows with other designers through hifi (the Hawaii Fashion Incubator) and a few Honolulu retailers have placed orders. She produces two collections a year and the current one includes a classic shirt dress with some Island-inspired detailing, ideal for a work-to-date day.
Tearney's process is so labor intensive that she is only able to produce a few styles at a time, so multiple collections are something she will just have to grow into.
Where to buy
The Kahala Hotel and Resort boutique; The Bridal Boutique, 614 Cooke St.; or online at 
www.umee-brand.com. 
Prices: $120 to $160.
Paying for supplies
The raw materials of fashion – fabric, zippers, thread, trims and buttons – are made primarily on the Mainland or in Asia and Europe, and have to be imported.
Fabric mills usually require a minimum order of 1,000 to 3,000 yards for each color combination, which is called a "way." For a small company starting out, this volume is impossible to finance.
Shipping charges for raw materials must be considered when pricing each garment. Here's where the three design firms source their materials:
Murphy's Law in Fashion
Fighting Eel: "We want to do a lot of prints but we haven't found anyone to do it up to our standards. Something always goes wrong," says co-founder Lan Chung. Fighting Eel's prints are designed by her partner, Rona Bennett.
Oaks: In working with a contractor, Roberta Oaks says, she has to closely and constantly monitor quality control. "I picked up a few batches of stuff and they were all wrong. Learning how to manage the production was an obstacle I had to overcome. Quality control is so important when your name is on it. You can't expect anyone else to get it. For them it's just a job."
Umee: Working with local manufacturers, Tearney could "keep my designs intact but I had to make some small sacrifices because they did not have the equipment to do some things." They can't work with fragile fabrics, for example, and some edge finishes can't be sewn here because that requires special equipment.
Why do it?
Do these designers recommend fashion as a business in Hawaii? "I would recommend it if someone is absolutely passionate about it," Chung says. "If you're a warrior you can do it. It's something you've got to really want, no matter what. There will always be something wrong. We've never had a season where everything went perfect, but you can't give up."
"It's definitely something you can be successful at if you have the drive and personality," Oaks says. "I think it takes a certain type of person and you have to be aggressive. Fashion demands someone who can take getting knocked down and can take criticism and take every experience and learn from failures." She also recommended that anyone interested in fashion go to business school.
"Yeah, why not?" Tearney says. "A lot of the challenges I have seen here are across the board, with sourcing and manufacturing. You can't let that inhibit you."