The Business of Saving the Reef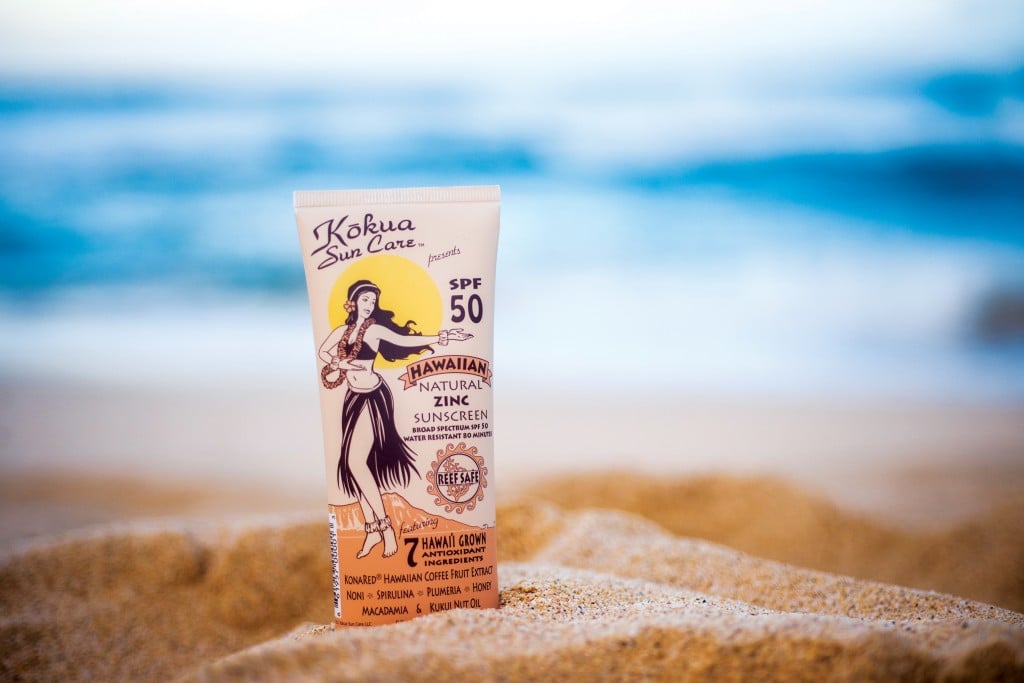 Changing laws and attitudes are creating opportunities for Hawaii's natural sunscreen startups
It was the squirt and slather heard 'round the world.
Senate Bill 2571, passed by the state Legislature and signed into law by Gov. David Ige, will by Jan. 1, 2021, ban the sale or distribution in the state of any sunscreen that contains the chemicals oxybenzone or octinoxate without a prescription. The goal of the groundbreaking legislation is to preserve coral and ecosystems that marine scientists say are damaged by those sunscreens and the bill has drawn international attention.
The movement toward more eco-friendly sunscreens has been growing for years, with local entrepreneurs experimenting and testing their formulas and slowly growing their sales. The big boys have noticed, too: Outdoor goods retailer REI announced in April that it would ban oxybenzone products from its 151 stores by 2020, as part of an overall sustainability requirement for its suppliers.
The nonprofit Environmental Working Group, which releases a yearly review of hundreds of sunscreens, has seen a rise in the availability of mineral sunscreens that don't contain oxybenzone or octinoxate, or any chemical sunscreen ingredient at all. They rely instead on the FDA-approved ingredients zinc oxide or titanium oxide. In 2007, only 17 percent of the products the EWG reviewed were mineral based; this year, it's up to 41 percent.
In America, the consciousness around this issue began in Hawaii, where people value both their own health and the health of the ocean and reefs. Innovative local companies saw a need for safer, healthier sunscreens and moved to fill it.
Rosalyn Ardoin, co-founder of local organic sunscreen brand Little Hands Hawaii, says, when she started her business seven years ago, "We would be setting up at farmers' markets, talking about the reef health and sunscreen, and people would look at us like we were cross-eyed." She and her husband have now grown their business to six figures a year in sales.
Once Senate Bill 2571 was in the news, guides to reef-safe sunscreen bloomed across the national media, appearing online in mainstream publications such as Travel + Leisure, Vogue and Condé Nast Traveler.
"Absolutely, there is more interest now. People come to me, asking, 'Do you have the reef-safe?' Two people came at me to rep already," says Charles "Gary" Gray, owner of Nalu Koa, a natural bath and body business based in Upcountry, Maui.
"We formulated our own sunscreen about two years ago. I'm not chasing a lot of accounts and yet our email is packed and the phone is ringing," Gray says. A longtime waterman, he says, "I'm very proud of our formula. I'm trying to encourage the protection of our ecosystem. I have watched the degradation of it over the past 20 years."
In Honolulu, the brand Kokua Sun Care launched in March, coinciding with the new law's proposal very tidily from the owners' perspectives. "Travel + Leisure did a feature and for the next week our sales blew up," says co-founder Robin Van Niekerk.
He and his co-founder, Tatyana Cerullo, joke that they slogged through a "University of Sunscreen" degree during a 5½-year product development. Like many entrepreneurs, they started at home with a vision and experimented in their kitchen to create a less noxious sunscreen.
Van Nierkerk is a boat captain and says that on the boats, "We banned people from using the spray sunscreens because the chemicals eat away at the Plexiglas. It makes it bubble up." Cerullo is a practicing attorney and health conscious. Nierkerk says, "She taught me how to read labels."
"There were all these recipes popping up on the Internet, 'Make your own sunscreen with beeswax.' We ruined a pot trying to make our own," says Van Niekerk. "Then we realized, this is an FDA-regulated product. You have to have it tested. And we were like, 'How is that going to happen?' We didn't know anyone."
Sunscreens are considered over-the-counter drugs by the FDA, just like Tylenol, and there are regulations for their manufacture, testing, labeling and registration. A chance meeting at a party in Louisiana led to the couple's first lab connection. "We were vetting every single ingredient," says Cerullo. They wanted to include antioxidants, including island-grown ingredients such as noni honey, plumeria, Hawaiian spirulina and kukui nut oils.
"With sunscreen, there are so many out there, if yours doesn't stand out in terms of quality and performance, you won't have a business," Van Niekerk says. "They kept saying, 'Let's replace it with something else.' So we moved on to another lab," Cerullo says. The second lab couldn't provide the 80-minute water resistance they were after. On to the next lab.
"The third time was the charm," says Van Niekerk. "We found a professional formulator in California. And a manufacturer in California. It has to be a certified OTC cosmetic manufacturer, and an FDA approved lab. There's stability testing, efficacy testing."
Working with zinc oxide, the main ingredient in mineral-based sunscreens, "is like working with clay," says Cerullo. "You have to be a magician to work with it in the lab and make it go on smooth." Then there's the sourcing of the zinc. The couple chose to go with Australian zinc, as Chinese sourced zinc could possibly be contaminated with metals such as mercury.
They hired a consultant for the drug facts box on the product container, as even the font typeface is highly controlled. "I told Down to Earth, there's going to be a lot of sunscreens coming to you," says Cerullo. "I gave them a link to the national drug code. The stores don't realize there are laws for FDA labeling and registration. There are liability issues."
"Because of the reef safe movement in Hawaii there has been an uptick in 'handmade' sunscreens for sale that do not comply with FDA regulations for manufacturing, testing, labeling and registration of over-the-counter drugs," explains Cerullo in a follow up email after our initial interview. "Sunscreens must be manufactured in an FDA OTC certified and monitored facility – not in Mom's kitchen – to assure that the claims made are backed by rigorous testing and manufactured in line with quality control procedures."
You can find these unregulated products for sale at stores such as Down to Earth. "There is no quality control and no assurance that the active ingredient is present at the levels claimed, that all claims on the label are tested according to FDA protocol, that the raw ingredients and overall products are not contaminated, that there is a verified shelf life, etc.," Cerullo says in her email.
For his business, Gray works with three labs: in Oregon, California and Colorado. "They help me. Now, they help me at $85 an hour, don't get me wrong, but they help me. I make sure my formula is certified." He says that lowers his liability insurance. "There are people making sunscreen at home in their kitchen and yeah, it's dangerous. There is a better way than 'Oh, we decided to throw coconut oil in there.' You're dealing with visitors who come here and trust you and trust what you are telling them." His company has six employees, with products made on Maui in a commercial space. Still, he wants to keep control over his family-run business's growth "very carefully."
Despite being a new brand, Kokua Sun Care sunscreen has already been picked up by Whole Foods Market, Amazon and a dozen local shops such as Riches Kahala. "There's interest from Southern California and Arizona," says Van Niekerk. Eventually, he and Cerullo are hoping to work with ABC Stores. They are also working with a dispenser company, Sun Shield, for use in resorts.
Resorts are a huge potential market for local sunscreen brands. The resorts offer dispensers filled with sunscreens, they create private-label branding partnerships and gift shop placement opportunities, and buy bulk orders of sunscreen sample packets.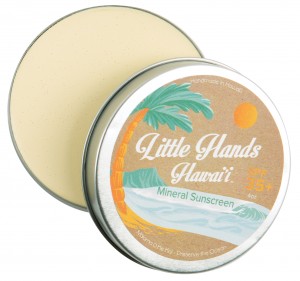 Rosalyn Ardoin, for example, says The Hyatt recently worked with Little Hands Hawaii for sample packets that will go to guests at the beach. "They want thousands and thousands on each order," says Ardoin. "Eventually as things grow, we'll just have to hire a few people. But as long as our bee woman can keep up with us, we're good." (The company uses beeswax from Hawaii Island.)
The sunscreen law "couldn't be more relevant for our state and the rest of the world," says Monica Salter, VP of corporate communications at the Outrigger Enterprises Group. The company started promoting the use of reef-friendly sunscreen through its Ozone initiative in 2014, which focuses on increasing coral health and resiliency in the waters surrounding the company's beach destinations, through coral planting, educational opportunities and beach cleanups. Guests also get private-label Outrigger coral reef-friendly sunscreens on eco-adventure packages that include activities such as snorkeling with turtles.
"We hope to have our Ozone branded version, an SPF 30, for sale by the end of the year at our resorts in Hawaii and ultimately at all of the Outrigger Trading Co. stores inside our resorts worldwide," says Salter. She thinks Hawaii's pioneering legislation "will not only spark more consumer demand for the product, but ignite a larger conversation about our critical role as stewards of these vital underwater ecosystems."
Clearly, there are other issues of reef protection that need to be addressed, both at home and around the world, including overfishing, pollution from agricultural practices and climate change. But many feel that putting fewer chemicals in the water from sunscreen is a first step and an area where Hawaii can lead the way.
Sun Safety
Regardless of what sunscreen you are using, the key is to apply, reapply and eventually reapply again.
Dr. Carla Nip-Sakamoto, a dermatologist in Honolulu whose specialties include skin cancer prevention and treatment, and sun safety education, advises "a shot-glass full for the body, put on 30 minutes before going outside to make sure it's adequately applied, and reapply every two hours, which is especially important if you sweat or are in the water."
"We are big proponents of zinc oxide because it's safe, effective, cosmetically elegant, it's got anti-inflammatory qualities." Her main concern? "That the message of sun protection is getting lost in the controversy about the legislation, that sunscreen itself is being seen as dangerous, as opposed to isolating some of the chemicals that have been associated in the studies about the reefs," says Nip-Sakamoto.
A comprehensive program includes sunglasses and UPF-rated (Ultraviolet Protection Factor) clothing, which reduces how much sunscreen you have to apply. She says zinc oxide is the gold standard in protection, providing protection across the UVA and UVB wavelength spectrums. UVA causes wrinkles, while UVB is believed to cause burns, and both are associated with skin cancer.
"Titanium dioxide is fine if you add it with zinc oxide, but for people who are sensitive to the sun from medication, who have had skin cancers or are working in the sun, they should go with the highest protection possible, which is the zinc," she says.