The Careerist: Going to Your Boss's Boss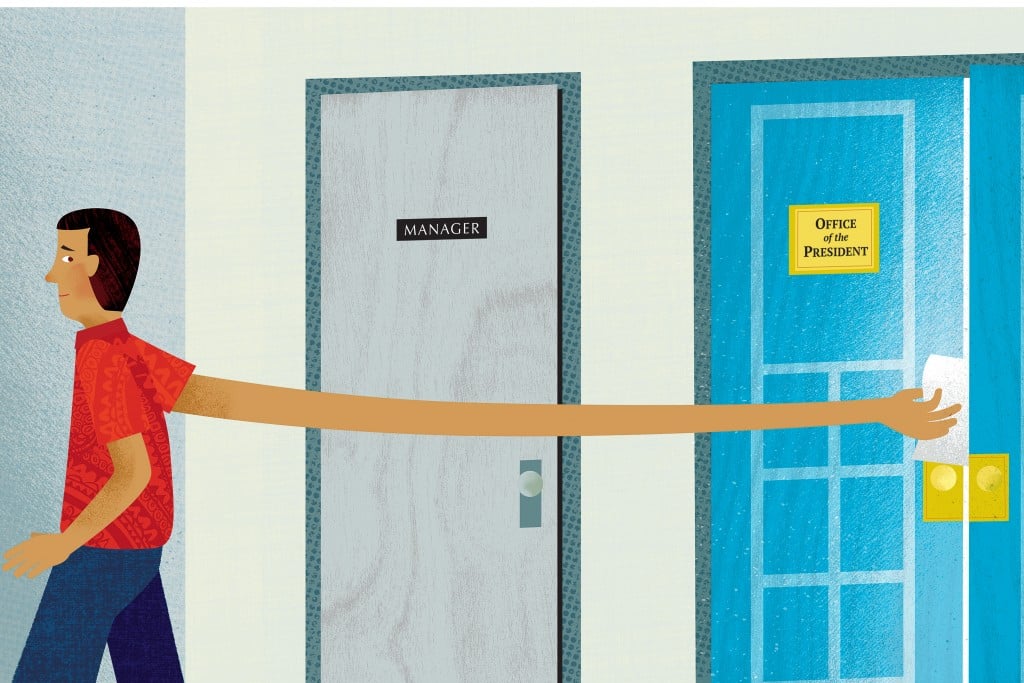 Is it ever appropriate to go to your boss's boss to complain about your boss?
Yes, no and maybe.
Yes, if you have witnessed discrimination, sexual harassment, fraud, kickbacks, gross negligence, substance abuse or anything that would create a really difficult situation for your company. If your boss can't or won't respond appropriately to your complaint, you have no choice but to get this information to someone who will.
No, if there's a way to approach your boss first. Let's say you are cheesed off about how your boss addressed you in a group email. It would demonstrate maturity to sit down with him or her, and have an honest conversation. Let your boss take ownership – bosses are only human, too, and might appreciate an opportunity to apologize. If it's an especially sticky subject, you can turn to your HR department first for guidance before you go into the conversation.
You should also not go over your boss's head if you toil for a company where hierarchy is highly valued, because working it out "on the right level" will be more respected. 
Maybe. "We have to have the wisdom to see if it's worth the risk," says Dharm Bhawuk, a professor of management and culture and community psychology at UH Manoa's Shidler College of Business. "Sometimes you have to compromise on your career to do the right thing. That's what I'm telling my students. There might not be anything illegal or unethical, but you also have to have personal ethics, too. We all have been in areas where something is legal, but not ethical."
If you are a business owner and want your employees to feel empowered to report concerns, you need to provide multiple channels for doing so, suggests labor and employment lawyer Angela Reddock-Wright, founding and managing partner of The Reddock Law Group in Los Angeles.
"Employees might not be comfortable reporting something to their boss, particularly if they are having an issue with their boss," she says. "Some companies have an ethics office or an independent ombudsman's office. I'm working with a company right now on implementing a 1-800 hotline for employees." The best practice is to encourage employees to come forward in whatever way they are comfortable – by email, calling a hotline or shooting a flare gun. And, after they come forward, back them up by swiftly dealing with any offenses committed.
---
I've been retired for a couple of years, but I'm getting restless. What jobs might be good for a retiree?
Think first about your motivation. Did you retire reluctantly during or after the Great Recession? If so, you could be within the group identified by a Reuters-Ipsos survey: One in three retirees in that survey said that, although they were technically retired, if the right job became available they would rejoin the workforce. With Hawaii's unemployment at 3.7 percent when this was written, there's plenty of room for you to dive back into the labor pool. Brush up your resume and network – you silver fox, you.
If, on the other hand, you aren't thinking "career" so much as "I'm so bored, I'm like a dried bean bouncing around in a box," you're a good candidate for a part-time job. Ask yourself what hours you would ideally work and what activities you enjoy, and go from there. You could turn a hobby like golf into a position booking tee times at a golf course, for example, or a passion for tropical plants into a gig as a tour guide at a botanical garden. If you have an outgoing personality, look into retail – now's the time stores are hiring for the holiday shopping crunch.
---
My company has really cruddy, ink-jet printed business cards. Should we be investing in better ones? Does anyone care or am I over-thinking this?
It's funny, in this digital world, elegant paper business cards are just as important – if not more important – than ever. "In the past, most people went with an 80-pound cover stock paper, and over the past two years, business cards have become much thicker," says Helen Godwin, the owner of Professional Image, an Oahu-based company that's been in the printing and copying business since 1978. Godwin says the company went to 100-pound stock for its house stock for basic cards, and goes up to 130-pound stock, depending on a customer's request.
Why the change? "Thicker has become a status of professionalism," says Marissa Steinfeld, Godwin's niece and the company's general manager. "It suggests that you can afford to do business cards nicely. In an age where you can print your own cards off your own machine at home, it says, 'I didn't just fire these off at midnight when I realized I didn't have any cards left.' "
Everyone has a color printer, but not everyone is a designer. I say, rise above the pack with something classy.
---
Ask the Careerist:
Have a question about work, life and that place in the middle where it all gets tangled up? Ask me at: TheHBCareerist@gmail.com