The "Economics of Hula" Seems Like An Oxymoron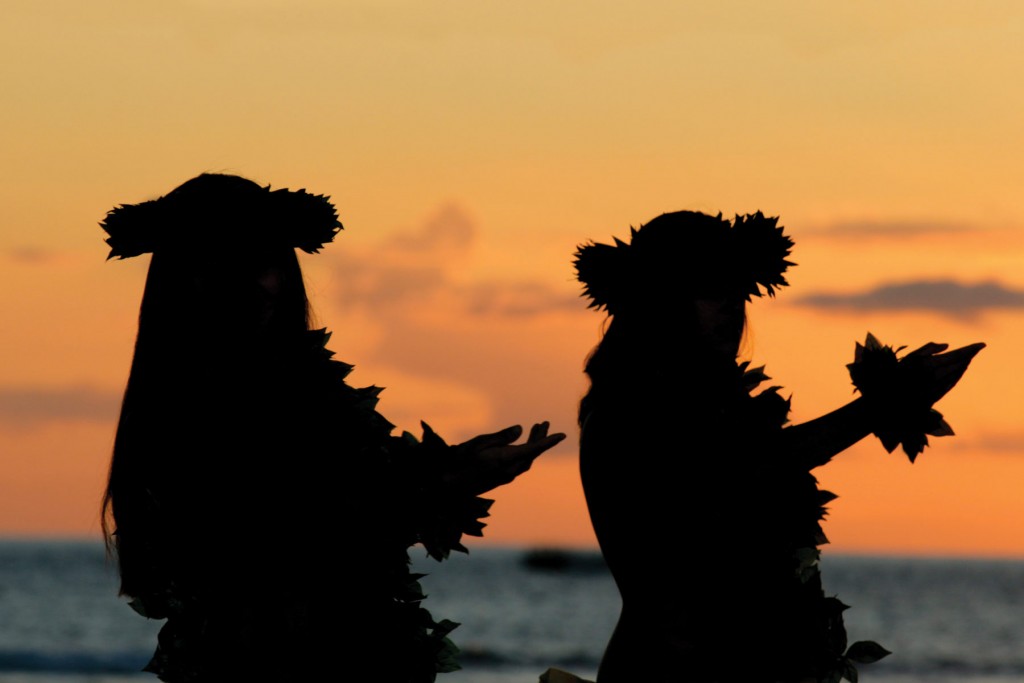 But hula does have an effect on the economy, even though its appeal to participants is usually not commercial
There are many reasons to launch a hula halau, but getting rich has never been one of them. That is just as true in Hawaii as it is the many places around the world where halau have sprung up.
The absence of money is part of hula's charm: Though a few people make a living from hula, for most people it is a labor of love.
"People love the halau, they love the hula," says Chaminade business professor John Steelquist, who has friends in the hula business.
"They are not a place I'd go to make a lot of profit, but that's not the point," he says. "The point is the benefit is to the participants, the benefit is to the whole society in Hawaii and in the world."
Halau are a different kind of business – and probably should not even be called that. They often last for a long time because they are self-sustaining and low cost, Steelquist says.
Halau have a direct and indirect effect on Hawaii's economy, he says. The direct effects include people taking paid lessons, paid admission for shows and travel expenses.
The effects on tourism are obvious. When Kapu Kinimaka-Alquiza, kumu hula of Na Hula O Kaohikukapulani, was a young girl, she saw how hula helped draw tourists to Kauai.
"We were introduced to that sort of hula atmosphere, if you could call it that, where we would be able to see and hear the visitors and experience their reaction to what hula was all about," she says.
Kinimaka-Alquiza believes that hula's economic impact helped keep it and its culture alive. Today, hula has become a national and international phenomenon. "Many of us kumu hula here in Hawaii, we do go to Japan to teach hula. And who would have known that (the Japanese) would have accumulated thousands and thousands of people to become hula dancers?" she says.
Kinimaka-Alquiza devotes herself to hula, but she knows many kumu hula also teach Polynesian dances. "Knowing Polynesian dances along with hula has a greater potential to sustain oneself in the economy," Kinimaka-Alquiza says. "Otherwise we would have to continue to do what we love, our passion of hula, and also take a second job."
Steelquist says some kumu hula make a full-time living teaching hula, but most do it in addition to their regular nonhula jobs. "It varies from almost a volunteer activity to a full-time activity," Steelquist says.
Like many kumu hula, Mahealani Uchiyama, kumu hula of Ka Ua Tuahine in Berkeley, Calif., doesn't consider her halau to be a business but rather a calling. Along with being a kumu, she works as a freelance teacher, educating students in music and dance.
Her halau, which currently includes about 150 students, charges each student tuition, but Uchiyama says it is not as much as warranted by the many hours she puts into rehearsals and training.
"I try to keep it as inexpensive as I can so that people who really need to have the connection to Hawaiian culture will be able to have that without too much stress on their income."
Uchiyama also teaches Ori Tahiti, or Tahitian dance. Kinimaka-Alquiza, on the other hand, focuses just on hula – both the performing and cultural aspects. Her halau, located in Hanapepe on Kauai, has about 150 students.
"My view of hula is not just hula; it is not just the physical part of hula," she says. It requires "so many life things to become a full dancer. It's not a thing that you just mimic because your teacher says turn this way, turn that way, down and up."
Every motion has a story behind it, she says, and to understand the story and properly portray it, they have to be told the history.
"It encompasses the Hawaiian life to present a hula. And that's why hula is really the dance of the heart," she says. "And without all of the understanding of who we are as kanaka maoli, or Hawaiian people, if you want to say it that way, it goes way beyond that. Way beyond."