The Economics of Recycling in Hawaii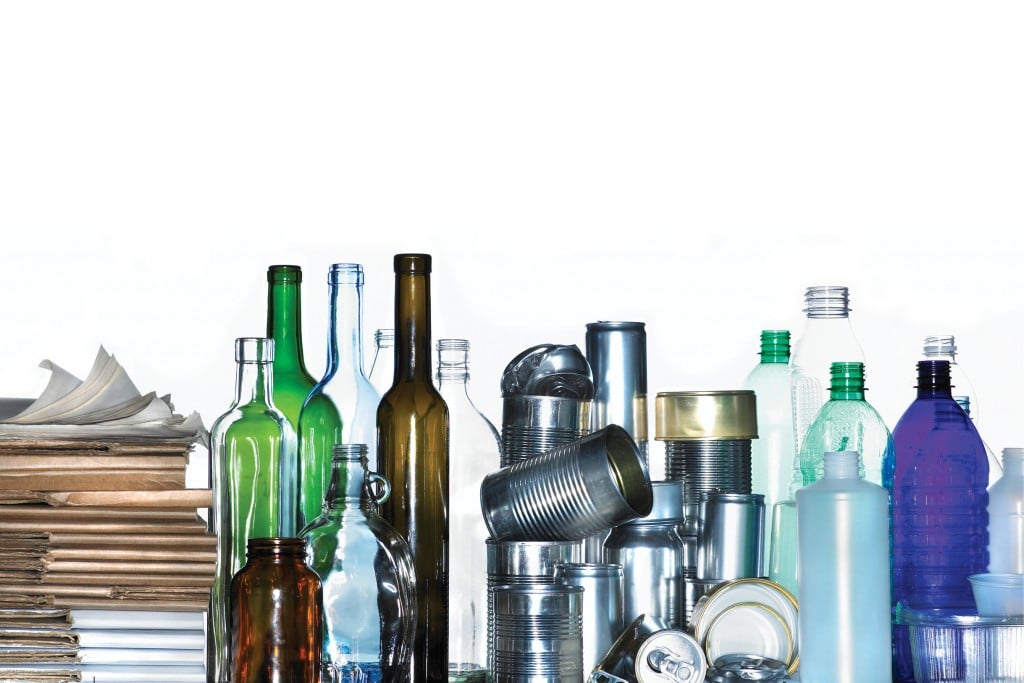 Much more than just HI-5, the economics of recycling is about fluctuating market prices for metal, glass and paper, and about jobs, electricity, carbon footprints and the cost of landfills
Hawaii got a basic lesson in the economics of recycling starting in 2005 when the state imposed a 5-cent deposit and 1-cent fee on each beverage container. As the lesson sank in, more and more people returned bottles to collect the 5-cent deposit. Economics 101: People respond to financial incentives, even 5-cents-a-bottle incentives.
But the economics of recycling has many other layers: Paper, metal, plant clippings, plastic and many more items are recycled in Hawaii and each has a dollar value. Hawaii Business asked sustainability expert Scott Cooney to look deeper into the economics of recycling. He is an adjunct professor of sustainability at UH-Manoa's Shidler College of Business, author of "Build a Green Small Business" and principal of the GBO Group, which advises companies on sustainability strategies.
Here is his report.
If you have doubts about the HI-5 bottle deposit program, consider this: On Oahu, before HI-5 went into effect in January 2005, the landfill diversion rate was 41 percent, according to the state Department of Health's Office on Solid Waste Management. In other words, about three-fifths of all of Oahu's municipal solid waste went to the Waimanalo Gulch landfill.
Since then, more than 4.2 billion beverage containers have been recycled through the program, the waste office says, which helped increase the overall diversion rate to 72 percent. It's not just HI-5, of course. The diversion rate includes many other recycled materials, plus waste sent to H-Power, the incinerator that turns trash into electricity and generates about 6 to 8 percent of Oahu's power.
Recycling has also created jobs and revenue for local workers and companies. Recycle Hawaii, the nonprofit that coordinates recycling and green-waste capture on Hawaii Island, says green waste is processed as mulch, glass is used locally to fill potholes and to help build new roads, and paper fiber is used by local packing companies as filler material. Glass, metals, paper and plastic of all kinds are also shipped to mainland and Asia-based brokers, according to the 2012 Recycling Guide published by Recycle Hawaii.
Suzanne Jones, recycling coordinator for Honolulu County, says that dumping our opala into landfills is not a sustainable approach for Island communities. Instead, she says, "We see our waste as a resource. We can make new products, generate power … that makes a lot more sense."
Hawaii is not alone in facing a waste challenge. According to a recent study by the World Bank, municipal solid waste worldwide is projected to grow 70 percent by 2025. Post-consumer waste may account for almost 5 percent of global greenhouse-gas emissions, but methane escaping from landfills represents 12 percent of total methane emissions and methane is 18 times more potent as a greenhouse gas than carbon dioxide, according to the World Bank.
In most locations, the environmental benefits of recycling are clear. The Technical University of Denmark study of Life Cycle Analysis of 55 materials found 83 percent of them were environmentally beneficial to be recycled versus other forms of disposal. Aluminum, for instance, showed a 95 percent reduction of energy needed when using recycled aluminum versus extracting the raw material from a mine. The reductions were lower, but still substantial, the study found, for other materials: 70 percent for plastic, 60 percent for steel, 40 percent for paper and 30 percent for glass.
On Oahu, curbside pickup has made a huge difference in diverting trash away from the landfill. After pilot programs starting in 2007, islandwide curbside recycling and green-waste programs were in full operation in 2010 on Oahu. In its first full year, the program collected 18,000 tons of mixed recyclables and 53,000 tons of green waste, representing a 6 percent reduction in municipal solid waste going to Oahu's landfill, according to Honolulu County's recycling office.
A similar program, the "3 Can Plan," is in its first full year in Maui County, with similar programs in development by both Hawaii and Kauai counties.
How much does curbside recycling cost? According to the Danish study, most curbside recycling is not financially self-sustaining except for dense urban areas with high landfill costs and near ports to ease shipping. For instance, in New York City, the estimated cost of landfilling was $34 to $48 less per ton than recycling in 2004, but the gap narrowed to $17 in 2008, and was supposed to reach parity this year, according to a 2008 report by the Natural Resources Defense Council.
"In many places, it is less expensive to put something in a landfill than to do waste-to-energy and, in many cases, than recycling," said Jones. "Here, our goal from the beginning was to create curbside recycling that was economically self-sustainable, and we're pleased with the results so far."
Part of the calculation is the cost of putting waste into a landfill, but those costs are hard to pin down. Honolulu charges private companies $81 in tipping fees to dump a ton of waste in its landfill, and there are often other fees, but those do not represent the real cost of landfills to taxpayers. Those costs include site selection, stakeholder involvement, development, construction, permitting, ongoing maintenance, disaster management, methane capture, closure and other costs that aren't all reflected in the tipping fee. There are other ways to get rid of trash, but a recent attempt to ship Honolulu County's waste to Oregon cost $99 a ton and doesn't seem like a long-term solution.
Recycling itself has limitations: Unless the materials can be economically recycled in Hawaii, they must be shipped at least 2,500 miles to Asia or the mainland, which adds costs and carbon footprint. Nonetheless, shipping Oahu's lower-value recyclables, such as waste paper, across the ocean for recycling has substantial global environmental benefits, according to a 2005 study commissioned by the Honolulu Department of Environmental Services' Refuse Division. The global benefits would include an overall net reduction in global greenhouse gas emissions and a net energy benefit of 330,000 megawatt/hours a year, versus a net energy benefit of 49,000 MWh for processing that waste into energy at H-Power (both figures are compared against a baseline of putting those materials in a landfill).
However, shipping materials overseas to recycling centers has only nominal economic benefit for the Islands, while recycling them locally, either as materials or through conversion to energy, clearly creates more economic activity in Hawaii. The Refuse Division's 2005 study found that if you looked at the life cycle of materials, sending Oahu's waste paper and other low-value materials to H-Power would result in $4.8 million in direct wages, 211 total jobs and $823,000 in reduced energy-production costs a year. On the other hand, recycling those same materials on Oahu would create 235 total jobs, but lower direct wages of about $4.1 million. The study provided incentive for Honolulu to invest in a local recycling infrastructure that has an ongoing financial return for Hawaii, and to send the bulk of those low-value recyclables to H-Power.
In Hawaii, green-waste recycling has been an economic boon. Honolulu County considers its green waste program a big success, saying it is on par with more mature programs in other municipalities around the U.S., despite having started only a few years ago. But the county wants citizens to separate items correctly, because improper placement of items in green-waste bins (which are, conveniently, colored green) costs the county an estimated $18,000 last year.
Currently, blue bins are for aluminum cans, glass bottles and jars, newspaper, corrugated cardboard, and No. 1 plastic (PET) and No. 2 plastic (HDPE). Last year, 52 percent of all recyclables were placed in Honolulu's blue bins, while 48 percent were put into the gray bins, which are designed for materials sent to the landfill. Honolulu's recycling office figures the county can earn another $500,000 annually if it can increase the curbside recycling rate from the current 52 percent level to 75 percent. From curbside recycling, the city earns a 5-cent deposit and 2 to 4 cents in handling fees for each HI-5 container, plus between 8 and 13 cents a pound for nondeposit glass containers, and market value prices for other recyclable commodities. According to Jones, selling recyclables at market price generates the lion's share of revenue for Oahu's program. Those revenues, plus the fact that Honolulu turned its twice-a-week curbside trash pickups into one recycling and one trash pickup a week, helped make the program economically sustainable.
The economics of HI-5 are a bit murky. The state has been collecting about $55 million a year from the 6 cents added to each beverage container at point of sale, and disbursing from $49 million to $63 million, according to Department of Health statistics, depending on the percentage of bottles recycled each year. Recently, the Department of Health proposed that consumers be charged an additional fee of half a cent per HI-5 container to cover the state's expenses of processing and overseeing the deposit fee. Currently, consumers are charged 5 cents for the deposit and 1 cent that is nonrefundable to cover the processing. But the DOH says that it not only pays the 5-cent deposit, but also a 2- to 4-cent handling fee for each container. As recycling rates have risen, the original 6-cent charge isn't covering overall costs.
A 2005 audit of the HI-5 program reported a "financial system in which transactions were not properly recorded, records were in disarray and the resulting environment was 'ripe for abuse.' " Gary Gill, deputy director of DOH's recycling program, says, "You would expect a little bit of growing pains starting a new program like this," and pointed out that HI-5 more than doubled the rate of diversion for beverage containers. DOH officials say they've been able to reduce consumer complaints substantially, and increase oversight of recycling companies by hiring more inspectors and accounting staff. They are still working on fixing one of the key challenges found in the 2005 audit: Recycling companies are compensated based on estimates of the number of containers brought in for redemption, rather than the actual number. A change to that system is now under public review, but it may be a few months before action is taken. Critics say the DOH should wait for a further audit before raising fees.
The 1-cent fee was supposed to be in place until the recovery rates topped 70 percent, at which time the fee was supposed to go up. The program took a few years to get off the ground and, in the meantime, the economy tanked, prompting the state to raid the money in the account to cover budget shortfalls elsewhere.
Being on an island also changes the economics and the process of solid-waste disposal for less desirable materials. Junk mail, Nos. 3 to 7 plastics, magazines, telephone books and the like are often recycled on the mainland, but, in Hawaii, these low-value recyclables actually provide a better return on investment as fuel for waste-to-energy technologies like H-Power.
Other diverted products create opportunities for local businesses. Menehune Magic takes much of the green waste from Oahu's green bin curbside pickup and produces compost for sale under the "Hawaiian Earth Products" label. Crushed glass is turned into "glassphalt" by Grace Pacific. Across the state, there are 120 recycling centers. There are also collectors, companies and nonprofits that pick up recyclables from homes and businesses and deliver them to a recycling facility. There are currently two of these on Kauai and 18 on Oahu, ranging from Big Brothers, Big Sisters, which picks up HI-5 items, to fee-based curbside collection companies like Oahu Community Recycling, according to Honolulu County's Department of Environmental Services. There are also dozens of companies that actively recycle or otherwise repurpose used materials for a second life, ranging from Battery Bill's (car batteries) to EcoFeed Inc. (food/wet waste for compost) to Hawaii Mail Box Services (packing peanuts and other loose-fill for reuse) to Island Recycling, which takes aluminum, cardboard, paper, metals and wood pallets.
The Department of Labor and Industrial Relations says these recycling activities help account for about 3,000 fulltime-equivalent jobs statewide. With 40,000 total jobs in waste management across the state, it's likely that, as recycling, composting and reuse expand, jobs will be created. These jobs proved resilient during the economic downturn, mainly thanks to HI-5. They can't be outsourced, so one big benefit of recycling programs is they encourage local economic development, create jobs and recycle money in our community.
More Info
Recycling websites for each county, including details on what can be recycled and how to do it:
Honolulu
www.opala.org
Kauai
www.kauai.gov/recycling
Hawaii
www.recyclehawaii.org
(run by a local nonprofit)
List of organizations on Oahu that will collect your recyclables
tinyurl.com/7vrg8x5
List of Oahu recycling companies
tinyurl.com/7pwh3gq
Prices Paid for Recyclables
Here are the current market rates paid per ton of recycled materials. Selling these materials in the open market helps the counties make curbside pickup of recyclables and green waste more economical, and helps collectors make a few dollars.
---
Oahu's Waste
Here is what happens to Oahu's municipal solid waste, excluding construction and demolition (in tons).
2007
2011
2013 forecast
Amount Oahu diverts from landfill for recycling, reuse and compost:
453,372
480,061
510,000
Amount burned at H-Power:
585,569
594,793
727,000
Ash and residue from H-Power that goes to landfill:
189,351
163,618
145,000
Total municipal solid waste that ends up in the landfill
(including H-Power ash/residue):
496,042
330,539
190,000
Source: Honolulu County Department of Environmental Services
---
Misplaced Waste
On Oahu, 31,000 tons of food that can be recycled using the green-colored, green-waste bins, are mistakenly placed into the gray trash bins and taken to the landfill each year. That misplaced waste:
48%
Percentage of recyclable materials on Oahu that were mistakenly placed in gray bins last year. That's 17,158 tons of recyclables sent to the landfill.
$500,000
Estimated extra income each year for Honolulu County if it can increase residents' curbside recycling rate from the current rate of 52 percent to 75 percent.
Almost 100%
Virtually all of the ferrous and non-ferrous metals are captured and separated using either magnet or eddy technology before trash is burned at the H-Power plant, according to the Honolulu Recycling Office. Much of that metal is then recycled.
---
No One Wants a Landfill
The only landfill on Kauai is in Kekaha, on the southwestern tip of the island.
The landfill was supposed to reach capacity in 2005 and be closed, but the deadline has been extended twice. Most recently, a proposed height extension of 85 feet would add five years to its life, according to Wil Chee – Planning Inc., which was hired by Kauai County to provide an environmental assessment in support of the extension.
Kauai County is searching for a new site at which to bury or burn waste, but NIMBY politics are making a site selection difficult, as it does everywhere in Hawaii and in most places around the world.
To combat this challenge, local governments in Hawaii are pursuing several options. On Oahu, H-Power is expanding its capacity, which should help reduce the solid waste dumped at Waimanalo Gulch. According to Covanta, the operations and management company at H-Power, the expansion will increase total waste processing capacity from 2,160 tons per day to 3,060. This will help increase electricity generation potential at the plant from 57 megawatts to 90. H-Power's output helps Oahu offset the need to import nearly a million barrels of oil per year.
Included in the H-Power expansion is the ability to process larger items, like much of the construction and demolition debris that has been a challenge for solid waste management to this point.