The Future of Local News Isn't What it Used to Be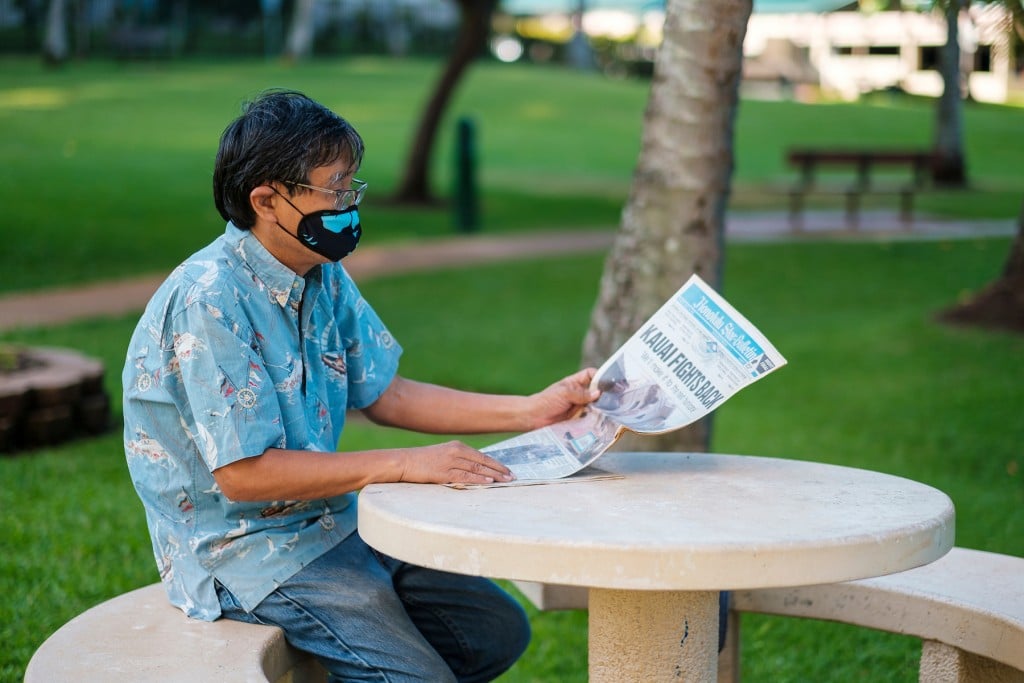 Some organizations have cut reporters while others have added staff.
And everyone is looking for innovative ways to tell the news.
In the wake of the Great Recession, news media in Hawai'i churned and innovated. A decade later, the recession caused by COVID-19 has led to more churn and innovation.
In 2009, four TV newsrooms became three, as KGMB and KHNL merged to form Hawaii News Now. Honolulu became a one-newspaper town in 2010 when the Honolulu Advertiser and Honolulu Star-Bulletin merged and became the Honolulu Star-Advertiser. That same year, billionaire entrepreneur Pierre Omidyar bankrolled the founding of the news site Honolulu Civil Beat.
Today, many news companies are struggling to sustain their business models as advertising dollars dry up or move elsewhere and audiences change their allegiances. Journalists are trying to reach audiences using traditional media – print, TV and radio – and new media, including social media, podcasts and other online formats. The churn is unlikely to end anytime soon.
I spoke with local journalists about challenges facing news organizations and interesting new approaches to delivering the news.
Slow Erosion
Hawai'i's people used to get the majority of their news from daily newspapers, but not anymore. Stirling Morita says the Star-Bulletin was already in trouble when he started working there in 1977, arguing that "the history of the Star-Bulletin is a perfect example of slow erosion."
Morita worked as a reporter and editor for the paper for nearly 40 years, surviving the Star-Bulletin's merger with the Honolulu Advertiser and retiring from the Star-Advertiser as an assistant city editor in 2016. He now serves as president of the Hawai'i Chapter of the Society of Professional Journalists.
In the 1960s, Morita says, the Star-Bulletin enjoyed a larger circulation than the Advertiser because the Star-Bulletin was published in the afternoon, while the Advertiser was a morning newspaper. The afternoon paper was more popular back then – many think it was because workers in the agricultural industry started work early and had no time to read a morning newspaper but preferred to read after work. The later publishing time also allowed the Star-Bulletin to report that day's news from Washington, D.C., a day before the Advertiser.
As the local workforce moved out of the fields and into office buildings, more people wanted their paper in the morning, and the Advertiser gradually became the more popular paper. TV news also ate into the Star-Bulletin's readership; the 6 p.m. newscasts could cover breaking news that didn't make it into the afternoon newspaper, Morita says.
"You've got a 10 a.m. deadline in the morning to print (the first edition). If news comes out at 2 in the afternoon (after the final edition), then TV news gets it and you don't get to address it until the following day."
Morita says that during its heyday, local "news conferences were set in the morning to catch the Star-Bulletin deadline." As TV became more dominant, news conferences were scheduled later. Eventually, he says, officials started to schedule conferences for 5 p.m., so their announcements would be breaking news on the evening broadcasts.
Now, Morita says, local broadcasters face the same kind of competition from the internet, where breaking news can be reported immediately.
"Nobody has been able to figure out locally how to make money off the internet," he says. "It's a tough thing because a lot of people are expecting their information for free."
Eating into Revenue
Over that same period, newspapers faced multiple challenges with advertising revenue – the money that pays for reporters and editors. The free weekly tabloid MidWeek launched on O'ahu in 1984, drawing away ads from the dailies – including lucrative grocery stores ads – while delivering profiles and opinion columns to readers, not news.
In the 2000s, Craigslist and a host of other websites gutted classified advertising at the dailies, which once contributed about 40% of many newspapers' revenue.
The Star-Bulletin eventually had the same parent company as MidWeek, but it was the weekly that drove profits for a long time, not the daily. Oahu Publications – now the parent of MidWeek, the Star-Advertiser, the two daily newspapers on Hawai'i Island and the one on Kaua'i – has diversified into free ad-driven publications and publications produced for customers like hotels. But those new revenue sources have not prevented a series of layoffs at all of its local newspapers. Today's print newspapers are smaller than their predecessors, and so are their newsrooms.
Morita says he's also seen TV adapt, including with hybrid news models that sometimes make paid local features look like news.
Sometimes, local media make it difficult to distinguish regular coverage from advertising. Morita says he was alarmed by MidWeek's cover story in July on Honolulu mayoral candidate Keith Amemiya. The story appeared to be a conventional MidWeek cover story, and only if you read to the end were you told it was a paid ad.
The sale of advertising is not problematic in itself, Morita says, as long as media draw a clear line between news and advertising.
"Most people thought it was an endorsement," he says of MidWeek's Amemiya ad. "There should have been some kind of disclosure or labeling that says this is a political ad."
Morita is concerned that without a strong local newspaper, people will get their news from social media and scattered websites. "It's like the 1800s on the East Coast when everyone had a soap box, with a different opinion on every corner," he says.
"I hope that (the Star-Advertiser) can make this transition to online. I hope that it'll be around forever, but obviously, it's pretty tough to compete against the internet."
Competition for Attention
Many communities around the U.S. have become "news deserts" – places where no local news organization is devoted to fact-based reporting. The coronavirus has also accelerated the trend of media consolidation and declining circulation, according to a report published in August 2020 by the University of North Carolina's Hussman School of Journalism and Media.
Without local news, citizens lack the context and analysis they need to make informed decisions and hold public officials accountable, writes Penelope Muse Abernathy, the Knight Chair in Journalism and Digital Media Economics at UNC. Abernathy argues that in the absence of local news organizations, "social media and internet sites become the centers for sharing news – as well as rumor and gossip – exacerbating political, social and economic divisions in a polarized nation."
With more than a few news organizations remaining, Hawai'i has not suffered as much as other places. "Local journalism is holding up pretty well, all things considered," says Brett Oppegaard. Though Hawai'i has experienced consolidation, "we've weathered the storm a bit better than other communities."
"People are craving a representative that will go out there, ask tough questions and get the uncomfortable facts that they need to navigate this complex world."
—Brett Oppegaard, Associate Professor, UH Mānoa
Oppegaard is the undergraduate chair of UH Mānoa's journalism program and a former reporter on the Mainland. From 2016 to 2018 he authored Civil Beat's "Reader Rep" column, acting as a local media observer and critic.
Despite "holding up pretty well," Oppegaard says, he's concerned that local news media organizations are falling short of the journalistic ideal.
"Journalism everywhere has lost its way to some degree. It has focused more on the business model than the ideology of journalism – the ideology of seeking and sharing the truth," he says. "Journalism as a business has swayed from that core objective. The way to return to a successful business model is to refocus on great journalism – on asking tough questions, digging for the truth and holding people in power accountable.
"The people with power in our community are not held accountable as much as they should be. There's a general coziness in the media that's troubling, that creates a shield for people in power, especially elected officials and appointed officials."
Won't Pay for Fluff
Oppegaard cites the Honolulu Police Department as an example of an institution that was long spared tough questions, despite documented corruption. He says that a lack of investigative rigor makes people less willing to pay for local news.
"Nobody is excited to pay $30 a month to have fluff news about the Police Department delivered to them," he says. "But people will pay $30 a month for unvarnished – good and bad – but well-investigated journalism.
"I can learn from 100 sources what Donald Trump did today, but I can only learn from a few sources what's happening in Hawai'i, and that's the information that's important to me.
"There aren't options other than local journalists. You need the journalists to represent you and go out and dig into these bureaucracies and pull out the information that's valuable to us all," he says. "People are craving a representative that will go out there, ask tough questions and get the uncomfortable facts that they need to navigate this complex world."
As a subscriber to the Star-Advertiser, Oppegaard was surprised when the Saturday print edition stopped showing up in May. He says that cutting print editions sets a dangerous precedent, as subscribers become used to going without the news.
"If I don't need Saturday, why do I need Monday?" he says. "Pretty soon, you don't need any day." The absence of a print newspaper one day a week is especially harmful given the fierce competition facing the Star-Advertiser, says Oppegaard.
"Local journalists are not only competing against regional and national journalists," he says. "They're also competing against journalists in other media organizations: radio with TV, TV with newspapers, and they're all competing for the same attention."
On top of that, says Oppegaard, journalists have to make the case that they deserve attention more than a Netflix documentary or blockbuster movie. "There's too much competition. People won't pay attention to [news] unless it's really good," he says. "The digital mediums that are emerging are very exciting and engaging. Can we produce that locally? Will people pay for it?"
The Business Model
Oppegaard is right that journalism is increasingly focused on the business model of news. But that is to be expected as advertising dollars dry up and the industry sheds jobs. How do fact-based media pay for their reporters?
In their heydays, newspapers and TV stations were money machines, making their owners some of the richest people in town – both in Hawai'i and across America. Many enjoyed market monopolies or oligopolies, so they could afford to spend on well-staffed newsrooms and still make big profits.
The national digital newsrooms that have risen up to take their place have struggled to bring in enough money to pay their reporters and other staff despite attracting tens of millions of readers. For-profit companies such as Buzzfeed, Yahoo, AOL and The Huffington Post – all one-time darlings of the tech world – have each suffered layoffs in the past few years on top of earlier job cuts. For these companies, the perceived future is not as glowing as it used to be.
One problem is that almost 70% of digital advertising revenue nationwide is collected by just three companies, Google, Facebook and Amazon, according to research company eMarketer. Digital news organizations nationally and locally find it hard to compete against those giants.
A more successful model of digital-first news media nationally and locally borrows from the business model used by public radio and TV for decades: Seek major support from a handful of big corporate and philanthropic donors and solicit lots of smaller contributions from listeners and viewers. ProPublica is a prominent national example, the Texas Tribune is a major regional player and Honolulu Civil Beat is a successful local example.
Omidyar, the billionaire founder of eBay, which bought PayPal early on, has backed Civil Beat from the start, first intending it to be a for-profit company, and then transitioning it into a nonprofit. Ben Nishimoto, Civil Beat's VP of operations and philanthropy, says that the Omidyar Ohana Fund at the Hawai'i Community Foundation remains Civil Beat's largest donor.
However, he adds, the fund's annual gift decreases each year as Civil Beat diversifies its base of support. According to Nishimoto, Civil Beat raised more than $1 million in non-Omidyar support in 2019 and is on track to raise $1.3 million in non-Omidyar support in 2020. At the end of 2019, Civil Beat had 3,500 individual donors and 23 foundation supporters. By July 31, 2020, Civil Beat's donor base had grown to 5,100 individual donors.
Despite several rounds of layoffs in recent years, the Star-Advertiser still has the largest reporting staff in the state. Susan Essoyan, a city desk reporter for the Star-Advertiser and co-chair of the Star-Advertiser's Unit of the Pacific Media Workers Guild, says the newspaper now has 30 full-time reporters.
Civil Beat has grown to 13 full-time reporters, says Editor and GM Patti Epler. Hawaii News Now has nine full-time reporters and five anchors who also report part-time, according to News Director Scott Humber. KITV has six full-time reporters and eight anchors who also report part-time, says President and GM Jason Hagiwara, KHON did not respond to inquiries by email and phone.
Traditional/Digital Hybrid
No local traditional news organization has invested more effort into a broad digital transformation than Hawaii News Now. Jonathan Saupe's role there is one example of its evolution.
Saupe has worked in TV for more than 20 years, and he's been a digital content creator for Hawaii News Now since January 2019. Since assuming his current position, he's produced "clickable" stories and content for online distribution, including short features. He's also produced more than a dozen special projects and documentaries, including a documentary special about Ferdinand and Imelda Marcos that's been viewed more than 500,000 times on YouTube.
Saupe says that "digital is still a frontier land," and he's grateful that he's now able to create content that isn't dictated by the "turn and burn" schedule of the daily newscasts. "In the television world, you work around a newscast deadline," he says. "Our newsroom has shifted to digital first."
Saupe says that digital media allows for more audience engagement and real-time feedback. He also says that some digital media consumers prefer a less polished product; they want something less stiff or traditional.
Saupe says this has opened up a niche for professionals who have experience in all facets of producing news. "I like to be able to do everything," says Saupe. "I'm a utility person. I don't want to be just a reporter or a writer. I want to write, shoot, edit."
In November 2019, Saupe partnered with reporter Ashley Nagaoka to produce "This is Now," a streaming news program on YouTube. Early episodes were raw: Nagaoka and Saupe sat at a desk cluttered with computer equipment while they reported and discussed a few news stories. The whole program took fewer than 20 minutes.
In December, the network started streaming the program on Facebook, where Saupe says it found an audience. The program evolved over time, with changes to the set, slicker editing and a longer format to fill a 30-minute block. All of the episodes that streamed in May 2020 received at least 10,000 views on Facebook, and in June, HNN started airing the program midday on TV, he says.
"Digital has changed the landscape of news," says Scott Humber, the news director of Hawaii News Now. "Eleven years ago, when we started Hawaii News Now, we had a website." Now, HNN delivers news via broadcast, website, social media, its mobile app, and streaming media services like Apple TV+, Amazon Fire TV and Roku TV.
New Partnerships and Formats
As the landscape of news changes, journalists are revising old formats to satisfy viewers, and media organizations are partnering to deliver innovative content.
In March 2020, Hawaii News Now and Honolulu Civil Beat announced a new media partnership. Each news organization preserves its independent newsrooms but shares some news coverage and collaborates on political and issues polling. And Civil Beat politics and opinion editor Chad Blair makes regular appearances on HNN's "Sunrise" morning program.
One of the first products of the partnership was "The Job Interview," a series of unedited, hourlong interviews with each of the top five candidates in Honolulu's mayoral race. The interviews were conducted by a panel of six reporters: three from Civil Beat, three from HNN. Summaries of the interviews were posted as articles on Civil Beat's website. Clips from the five interviews were compiled into a single hourlong special, and all the programs were broadcast and made available online.
"Debates are boring," says Humber. "You can never get these guys to play along. They stick to their talking points."
Patti Epler agrees that the new format is better. "I thought that it gave voters a lot, a lot, a lot of information," says the editor and GM of Civil Beat. "It wasn't just the usual sound bite clips."
Humber says that all the candidates gave him positive feedback on the longer format because it gave them an opportunity to explain to the people who they are and what they stand for. "If we did a debate with five candidates, you might get five or six questions total," he says.
Hawaii News Now used to have a media deal with the Star-Advertiser, but Humber says the two news organizations never achieved a true partnership in part because they still acted like competitors. He says the new partnership with Civil Beat benefits Hawaii News Now because Civil Beat's reporting is stronger in some areas, including on environmental issues and the rail project.
Civil Beat had previously partnered with KITV. Epler says that switching partners made sense because Hawaii News Now has a larger audience
and reach.
Because Honolulu Civil Beat is a nonprofit, Epler says, it doesn't have to worry about losing advertising money or about whether its coverage is attracting views. "We can just do the stories we think are the most important," she says. "We want people to read our stories and be motivated to do something positive and active."
Independent Journalism
Ian Lind, an investigative reporter who blogs at iLind.net, says the best way to measure the quality of local journalism is to count the number of reporters assigned to report from the state Capitol during legislative sessions.
Lind says that in 1983, when he started working at the Legislature as executive director of the nonprofit Common Cause Hawaii, each newspaper had three or four veteran reporters plus interns assigned to the Capitol full-time during the session, and every TV station had a reporter on site.
"Now, almost nobody has full-time coverage at the Legislature," he says. "It's night and day in terms of how much information the public gets from independent observers and reporters there at the Capitol. That's my measure for how dramatically things have changed."
"There was a similar loss of reporting capacity at City Hall," he says. "You look at the coverage 35 years ago and people had much more of a sense of who their City Council members were."
"Read carefully, write carefully and be curious."
—Ian Lind, Journalist/blogger, iLind.net, on his advice to aspiring investigative journalists
The result of this dearth in government reporting is that "the public is just not as familiar anymore with the processes of making laws and making policy."
"Civil Beat is an outlier to some extent," he says, "and their staff is small compared to what you'd really need to cover the state."
Beyond the Capitol, Lind says, it's rare for reporters to be given a blank slate for in-depth investigative reporting. Lind worked as an investigative reporter for the Star-Bulletin during the 1990s and for a time was a columnist for Civil Beat but has spent most of his journalism career on his own. He says he's been able to sustain his investigations in part because of his spouse's support.
"I was lucky to have a wife who was an academic and had a steady job. That helped me," he says. "You have to negotiate along the way who's going to be stable at what phase in life."
However, Lind says he worries that the next generation may turn away from journalism as a career because the pay is too low.
"We've always had starving artists who are poets and writers," he says. "Now we need a generation of starving artists who are investigative reporters."
What Will It Take?
Lind says that independent journalism can work if resources are channeled to the right people. These people don't necessarily need traditional backgrounds in journalism, he says. "I didn't start out as a journalist. I became a journalist late in life … I never took a journalism class."
People don't need formal education to produce quality investigative reporting, Lind says, they just need to "be curious about how the world works and what their role in it is."
Curiosity drives Lind. "I enjoy a puzzle," he says. "Some people do crossword puzzles, some play Sudoku. I try to put the pieces together and see what the picture is."
Now retired, Lind says he has more journalistic independence than ever. "I'm not competing for a job and I don't have to worry if anyone reads what I write or not, and that gives quite a degree of freedom," he says.
Lind suggests, only half-joking, that local news outfits start hiring senior interns: "retired people who might get a rush out of being in the newsroom again."
And his advice for aspiring investigative journalists? "Read carefully, write carefully and be curious."
---
TV's Trio of Political
Pundits
When local reporters need political analysis, they turn to a small fraternity. Three men receive the most attention: HPU professor John Hart, retired UH Mānoa professor Neal Milner and current UH Mānoa professor Colin Moore.
Hart (KHON), Milner (KITV) and Moore (Hawaii News Now) all have TV gigs on election night and many radio and print journalists also call them for commentary. Other political pundits work for specific news organizations and their names seldom appear elsewhere.
Interestingly, none of the trio were born or educated in Hawai'i. What makes these three Hawai'i's go-to political experts?
Omit Needless Words
Empathy, says Hart.
"Commentators have to understand the job of reporters. They're on deadline. They have several stories. They're looking for something they can quickly drop in and use."
Aspiring political analysts should "speak concisely in sound bites that are appropriate for TV or radio," Hart says.
In fact, a concise soundbite from one person is often used when more credible sources are available. Hart gives a personal example: He once spoke on a panel for a History Channel documentary about the bombing of Pearl Harbor. Seated between a famous author and a survivor of the attack, Hart thought, "I'm the least qualified person here."
Though he felt outgunned on stage, only Hart's clips survived the final edit.
Diversity Needed
When he was the Reader Rep for Honolulu Civil Beat, Brett Oppegaard made the point that sources are sometimes selected for local stories on the basis of their job title rather than their specific training and expertise.
Reporters choose expert sources like Milner, Moore and Hart because they seem credible. And – when asked appropriate questions – they are credible. However, reporters often ask them to comment outside of their expertise.
"Media organizations would serve us better by actively seeking out new and specialized voices and more clearly identifying the specific scope of a source's knowledge on a particular topic," says Oppegaard, a journalism professor at UH Mānoa.
Diversity is the issue, not quality. Oppegaard notes that Milner, Moore and Hart are "highly educated, deeply engaged, and high-quality political commentators."
However, Oppegaard argues that political commentary could benefit from a more diverse group of sources in terms of gender, social class and educational background.
Active efforts by journalists to promote diversity among commentators would "bring different perspectives, different approaches and different solutions to any conversation," he says.
The Costs of Being Critical
Some people are hesitant to engage in commentary, Milner says, because they fear negative reaction. In response to their concern, he argues that taking a critical stance on politics has few adverse consequences.
"People exaggerate the costs of being critical," he says. "This is an excuse for a lack of courage."
Though it sustains him, courage was not the motivation for Milner's entrance into commentary.
For more than 40 years, Milner observed Hawai'i politics as a professor of political science. And since his retirement from UH, he's remained one of the state's most prominent political commentators, appearing as an analyst on TV and writing a column for Civil Beat.
"I stumbled into television," he says. "KITV asked to interview me one election night, and they kept me around."
A YouTube search returns clips of Milner's television commentary. He's wry and cynical. He questions all sides, so it's hard to identify his political affiliation.
"I'm conservative by practice, not by ideology," he says. "After 40 years, I never think the government will do what it promises."
Asked what it would take to improve politics in Hawai'i, Milner says he wishes people would be more self-conscious and not fall back on old and unproven explanations.
As an example, he challenges the cultural explanation for multigenerational and multifamily households.
Citing cultural traditions "does not account for economic and political factors." Worse, it only partially conceals racism.
Specious explanations often substitute for data-driven investigation. Milner notes that because we lack data, it is "hard to assess the overall civic culture."
Wants More Data
Moore, who trained at Harvard University as a scholar of American institutions, is working to address that lack of data. He chose to work at UH in part because he could pursue his scholarship while also dealing with public policy. As director of UH Mānoa's Public Policy Center, Moore is working to gather public opinion data.
"There's very little systematic research about how people think of politics here," he says. "We need regular polls to identify trends over time. If you don't know what people want, you can't solve the problem."
Moore's career as a political commentator followed his policy work. Hawaii News Now called him for comment on a story, and then kept calling. Now, he appears regularly as its political analyst.
"The analysis tends to be by intellectual white guys. It would be great to have more voices, to have diversity of voices." —Colin Moore, Director, Public Policy Center at UH Mānoa
"Academics are used to hedging and not wanting to be pinned down," Moore says. "I try to give possible outcomes rather than going for a definitive answer. But on television, you're often asked to speculate. I've been wrong in magnificent fashion on a couple of occasions, especially about the election of Donald Trump.
"I view myself as an explainer. There's always an element of opinion, but what I do is very different than partisan political commentary."
The Power of Explanation
Moore describes Hawai'i's political apathy as a "local malaise."
"Voter turnout is a symptom," he explains. "Institutional fixes like vote-by-mail and same-day registration won't solve the problem. People are angry, but not sure what they are angry about. There's frustration with the establishment."
Metaphors and models help academics to simplify complex subjects, satisfying the demands of hurried reporters and audiences with limited patience.
As if diagramming on a whiteboard, Moore depicts the local political establishment as an iron triangle: unions, developers and politicians.
"There's no change over time," he says. "Our state is Democratic, but not particularly progressive. For change, we need competitive elections."
Local pundits could also benefit from competition, he says.
"I joke with my students that you could fit them all in a large closet," he says.
But it's no laughing matter. "I'll say the obvious: The analysis tends to be by intellectual white guys," Moore says. "It would be great to have more voices, to have diversity of voices."