The Next Generation of STEM Minds
The Nonprofit Success Factory Brings STEM Programs To Hawaiʻi Island Youth.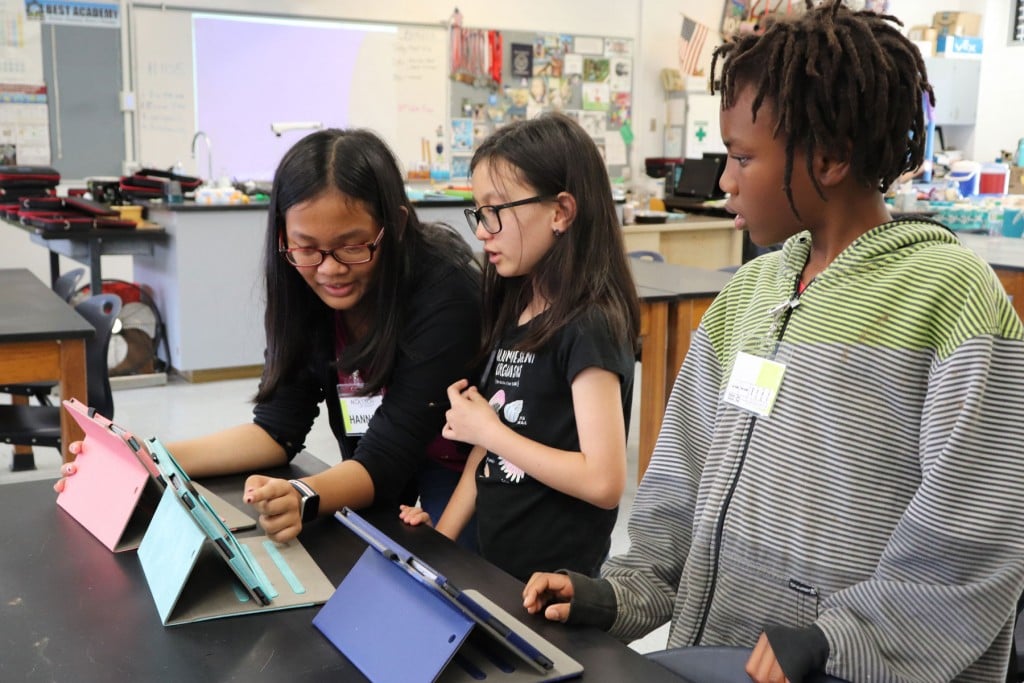 Yusuf Tamimi shows off a green circuit board barely big enough for its two USB ports. "This is a Raspberry Pi," he says. "Basically, it's a really small computer used for programming." The 17-year-old Waiākea High School senior programmed his Pi to capture and filter photos and activate LED lightshows. "But there are so many things I haven't tried yet," he confesses.
Based in Hilo, NexTech Hawai'i is a program of the nonprofit Success Factory. The all-volunteer organization aims to equip Hawai'i's youth with the skills that can lead to meaningful careers in science, technology, engineering and mathematics (STEM), and to help tackle some of the island's most pressing issues. Over the past five years, around 200 students have benefited from NexTech's STEM camps, engineering competitions, and career mentorships with local experts. The STEM camps have introduced students to volcanology, robotics, drones, and astronomy.
Yusuf learned to code as an eighth grader at his first NexTech camp. He now teaches younger students how to program computers and build robots. "I give them pointers and explain how things work, but a lot of times they figure it out themselves really quickly," he says. "It's great to watch."
At the onset of the pandemic, NexTech provided six Hilo families with 3D printers. Yusuf, his brother Zak, and their parents Nimr and Shannon Tamimi worked together to assemble their printer. Over the next eight months they fabricated face shields for frontline workers.
"It's important to show the children in our community that there are options out there… That's the beauty of this program; it allows kids to learn, touch and build—to open up their minds."
— Nimir Tamimi, Parent and Mentor/Nextech Hawaiʻi
NexTech lends its success to heavy involvement from parents and community volunteers. Nimr is a mechanical engineer who judges NexTech competitions, mentors individual students, and serves as a conduit to the local engineering community Shannon, who has a background in biology, is the one who first heard about the nonprofit and signed her sons up for coding camp.
NexTech is a particularly important resource for girls, who are underrepresented in STEM fields. While women make up nearly half of the nation's workforce, according to the 2019 census, they fill just 27 percent of STEM jobs. Forty-five percent of NexTech's students identify as female.
Girls were amply represented at this year's FishTank competition—a yearly engineering contest hosted by NexTech and modeled after the popular TV show Shark Tank. Over 10 weeks, teams of students devise solutions to real-world problems, like plastic pollution or this year, COVID-19 recovery. The top prize this year went to four homeschooled seventh and eighth graders—all girls—for their Virtual Reality (VR) classroom proposal. The team experimented with VR headsets, surveyed teachers, and presented a comprehensive roll-out plan. The girls won $300 apiece, plus $1,200 for their favorite STEM organization.
"As a mentor, watching the kids grow through their projects—it's incredible to see how their minds work," says Nimr. "It's important to show the children in our community that there are options out there beyond the typical industries they see. That's the beauty of this program; it allows kids to learn, experience, touch and build—to open up their minds."
---
Did You Know?
The Success Factory is one of 194 grantees selected statewide for its work to address some of Hawai'i's biggest challenges through Hawai'i Community Foundation's CHANGE Framework Grants program.
To support the CHANGE Framework visit HawaiiCommunityFoundation.org/CHANGE.