Dealing With The Office Blowhard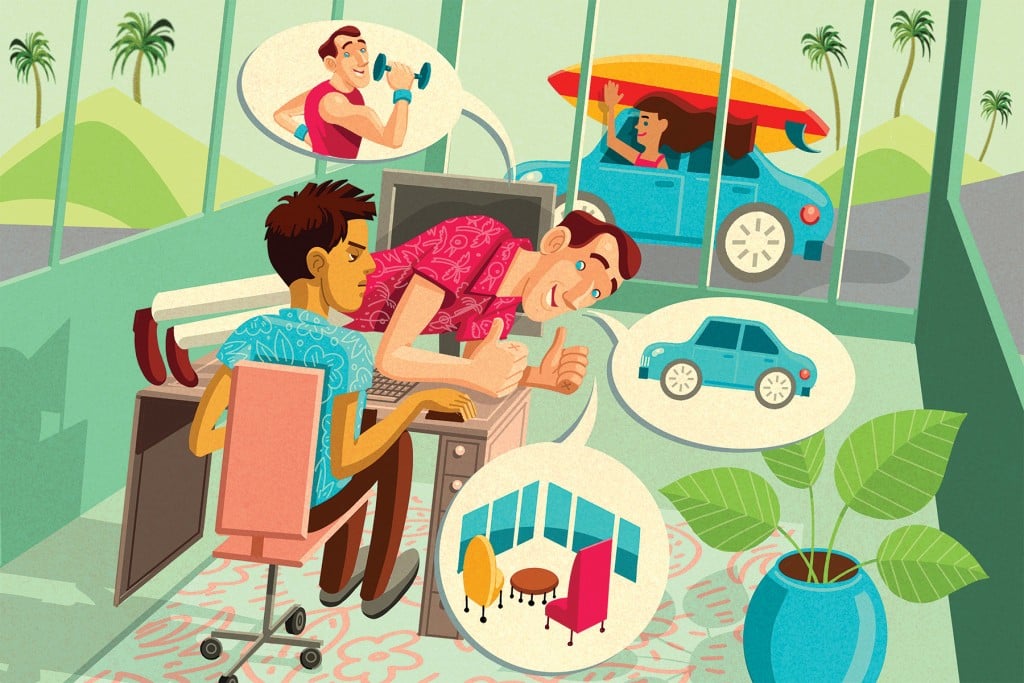 How to let some air out of that windbag.
Q: My co-worker brags nonstop. He boasts about how long he can hold a plank at the gym. Who cares?! He has a new Toyota Corolla – how do I know? Because he talked about it for weeks. His apartment has the best view. His girlfriend is the best surfer. I want to stuff this guy into a paper shredder. Any advice for dealing with this?
A: If your co-worker can find ways to brag about a Toyota Corolla, I'm impressed. But his boasting sounds so consistent, I wonder if he can even control it. I sought an expert in human behavior to find out.
"Bragging can be compulsive, and even thought of as something used to fill a hole inside or get a fix," says Erin Gustin, a licensed clinical psychologist and therapist at Hilo-based Pau Hana Counseling. Bragging, she says, often stems from low self-worth. You can't fix your co-worker's self-esteem, so when he starts boasting, walk away if you can or change the subject.
There is, however, strategic bragging. "Bragging is recommended in the workplace when others may not know how hard you work, and so it can be advantageous to communicate your efforts," says Gustin. If you've signed a new client or came up with a genius idea, toot your horn. Just don't tell us you can plank for 13 minutes.
Q: Should I write a book to raise my profile?
A: Yes! No! Maybe! Writing a book is a big responsibility. You're a good candidate if you are passionate about the topic, you're an authority in the field and you possess research skills. If you just want to see your name on a cover, pledging to write a book is foolish. You have to be organized, willing to sacrifice your weekends and have a clear idea of what you're adding to the marketplace.
For more input, I checked in with Hawai'i Island-based Darien Gee. She's the national best-selling author of novels and the nonfiction book, "Writing the Hawai'i Memoir." She is also a writing consultant and host of workshops such as "The Story of Your Business."
Storytelling, Gee notes, is a crucial tool in any business setting. "It's a means of building connections with co-workers, customers and clients, and helps them identify why they want to work with you, or buy your product or service."
Penning a book "is not as easy as people might think, especially if you want to do it well, but it's not just about whether or not you are well-seasoned in your job or have impressive credentials," says Gee. She offers this checklist to see if writing a business book is a fit, personally and professionally:
What do I have to say or want to write about? Do I have an unusual angle or formula?

Do I have any authority in this field, or can I establish my authority by demonstrating I am an expert in the topic or by interviewing others?

Who would be best served by this kind of book? Who is my ideal reader and how will it help them?

• What are some competitive titles and how will my book be different?

What is my marketing and distribution plan?

How will people hear about this book? What will I do to help spread the word about it and boost sales?

Do I have the financial resources to help ensure my final manuscript is clean, professional and accurate?

Will I self-publish this book or work with an established publishing house?

What other experts in the field can read and/or endorse the book?

If the book doesn't sell well or look professional, will it hurt my profile within my industry? Understand that a badly written book won't vanish once it's been published.
If you think you've got the right stuff, move to the next steps. Read similar business books to get a sense of what other authors are doing, and how your book will compare. Get advice from anyone in your network who has published a book, or meet with a book consultant for a session or two. She or he can help you figure out how to pitch your concept and structure your project. Then, create a book proposal and submit it to agents or publishers.
"If you're interested in writing a business book, you should spend time understanding the market and know what you need to do to make the book a success," says Gee. Usually, a book doesn't just fly off the shelves. "It needs to be useful, relevant and well-written."
Q: I accepted a LinkedIn invitation from someone who appeared to be in my industry. She then sent me a job offer from a Chinese steel company. I smelled a scam right away, but it got me worried about fraud. Was I naive to connect with her? 
A: Send me a check for $5,000 and you can become my U.S. representative! Good thing you're akamai enough to not fall prey to phishing. How do you know if a LinkedIn conversation is legit? According to Madhu Gupta, LinkedIn's director of product management for trust and security, requests to perform any monetary transaction on the platform should immediately raise a flag. And while some people are fans of open networking (see our story "How to Use LinkedIn to Land a Great Job"), Gupta isn't. "We recommend you connect with people you know and trust, not just anyone," she says.
LinkedIn uses a combination of work by its internal teams, technical systems and reports from users to keep things aboveboard on the platform, so when you come across anything unprofessional on LinkedIn, report it.
Gupta also advises LinkedIn users to check Settings & Privacy under its Me tab. There you can choose whether your profile is visible to search engines and limit what people can see on your profile if they don't already have a direct or indirect connection to you.
In general, job offers that materialize out of nowhere, and stunning "computer programmers" with model headshots, are not what they seem to be.
Ask the careerist
Have a question about work, life and that place in the middle where it all gets tangled up? Ask me at: feedback@hawaiibusiness.com