The Story of Hawaii's Lost Luggage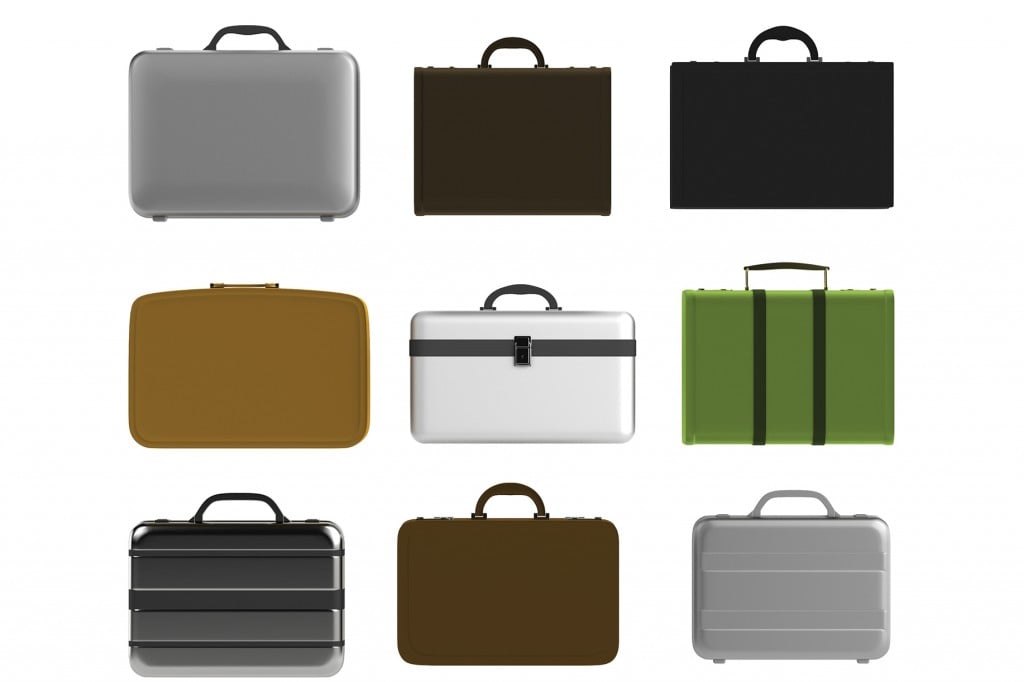 Brittany Thornton is an experienced interisland flyer. For five years, the licensed nurse lived on Kauai and would visit Oahu nearly every month to see friends, shop or work. Thornton would always check a large rolling suitcase, often half-empty, ready to fill with purchases. Checking and claiming her bag was never a hassle, until one afternoon flight from Lihue to Honolulu in 2010 on the now shuttered Go! airline. When Thornton went to baggage claim to collect her bag, it wasn't there. "I didn't freak out right away," she says. "I waited about an hour and a half for the next flight to come in, thinking my bag would be on that flight. But it wasn't, so then I went to the baggage claim kiosk."
Thornton was told to stick around for the rest of the day's Go! flights in case the bag ended up on any other flight. She waited until the last flight arrived at 11:30 p.m., before finally being told to fill out a baggage claim report. She called the airport several times daily during her four-day Oahu trip and, in the meantime, bought toiletries and clothes that were in her checked bag. Thornton, who has lupus, wasn't able to replace the prescriptions from her lost luggage until she got home.
"The (Go! officials) tried to be polite," she says, "but they also seemed like they didn't want to keep dealing with it." She never got her bag. Two months later, Thornton got a letter from Go! with a $35 credit toward a future flight. "I flew them once more, but because of work, not because I had a choice."
Why Bags Are Lost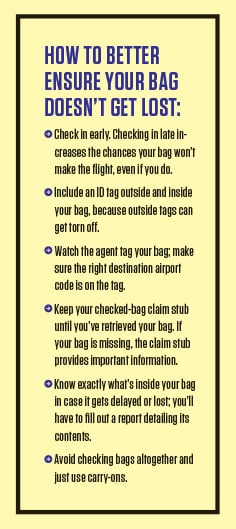 When checked bags don't make it to their final destinations, it is usually for one of two reasons, says Louis Saint-Cyr, VP of customer service at Hawaiian Airlines. The main reason is you are flying with multiple carriers or making multiple connections on the same journey. That makes it more likely a bag gets loaded onto the wrong plane, he says.
It can also increase the chance that a bag gets incorrectly ticketed. Thornton had this happen to her when she was moving from the Garden Isle to Oahu on Hawaiian Airlines: Only two of her three checked bags arrived with her. She filled out paperwork and got a call that day; her bag had been found in Germany. "I checked in at the same time as a (visiting) German family and they ticketed our bags wrong. (My bag) ended up in Germany and their bags went to Oahu." Six days later, Thornton had her suitcase, everything intact.
The second-biggest cause for lost luggage, says Saint-Cyr, is a suitcase missing all identification. "We recommend people put identification inside the bag as well as outside. (Outside) bag tags can rip off." He adds that it's not uncommon for a Hawaiian Airlines employee, armed with a claims report, to find a customer's suitcase in an unidentified suitcase huddle elsewhere in the airport. "Often you'll see bags sitting in another airline's bag area," he says. "They're just sitting there, because (that airline) is also trying to figure out who it belongs to. It's a big guessing game at that point."
Derek Inoshita, spokesman for the state Department of Transportation, which oversees Hawaii's seven commercial airports, says a third, smaller cause for lost luggage is that people simply forget to claim their bags. If there's no ID on or in the bag, airport officials have no way of finding the forgetful owner.
Tracking Lost Luggage
Once you realize your suitcase isn't going to drop onto the baggage carousel, fill out a lost baggage report detailing what's inside the bag. Airline companies use their network tracking systems to locate where the bag might have ended up. They also frequently work with airport officials to locate the lost luggage, says Inoshita.
At Hawaiian Airlines, if the bag is still missing after five days, the report gets handed over to Hawaiian's Central Baggage Services office, where employees investigate mishandled baggage cases for 30 days. The office also handles unclaimed luggage that is missing identification. The suitcases are searched to try to match their contents with lost luggage reports. Other airlines have similar policies.
After one month, most airlines stop searching for missing bags and quit looking for the owners of the unidentified bags. Airline companies are required by the federal Department of Transportation to then give passengers whose luggage they lost or damaged a settlement. For domestic travelers, the compensation limit set by the federal Department of Transportation is $3,400 per bag.
In 2014, Hawaiian Airlines had the lowest rate of mishandled luggage among domestic airlines flying in and out of Hawaii, according to the federal Department of Transportation (see chart). Even so, the company permanently lost about 80 suitcases that year. We also asked United Airlines how many bags it permanently lost last year, but it declined to answer.
Fate of Unclaimed Bags
Unclaimed bags take up space, so airlines eventually get rid of them and their contents. Hawaiian Airlines has a long-standing policy to donate its unidentified, unclaimed luggage after three months to Aloha United Way. "We don't auction anything," says Saint-Cyr. "We're not using this to make money." He says there are about five unclaimed, unidentified bags in its Central Baggage Services office at Honolulu airport at any given time.
At United Airlines, "unclaimed luggage typically remains at an airport for three days before we send it to our baggage resolution center (in Houston) for further tracing," says spokeswoman Jennifer Dohm. She didn't respond to requests from Hawaii Business about where its unclaimed luggage eventually goes.
Several U.S.-based airline companies contract with a unique business to sell unclaimed luggage: a 40,000-square-foot store in Scottsboro, Alabama, that specializes in selling goods from permanently lost luggage. The aptly named Unclaimed Baggage Center didn't respond to queries as to which airlines it contracts with, but its website says it debuts 7,000 new products daily, including jewelry, electronics, sports equipment and clothes.
Each Hawaii airport has a lost and found office where employees follow procedures similar to those used by the airlines to locate missing luggage and reunite owners with unclaimed property. All unclaimed items are held for 45 days. After that, says Inoshita, Hawaii law says the items can be claimed by the person who turned them in, or sold at auction. The auction began in 1980 to both unburden the airports' lost and found offices and bolster the airport revenue fund. It was originally held at airport conference rooms, but went online in 2010, says Inoshita. (The site is auction.ehawaii.gov/dcs/index.php, but it is active only periodically.)
"Articles include jewelry, digital cameras, laptop computers, souvenirs, clothing, tools, knives and other items," he says. In 2014, 1,794 items were auctioned, generating $26,716. In the rare cases an item doesn't sell, it's thrown out.
Five years later, Thornton still has no idea what happened to her suitcase lost by Go! But her experience changed how she travels: She usually avoids checking bags and, when she can't, she packs much differently. "I'm a lot more careful about what I put in my checked luggage," she says. "Now, I put entire outfits in my carry-ons."
---