This Company Is All Sewn Up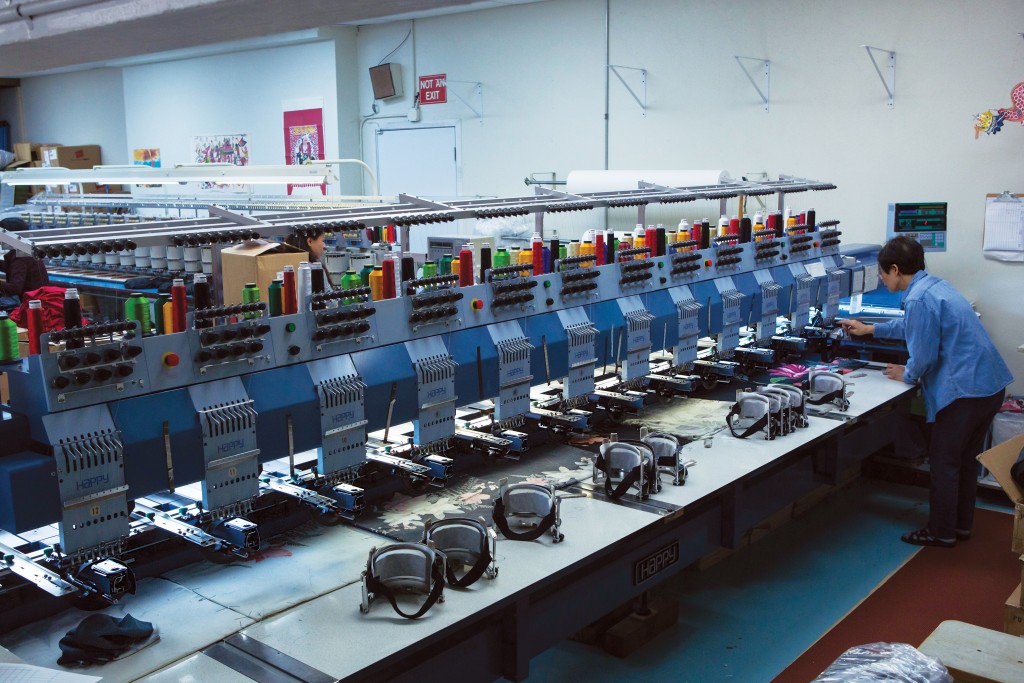 If you coach a local sports team that needs uniforms or run a business that uses logo wear, you probably know about Kenjo Inc. in Kalihi. For 28 years, Sidney Lynch has been the quiet, steady force behind Hawaii's second-oldest embroidery factory.
My former life and business partner, Mike Wu, and I started Kenjo in 1987 as a totally new business," recalls Lynch, now 56. "We had no idea what we were doing and did everything we could possibly do wrong!
"Mike's brother-in-law had a company here importing shirts from Taiwan and the embroidery was being done out in Waipahu," she says. "Mike always wanted to have his own business and thought it would be easier if he bought his own machine to do the embroidery in town and he asked me to help out, so that's how we started."
Wu retired in 2007 to his native Taiwan, and is now a silent partner, while Lynch continues to run the business.
Lynch was a military child who moved around the country, including one year spent at Pearl Harbor Elementary School. She graduated with a dual major B.A. in Chinese Studies and Communications from UC San Diego. Fluent in Mandarin, she traveled to Taiwan to cement her language skills, where she met Wu while both worked at American Express. Wu had family in Hawaii, so they moved here together in 1986.
"We struggled for the first few years," remembers the Palolo resident. "We had to live with Mike's parents for the first three years and borrow money from his brother-in-law and sister and friends to finance the business."
At the beginning, Kenjo shared a warehouse at Piikoi and Kona streets with Wu's brother-in-law, but, in a wise business move in 2004, the partnership bought property and built its own small factory on Kalihi Street, where it remains today.
At first, it was only the two partners providing the labor. Then they began to add employees; their first worker, Shao-yu Liang, 62, has been with them for 27 loyal years.
"In the boom times (1994 to 2005), we used to have two factory shifts with up to 10 workers and run seven days a week," Lynch reminisces. "Now we just have one shift with six workers, five days a week – 9/11, the 2008 recession and now online sales are really squeezing us."
Kenjo's early clients were mainly large wholesalers who provided their own garments to have logos or personalizations added, including Woolworth's, Jams Surfline, Iolani Sportswear and Crazy Shirts. But, now, the company provides some of the garments plus the embroidery to attract many smaller clients.
Like other businesses, Kenjo's has had to diversify to survive. "We now offer more silk screening and, in 2007, we acquired a digital laser printer that can directly print color photos onto T-shirts," says Lynch. "We can also order logo or personalized promotional items, such as Koozie cupholders or key chains or solar-powered pedometers.
"I point out to customers that it's better to buy local, because then we can ensure the exact color they want, we don't charge extra for shipping and we can help them fix the item if something goes wrong."
Johnson Enos, 50, president of Johnson Entertainment LLC, has been a Kenjo customer for three years. His "Honu By The Sea" musical production has traveled around the country and he orders company polo shirts, tour jackets and bags.
"Sidney is very efficient and her products have a great turnaround time," Enos enthuses. "There's a wide range of items to choose from and their customer service is wonderful."
Looking for something novel? How about personalized baby blankets or T-shirts printed with a favorite picture? Lynch says she can provide either and much more.
One final question: Where does the name "Kenjo" come from?
"Lots of folks think we're Japanese and we're not! That was just a name Mike's sister liked, so we used it."