Three Leaders in One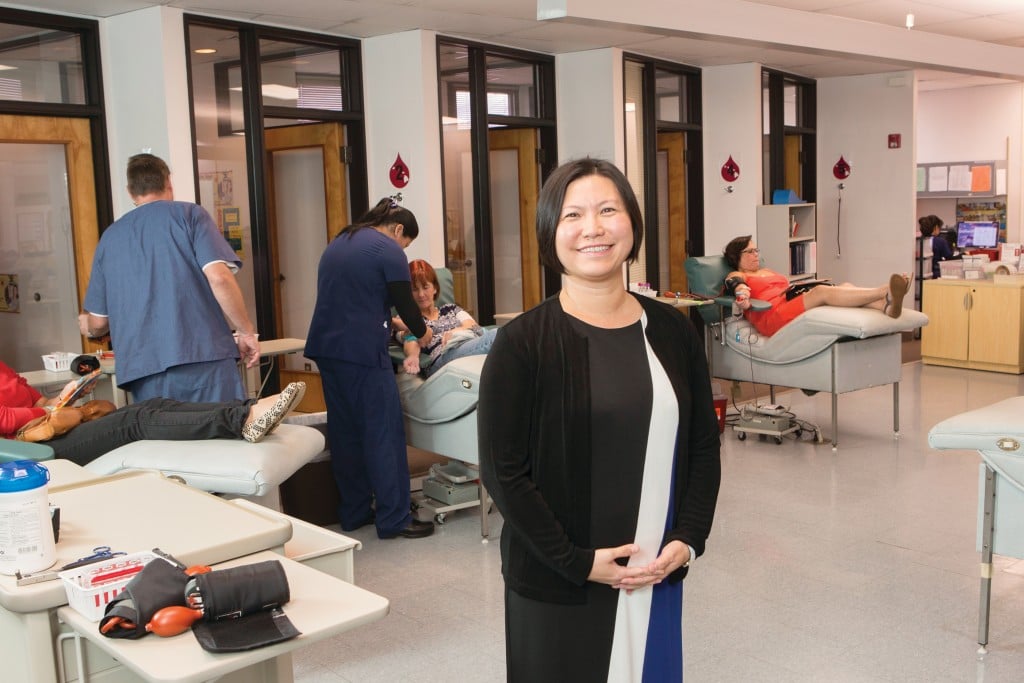 Dr. Kim-Ahn Nguyen has understood the importance of collaborating and adapting to change since childhood.
She was just 7 when her family was evacuated from Vietnam and deposited in a small town in New Jersey to start a new life with few other Asians nearby. There, Nguyen grew up in "an atmosphere of help and support" that she says helped her become the first in her family to attend college.
Two years ago, the board-certified clinical pathologist took over as president and CEO of the Blood Bank of Hawaii. Since then, Nguyen (pronounced Whinn) has instituted big changes at the nonprofit that she says "is the sole provider of blood to the state's 18 civilian hospitals and a secondary provider to Tripler."
Colleagues describe her as "warm, easy to talk to" and "down to earth," while medical professionals who work with her commend her innovative approach and hands-on style.
Dr. Gary A. Okamoto, chief medical officer of Aloha Care and veteran Blood Bank board member, calls her "a leader who arrived here at just the right time. She has brought us some fresh and clear ideas about the direction we ought to go."
Dr. Ana Ortega Lopez, medical director of the Queen's Medical Center Laboratory, which includes the hospital's blood bank, says Nguyen "gets personally involved" and recognizes "the difficulties and demands that hospitals face these days."
Nguyen's sensitivity to the bigger picture may harken back to her childhood, when she pored over two series of "nurses books" based on the fictional characters Cherry Ames and Sue Barton, the only depictions of women in medicine that Nguyen could find. She loved finding answers to scientific problems and the series' strong, educated characters, who seemed to lead exciting personal lives.
From those books and from the support she got from those around her, "I learned that no one stands alone," she says.
That philosophy, plus degrees from Harvard and the University of Pennsylvania Medical School, and a dozen years at San Francisco's Blood Centers of the Pacific helped forge Nguyen's understanding of the challenges facing hospitals and blood banks.
Like all U.S. blood centers, Hawaii's blood bank exists as a community resource – not to make a lot of money, she says. However, the testing, collection, processing and storage of blood create expenses, so blood centers charge hospitals a "processing fee."
But that simple model has become more complex as the uses of blood have grown from mostly transfusions to include the use of blood products as pharmaceuticals.
"As hospitals had to change in order to respond to economic pressures and because of the regulatory environment of the Affordable Care Act, we realized we had to change along with them, so that we could be a better partner for them," Nguyen explains.
One of those changes was to create a hospital services department at the Blood Bank with its own director whose sole function was to understand, anticipate and meet hospitals' needs. Today, Blood Bank representatives visit hospitals regularly to understand their concerns and hospital representatives attend Blood Bank board meetings.
Drs. Lopez and Okamoto welcome those changes. "The relationship that the Blood Bank has with its 'customers' has to be built on trust, quality of service, and face-to-face interactions and sharing of current information," Okamoto says.
Nguyen has instituted other changes. She and Blood Bank medical director Dr. Randall Covin have also made it easier for people to donate blood, while not sacrificing the safety of the blood supply.
"Hawaii has a very diverse demographic and, as a result, we have some extremely rare blood types found nowhere else in the United States," she says. "I believe that in Hawaii the donor population more closely resembles the patient population, whereas in other parts of the U.S., donors tend to be Caucasian and recipients more diverse."
Even though U.S. blood banks are nonprofit, they have to find ways to be financially sustainable operations. With the need for transfusion blood declining nationally, Nguyen led BBH's exploration of ways to diversify its revenue. One area of core growth is excess plasma not needed for transfusion. Steps have now been taken to maximize this "recovered plasma" so that it can be sent to manufacturers outside the U.S. to produce medications such as clotting factors, vaccines and immune proteins.
Another area of diversification is cellular therapy. The Blood Bank's expertise in blood collection means it can harvest a patient's own immune cells to help create customized treatments for prostate cancer. The goal is to expand the collection and production of cellular products to support researchers and biotechnology companies in Hawaii and beyond.
Okamoto says Nguyen is like three leaders in one: "Someone who is an executive of a business (which the BBH is), a physician/scientist and an entrepreneur. You absolutely have to have those three to lead a blood bank in my opinion. Missing one, you are not a visionary. Missing another, you are going to go broke. Missing the science and physician part and you'll miss out on making wise decisions based on the biotechnology revolution. Dr. Nguyen's leadership represents a composite of those three attributes."