Timothy Cottrell, Head of School, Iolani School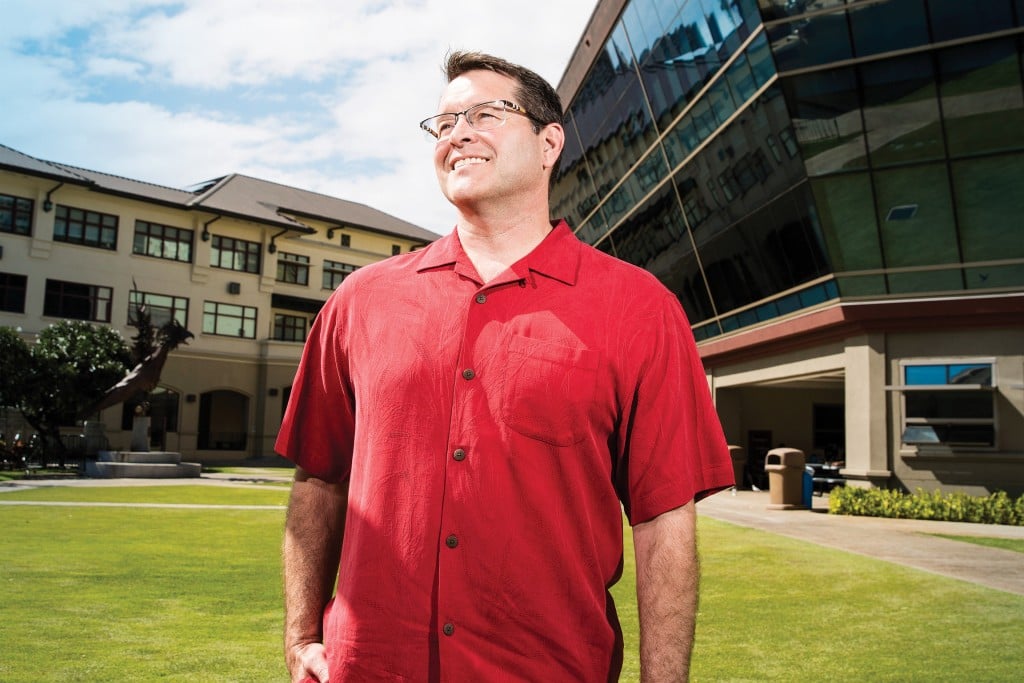 Cottrell views Iolani
as a crucible in which the 154-year-old school's values meld with a modern curriculum and cutting-edge facilities to nurture students who are well prepared for the economy of the future.
Q: Your goal is to build a "forward-looking school." What does that mean?
Cottrell: Traditional curricula prepared students for jobs of the old economy, where big corporations were hierarchical and capitalized on standardization. They had a big marketing apparatus and vast operational networks. 
Things have changed dramatically … and companies in the new economy thrive on being flat and nimble. They don't need a big distribution network because they can go through Amazon.
Workers in this new economy will need different skills to be successful because companies are not looking for the worker who is the best accountant or an expert in any given field. Transferable skills – like working collaboratively, being creative and being good at problem solving – will be valued. Our school is preparing students for the new reality. 
Q: Iolani is such an iconic institution. How do you navigate between adhering to tradition while advancing toward the future?
Cottrell: Our culture and our values are timeless. We emphasize work ethic, honesty, integrity. Our mantra of "One Team" is more relevant than ever. We may modernize our curriculum, but our values and our culture remain the same.
Q: Iolani is known for its rigorous academics. Would you like to shatter that stereotype?
Cottrell: Yes and no. The truth is that Iolani is a profoundly academic college prep school. But we are aligning our curriculum to what the colleges are signaling they want. All good college prep schools in the country have to do this. The Advanced Placement exam in Physics used to require a lot of calculations, but the current one also tests a student's ability to describe and explain concepts. Before, students were rewarded for knowing the formulas, but that is not necessarily the case anymore. We are evolving to keep pace with what colleges look for to set our students up for success. We were incredibly successful with the old type of tests and are excelling with the new standards as well.
Q: How did you get buy-in from stakeholders?
Cottrell: People pointed this out to me before I took the job and moved here because I worked at a progressive school in New York. But honestly, I have found that people here have been willing to go along with change. They are so invested in the final outcome, which is to have successful students, that they are willing to go along. Of course, a certain degree of explanation and conversations had to happen, but they are open to change because in the end our culture is always the same and they know the changes are being implemented to help our students be more competitive. Implementing changes here is sometimes easier than at my old progressive school, which was wired for disruption. 
Q: What would you say have been the biggest changes?
Cottrell: We have a more balanced student life. We used to have eight periods and all of the classes gave homework every day. But the traditional model of staying up studying till 2 a.m. is not sustainable, so we made changes. We have reduced the homework load, so there is more balance. Also kids are not doing their work in isolation. They have shared online resources to see what their peers are doing.
In the beginning there was concern that if we took the foot off the pedal the kids wouldn't do as well. But we went for it and our kids continue to excel. I was reading up on how Google selects its workers and they are not necessarily looking for the smartest person in the room. They are looking for people who are smart and can also work in teams and like to listen to each other when searching for ways to solve a problem. We are more balanced. It has been a good change for us in general. 
Q: How does the $40 million campus expansion and reinstatement of the boarding program fit into this vision?
Cottrell: We want to have a more globally connected school. We already have about 50 students here on visas, but we want to increase that number and hope to welcome about 112 students from overseas or the Mainland when our residence hall opens. Think about how powerful it is for a young student to learn about other cultures and countries from one of their peers. Think about what an eye-opening experience it would be for a student to visit an international friend in Singapore or Shanghai.
Q: What do the alumni, who are so protective of the Iolani brand, think of the changes?
Cottrell: We have had positive feedback from them. Some of the big corporations are teaching design thinking to their workers and they see this, so they understand the type of changes needed to thrive in the new economy.
Q: Students absorb information in a wide array of ways. How will Iolani handle different learners?
Cottrell: Students are presented with information in a variety of ways, including visual and audio. Iolani is not a school dedicated to special needs students, but we do try to work with individual families as much as we can. Our teachers are good about staying after school and providing extra help if needed.
Q: The cost of private school is unattainable for most people in Hawaii. What is Iolani doing to break down those barriers?
Cottrell: One of the nicknames for Iolani is the private school for working families. About 24 percent of our student body receives financial aid. The average award is $11,000. We have a fund of about $5 million for financial aid a year. It is an important goal for our board of governors. 
We also give resources to our neighbors in Pālolo Valley by offering summer school opportunities to selected students. We are proud of the college prep support that we give to selected high schoolers in our community. 
Q: You have a Ph.D. in chemical engineering and were part of the dot-com wave. How are those experiences helping in your current role?
Cottrell: I was in the startup world for about 10 years, which has helped me with change management. As an entrepreneur, I used to go on the road and do the marketing to tell the story. Often, doing the marketing takes more effort than making the actual change. But we have a very powerful story to tell, which makes this a great experience for me.
This interview was edited for conciseness.