2017: Top 250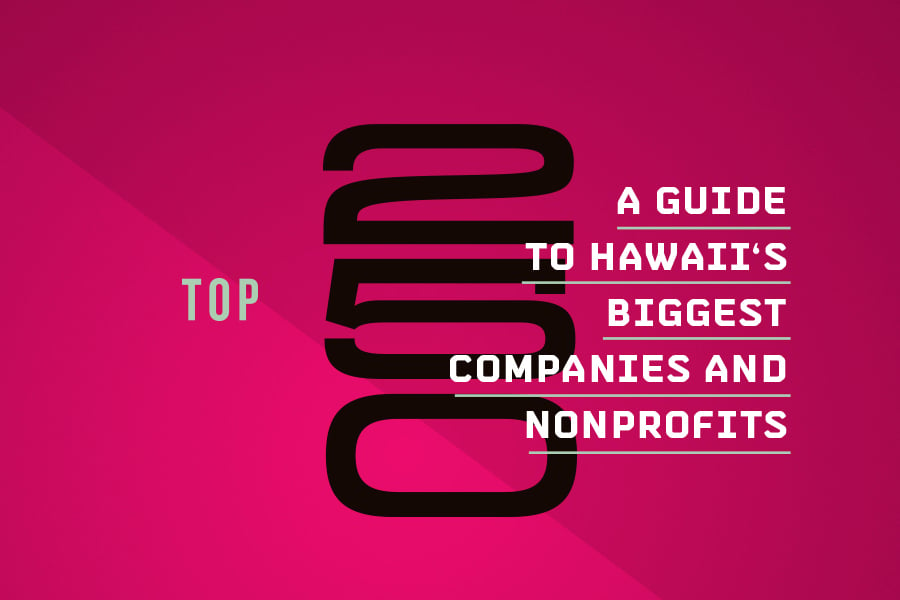 CHANGES AT THE TOP

Hawaiian Airlines' parent has risen to No. 2 on the Top 250 and a new company debuts at No. 7.
The first few spots in the Top 250 list of Hawaii's biggest companies and nonprofits rarely change much from year to year – but they did last year and again this year.
Last year, HMSA secured the No. 1 ranking after Hawaiian Electric Industries had spent six straight years leading the statewide Top 250. On this year's list, Hawaiian Holdings Inc., the parent company of Hawaiian Airlines, ascended to No. 2 and pushed HEI down one spot to No. 3. And debuting this year at No. 7 is Island Energy Services, the company formed from Chevron's former assets in Hawaii.
HMSA SOLIDIFIES TOP SPOT

HMSA tallied $3.4 billion in gross sales in 2016, surging 16 percent over 2015's numbers. The financial momentum is welcome at the nonprofit health insurer, which has had recorded operational losses totaling $172 million over the last three years. The company says it will use $28 million to replenish its financial reserves, which were tapped to cover the operational shortfalls caused by changes in the Affordable Care Act and reduced Medicare reimbursements – compounded by rising costs in new medical treatments, prescription drugs and the growing needs of the state's aging population.
Despite the challenges, the latest Gallup-Sharecare Well-Being Index again ranked Hawaii as the healthiest state in the nation – a record sixth time – and HMSA says it is taking steps to preserve wellness in the Islands. "Keeping everybody healthy, not just our members, is crucial for us," says CEO Michael Gold. "It is our duty and ultimately cuts costs and mitigates financial stress downhill."
This year the company launched the local version of Sharecare, a health and wellness app created by Jeff Arnold, the founder of WebMD., and TV's Dr. Oz. The app provides a centralized record-management platform and personalizes information based on one's biological age, rather than chronological age. Sharecare is available to HMSA's 735,000 members as well as to nonmembers.
To promote wellness and raise awareness about Sharecare, HMSA sponsored the "Live Your Best Life" event on June 26 on Maui, which was headlined by Oprah Winfrey. "We hope it was an empowering discussion for the thousands who attended," Gold says.
HMSA is also transforming how it reimburses doctors. The new model pays physicians a monthly lump sum, rather than reimbursing them for individual patient visits. There are currently 600 primary-care doctors in Hawaii in the plan, about 93 percent of eligible participants. Pilot programs are being rolled out for specialist doctors and hospitals. Ultimately, HMSA wants to apply the new reimbursement model throughout its system, according to Gold.
"We hope this new model gets doctors away from paperwork and toward why they went to medical school in the first place: helping patients."
NEW NO. 2
Hawaii Business predicted this day would come – given HEI's dwindling gross sales and Hawaiian Holdings' rising revenue – but we thought it was a few years away. However, savvy investments, heightened efficiencies and new revenue streams during 2016 hastened Hawaiian Holdings' rise to No. 2 on this year's Top 250.
The company recorded $2.451 billion in gross sales in 2016, an increase of $133 million from the previous year. HEI made $2.381 billion in gross revenue, an 8.5 percent decline.
"2016 was a big year for us," says president and CEO Mark Dunkerley. Some of the highlights include Hawaiian Airlines flying a record 11.1 million passengers and expanding services in lucrative markets, like Japan. It also earned significant industry accolades, such as the No. 1 worldwide rank for on-time performance. "We are used to being No. 1 for on-time domestically," Dunkerley says. "But this year, it was globally."
He says this was a significant operational feat, considering the company's archaic cargo and maintenance facilities at Honolulu's Daniel K. Inouye International Airport. "The facilities were around when Pontius was a pilot and were completely inadequate for the 21st century," he jokes. "Our operational success is due to our employees' hard work and efficiency."
Dunkerley says opening a new facility this year will be a game changer for the company, enabling it to dramatically improve employees' work environment and further maximize efficiencies.
Hawaiian Airlines is expecting delivery of its first Airbus A231neo aircraft in December. The company has ordered a total of 18, which will be delivered over the next few years. The airplanes are fuel-efficient – shielding Hawaiian Airlines from fluctuations in fuel prices – and about two-thirds the size of its current wide-bodied aircraft, enabling it to compete on routes where the runways are too short for its existing fleet. However, Dunkerley declined to specify which routes the company was eyeing for the new planes.
IMPRESSIVE DEBUT

Island Energy Services debuts at No. 7 on the Top 250 thanks to $1.5 billion in gross sales during 2016. The company was formed in November, when One Rock Capital Partners LP, a New York private-equity firm, acquired Chevron's assets in Hawaii. These include four distribution terminals, an oil refinery in Kapolei and a network of 56 Chevron retail branches, which are being rebranded as Texaco stations.
Chevron had been in Hawaii since 1904 and launched its refinery operations in 1961, but did not supply its Hawaii sales numbers to Hawaii Business for the Top 250 rankings.
"We have made great strides over the past few months," says Island Energy Services CFO Tom Wellman. Indeed, the company is wrapping up the rebranding of its retail stations on Oahu this summer and hopes to tackle the Neighbor Islands soon after. He says it is also implementing a robust computer system, which will enable it to source crude oil, do accounting and perform procurement functions independently. "We were reliant on the Chevron system, which was global," Wellman says. "Now we operate locally."
Island Energy has about 325 employees, but aims to grow. The company says its long-term strategy in Hawaii takes account of the Hawaii Clean Energy Initiative, which pledges the state to 100 percent renewable generation of electricity by 2045.
"We know where the state is headed with its energy policy," Wellman says. "We think it is a good thing and want to help meet Hawaii's energy needs until we get there."
---
HOW WE COMPILE THE TOP 250
Welcome to the Hawaii Business Top 250, which has highlighted the state's biggest companies for 33 years. Our ranking tool is gross sales, a key indicator of market dominance and influence.
To assemble the list, we tap into a variety of public records as well as self-reported data from the companies themselves. Nevertheless, some companies with large local presences do not appear on the list for a host of reasons, including:
Their U.S. or international parent did not provide separate data for Hawaii operations.
The company is Hawaii-owned, but is privately held and declined to disclose its annual gross sales.
COLLECTING THE DATA
Each January, Hawaii Business researchers lay the groundwork by delving into annual reports, databases, referrals and previous Top 250 lists.
HB researchers also use public sources such as filings with the federal Securities and Exchange Commission, federal tax forms 990 and current investor relations reports. When these documents were not available, our researchers surveyed the companies directly and asked for self-reported financial data.
Businesses are asked to use generally accepted accounting principles for their industries in calculating gross sales for 2016. If questions about GAAP arose, we relied on the expertise of the accounting firm Accuity LLP.
Nonprofits reported their total annual revenue. Depending on the organization, this might include contributions, funding for services or proceeds from activities that support the nonprofit's mission.
OUR DEFINITIONS
Rank: Companies and nonprofits are ranked by total gross sales. Some companies are tied based on the data we collected; others may appear tied, but are not, because the figures have been rounded.
Gross Sales: We use the latest available annual revenue for each company's local operations and its subsidiaries. Calendar-year revenue for 2016 is requested, but fiscal-year revenue is reported if calendar-year information is not readily available. For companies headquartered in Hawaii, sales reflect the revenue of the company and its subsidiaries worldwide. For a company whose parent is based outside of Hawaii, revenue reflects Hawaii sales only.
Employees: In most cases, the figure reflects full-time employees only.
Parent Company: This refers to the parent of the ranked company. Each company surveyed was asked to identify its ultimate parent company and its headquarters location.
Should Your Company Be in the Top 250? If your company would like to be considered for next year's Top 250, email feedback@hawaiibusiness.com or call 534-7526.

Log in to view the Top 250 list. Not subscribed? Sign up here.