Tourism Carries "Sub-Par" Hawaii Economy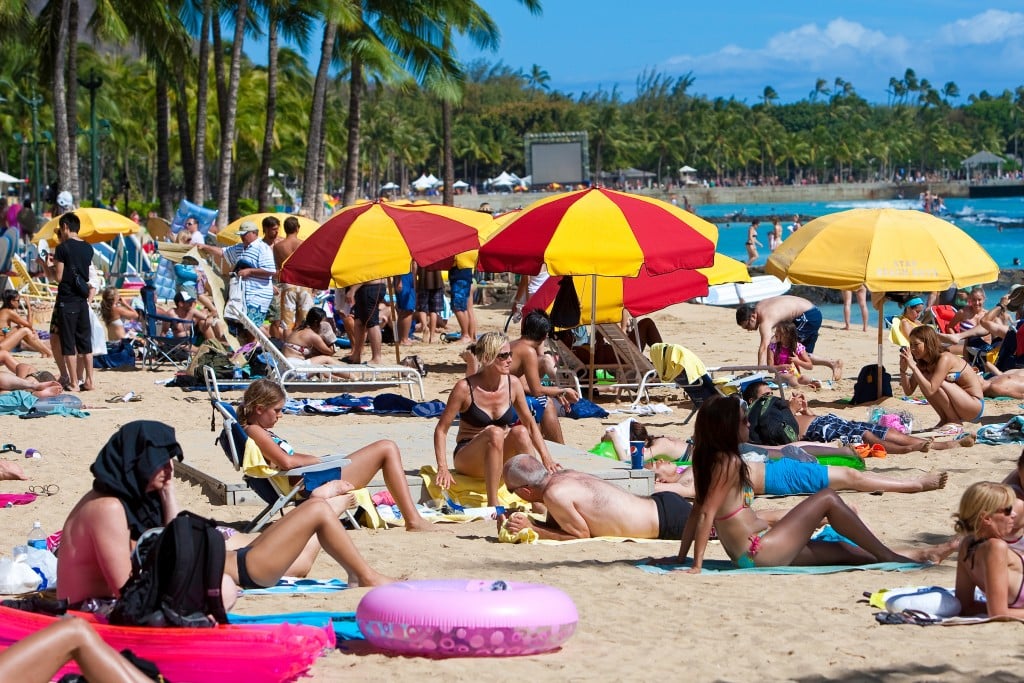 It's simple, really: Everyone in Hawaii needs to give a hearty round of applause to tourism for lifting us out of the recession.
Thank you for an estimated $13.9 billion in visitor spending during 2012 (that's a record) from 7.8 million tourists.
Those numbers carried the state economy through an otherwise lackluster year, saysUHERO, the University of Hawaii Economic Research Organization. "Outside of tourism, economic growth continues to be sub-par. Since the beginning of the year, there has been a net increase of 6,500 jobs statewide; 2,900 of these are in the accommodation and food-service sector," UHERO said in its year-end update and 2013 forecast.
A special thanks should go to Waikiki, for accommodating one-third of all Hawaii tourists. "Waikiki is carrying this recovery," says Rick Egged, president of the Waikiki Improvement Association. "What I usually tell people is: 'Where would Waikiki be today if we hadn't gotten that $3 billion of reinvestment by the property owners?' "
Add to that another $100 million in improvements by government, including sewer infrastructure and roads.
Over the next 10 years, there's a further investment of $2.2 billion in renovations planned by private owners, says Joseph Toy, president of Hospitality Advisors, a consulting firm whose clients include some of the world's largest hotel chains. "I have never seen a destination transform so rapidly."
Of course, it's not all good news: There are concerns about how many more tourists Hawaii can absorb, friction between residents and tourists in nontraditional visitor areas, and how to attract more visitors to the Neighbor Islands, where the tourism recovery lags behind Oahu.
"Tourism is at an all-time high, but more sobering is looking at it from a long-term perspective," notes Richard Lim, director of the state Department of Business, Economic Development and Tourism. "In 1988, tourism produced 30 percent of the state's gross domestic product. In 2012, it produced 17 percent. It's not growing as much as the rest of the economy."
Waikiki is running low on available units, so tourism agencies are focused on generating Neighbor Island growth, especially on Hawaii Island and Kauai. As of June 2012, the average statewide room occupancy was 77.1 percent. But the variation from island to island was huge: Oahu was above average at 84 percent, but Maui was 74.1 percent, Kauai 69.3 percent and Hawaii Island at the bottom with 62.7 percent.
"Most of our (Waikiki) hotels are operating at capacity now," says Egged. "Usually, you consider capacity to be in the low 90 percent.
"If Waikiki is operating near capacity, you're trying to market the places where you still have space. So, if they're going to grow, they have to fill in space on the Neighbor Islands."
David Uchiyama, VP of tourism marketing for the Hawaii Tourism Authority, agrees. "In terms of carrying capacity for the state, we're well below our capacity," he says. "At 84 percent on Oahu we're getting up there, and that's why we place so much emphasis on distribution to the Neighbor Islands. In pushing flights directly out to the Neighbor Islands, we've started to make some headway in again giving people the access direct to their vacation experience, wherever it is."
Egged says economics will naturally prevent an overload of tourists because there just aren't enough hotel rooms.
"There's just a natural law of economics involved," he says. "As properties get fuller the prices will go up and, as that happens, the numbers of tourists will drop. … It's always going to find an equilibrium."
Total visitor spending during 2013 is projected to top $15.3 billion, according to DBEDT's forecast, a 5.2 percent increase over estimated spending in 2012. "International markets are the new growth engines," says Lim. "We've grown through diversification. But when one side grows, the other shrinks. And there's a decline projected in domestic visitors."
Surprisingly, if you account for inflation, the cost of a hotel room today in Waikiki – an average of $175 a night – is cheaper than 10 years ago, says Lim. That's even though there are 4,000 fewer hotel rooms in Waikiki today than in 2001, when the number peaked at 32,000.
"Waikiki has the lowest room rates in the state," says Lim. "That's certainly part of what's driving the surge of tourists there. On a daily basis, they outnumber residents more than three to one. The current resident population is about 23,000, compared to (average) daily visitors of about 72,000."
With all those people, Waikiki needs more improvements, says Egged. "We still need to do more work on our sidewalks and our pedestrian infrastructure to make it easier to get around Waikiki as a pedestrian. That's something we're working on now."
He says the issues that diminish the average visitor's impression of Waikiki include street vendors on the sidewalks and the homeless.
"People are paying good money to come here. We have to make sure we provide a good experience."
---
Some Hotels Hurting as Tourists Go Local
Despite a record year for the state in tourism, many hotels on Hawaii Island and Kauai are suffering from low occupancy rates. Among the reasons for that are two acronyms, IVU and VRBO, that are becoming bigger players in local tourism.
Individual Vacation Units include condos and homes available as short-term rentals to tourists, plus bed-and-breakfast locations, and they are often advertised on Vacation Rental by Owner websites.
Tourists often stay at IVUs to save money, both on the rent and because they can often cook their own meals. IVUs can also offer tourists a different experience from resorts and allow them to live like locals during their vacations. Though the units often break county laws, those rules are rarely enforced.
The 2011 Visitor Plant Inventory report by the Hawaii Tourism Authority tracks the "growing trend of self-managed/self-marketed lodging" in Hawaii. The report notes that hotels supply 55.1 percent of the lodging units in the state, but just 7 percent of "lodging operations." By comparison, IVUs account for 71.1 percent of the lodging operations, though many of them are just a single unit.
On Kauai, "The overall number of IVU operations increased in 2011, reflecting the growing trend of rental management companies with units spread over many condominium buildings and VRBO operations," according to the report.
On Hawaii Island, the IVU phenomenon has grown substantially, says Christof Luedi, regional VP and general manager of the Fairmont Orchid Hotel, and chairperson of the Big Island chapter of the Hawaii Hotel and Lodging Association.
"This certainly has become bigger as subdivisions have been built and owners decided they want to rent out their condos or homes for income," he says.
During the recession years of 2008 and 2009, Luedi says, some former guests of luxury hotels chose to rent condos, presumably at a cheaper price. Now that tourism has rebounded all along the Kohala Coast, Luedi believes, there is a segment of visitors who have not returned to hotels.
"Certainly there is an element that's going away," he says. "But we notice many of them do visit our restaurants because they're missing the services in the resorts."
To hold their market, Luedi says, hotels have to make sure they're marketing the services that set them apart from IVUs. "We just have to make sure we're out there and everyone knows what we have to offer," he says.
---
Hawaii Accommodations
Each year, the Hawaii Tourism Authority inventories the state's visitor accommodations. Occasionally, increases in some categories are due to the identification of units that existed before but were not counted. All categories showed more units in 2011 except for condo-hotels and hostels.
Waikiki Beach Restoration Is a Never-Ending Project
"What is Waikiki without a beach?" asks coastal geologist Chip Fletcher, associate dean of the University of Hawaii's School of Ocean and Earth Science and Technology.
"It's vital we continue to maintain it," he warns. "Unless we take care of the beach, we're going to lose it."
Last spring, a public-private consortium completed a "nourishment" project that restored the beach out about 40 feet to the 1985 shoreline by suctioning sand from 1,500 to 3,000 feet offshore. The restored section stretches from the west end of the Kuhio Beach swim basin, near Duke Kahanamoku's statue, to the Royal Hawaiian's groin.
But that was a stop-gap measure.
"It requires constant maintenance," notes Fletcher. "It's never been a wide, sandy beach. It has always been a project for one administration after another."
Waikiki Beach is constantly eroding – "We will never beat that pattern," Fletcher says – so there needs to be better planning about how government, hotels and private organizations will work together to care for it.
Attorney Barry Sullivan, an expert in shoreline legal issues, says agencies need to do more than simply replenish the beach. "We need a long-term solution, an engineering solution, including groins. And we need coordination between agencies," Sullivan says.
Kyo-Ya Co. LLC is spending $2 billion to upgrade its Waikiki properties. Nonetheless, Kyo-Ya's president, Greg Dickhens, says the beach restoration is Waikiki's "most significant" improvement. That's why Kyo-Ya contributed $500,000 to the Waikiki Beach replenishment.
"It has to be maintained," Dickhens says. "If we don't maintain it, there's no point in maintaining the properties, because there won't be any visitors."
---
Airlift Keeps Growing
New air routes to Hawaii launched in 2011 and 2012 and still in service
People come to Hawaii because it's paradise on Earth. But, it's got to be convenient to get here.
"Airlift is the single most important element," says David Uchiyama, VP for tourism marketing at the Hawaii Tourism Authority.
"Being able to get a flight, being able to get onto a plane conveniently and not have to drive three hours to get to a destination – all of those factors come into play when you're making your vacation decision," he says.
Getting to Hawaii has gotten easier. There are now 10 million air seats to Hawaii every year, with a dozen regularly scheduled flights added to Hawaii in the past two years from new places as far-flung as Shanghai in China, Brisbane and Melbourne in Australia, Fukuoka, Haneda and Sapporo in Japan, and Bellingham and Monterey on the U.S. West Coast.
"It's probably in the ballpark of 12 to 15 pure new routes," says Uchiyama. "Back in 2008, we lost 15 percent of our overall inventory when we lost Aloha and ATA (airlines) within four days of each other. That's more than half a million air seats."
Those extra seats also make it easier for Hawaii residents to see the rest of the world.
Extra airlift has always been one of HTA's top goals because it directly translates into more visitors and more visitor spending.
Uchiyama gives an excellent example. "Korea is already bigger (to Hawaii tourism) than China. Why? You have one flight out of China twice a week," he says. "… But Korea has four flights a day, two by Korean Airlines, one by Hawaiian and one by Asiana." Travelers benefit both from the greater number of seats and from competitive pricing by the airlines, he says.
Uchiyama provides another excellent example in reverse. "Back in 1996 and 1997, we peaked with about 2.2 million arrivals annually from Japan," he says. "The reason we peaked was because we had multiple origination points:  Sendai, Hiroshima, Fukuoka, Narita, Nagoya, Osaka, etc. We had about eight to 10 origination points where we had some type of scheduled service.
"(But the airlines) started to consolidate origination points and we ended up with Narita, Nagoya and Osaka basically. So we went down to 1.2 million arrivals. Even from those points, there were reduced flights and frequencies."
Currency exchange rates don't affect visitor traffic nearly as much as seat inventory and accessibility, Uchiyama adds.
Despite the recent increased airlift, HTA is not done yet.
"We're working really hard on the international market and trying to see if we can't reopen a second international port of entry at Keahole on the Big Island," he says. "It would require reopening the Customs and Immigration facility, and staffing it. In October 2010, Japan flew its last flight out of Keahole and the only exceptions are charters where Customs and Immigration staff have to be flown in to receive flights."
Christof Luedi is chairperson of the Big Island chapter of the Hawaii Hotel and Lodging Association and regional VP and general manager at the Fairmont Orchid Hotel on the Kohala Coast. He agrees that, while airlift to his island has improved, it has to increase more.
"Air is a key factor that dictates our hotel's success," he says. "It's very simple math. The more seats you get to an island, the more people have the opportunity to come. But it's also a chicken and egg issue. Do you promote it first and create more demand? Or do the airlines bring more seats first and then we promote it?"
Luedi describes the roller-coaster of direct airlift to Kona from overseas: It hit a high of about 600,000 seats in 2007, dropped to 555,000, but is projected to increase to about 630,000 in 2013, and Luedi wants even more.
"Honolulu gets 70 percent of the overseas flights into Hawaii and Maui gets 16 percent. Lihue and Kona, we each get about 6 percent."
Uchiyama says more flights direct to Kona would also alleviate crowding at Honolulu International Airport. "We need to do something to help alleviate the congestion at Honolulu in Customs and Immigration. There have been periods when we've gotten reports from curbside that it's been 40 minutes or more."
"The last variable is we're trying to develop pre-clearance like Canada has," he says, where passengers clear U.S. Customs and Immigration in major Canadian cities before they board flights to Hawaii. "We're looking at pre-clearance out of Japan because we have so many flights. That's a long process that we've started and what I've learned is it would take a treaty between the two countries."
HTA is also looking beyond Hawaii's traditional feeder cities to faraway places such as Uzbekistan in Central Asia, and Brazil, Paraguay and the rest of Central and South America.
"People will tell you we should be looking at Russia and India," says Uchiyama, but the current airline routing from those places is daunting. That's why Uchiyama is excited about the new Boeing 787 Dreamliner, which can make nonstop runs of 8,000 nautical miles or about 14 hours.
"Even Latin America, there's no way for a direct flight from there until the 787 comes into the market. They've been introduced in the last year, but the majority are put into high-yielding routes, which are your business routes. It will be awhile before you see them used on leisure routes."
---
5 Challenges
The Hawaii Tourism Authority identifies these key challenges for the visitor industry:
Visitor Forecast for 2013:
Sources: Hawaii Tourism Authority forecast and State Department of Business, Economic Development and Tourism projections.
---
Coming Soon: A Wave of Rich Chinese
Get ready for China's luxury travelers. The small stream is building each year and will soon become a powerful river, says Christine Lu, who serves that elite community and is also a consultant to the Hawaii Tourism Authority.
Lu is a co-founder and CEO of Affinity China, a private Chinese network based in Shanghai and New York that provides luxury, lifestyle and travel opportunities for its members.
An estimated 1 million Chinese visitors came to the U.S. during 2012, Lu says, including 100,000 to Hawaii.
Lu says the number of Chinese luxury travelers to Hawaii increased 17 percent in 2012. "They're sophisticated, travel-savvy and under 45 years of age," she says. "… They're very tech-savvy, 92 percent participate in social media, they're online and they're in search of deeper, meaningful travel experiences."
But, she says, there are problems: A shortage of Chinese signage and other appropriate infrastructure in Hawaii, and Chinese credit cards don't always work here. Lu also warns that the Hawaii tourism industry needs to make Chinese visitors feel more at home.
"One tourist said, 'This is a very comfortable place to visit – if you're Japanese,' " she explains.
Lu says she was guiding a group of affluent business owners from China on a shopping spree in Hawaii. A woman stepped up to the cash register at one luxury shop with a bunch of expensive items, but found that her Chinese credit card didn't work.
"There was no way to pay," Lu says. "They didn't accept their Chinese credit card."
The good news is that the Pinyin, or China UnionPay bank card, is now accepted as payment in 104 countries, including the United States.
A decade ago, China had fewer than 5 million credit cards. Today, there are 250 million, though their owners still use them sparingly, according to an article on BuyBuyChina.com, a website about Chinese retail, branding, business strategy and consumer behavior.
Lu says China has more than a million millionaires. More than half want to emigrate or get their children in American schools, she says.
She tells the story of one China-based businessman, whose son recently graduated from an American college, who worried that his son might not get a job in the travel industry. "So he was considering buying a hotel for him to run," she says.
"They spend tens of thousands of dollars," she says of the wealthy Chinese travelers. "Or end up buying real estate wherever they go. Travel and real estate go hand in hand. They visit a destination to check it out. They're thinking of where they might be citizens in the next few years. And Hawaii and the U.S. remain aspirational destinations."
---
More Festivals to Fill in the Gaps
The Hawaii Tourism Authority wants to build its list of festivals to attract visitors to every island, especially during slower "shoulder" periods.
"The majority of festivals and events take place on Oahu and we're looking at seeing how we can grow festivals on the Neighbor Islands like the Merrie Monarch in Hilo," says David Uchiyama, VP for tourism and marketing for the Hawaii Tourism Authority.
He also wants to expand festivals now held on Oahu into statewide events. For instance, he hopes to expand the Hawaii Food and Wine Festival, held in September on Oahu, to Hawaii Island and Maui.
The Honolulu Marathon – Hawaii's largest visitor event – has already expanded its schedule by adding a half-marathon in 2012. The 13-mile event, called Hapalua, will be held again on March 10 this year.
Half-marathons are growing in popularity faster than full marathons, says Honolulu Marathon president and CEO Dr. Jim Barahal. For instance, he says, the half-marathon in Las Vegas attracts 37,000 runners compared to 7,000 for the full marathon. Hapalua attracted 3,000 runners in 2012, only about one-sixth of full marathon participants, but Barahal expects more runners this year.
The new event takes advantage of a running boom among young women in Japan that is fueled by social media.
"The lift and capacity from Japan has helped enormously," he says. "We're reaching a much younger demographic than tourism as a whole."
Hawaii's full marathon is the fourth largest in the U.S. and the seventh largest in the world. It's a "destination marathon," Barahal says, with half of the runners traveling more than a thousand miles to participate.
It used to be known as the marathon with poor food, he says, but, "We decided to change that and give everyone a malasada at the end.
"We changed the 'cheap guys with poor food' image to one with people dreaming of a malasada at the end of the race."