Transforming Hawaii's Airports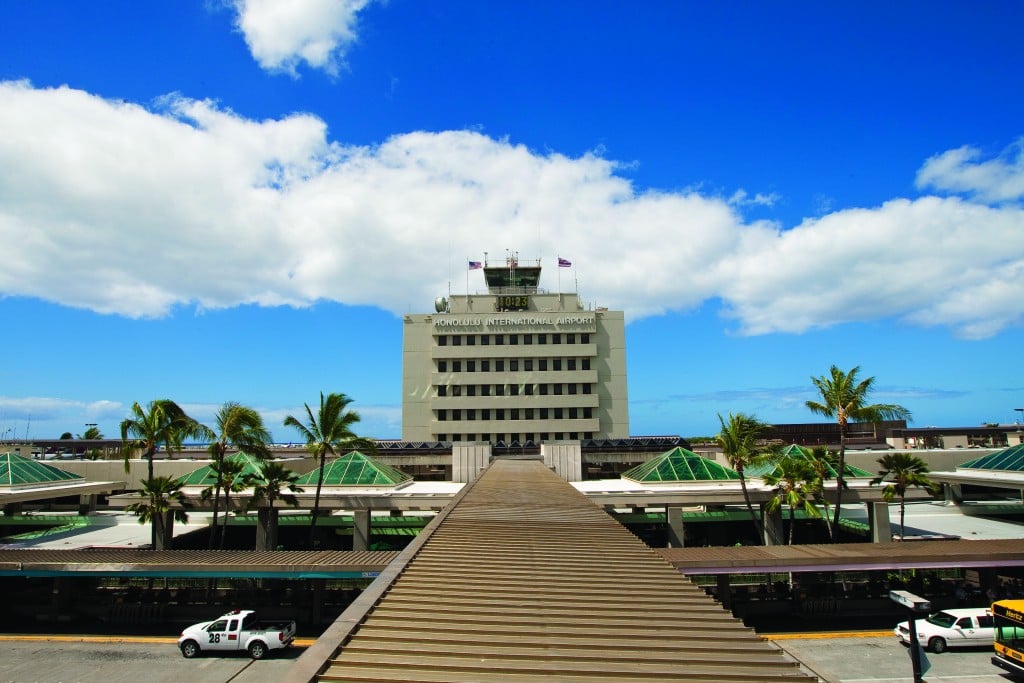 Ask Ernest Nishizaki what the single most important thing is that Hawaii could do to revitalize its visitor industry and economy, and he does not hesitate with his answer: Fix Honolulu International Airport and fast.
"We're talking about the first and last impression our visitors have of Oahu, and I think that project should have taken first priority," says Nishizaki, the local-born executive vice president and COO of Kyo-ya, which owns Starwood properties in Hawaii. "If you look at our airport and compare it to other airports throughout the world, Honolulu Airport is nice, but it's certainly not up to par with any of the other airports."
Airport officials hope that impression will change as a $2.3 billion statewide airport modernization program moves into high gear. This program has stumbled before and might again, but, officials say, this time the money is in hand, plans are in place and they are moving forward.
Much of this work will not be glamorous. Runways will be cleaned and hardened; air conditioning repaired; and back-of-the-house maintenance, loading and other facilities upgraded at all major airports. But there will also be plenty that travelers will see, including at Honolulu International Airport:
A new, $139 million mauka concourse covering 250,000 square feet – bigger than four football fields – is due to open in spring 2013. It will set a new standard for quality, design, efficiency and aesthetics for the airport system, says Teresa Seaworth of Parsons, project manager for the concourse. The energy-efficient design will use natural ventilation and daylight illumination wherever possible, and extensive use of tropical flora, Hawaiian displays and panoramic views to create an airport unique to Hawaii.
A moving sidewalk will replace the Wiki Wiki bus system on the airport's Ewa side and carry as many as 80 percent of arriving passengers along a glass-enclosed corridor, lined with art and vistas of the Koolau Mountains and Diamond Head. The first segment of this moving sidewalk has been completed; the remainder should be done by fall. Travelers arriving at the Diamond Head concourse, such as United Airlines passengers, will still use the Wiki Wiki buses, airport officials say, but these will be upgraded and air conditioned.
Inside the security gates will be new restaurants and other amenities, and the overseas terminal will get a food court outside security so local folks can sit and eat with loved ones before they depart.
The hodge-podge of rental car facilities that surround the airport will be replaced with a single structure where customers of most companies can pick up or drop off their rental vehicles and be shuttled to the airport.
One thing left out was the proposed "people mover" that would carry passengers around the terminals and to other destinations, says Brian Sekiguchi, deputy director of the state Department of Transportation responsible for airports. That project is too expensive with passenger arrivals down and money tight, he says. The upside is that this decision saves the open-air gardens that grace the center of the International Terminal.
Money is also being saved by refreshing the customs and immigration area rather than transforming it.
Seaworth says a lot of work is taking place behind the scenes, such as site preparation, moving explosive detectors away from passenger lobbies, and "hardening" tarmacs to handle bigger jets.
The overall $2.3 billion statewide price tag does not include the complete dream, Sekiguchi acknowledges. Proposed improvements to the existing concourses in Honolulu's International Arrivals Terminal and other features have been put off.
Interestingly, none of the money for the projects is coming from state taxpayers or the state general fund. Bonds, largely financed by fees imposed on airlines and concessionaires, plus federal grants, are paying for the construction.
Honolulu International Airport
Cost of Completed projects
• $9.84 million Flight information and PA-system upgrade
• $13.7 million Diamond Head chilled-water plant for air conditioning:
• $9.8 million Replace passenger-loading bridges, phase. II
• $40.1 million New parking structure
• $275,720 Runway rubber removal
• $42.19 million Site prep for interisland maintenance facility:
Cost of current projects
(expected completion)
• $12 million Airfield electrical vault (June 2010)
• $12 million Common chilled-water loop (summer 2010)
• $4.4 million Replace access control and security cameras (Aug. 2010)
• $37 million International arrivals Ewa corridor (Oct. 2010)
• $10.9 million Replace passenger-loading bridges, phase III (fall 2010)
• $13.3 million Chiller-plant replacement at overseas terminal (Dec. 2010)
• $8.14 million Escalator improvements at overseas terminal (Aug. 2011)
Estimated cost of Future projects (start date)
• $2.2 million Taxiway B pavement repairs (notice to proceed forthcoming)
• $65 million Explosive detectors at overseas terminal (notice to proceed forthcoming)
• $16 million Mauka concourse site prep (Sept. 2010)
• $29.5 million Emergency power facility (unknown)
• $139 million New mauka concourse (2011, complete 2013)
• $229.4 million Consolidated rental car facility (2012, complete 2014)
Lihue Airport
Cost of Completed projects
• $5.27 million Perimeter road and security-fence improvements
• $9.94 million Improvements to heliport, ticketing, parking and maintenance
• $1.07 million Airfield lights and sign replacement:
• $3 million Air-conditioning improvements, phase I
• $8.67 million Baggage claim improvements
• $1.7 million Repaired taxiways and cargo apron pavement
• $2.2 million Apron extension, miscellaneous repairs
Cost of current projects (expected completion)
• $1.9 million Access control and security cameras replacement (Dec. 2010)
• $4.6 million Air-conditioning improvements, phase II
(Dec. 2010)
• $275,720 Runway rubber removal
Estimated cost of future projects (schedule uncertain)
• $1.9 million Landfill-site restoration
• $17 million Acquisition of 80 acres from Grove Farm for future use
• $3.19 million Parking-lot expansion
• $60 million Consolidated car-rental facility
Kahului Airport
Cost, Completed projects
• $16 million Terminal improvements
• $7 million Air-conditioning improvements
• $3 million In-line baggage-screening system, phase I
• $3 million Runway safety improvements, phase I
• $9.8 million Replaced nine passenger-loading bridges
• $28 million Cargo and alien species buildings and apron
• $7 million Common-use passenger-processing system
• $7 million Electrical vault for explosive-detection system
• $4.8 million Runway safety improvements, phase II
• $1.1 million Fuel-storage site development:
• $1 million Escalator improvements
Cost of current projects (expected completion)
• $25 million Explosive detection system, phase II (June 2010)
• $3 million Security-access-control replacement (notice to proceed forthcoming)
• $17 million Apron pavement structural improvements (Aug. 2010)
• $5 million Passenger information systems
• $40 million Runway structural improvements (notice to proceed forthcoming)
• $5 million Reroof terminal, phase I (notice to proceed scheduled)
• $3 million Master-plan update
Estimated cost of future projects (schedule)
• $18 million Reroof terminal, phase II (preliminary design phase)
• $6 million Passenger-loading bridges, phase II (design being done in-house)
• $16 million Parking-lot expansion (in design development)
• $50 million Airport access road (in design development)
• $6 million Car-rental storage lot (preliminary design phase)
• $3.5 million Heliport improvements
• $5 million Passenger-holding-room improvements
Kona Airport
Cost of Completed Projects
• $2.96 million New perimeter road and fence, apron lighting
• $1.5 million Employee parking lot resurfaced and improved
• $905,000 Parking Lot B improved and 100 stalls added
• $1.37 million Terminal improvements: $1 million
• $667,000 Two wash racks installed
• $2.8 million Hold-room shelters and additional security lane
• $2.7 million Blast pad and pavement repairs
• $405,000 New baggage carousel at South Terminal
Current and Future Projects, Cost (Schedule)
• $1.37 million Rehabilitate cargo apron (start June 2010)
• $3.1 million Parking Lot C expansion (start Aug. 2010)
• $2.3 million Replace access control and security cameras (bid out this year)
• $100 million Terminal expansion, add up to five gates (undetermined)
• $15.9 million Aircraft Rescue and Firefighter Station at new location near air-traffic-control tower (undetermined)
• $2.5 million Additional baggage carousel at south terminal (plans and specifications complete)
• $2 million Interim commuter terminal (plans and specifications complete)
• Cost undetermined Onizuka Space Center relocation (conceptual design complete)
Hilo Airport
Cost of Completed Projects
• $665,000 Keaukaha subdivision noise attenuation pilot project
• $7.7 million Pavement repairs to taxiways and ramps
• $3.65 million Air-conditioning replacement
• $526,750 Window improvements
Cost of Current Projects (completion dates uncertain)
• $28.6 million New cargo building, phases I and II
• $210,000 Noise monitoring stations
Cost, Future Projects (Schedule)
• $2.77 million Replace access control and security cameras (start Oct. 2010)
• Applying for FAA grant Keaukaha subdivision noise attenuation, phase II
• Cost uncertain Add 800 parking stalls: (design complete)