Translating Development into Hawaiian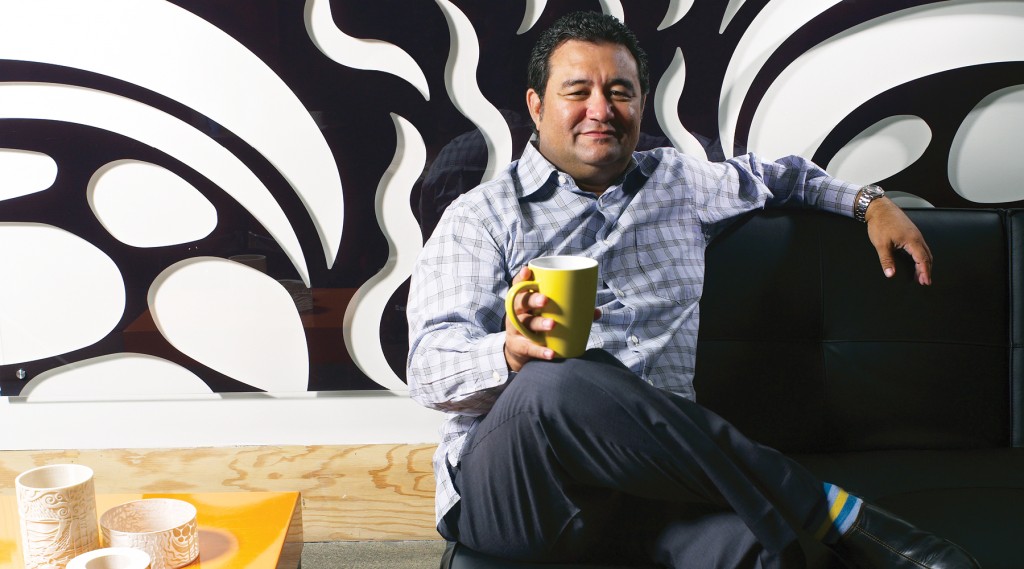 For a couple of years in the late 1990s, Robert Iopa worked in Kuala Lumpur for WATG, the Honolulu-based, international architecture firm specializing in resort development. For the young architect from Hawaii, it was an exciting time, but doing this work in Malaysia struck him as ironic.
"I was learning about other people's cultures," he says, "with the hope of them paying us to interpret that culture in architecture. Sometime really early in that process, I thought, 'Shucks, how and why am I doing this work? Why am I an appropriate person to be interpreting other people's culture?' That was No. 1. Then, I started wondering about what was going on back home. 'Why shouldn't I be spending my time understanding, learning and expressing my own culture?' " That thinking was an epiphany, a window onto a different kind of architecture firm.
After he returned to Hawaii, Iopa says, his epiphany was catalyzed by something he learned from Peter Apo, the former head of the Native Hawaiian Hospitality Association, and a sort of elder statesmen among Native Hawaiian consultants.
"Peter said, 'You cannot have a Hawaiian sense of place if you don't have any Hawaiians.' Shucks. From that simple observation arose a personal feeling of pride in me. I'm part Native Hawaiian, but I never grew up with the culture as a major aspect of my life. I grew up in a time with my parents in assimilation. My mother, a haole from California, was told that she was too haole and not local enough; my dad, a Hawaiian born in Keaukaha, was told that he was too Hawaiian and not Western enough. So, there was this identity crisis going on that many of my generation faced. I grew up without that cultural knowledge, and I was seeking it. This was the opportunity that Peter, in particular, saw."
New Type of Architecture
But, although cultural practitioners such as George Kanahele and Peter Apo were already espousing the value of Native Hawaiian culture to the visitor industry, the development industry was largely unaffected. Iopa was dismayed by the prevailing trends in Hawaiian architecture at the time. In the late 1990s, for example, Francis Oda, chairman of the architecture firm Group 70 International, is said to have coined the now ubiquitous term, "Hawaiian sense of place." This phrase had a profound impact on local architecture, but it sounded presumptuous to some Native Hawaiians.
"Back then," Iopa says, "a lot of people were trying to define that concept. Some of the definitions that I heard architects talk about at the time spoke to the physical characteristics of the place – that it needed to have an indoor/outdoor relationship, that those spaces blended together, etc.
"But there was also an identification with specific time periods and styles of architecture, most notably Territorial Style – the work of people like C. W. Dickey. These are classic pieces of architecture that are beautiful and timeless, but they're really adaptations of Mediterranean and other styles, an amalgamation of things that transpired over time." In other words, there was nothing particularly Hawaiian about them.
"But that's what people started to focus on," Iopa says. "You saw whole new communities being designed under that aesthetic. Look at the City of Kapolei: The entire design guideline, developed in the 1980s and 1990s, was established to represent Territorial Style as the Hawaiian style for this new city. Quite frankly, I thought, 'Give me a break!' We're contemporary thinkers. We should be expressing what we are and who we are and what our thinking is in everything we do. In what we write, in the music we listen to, and in the architecture we create. Why are we falling back on the easy solution of recreating something that was done before?"
In 2000, Iopa became a partner at WCIT, the local architecture firm he now runs. Since then, his work has been a gentle revolt against the idea that a double-pitched, green tile roof and flower motif could embody a "Hawaiian sense of place." Instead, he has focused on contemporary architecture interpreted through the lens of Native Hawaiian culture and history. In the process, WCIT has helped define a new relationship between Hawaiians and development.
"Our goal is not to create everything as Hawaiian," Iopa says, "but to use Hawaiian principles, thinking, values, history, culture, stories, places as the bases through which everything we do transpires. Then, the other cultures get mixed in and we get to a point where we're describing the culture of Hawaii, but based in the Native Hawaiian culture. That's our practice in a nutshell."
Buildings That Tell Stories
What's striking about this practice is how much it relies on narrative. "In many cases," Iopa says, "we were going into very sensitive environments and proposing large-scale development." Narrative became the means to navigate the controversy that inevitably follows that kind of project in Hawaii. That's because WCIT's design work has always evolved from the stories of a particular location, from the history and culture of an individual community. In the end, Iopa says, "The same stories that influenced our design then became the stories we would tell to the communities: Why we think a project is sensitively incorporating this thinking into the environment.
"And I'll tell you, from a business perspective, we were, and still are, extremely successful at that. This isn't why we do it, but, personally, and as a firm, we've probably entitled more significant and sizable projects in the state over the last 10 years than any other firm. I can say that with confidence. That's even with Architects Hawaii and Group 70 included. I can rattle off a list of two dozen projects."
Among those projects are the International Market Place redevelopment, the Royal Hawaiian Hotel and Waikiki Sheraton master plan, and two big Maui projects, the Andaz hotel in Wailea and the Makena Resort.
All that success didn't go unnoticed, Iopa says. "We would have developers from the mainland come to town and hear of our successes along the Kaanapali coast, for example, and say, 'Hey, let's go get them to help with the entitlements. They'll help us design a community outreach program; they'll help us walk through cultural issues or sensitive community issues; then, we'll go to our favorite architect from California that we work with all the time.' "
At first, Iopa balked. WCIT was an architecture firm; he wasn't interested in facilitating entitlements for someone else if there was no building at the end for WCIT to design. He was also concerned about investing WCIT's name and reputation to get community buy-in for a project, and then having no control over the project once it was entitled.
"So, my initial response on all those occasions was, 'No. If you want us as architects, we can have that discussion. But, unless that's the case, then no.'
"But interesting projects started to come along, and it dawned on me that, if I wanted to participate in these great projects, I would have to find some balance. No. 1, a project might come to town that I have no expertise in. For example, I've never done a retail center before. We've done big, complicated projects, but is a major national retailer going to come to town and give me an International Market Place to design? No, it's just not going to happen. But do I want to be involved in the International Market Place? Of course. The history, the culture, the people who have come through that place, the importance of it to the Queen Emma Foundation and its mission – of course we want to be involved in that.
"So, I started to find ways to have what I call 'meaningful participation' in a project. That changes from project to project, but it starts by saying, 'I have to be at the table from the beginning of the project to the end.' Because, oftentimes, we're out there talking to the community before there's even a single line drawn in the design."
The International Market Place redevelopment, a partnership between the landowner, Queen's Medical Center, and Taubman Centers, one of the largest retail developers in the country, is a good example of what Iopa means by "significant participation." It also highlights the ways in which Native Hawaiian culture can influence development.
WCIT is one of five architecture firms involved in the project, Iopa says. "We led the strategy in developing the community outreach, the entitlements, the stories, the design motifs. We led all of that, but I'm not creating a single architectural drawing. We're designing the courtyards; we're designing all the signage; we're designing all the elements within the courtyards; we designed a beautiful water feature that talks about Queen Emma's time in Waikiki. So, in this case, we found a meaningful way to participate: We would give inspiration and historical knowledge to the rest of the design team. We're developing narratives and programming that will showcase these elements of culture.
"I gave every single public presentation for that project. Given its scale and breadth and history and, quite frankly, its controversy, I think it's one of my proudest recent moments – to be able to help contribute to the orchestration of that project."
New Class of Consultants
Last year, recognizing the growing appetite for this kind of consulting work, Iopa founded a new firm, dtl Hawaii, to take over the strategic planning and community engagement side of the business, while WCIT focuses on architecture. Malia Kaaihue, a Native Hawaiian scholar and former chief knowledge officer at the Office of Hawaiian Affairs, was brought aboard as a partner to run the new firm. (Disclosure: Kaaihue is also the former editor of Mana, a magazine about Hawaiian culture and a sister publication of Hawaii Business.) She says dtl (pronounced "detail") will help developers, landowners and even competing architecture firms with cultural navigation and community outreach, much as WCIT did. Similarly, she notes that dtl's success will depend on its ability to advocate for the community as much as for its clients.
"We're actually very pushy," Kaaihue says. "I think that's why we've been so successful. Clients come to us because we can provide that cultural context for design and development. But they also know that, when they come here, we're going to challenge them.
"Before I took this job, I asked Rob, 'Do you always design what your clients want? Have you ever told your client no? Have you ever turned down a client?' He said, 'I fight more with my clients than I do with the community.' That, for me, was a sign that this was where I wanted to be. I wanted to be in a space where we're challenging developers and clients to re-imagine the idea of 'highest and best use,' " Kaaihue says.
"In terms of capitalism and development over the last five decades, 'highest and best use' has meant: 'How do you get the largest dollar amount out of this square footage of space?' But can we create a model for development that provides value to community, value to culture, value to Hawaii's future generations, and still provides a monetary gain at the same time? Can we collect all that value to have a more comprehensive strategy for development?"
Although WCIT and dtl are the most prominent of this new cadre of cultural consultants, they're not alone. One of WCIT's most interesting experiments has been to rent space in the company's new offices to a small group of independent, but like-minded consultants. In addition to Kaaihue at dtl, Iopa has brought in well-known communications consultants Kevin Cockett and Guy Kaulukukui, both of whom bring a Native Hawaiian perspective to their work. They're not employees or even, necessarily, partners on any specific WCIT or dtl project. The idea, instead, is that clustering will be synergistic for all of them.
"From the beginning," says Cockett, a former senior VP for Communications Pacific, "the intention wasn't just to be housed here. The idea was that we would naturally collaborate more and we would bring opportunities to one another. That's now starting to happen. It's really only been a few months – officially, we only moved in here in April – but, now that we're co-located, we're naturally talking together about projects and opportunities, even if they may or may not involve us."
Clustering may also mean access to the right kind of clients. For example, Kaulukukui, a former deputy director of the Department of Land and Natural Resources, stresses his roots in conservation, responsible land use and responsible development.
"In my current capacity as a consultant," he says, "I want to work with clients who share that same vision for Hawaii, who want to be professionally and personally responsible in the same way. That's one of the reasons I'm here: That's clearly WCIT's vision. That's clearly the way dtl does things. And, as Kevin and I share more stories, I've come to believe that's how he works with his clients, too."
Engage the Community
Why would a developer hire a consultant like Kaaihue, Cockett or Kaulukukui?
"There are a couple of things," Kaulukukui says. "I think, if you come to me, you're looking for access up and down the food chain. You're looking for access at the deep, grassroots community level, to directly and quickly reach both the formal and informal leaders in those communities – decision-makers as well as influencers. You're also looking for access into the regulatory agencies at the county and the state level. I think those are the reasons you would come to me.
"The other part of that access is me guiding them through the appropriate engaging of our community, however you define it – whether it's at the grassroots level, or it's in a department office, or a mayor's office in the different counties, or the governor's office here, or a council member's office.
"How do you engage with these different stakeholders in the process? My encouragement is always to listen first. The first engagement should be to listen and find ways to connect. Too often a developer or even government agencies will disregard that first step and go immediately to sharing their vision. But I think sharing your vision is not the first step. Engaging and making a connection is the first step. Listening to the community is the first step. Then, if you take what you hear and refine your vision, when you do share it with them the next time you meet, or two times down the road, it has a chance of resonating with them."
Although this approach won't necessarily speed up the development process, it can help avoid the misunderstandings that lead to conflicts and lawsuits. Kaulukukui points to his experience as the former senior VP with Bio-Logical Capital, where he prepared the ground for the company's eventual purchase of Hana Ranch on Maui.
"The strategy I put in place there was to start with one on ones. You identify key decision-makers and influencers in the community and meet with them one on one, listen to them and start to share a little of your vision. As you meet in these one on ones, you're also learning how to tell your own story, and you tell it big enough so people can find their own place in the story. In communities, everybody talks to everybody. These individuals will talk to other people and word starts to percolate, and the story gets out on your terms," Kaulukukui says.
"From these one on ones, you go to sort of invited one on twos and one on threes, and you ask these people to invite three or four friends to their garage and you sit there and tell your story to these bigger groups. Basically, you build bigger and bigger concentric circles. I strongly believe that if a public hearing is mandated by law, try not to have it until you've had all these one on ones. If a public hearing is not mandated, then you have more time to have these sessions, and then you invite the community to a meeting. But you don't have it until you have a good idea what you're going to hear.
"This process is more time consuming. But, if you look at the history of development in Hawaii, if you don't spend the time at the front end, you very likely are going to be stalled at the back end. Bringing the community along is preparing the ground in the very same way as driving piles into the ground or laying concrete. It's exactly the same thing. If you don't do it, chances are very good that it's going to come back to haunt you later. And, the attorneys that you're going to need to hire are going to cost more than me."
Iopa is ambivalent about whether this community engagement speeds up development or slows it down.
"It could do both," he says. "I think it can slow things down if the process is not understood and it takes time within the internal development team to find a comfortable balance of expression. Here, we advocate for the most robust cultural and historical study and community outreach possible. That's what we advocate for no matter who comes through that door (as a client). But, in the end, we've got to find the balance that best fits the client, the place and the type of development."
Iopa points out that, because WCIT and dtl straddle two worlds – the architecture and design world of the developer, and the historical and cultural world of community advocacy – they're uniquely able to translate between them.
"We want to make the developer's vision happen, but we also want to make the community's vision happen. In many ways, we provide facilitation between the two because we're able to articulate, both verbally and through design, how those two visions can meld. Again, if it takes time to figure that out, it can prolong the process. It's not just jumping through an EIS (environmental impact statement) checklist, hiring the appropriate people to do studies and doing your community hearing. There's outreach that needs to occur. There's engagement. There's conversation.
"But, at the same time, in today's world, if you're not doing significant outreach, you're going to get a hold-up somewhere along the line. Some regulatory agency is going to stop you and say you've got to do something because, 'You didn't talk to who?! What were you thinking?' And/or you're going to find yourself in court."
Who Are the Clients?
Another question is whether there's enough business for the growing cadre of consultants. Beyond the obvious clients, the Native Hawaiian land trusts such as Kamehameha Schools, Queen's Medical Center and the Office of Hawaiian Affairs, can other developers be persuaded to do more than jump through a few hoops to placate the community and get their entitlements?
"I think that's the biggest challenge," says Kaulukukui. "It's convincing clients that putting forth the effort this way – to develop responsibly, to engage communities early, genuinely and consistently throughout the project and beyond the launching of the project – is the way to do it, and it has a positive impact on their bottom line. That's the challenge. And, to be honest, I'm not doing as much of that kind of work as I'd like to. Fortunately, there's enough of the other stuff right now. There are enough folks that need representation with government agencies. For example, right now the Kohala Center is a client on a very interesting project. It's looking for ways to create a government/private partnership to extend broadband to every corner of the Big Island. … Those are the kinds of pieces that keep me going as I try to find opportunities with developers who fit the mold of a client."
Of course, the natural customers for this growing class of cultural consultants are the Native Hawaiian land trusts. In the past, these organizations took a more passive approach to development on their lands. Now, as they assume a more active role, what does that mean for the way development happens in Hawaii?
Wes Kaiwi Nui Yoon, an architect and former land manager for OHA – and one of the few young consultants unaffiliated with WCIT – puts it directly: "Now that we have the Native Hawaiian trusts as the new 'Big Five,' how are they going to approach development? What's going to differentiate them from the traditional developer? For example, if they go after high-end residential, is there going to be a conveyance tax that goes toward the watersheds? Is there a tax that goes toward charter schools? What would these developments look like? How would they be different? Or would they be the same? My hope is that they would not be the same. But I think it's going to be very interesting, now that they are the major landholders. All the finger-wagging that happened in the past 50, 60, 70 years since development really took off and laws started being effectuated to protect natural resources – does the finger wag back at the Native Hawaiian community and say, 'OK, now you're the landowner, you're the developer. Are you, for example, going to follow burial laws?' "
For their part, the trusts seem to be trying to live up to the high expectations. Elizabeth Hokada, VP for the endowment at Kamehameha Schools, highlights how the trust's current development in Kakaako engages in the history and culture of the community. The area, she says, was once dominated by fishponds and salt pans
"The name of our 76,000-square-foot specialty retail and restaurant project, Salt, harkens back to this previous cultural use of the area, which helped to sustain Hawaii economically. In Our Kakaako, the stories of our ancestors and their lifestyles will be remembered because they are spoken and mentioned throughout the project."
Hokada also stresses that, even though the trust has a fiduciary duty to maximize the returns on its assets so it can fund its educational mission, she doesn't see that as a conflict with culturally sensitive development. "We know that the Hawaiian people have always embraced stewardship for these lands," she says. "Historical land-management principles recognized the interdependencies of different aspects of life. Today, we acknowledge and embrace the wisdom of our kupuna, which teaches us to reflect a deep understanding of the surrounding community, its history and evolution over time."
Eric Martinson, president of the Queen Emma Land Co., also sees no conflict between Hawaiian culture and economics. "I think that's a fallacy," he says. "I think they're intertwined. The success of a lot of projects today is a result of maintaining the uniqueness of Hawaii. That uniqueness is driven by our culture. You cannot have economic success without having that element. If you're just bricks and mortar, you're probably less attractive as a destination versus having something not just visually, but emotionally sensitive to Hawaii's culture. One of the great things that the developer is doing at the International Market Place – part of it forced by the fact that we have an exceptional banyan tree – is they've actually embraced that tree and designed around it. That element will be there as long as the International Market Place is around. That's what people remember; it's iconic. So, you'll see that the tree gets celebrated in the design."
The flip side of this question is whether culturally sensitive Native Hawaiians believe modern land development is ever appropriate, regardless of whether it embraces the correct history or local stories. Clearly, consultants such as Kaulukukui and Kaaihue have made their decisions, though, in many Hawaiian communities, the answer is less obvious.
Yoon addresses the issue with a sort of parable. He mentions three well-known Hawaiian legends: the story of the demi-god Maui, who uses a lasso to slow down the sun; the story of the ipu of Laamaomao, a magic gourd that controls the winds of the Big Island; and the story of a chief who wrestled with a shark in the water, swung it over his head and threw it onto shore.
"These are stories that we all grew up knowing," Yoon says. "And I think the traditional view is that these stories were meant to perpetuate our history and culture. I respectfully disagree that they only serve to remind us of the past. I believe these stories were very forward looking.
"Take the first story of Maui holding the sun: Were our ancestors and kupuna telling us that, at the right time, we would understand solar energy and how to harness that power? Take the wind gourd of Laamaomao: Were our ancestors telling us that one day we would be able to control the winds and harness that power? And then there's the story of the chief throwing the shark onto shore: Is that ocean power coming onto land, a way to understand wave technologies as a form of sustainable energy for these islands? What I'm saying is: I think these stories are there to remind us of our past, but they're also windows to our future."
If that's true, Yoon says, then the ancient Hawaiians wouldn't have disagreed with all development or seen it as inherently bad. Of course, that doesn't mean all development is good. Figuring out which is which is the responsibility of this new class of consultant.
According to Malia Kaaihue, dtl and the cluster of consultants that have assembled around WCIT are uniquely prepared for that responsibility. A useful analogy, she says, is the role played by the traditional Hawaiian kuhikuhi puuone.
"That's who we would consider our traditional architects, and they played an important role in Hawaiian society. But they weren't just architects in the Western sense; they were planners. They would handle the physical manifestation of a heiau. But they also created the spiritual connections. They would choose where the heiau was built. They would create that connection with Akua. So, they had to be people with knowledge of the history of that land. That's why heiau in Hawaii were built over and over again in the same places: because it was the places that were important. So, it doesn't matter if there are going to be 15 high-rises in Kakaako, it's still that place that we honor. And we know that place will change over time, just like our heiau did over hundreds and hundreds of years. But those places and their stories still persist.
"When I think of this collaboration – working with Kevin and Guy and WCIT and the other resources here – I think of that notion of kuhikuhi puuone. Collectively, when we put all our heads around one table to discuss a space, we're bringing back that tradition. Because no one person in the contemporary world could be a kuhikuhi puuone, I don't think. But when we bring our collective of cultural knowledge, governmental knowledge, communications, design and the community, and get them altogether at one table, we're able to find solutions that would be somewhat likened to that of a kuhikuhi puuone."