Travelin' Music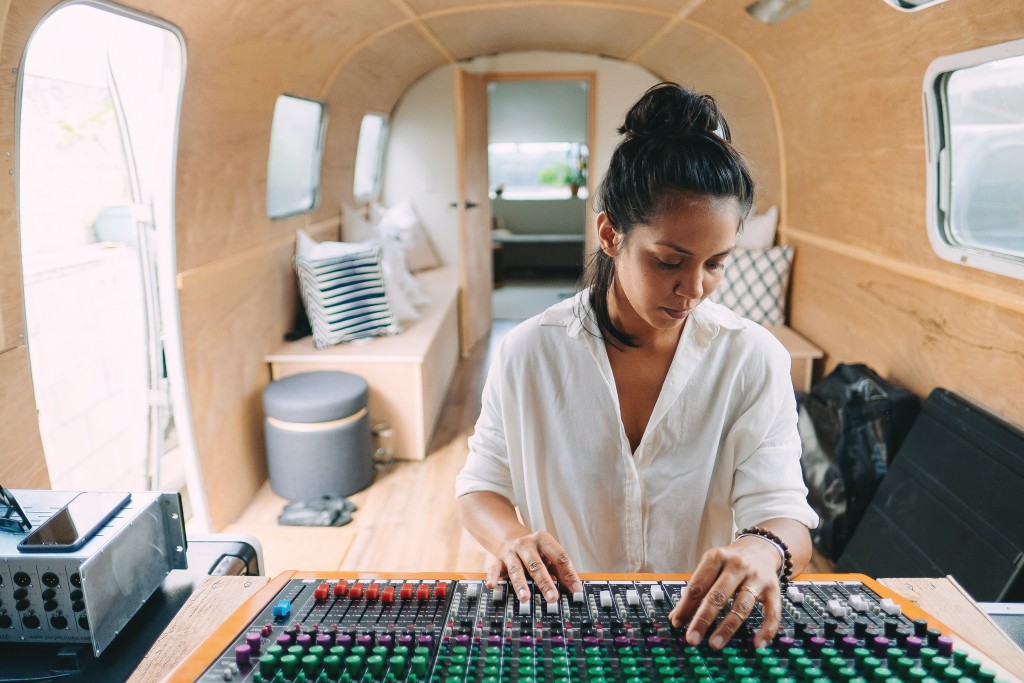 KELLI CRUZ IS a "doer." She learned early on how to build things from her father, who was a carpenter, and create Hawaiian music from her mother, who was a hula dancer.
"When I was 18, I picked up a guitar after I heard a family friend playing slack key," recalls the Kaiser High graduate, who is now 31. "We would pass the guitar back and forth, and I'd try and mimic what he was playing until I could string the whole song together. Eventually I learned standard tuning and started writing my own songs."
No wonder Cruz started her own band, The Girlas, and became one of the few female sound engineers in the music industry. The married mother of two graduated from The Conservatory of Recording Arts and Sciences in Arizona in 2006, and is now lead engineer and instructor for a project called Mana Mele ("Music Power"), an after-school/elective arm of the pilot public charter school, Mana Maoli ("Native Power") Academy. The academy's innovative grades-6-through-12 curriculum proposes to teach students core subjects woven through music and multimedia, and has so far partnered with nine Native Hawaiian charter schools on Oahu and Kauai.
Over the past 20 months, Cruz helped design and build a unique component of Mana Mele: its mobile music-recording studio housed within a 31-foot-long, 1976 Airstream 2 trailer. The trailer, powered by a solar generator and battery backup, is split in two: an isolation/recording booth for artists and a control room with both video- and audio-recording equipment for engineers, producers and students.
"I've always liked that Aunty Kelli has never given up on anything she's done. She's never given up on her students, even when they gave up on themselves."

— Anela Howard, 9th grade student
"We refer to it as 'four-in-one,' meaning that in one place you can find audio and video production, and live event and studio capabilities," Cruz explains. "I'd also say premier digital and analog equipment is a primary feature; in fact, most recording studios will use this kind of analog gear to attract high-end clients.
"The studio is also equipped with pro digital software, converters and backup recorders. Everything is housed in racks with rubber absorbers to minimize vibrational damage."
The recording equipment was purchased through grants, fundraising and in-kind donations, including some studio equipment donated by Kapono Beamer. "We tow the mobile studio with a diesel truck," says Cruz. "Our goal is to be 100 percent green and sustainable, so we are seeking donations and clients for our services to be able to afford to convert to biodiesel technology."
The external artwork on the trailer was crafted by founder and lead muralist John "Prime" Hina of the nonprofit arts organization, 808 Urban, with traditional Hawaiian designs by tattooist Keone Nunes.
"For years, the Mana Maoli Collective referred to over 200 onstage artists who donate their time and talents toward CDs, concerts and school visits in support of community, culture and environment-based charter schools,'" Cruz says. "With the Mana Mele project, our collective now includes some of Hawaii's finest engineers, videographers and music business professionals. The idea is to collaborate, not compete."
Academy coordinator Luanna Peterson says a major partner with the Mana Mele project is Honolulu Community College's Mele program, which offers degrees in music business and audio engineering. "John Vierra and Eric Lagrimas of Mele are nearing completion of 32 curriculum modules that teach high school math and science standards through engineering and the music business," Peterson explains.
Anela Howard, a 9th-grader at Halau Ku Mana Public Charter School, has been Cruz's after-school student for about a year. "Her class taught us music, engineering and a little music business, but it also taught us different academic subjects and culture through the music. The idea is to learn the ABCs through music: academics, business and culture. I enjoyed music as a way to learn my language and culture, and as a more fun way to learn language arts and social studies.
"The idea is to collaborate, not compete."


— Kelli Cruz, Sound Engineer and instructor, Mana Mele
"I learned how to record artists and use computers, along with learning how to set up mixers and mic stands and XLR cables. I have always been interested in engineering, so Aunty Kelli's class was very beneficial. It helped me because I was at the Doris Duke Theatre one day and they were so impressed with everything I knew that they offered me an internship there – learning how to do sound, lighting, etc. – and that's what I've been doing this summer.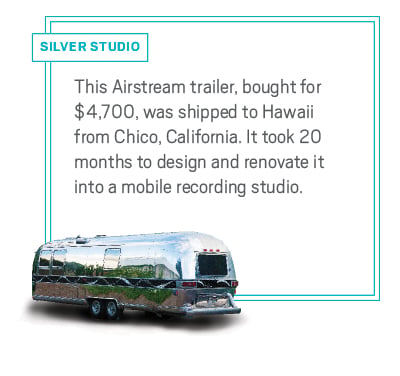 "I've always liked that Aunty Kelli has never given up on anything she's done. She's never given up on her students, even when they gave up on themselves."
The mobile studio has appeared at such live events as Eat The Streets and the Aloha Aina Festival, and has recorded Hawaii an music notables such as John Cruz, Paula Fuga, Taimane Gardner, Kamaka Fernandez and Kapali Keahi. The project soon plans to collaborate with Henry Kapono, Brother Noland, Irie Love, Kimie and many others.
"The whole point of the mobile studio is to tell your story, from your place," says Cruz. "Don't make the kupuna come to you, you go to them. Even youth and professional artists will feel more comfortable recording in their community, their sacred places, their element."