Trump's Effect on Hawaii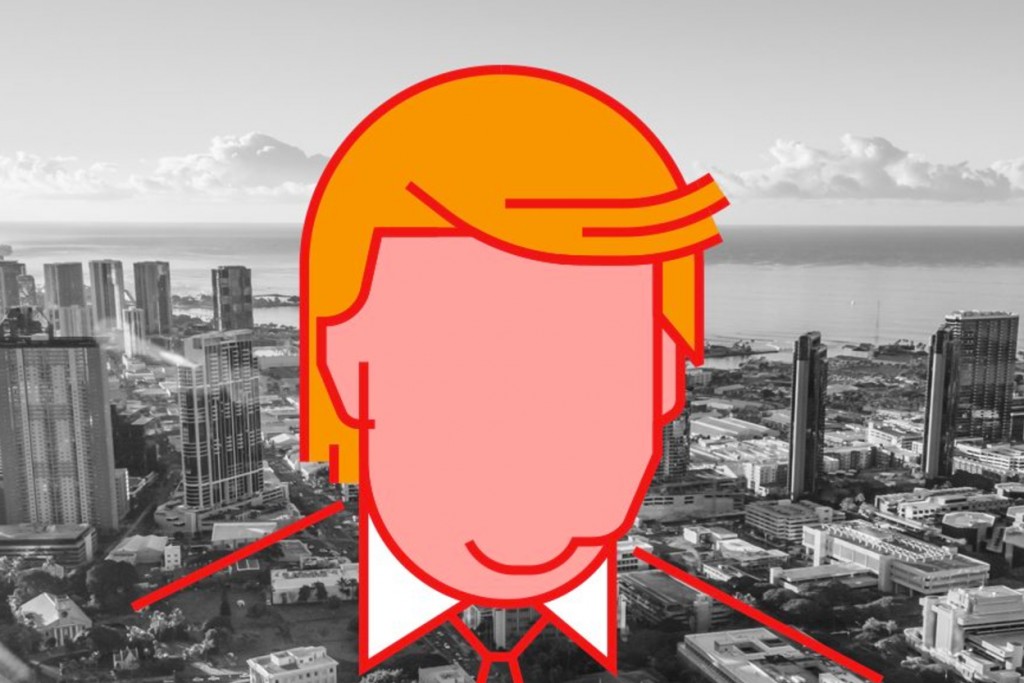 Interviewed for this story are the four members of Hawaii's congressional delegation, all Democrats:
Sen. Mazie Hirono
Sen. Brian Schatz
Rep. Colleen Hanabusa
Rep. Tulsi Gabbard
---
FIVE RISKS
1. OBAMACARE
One of the biggest changes proposed by President Trump is a repeal of the Affordable Care Act, with no specific replacement yet agreed upon. An estimated 20 million people nationwide receive health insurance through the ACA. In Hawaii, the potential loss of the ACA is mitigated by the state's long-existing Prepaid Health Care Act, which had already provided health insurance to many of the categories of people covered by Obamacare elsewhere in the nation.
"In general, Hawaii and Massachusetts have been the two states that had the most difficulty complying with the exchange requirements of the ACA," Hanabusa says. "That's because we already had what I consider to be the best health care systems in the country."
Those systems will largely remain in place if Obamacare is repealed, but many of those who keep their overall coverage will still lose some benefits. "It's going to have a huge impact on everybody on Medicare in Hawaii," Hirono says. "They will end up paying more for prescription drugs, for example. And they won't get the kind of preventive care they get under ACA, even though a lot of them don't realize that yet."
Similarly, people who are self-employed or between jobs will either lose their coverage, or at least the subsidies that make their coverage affordable. Obamacare requires health insurance companies to cover people with existing medical conditions; many Republicans say they will continue that provision, but no longer require people to have health insurance coverage or pay a penalty. That requirement helped subsidize the premiums of less healthy people; without those subsidies, it's likely that health insurance premiums will skyrocket.
2. IMMIGRATION
Hirono notes that Trump's anti-immigration policies will be another risk for Hawaii, especially given his choice of Jeff Sessions as attorney general.
"Sen. Session's position on immigration is very clear," she says. "When I first got elected to the Senate, Democrats were in the majority. Since the majority members preside, I took many turns presiding over the Senate. Sen. Sessions would come down to the floor of the Senate on a regular basis to express his opposition to any kind of comprehensive immigration reform."
That opposition was in the context of one senator among a hundred. As attorney general, Hirono says, Sessions will wield wide prosecutorial discretion. For instance, he could help decide what happens to the young people in the Obama administration's Deferred Action for Childhood Arrivals program. That program allows some undocumented immigrants who entered the United States as minors to receive a renewable two-year period of protection from deportation and eligibility for a work permit.
"At his confirmation hearings, when he was asked if he would start deporting the DACA people, he wouldn't say he wouldn't," Hirono says. "We have about 300 DACA people in Hawaii. And there are many more undocumented aliens not in DACA; they won't come out of the shadows for fear of providing information that could be used against them in some way."
Hirono is relatively confident that people who enrolled in DACA are safe for now. "I think there would be such a hue and cry if the DACA participants were targeted for deportation, because part of what they were told was that their information would not be used for those purposes – although there was always a caveat that could change."
Noting she's an immigrant herself – the only immigrant in the Senate – Hirono says, "I will do everything I can to make sure they're not among those who are deported, just because they participated in DACA. Remember, DACA allows these young people to go to school, join the military, participate in the life of our communities in a way that brings them out of the shadows."
3. ENVIRONMENT
Hanabusa, who sits on the Natural Resources Committee in the House, says one of the most important issues for Hawaii is how Trump and the Republican-controlled Congress approach key environmental issues, such as the Endangered Species Act. "For example," she says, "there have long been attempts by the Republicans to, in effect, limit the number of endangered species, not allowing new species to be added to the list."
Hawaii is the extinction capital of the world, and the Endangered Species Act has been a key tool in protecting some of the state's most fragile habitats. Diluting the ESA, or limiting enforcement of its provisions, could affect everything from military training protocols to land-use practices in the state.
There's also climate change. As a tropical island chain, Hawaii is especially vulnerable to the effects of climate change: rising sea level; the loss of coral reefs due to ocean acidification and warming sea surface temperatures; the increasing frequency and intensity of major storms; and the gradual loss of unique ecosystems. But Trump and many in the Republican majority are climate-change skeptics and support domestic oil extraction, fracking and the resuscitation of coal mining. All of these accelerate climate change. That's why Trump's nomination and the confirmation of Scott Pruitt – a climate-change denier and advocate of the oil, gas and coal industries – to head the Environmental Protection Agency is likely to have the most effect on Hawaii.
4. RUSSIA
All these issues – Obamacare, immigration and environmental policy – have long been part of the basic divide between Republicans and Democrats. But Hanabusa says the Trump victory has introduced new risks, though their specific impact on Hawaii may be more attenuated.
"One area that I feel will be a problem," she says, "is the whole issue of the security briefings that we've received about the role of Russia in our election. It has nothing to do, necessarily, with this particular administration's beliefs about Russia; it has to do with finding out exactly what happened. To have the three major intelligence agencies agreeing (that the Russians interfered in the election) I think is a major statement. So, I see lines drawn on this specific issue, but I don't necessarily see it as Democrat versus Republican, because you hear Republicans, like John McCain, who feel there really needs to be an investigation of the actions taken by the Russians."
Hanabusa, like all members of the House, has seen the classified version of the report on Russian meddling in the election. She say's she's confident in the conclusions drawn by the intelligence agencies.
"I think they were very careful, perhaps even too conservative in their conclusions. Maybe that's a better way of putting it. I think that they could probably have gotten further than they did. But, that notwithstanding, there's still the fact that they're not finished with their investigation."
5. UNKNOWNS
Russia is a known risk, Hanabusa says, but it's the unknown risks that are more worrying.
"I think the real issue for Hawaii is that we don't know what a Trump administration is going to look like," she says. "The concern I have is the fact that Trump got elected in such an unconventional manner. He wasn't elected by the party; he's an outsider. You don't even know whether or not he's interested in re-election. And it's the desire for re-election that tempers what his next step will be."
Trump isn't the only source of worry, Hanabusa says. She points out that Republicans in Congress have also introduced some new and novel risks, though their exact impact isn't clear yet. She gives the example of the Holman Rule, a procedure that allows any member of Congress to use the budget process to reach down to any individual in the federal government and cut their salaries. First enacted in 1876, before the advent of merit-based employment in the federal government, the Holman Rule was rescinded by Democrats in 1982. This year, though, reviving the rule was one of the first affirmative acts of the Republican-controlled House.
To federal employees, the return of the Holman Rule looks like a scary attempt to undermine the independence of the civil service – especially combined with early moves by the Trump administration to identify federal employees who disagree with administration policies. In a heavily Democratic state, like Hawaii, there are undoubtedly a lot of federal employees who would fit that category.
"People may not take the rules of the House seriously," Hanabusa says, "but they have major implications. The Holman Rule is one component of that. There are also components regarding subpoenas. All this gives you an idea where they're headed. But, when they implemented the Holman Rule, you have to wonder, How do they want to use this? What do they think they can do with it?"
TWO OPPORTUNITIES
1. MILITARY SPENDING
Increased military spending in Hawaii largely depends on whether the new administration sustains Obama's "pivot" to the Asia-Pacific region. This plan reflects the growing importance of the region and shifts military resources so that, for example, 60 percent of the country's naval fleet would be based in the Pacific. After all, the Pacific Command, based at Oahu's Camp Smith, is responsible for 55 percent of the Earth and includes the world's three largest economies: the U.S., China and Japan. Trump hasn't said much specifically about the pivot – either on the campaign trail or as president – but he has advocated for a major increase in military spending. That bodes well for Hawaii, which depends heavily on military spending to balance the ups and downs of the tourism industry.
In some ways, the Asia-Pacific pivot and the potential increase in military spending in Hawaii predates and is independent of the Trump presidency, according to Schatz.
"There are some specific opportunities for Hawaii over the next four years that exist regardless of who's the president," Schatz says. "And we remain well situated to attract further Department of Defense investment."
He points out that retired Marine Corps Gen. James Mattis and Rex Tillerson, the new secretaries of defense and state, both support the pivot, as do key members of Congress.
"My judgment is that Trump hasn't thought very deeply about it, but that he will defer to his secretaries on this. And, at the legislative level, we now have a bipartisan consensus around Hawaii's critical role. So, when it comes to the shipyard at Pearl Harbor, the Pacific Missile Range Facility on Kauai, the Pohakuloa Training Facility on the Big Island, the Jungle Operations Training Center at Schofield, all of the service branches are full speed ahead when it comes to defense investment."
Gabbard, a member of the House Armed Services Committee, as is Hanabusa, notes there's a similar consensus in the House. "I also see an interest and growing commitment in Congress to pass not only an authorization bill, but an appropriation bill in a timely fashion. One of the challenges for the private sector, as well as the military, is that when you have temporary continuing resolutions and temporary funding bills that only last for a month, or three months, or six months, that lack of certainty is quite harmful to our military capabilities. You can't plan training activities, and it ultimately costs more in the long run. So, passing a funding bill where you know how much you have to spend for the year has been the No. 1 request from our military leaders in Hawaii."
Although Trump hasn't spoken much specifically about the pivot, he has said he wants to build more ships. That could bode well for Pearl Harbor, according to Hirono.
" 'Ships' means 'Navy'," she says. "And the Navy's presence in the Asia-Pacific is very much here in Hawaii."
But Hirono expresses caution amid all the noise about increased military spending.
"There's an issue as to how we're going to pay for the over $350 billion increase in military spending over the next four years," she says. "I certainly wouldn't want to sacrifice the domestic programs that are so important. Not to mention that national security isn't only dependent on what we do with the military; it's also the appropriations and money that we give to the State Department, the FBI and Homeland Security. Those are all nonmilitary areas that are just as important for our national security. Then, there's the state of our economy. If our economy is not flourishing, of course, that also affects our national security and our ability to do things for our country and our people. It's all tied together."
All the same, military spending looks like one area where Trump will prove to be an asset for Hawaii.
"Everybody knows I'm not a Donald Trump fan," Schatz says, "but one thing I'll say for him: He's not a small-government guy. So, from the standpoint of being worried about a massive reduction in federal funding, that's a little lower on the list than other risks, like geopolitical instability and unlawfulness."
2. INFRASTRUCTURE
Trump's willingness to spend also bodes well for infrastructure investment in the state.
"Hawaii is not different from most other places," Gabbard says. "The infrastructure needs we have across the state, in each of our counties, is great. This is the same challenge in many states in this country, and it's an area where both Democrats and Republicans and this administration, I think, have an opportunity to work together and actually get an infrastructure bill passed. This would be good for Hawaii and for communities across the country."
The question, of course, is: Why would the Republicans in Congress pass an infrastructure bill now when they steadfastly refused to increase infrastructure spending during the Obama administration? Maybe it's because now Republicans are working with other Republicans, rather than across the aisle. Whatever the reason, Trump has created momentum in Congress to do something about infrastructure, Gabbard says.
"Republicans are talking about the need to pass an infrastructure bill, and the president has already begun to meet with different building-trade unions, as well as with Democrats and other Republicans to begin forming an idea of what an infrastructure bill would look like. Democrats in the Senate are putting forward their own ideas. So, on both sides, there's interest and an appetite for working together and passing this legislation."
It's easy to overstate this consensus, though. Democrats, still stinging from the Republicans' treatment of Obama, remain skeptical. Also, the two parties have widely divergent philosophies about how to pay for any infrastructure bill. Trump's "plan," for example, is largely funded through an 82 percent tax credit for private investment. In other words, investors would build roads, schools, airports and bridges largely on the taxpayers' dime, and then own them and collect the tolls or rents. To Democrats, that looks like a government handout to wealthy investors. Democrats, on the other hand, want to pay for infrastructure through taxes, ideally on the rich; but the tightfisted Republicans in Congress have long balked at new taxes of any kind.
So, while everyone seems to want an infrastructure bill, it's not clear there's a plan they can all agree on. Gabbard remains optimistic.
"I think it's premature to say there's any one, specific plan that's been put forward. There have been a lot of different ideas, and I think some have potential and others don't. The point is that the conversation is happening, and that's what's necessary in order to end up with a final product. Hopefully, that will be able to pass Congress with bipartisan support."
FIVE STRATEGIES
1. COMMITTEES
Broadly speaking, Hawaii's congressional delegation agrees on the big issues in the Trump era. The real question is: How should they address those issues?
One thing working for them is that all four Hawaii members of Congress serve on committees that are strategically important for the state. In the House, both Gabbard and Hanabusa are on the Armed Services Committee. Hanabusa also serves on the Natural Resources Committee, and Gabbard is on the Committee on Foreign Affairs. Between them, the two congresswomen are well situated to participate in the debates that most affect Hawaii. The problem is that the House of Representatives is a purely majority-rule body. That means Democrats in the House have almost no power. To get anything done, they have to work with Republican allies. That's easier on some committees than others. Given Hawaii's reliance on military spending, it's fortunate that Armed Forces is one of the easiest committees on which Democrats can find Republican allies.
"The Armed Services Committee is the most bipartisan in the House," Hanabusa says. "So, if we're able to share our concerns about how we address the Asia-Pacific, in terms of China and North Korea and those issues, if you can find a partner on the other side of the aisle who shares similar concerns, we can get a lot of things done."
She points to her work on the National Defense Authorization Act with Randy Forbes, the former Republican congressman from Virginia. The NDAA, which funds the military, is the one piece of legislation that always passes the House in a bipartisan manner, she notes.
"When I was in Congress before, Randy Forbes and I had a series of meetings about, 'What does the pivot to the Asia-Pacific mean?' Working together on that issue, we were able to put what I consider to be necessary pieces of legislation in place through the NDAA, and we were able to address a lot of the Asia-Pacific questions. That was only because Congressman Forbes and I shared the same interests and concerns."
Gabbard offers similar examples of partnering with Republicans on issues important to Hawaii.
"One is the Native Hawaiian Education Act," she says. "This was a piece of legislation that Sen. Inouye and Sen. Akaka had championed when they were in the Senate. It required reauthorization, but it faced opposition from some Republicans and even potentially some Democrats. I was able to work in a bipartisan way with both Republicans and Democrats to be able to get this legislation included in a larger education bill that passed the House of Representatives. This wasn't something that was necessarily easy to do, but by having a working relationship with my colleagues on both sides, treating them with respect and Aloha, this kind of collaboration resulting in passing legislation is possible."
2. RULES
Collaboration isn't the norm in the House. That's because the Republican majority of 237 to 193 (with five vacancies) is large enough that the votes of Democrats, like Gabbard and Hanabusa, typically carry no practical weight. It's also why House Democrats are sometimes forced to resort to political stunts, like their sit-in on the floor of the House over gun control last June.
Even in the Senate, where you need 60 votes to get some things done, Democrats are sometimes obliged to resort to symbolism – for example, boycotting confirmation hearings, even though Republicans would simply change the quorum rules and vote with no Democrats present. These tactics may not affect legislation, but they have meaning, according to Hirono.
"Majority rule is a lot more challenging," she says. "So, in a place like the House, the voice of the loyal opposition becomes ever more important. That's why, when they held the sit-in, it was an important symbolic action. And symbolism can go a long way. Look at the Women's March, for example. You can call that symbolism if you want, but I think that, to the extent that all these millions of people marched all over the world, and that they continue their engagement, that will make all the difference."
Senate rules make that chamber of Congress much more bipartisan than the House. Consequently, Hawaii's senators are better positioned to block some of Trump's proposals. Hirono serves on five committees, including the Armed Services Committee, where, as the ranking member on the Subcommittee on Seapower, she can be an important voice for Pearl Harbor and the shipyard. But it's Schatz who's probably best positioned to resist some of the more controversial proposals of the Trump administration and the Republican majority. As a member of the powerful Appropriations Committee, and the ranking member of the Subcommittee on Military Construction, Veterans Affairs and Related Agencies, Schatz has real say on how Congress actually spends our tax dollars.
But, regardless of their committee seats, the members of Hawaii's congressional delegation still have to make strategic decisions about how to deal with Trump and the Republican majority. This is a dilemma faced by every Democrat in Congress. Some believe Democrats should pick their battles and cooperate when Trump proposes things like increased infrastructure spending, or paid family leave – policies that have long been planks in the Democratic platform.
Others advocate full resistance. They say the party should do what the Republicans did to Obama: Oppose everything the Republicans and the Trump administration propose. Hawaii's Congressional delegation isn't that revolutionary and they look for opportunities to work with Republicans. According to Hanabusa, Russia is one area where Democrats can find enough Republicans who share their concerns about Trump.
"I think you'll find Congress will come together on that," she says. "It's not just a matter of whether (Russian intervention) affected the victory of Donald Trump or the loss of Hillary Clinton; it transcends that. It's about the integrity of our system and whether we're going to allow a foreign power, or the leader of that country, to interfere with something as sacred to the people as our electoral system. I think that's going to be a major surprise. I don't thing they will stick to the party line. I think you'll find both sides agree on that. I think you'll also find the House Oversight Investigation Committee will hold meetings on that."
3. SENATE
Any hopes for resistance to the Trump agenda likely rests in the Senate. Not long ago, that opposition would have centered around the confirmation hearings for Trump's cabinet nominees. Hirono and Schatz voted against most of Trump Cabinet nominees, but all those who didn't withdraw were confirmed despite Democratic opposition.
This highlights how the Senate's vaunted 60-vote rule has diminished since the Democrats, under then-Majority Leader Harry Reid, changed the rule that required 60 votes to confirm presidential nominees. Now, except for Supreme Court nominees, approval only takes a simple majority. That's what every Trump Cabinet nominee got, though Betty Devos needed a tie-breaking vote from Vice President Mike Pence. This raises questions about how Hawaii's two senators will approach Trump's nomination of Neil Gorsuch to the Supreme Court.
"I will be spending a lot of time going forward on the Supreme Court nominee," says Hirono, who sits on the Judiciary Committee. "That person could have a very pivotal impact on individual rights. For example, this court has, I think, tipped the scales in favor of corporations against individuals. I can cite a number of cases that exemplify this: Lilly Leadbetter, Hobby Lobby, Citizens United. Many of these were five-to-four decisions, so the next person on the Supreme Court could make the difference."
At press time, a Supreme Court nominee still needs a super-majority of 60 votes to avoid a filibuster in the Senate. The question is whether the Democrats will be willing to use a filibuster to try to block Gorsuch (or any Trump nominee) from taking the bench. If they do, they risk Republicans invoking the so-called "nuclear option," using the same procedure as Harry Reid to get rid of the filibuster for all executive nominations. Even given that risk, Hirono is unequivocal about her willingness to use the filibuster to protect issues important to her.
"If the nominee is someone that raises concerns regarding fairness, access of individuals to the courts, and things like that, I would do everything I could to raise those concerns. I really care about the potential of overturning Roe v. Wade."
4. APPROPRIATIONS
Regardless of what happens with the Gorsuch nomination, the Senate's 60-vote rule still applies to legislation. That's part of what makes Schatz's role as a member of the Appropriations Committee so important. The House of Representatives may pass a budget on a simple majority vote, but Appropriations has to pass a bill that actually authorizes how that money is spent. Ending debate and bringing that bill to a vote will still require 60 votes.
Perhaps more important, Schatz says, the Appropriations Committee is one of the last bastions of bipartisanship in Congress.
"It takes a certain kind of senator to even want to be on that committee anymore, because there's not a lot of fighting. There's negotiating, but we try to hold each other and our priorities harmless from whatever battles are happening on the Senate floor or in the country. So, although I'm never overconfident, I'm reasonably certain that, when it comes to people like Thad Cochran and Pat Leahy, when it come to myself, as the top Democrat on the Military Construction and Veterans Affairs, and Related Agencies Subcommittee, this is about what's in the country's best interests and what's in our own states' best interests. It's especially true that my being the ranking member on the Military Construction Subcommittee puts us in a better position to make sure that resources continue to flow into Hawaii. There's never zero risk and, with Donald Trump as president, there are tremendous challenges ahead. But, when it comes to making sure that federal investment continues to come to Hawaii, the Appropriations Committee is where the rubber hits the road."
Schatz's optimism about the Appropriations Committee extends to its role in limiting Republican plans to gut Obamacare. The House can act alone to cut the program's funding, using a procedure called reconciliation. But they can't pass a new law without going through the Senate. "So, they can only ruin the current law," Schatz says. "They can't do any fixing without 60 votes, and without the participation of multiple committees: the Health, Education, Labor and Pensions Committee; the Finance Committee; and the Appropriations Committee. My judgment is that it is now more likely than not that the Republicans will either leave the Affordable Care Act alone, or make minor tweaks and call it something else."
Schatz also thinks the political and economic realities of gutting Obamacare are causing many in the Republican majority to lose their nerve.
"I've learned, since 2016, that I'm not very good at predicting," he says, "but I think it's fair to say that they're realizing the promises they've made on the Affordable Care Act just don't add up in terms of the math. Just to take one part of this: They promised to provide coverage to people with pre-existing conditions; they want to extend coverage to young people until they're 26; and yet they want to eliminate the individual mandate. That will not work. We need a risk pool to be able to subsidize people who may require more expensive care.
"The Republicans didn't have to worry about any of that as long as Barack Obama was president; they could pass all these irresponsible bills (confident he would veto them), But now it's, 'You break it, you bought it.' They don't have President Obama as a foil anymore, so if they muck with the health-care system and make it worse – and they're certainly going to make it worse – they're going to own that. They're terrified of that prospect."
5. ENVIRONMENTAL RISKS
Even on the environmental side, where Trump and the Republican majority are probably most at odds with the Democrats, Schatz is curiously optimistic. Although he and Hirono were both among the most ardent critics of Scott Pruitt, Trump's controversial choice to head the Environmental Protection Agency, Schatz doesn't believe the survival of the nation's major environmental laws is at stake. More to the point, he's confident the election of Trump doesn't spell disaster for Hawaii's delicate environment.
"On the Appropriations side," he says, "we think that we have a pathway for dollars to continue to flow to Hawaii for environmental priorities. Of course, on the policy side, it's fair to say we're not hopeful about making progress on any new laws. But the Endangered Species Act, the Clean Water Act, the Clean Air Act – those all remain federal law. So, regardless of the pronouncements of the new administration, they are duty-bound to obey the law."
Schatz's argument can be extended to address how Democrats should deal with Trump's propensity to ignore the truth: It's OK to search for common ground with Republicans, but you have to stake out principles that are non-negotiable.
"There's a tendency in this administration for the president to declare things to be true that he wishes to be true, and to try to short circuit the arduous process of making or changing public policy. While I understand we're not going to make a ton of environmental progress under Trump, there's no reason to accept that we're going to backslide on the bedrock of environmental law in this country. That includes clean air, clean water and endangered species protection."
Schatz pauses a moment for emphasis before adding, "That's an area where I'm perfectly willing to engage and fight."
---
More than 100,000 in Hawaii Impacted if Obamacare Repealed, State Officials Say
By Noelle Fujii
Hawaii had one of the nation's highest rates of health insurance coverage in the nation before passage of the Affordable Care Act. Even so, ACA provided health insurance to more than a hundred thousand additional people in Hawaii, according to state officials; it's not clear what will happen to their health insurance if ACA is repealed.
The biggest group is beneficiaries of Medicaid, the government program that provides health insurance to low-income people. ACA increased Medicaid coverage significantly in Hawaii by expanding eligibility to adults ages 19 to 64, who are not pregnant, not on Medicare and annually earn less than 138 percent of the federal poverty limit. Out of 350,000 Hawaii residents who are on Medicaid, about 110,000 of them are part of this ACA expansion group, says Keopu Reelitz, public information officer for the state Department of Human Services.
The federal government pays between 86 and 95 percent of the cost to provide Medicaid for this expansion group, according to Judy Mohr Peterson, the state Human Services' Med-Quest administrator. The state pays the rest.
What's at stake if ACA is repealed, Peterson says, could be as much as $230 million a year in federal funds that now covers the expansion group. If the ACA, including the Medicaid expansion, were repealed, it would have "a pretty dramatic impact on our state," she says.
Another 41,000 people in Hawaii have bought individual health plans through HMSA or Kaiser Permanente under ACA, according to William Nhieu, a communications officer at the state Department of Commerce and Consumer Affairs. It's likely some of those people had coverage before the ACA, he says, though his department doesn't keep track of this number.
A much smaller number have group coverage under ACA. In 2016, Kaiser was the only Hawaii insurer that offered Small Business Health Options Program (SHOP) plans and, by the end of the year, 1,671 individuals were covered under that program, says Bill Kunstman, spokesman for the state Department of Labor and Industrial Relations.
He added that Hawaii received a waiver and is now exempt from SHOP requirements, so those plans will expire this year.
---
COMMITTEE ASSIGNMENTS
Here are the committee assignments for Hawaii's congressional delegation:
Sen. Mazie Hirono
• Committees: Armed Services; Energy and Natural Resources; Small Business and Entrepreneurship; and Veterans' Affairs
• Subcommittees: Armed Services Subcommittee on Seapower, and Energy – ranking member; and Natural Resources Subcommittee on Public Lands, Forests and Mining.
Sen. Brian Schatz
• Committees: Appropriations; Banking, Housing and Urban Affairs; Commerce, Science and Transportation; Indian Affairs; and Select Committee on Ethics. He also serves as chief deputy whip of the Senate Democratic Caucus.
• Appropriations Subcommittees: Military Construction and Veterans Affairs – ranking member; Defense; Labor, Health and Human Services and Education; Transportation, Housing and Urban Development; and Commerce, Justice and Science.
• Banking, Housing and Urban Affairs Subcommittees:
Housing, Transportation, and Community Development; Financial Institutions and Consumer Protection; and National Security and International Trade and Finance.
• Commerce, Science, and Transportation Subcommittees:
Communications, Technology, Innovation and the Internet – ranking member; Oceans, Atmosphere, Fisheries and Coast Guard; Space, Science and Competitiveness; Aviation Operations, Safety and Security – ranking member.
Rep. Tulsi Gabbard
• Committees: Armed Services; and Foreign Affairs.
• Subcommittees: Armed Services Subcommittee on Seapower and Projection Forces; and Foreign Affairs Subcommittee on Asia and the Pacific.
Rep. Colleen Hanabusa:
• Committees: Armed Services; and Natural Resources
• Natural Resources Subcommittees: Indian, Insular and Alaska Native Affairs; and Federal Lands – ranking member.