Like Airbnb But on Wheels
Locals use web-based services like Turo to rent their cars to strangers for extra income. One host couple say they now offer 75 cars owned by themselves and others.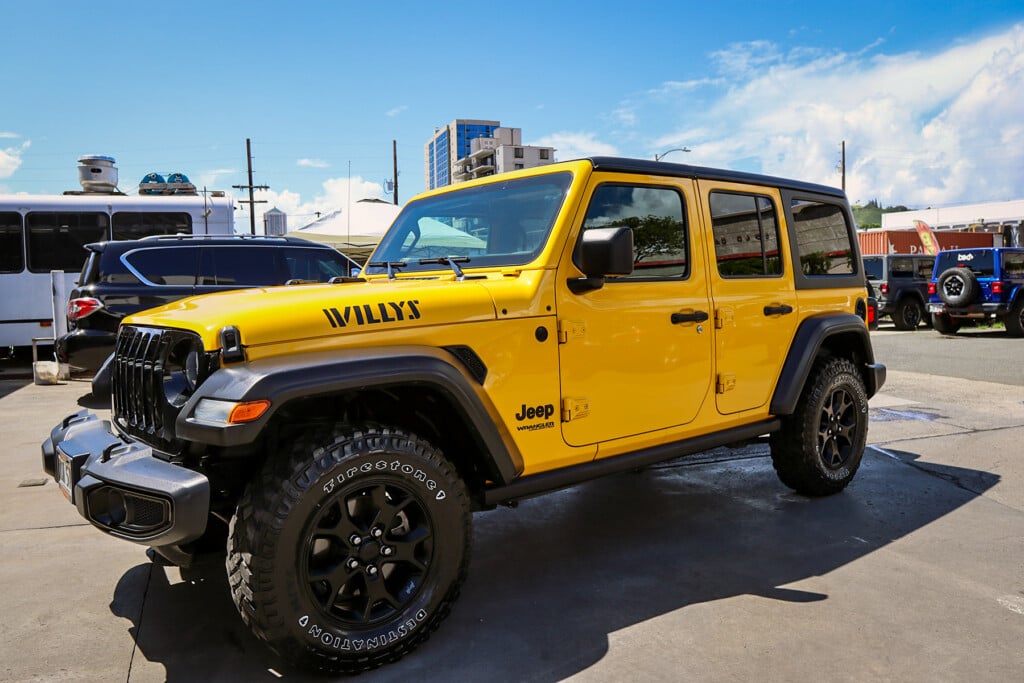 Maui native Ethan Kaleiopu and his family are in the real estate and tourism industries, and often fly back and forth between the Valley Isle and O'ahu for work.
And once on O'ahu, they need a car. Kaleiopu says traditional rental car services aren't always an option when he has to book last-minute flights. To avoid any uncertainty and stress, he says he turns to Turo, a car-sharing service. It can be more convenient, he says, and "you can be really selective with what type of vehicle you want."
He doesn't worry about shortages because there are plenty of vehicles available and "you can book a car fairly quickly," including just hours before landing on O'ahu. And he enjoys that most of the money he pays to Turo goes to the car's owner.
Kaleiopu and his family are not only Turo renters; since the pandemic, they've been "hosts," too. He started by renting out his mother's car when both she and her husband were laid off. Now the extended family has 10 cars for rent on Maui.
Turo and Getaround are two peer-to-peer car-sharing services that operate in Hawai'i for tourists and locals alike.
Turo has been around nationally since 2009, but "was still really scarce" in Hawai'i until Covid arrived, says Kaleiopu. "Not many people were doing it."
The service gained popularity here with the pandemic-fueled rental car shortage. The Hawai'i Tourism Authority reported the Islands' fleet of rental cars had dropped by over 40% from 2019 to 2021.
Albert Mangahas, Turo's chief data officer, says "Turo has stepped up to kind of save the day" with its list of available cars in the Islands.
How It Works
Peer-to-peer car-sharing services allow vehicle owners to rent their cars to people for short terms.
People can scan turo.com for available vehicles in their preferred areas or at specific locations like an airport, and rent specific vehicles at daily prices set by vehicle owners. They can also filter results based on specific criteria like car type, price and features.
Guests can also request vehicle drop-offs and pickups at specific locations.
Car owners, known on Turo as hosts, set their own rental rates, which can be lower or higher than those offered by rental car companies.
For example, a recent open-ended search on the Turo website for the Daniel K. Inouye International Airport showed 200 vehicles available in Honolulu with a price range from $44 per day for a 2020 Toyota Corolla to $214 per day for a 2020 Tesla Model X. At the same time, rental company Enterprise showed a Toyota Corolla for rent at $129.98 per day.
Turo also offers car insurance and protection plans for both hosts and renters. According to the platform, every host plan comes with $750,000 in third-party liability insurance for when the cars are being rented.
The platform has five levels of plans for hosts, which can earn 60%-90% of the trip price, depending on which plan they choose, though hosts typically collect 75%.
If a guest damages a car they rent, Turo says, the guest's own car insurance may cover it. If not, guests should buy a Turo protection plan. The Insurance Information Institute, which has 60 insurance companies as members, says car insurance policies differ on whether they cover peer-to-peer rentals, so check your policy or call your insurance agent.
Makes Owning a Car More Affordable
Kaleiopu says being a Turo host helps him and his family cut the costs of car ownership. For example, when his parents were laid off during the pandemic, Turo helped cover the payments on his mother's car, along with maintenance costs.
Now Kaleiopu and his family have 10 cars listed on Turo, which they use as personal cars when they're not rented. He has the vehicles separated into different Turo accounts – one each for himself, his parents and aunty – and each account can earn from a few hundred dollars a month to $1,500.
The average cost of owning a vehicle in Hawai'i is $8,100 a year, or $675 monthly, according to a study by the Ulupono Initiative. The study also found that 80% of households in the state own two or more cars.
Turo's Mangahas says cars sit idle 95% of the time, and "Turo's hosting platform transforms these underutilized assets into earnings engines and puts money back into our hosts' pockets."
Extra Source Of Income
Looking for an alternative source of income, Maui resident Karissa and Jon Baker became Turo hosts in 2021. She says her husband worked in the hospitality industry as a valet and that the pandemic "was hard" on her family.
They started with two cars on the platform, and now host or co-host 75, for themselves, family and friends. Their car-sharing service is called "Chosen Rentals," and does all reservations through Turo.
"Hawai'i is expensive, so this has been a great way to supplement our family's income," she says.
Hawai'i Island resident Tarek Antaki has been using Turo as a host and renter for more than two years, and says income from the service represents 40% to 50% of his total income.
He was one of 13 people who responded to Hawaii Business' outreach on social media to find Turo hosts and renters.
"Turo allows me to support my family of four," he wrote.
A typical Turo host can earn $115 per four-day transaction, which is enough to cover on average a monthʻs insurance and registration costs, according to a 2022 study commissioned by Turo. If a car is shared for two weeks in a month, the entire monthly cost of the vehicle, including the typical car payment, can be covered.
Illegal To Park At Airports
The Hawai'i Department of Transportation says it's illegal to park Turo-rented cars at any state airport.
Turo officials say they have been working with state officials to establish a permitting system but for now recommend that hosts arrange for pickups and drop-offs outside of airport property. Nonetheless, some hosts pick up guests at state airports and take them to nearby parking lots to turn over the keys and vehicles.
On Kaua'i, a shuttle runs between Līhu'e Airport and a dedicated parking area at Kukui Grove Center for Turo drop-offs and pickups.
Last year, some state lawmakers unsuccessfully tried to pass a law that would ban peer-to-peer car rental programs, citing concerns they can lead to overtourism and are not regulated.
Mix of Locals And Tourists
When Kaleiopu and his family started as Turo hosts, they noticed only younger tourists were renting their cars. But in the last two years, he says more locals and Neighbor Island residents have been using the service.
Recently, a couple of Kaua'i residents traveled to Maui to get married and booked one of Kaleiopu's best vehicles. Kaleiopu says they put together something nice for them like a goodie basket and lei to help "set the tone" of the trip.
"It was nice because it's locals helping other locals, and kind of setting that experience," he says.
Turo host Baker agrees and says a lot of local Turo hosts "go the extra mile to make a guest's experience special and unique."
"It's a great economic opportunity for a lot of the hosts in the Hawai'i area in terms of really kind of supporting this concept and exciting idea – this regenerative tourism," says Turo's Mangahas. "The great thing about this is it's not only enabling tourists to come, but it's the earnings that are coming directly into local Turo hosts here in the Hawai'i Islands."