How 4 College Athletes Deal with Stress, Anxiety and Living Far from Home
UH Mānoa basketball, soccer and football players talk about mental health challenges and coping techniques.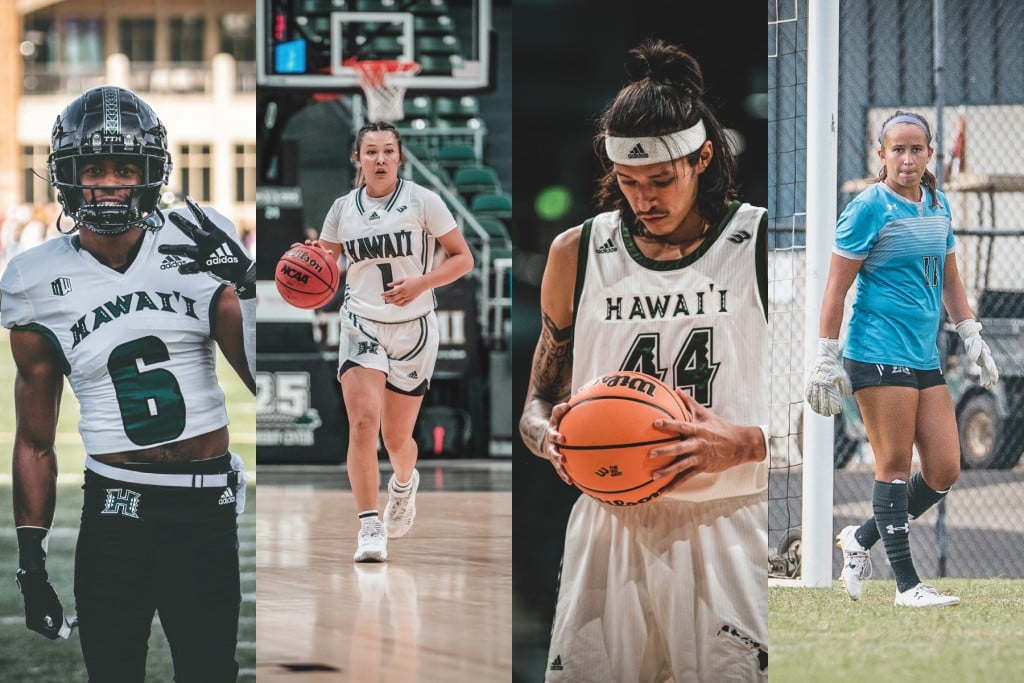 College life is demanding for everyone: Attending classes and completing homework, studying for tests and working part-time jobs – often while living away from home for the first time.
On top of all that, collegiate student-athletes must also balance practices, workouts, treatments and competitions. Some cope well with those many demands; others end up mentally drained.
We interviewed four student-athletes at UH Mānoa to learn the challenges they face and their coping mechanisms: sophomore women's basketball player Kelsie Imai and three seniors, Zion Bowens (football), Lauren Marquez (women's soccer) and Kamaka Hepa (men's basketball).
Wide receiver Bowens says his teammates are like family and that they support each other. "One thing that helps me whenever I become overwhelmed with being a student-athlete is simply talking to my teammates about it. Most times, if I am being overwhelmed, they are too, and it's just nice to know that we are all in the same boat together," says Bowens, who comes to UH from Long Beach, California.
Imai, a graduate of Waiākea High School in Hilo, says her teammates are sensitive to each other's needs. "Our team gets along really well, and we all know each other's limits, so if we ever feel like we're getting overwhelmed in some way, we know when to give additional space," he says.
The UH athletics program makes a big effort to create an environment that feels like family. Hepa, who is Native Hawaiian but was born in Alaska and played at the University of Texas before coming to UH, is working on a graduate degree in finance. He talks about the connections he has built in Mānoa.
"On days when I feel alone, I work on constantly reminding myself of the family I've made here at UH," he says. "Through all the hours spent perfecting our craft individually and as a team, I know that I can count on my brothers, whom I call teammates, and my mentors I call coaches, to be there for me any time of the day."
These student-athletes also understand the value in occasionally escaping to do something different; not surprisingly, that something different is often athletic.
"When I become overwhelmed, I like to surf or do yoga," says Marquez, who comes from Glendale, Arizona, and plays goalkeeper on the women's soccer team.
"With Covid ending one of my seasons and not allowing us to train, I had to find other ways to challenge myself. … I started yoga about a year ago, and it's a quiet place for me to check in with my body, especially after training 20 hours a week."
Bowens' change of pace may not be surprising considering he is from Southern California: "If I want to escape, I'll try roller skating at Ala Moana Beach Park."
High school sports can be intense. In college, the stakes are even higher: Athletes want to take their performance to the next level, and making the team is just the start. Afterward there is the battle for playing time, playoff preparations and keeping up with workouts even in the offseason, all while striving to avoid injury.
Their college's sports program arranges a student's entire schedule around practice hours, travel days and game days. The most driven athletes add treatments, extra workouts and additional study time.
Their coaches and sports advisors are often former collegiate athletes themselves, so they understand the stresses and multiple demands. For instance, Imai says Rainbow Wahine basketball coach Laura Beeman, who played college basketball in Califor-nia, designates study hall times for her players and the trainers are flexible about making time for her and her teammates' treatments.
"Coach Beeman is also big on mental health and will do anything and everything to ensure our heads are in the right place."
Marquez says the soccer team's coaches check in with players often and know when the athletes are "off."
The soccer team also has a leadership committee, composed of team captains and a nominated player from each class. Marquez says they're "great people to reach out to when you feel alone or have an issue you want to talk about."
Student-athletes are driven to succeed, but that drive can also lead to over-training and injury. These student-athletes have spent years devoted to their sports and when they can't play, they can become depressed and lose their motivation and passion for the sport.
Other student-athletes go the other route, immersing themselves in their sports to the point that other important parts of their lives are pushed aside. That appears to be most common among the best athletes – the elite 2% who may have a path to the pros and can risk letting everything else slide. Meanwhile, everyone else has classes to pass and career paths to figure out.
Thankfully, past attitudes that just focused on physical performance and physical health are gone. Now just about everyone understands the importance of mental health and its connection to success, on and off the field.