Belong: Creating a Supportive Culture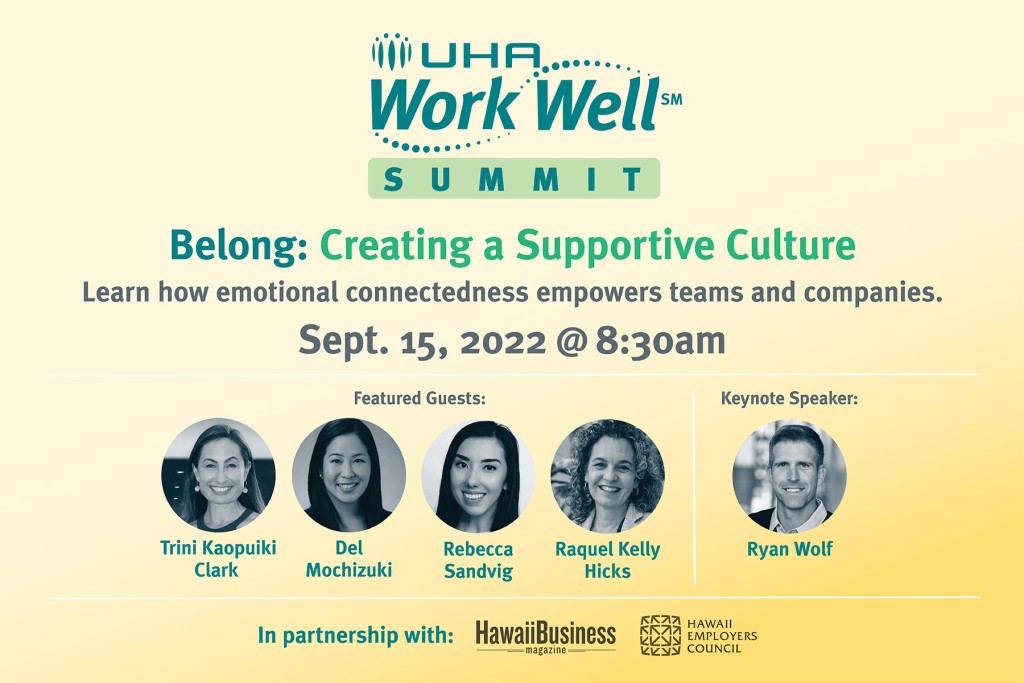 As the work world tries to return to normalcy after two years of COVID-19 uncertainty, leaders are looking for ways to re-engage their employees and rebuild the emotional ties that teamwork is built upon. When team members trust each other, feel emotionally connected, and share a common purpose, they collaborate wholeheartedly, unlocking the group's full potential.
Register for this free event here!
UHA's upcoming Work Well Summit – Belong: Creating a Supportive Culture – will bring together local leaders Trini Kaopuiki Clark, Del Mochizuki and Rebecca Sandvig who will share how their companies built strong social support systems and instilled emotional connectedness throughout their organizations. The group will be led by Gallup Strength Coach Raquel Kelly Hicks, Chief Human Resources Officer of Punahou School and Sr. Workplace Wellness Advisor Michael Story of UHA.
Following the discussion, Ryan Wolf, Wellbeing Lead from renowned consulting firm Gallup, will deliver his keynote address on the emotional needs of employees, the science behind wellbeing and engagement, tangible steps that can be taken to create meaningful change, and what's next for companies.
As companies move towards a distributed workforce model with employees both in-office and remote, now is the time to build a supportive company culture that gives employees a sense of belonging and connects with them on a deeper level.
Belong: Creating a Supportive Culture will be held September 15th at Prince Waikiki. To reserve your seat at this free event and learn how you can instill emotional connectedness to power your teams, register here.